On this TV special we will take a look at the modern day "Golden Age of Hollywood" and Showbiz. The Golden Age of Hollywood began during the Great Depression in the late 1920s and continued through to the early '60s, with the year 1939 thought by most experts to be the peak year!  Film technology took off with more studios making talkies and filming in Technicolor and cinemascope. The big five studios ruled the industry, producing a mammoth 800 movies every year. Classical Hollywood cinema is a term used in film criticism to describe both a narrative and visual style of filmmaking which became characteristic of American cinema between the 1910s and the 1960s. It eventually became the most powerful and pervasive style of filmmaking worldwide. Similar or associated terms include classical Hollywood narrative, the Golden Age of Hollywood, Old Hollywood, and classical continuity.  The below photo is of Actress Angelina Jolie and her father Actor Jon Voight: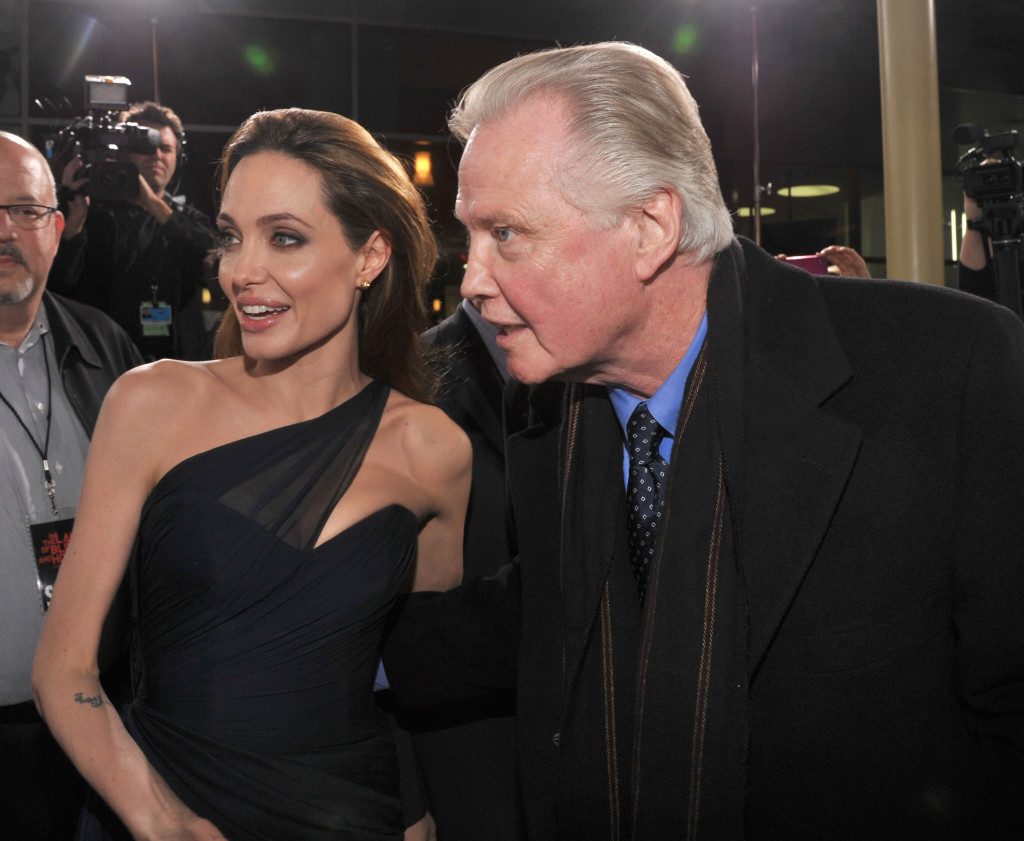 On this show we will show you a few of our interviews, with some of the Oscar & Award Winning famous A-List Actors of the modern day "Golden Age of Hollywood" : Angelina Jolie & Brad Pitt. In the below photo you can see our TV show Host: Margie Rey interviewing Brad Pitt on the red carpet at the Producer's Guild Awards, and below that Margie interviewing Angelina Jolie: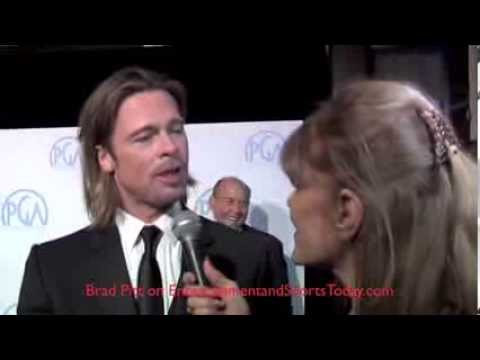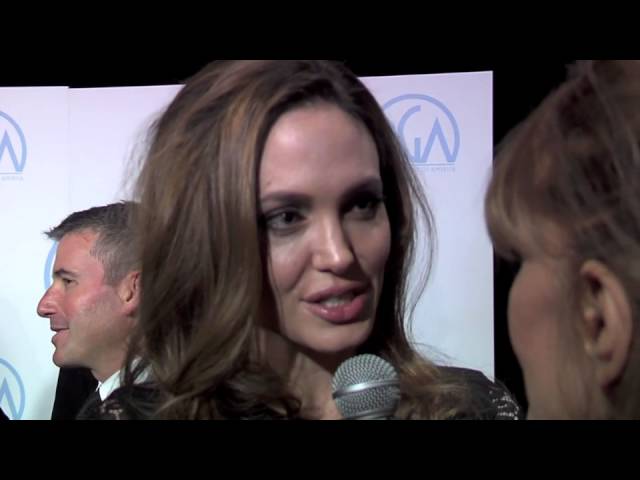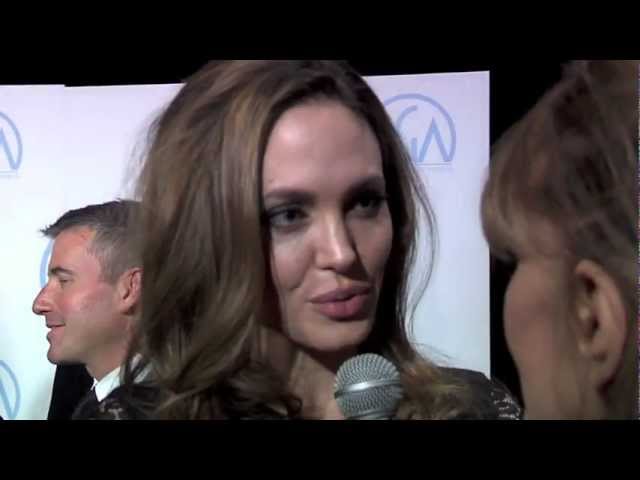 Leonardo DiCaprio: The below photo is of DiCaprio attending an event for Gangs of New York with Martin Scorsese and Cameron Diaz at the 2002 Cannes Film Festival: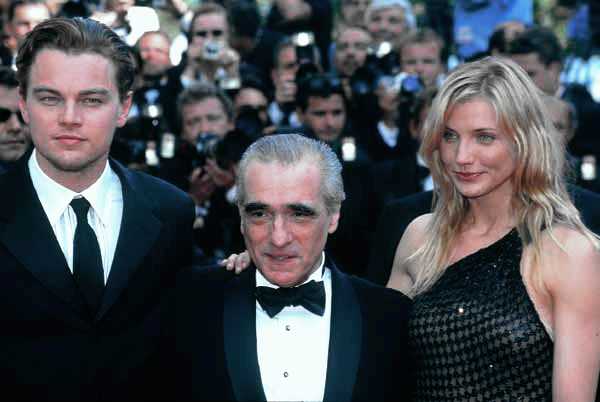 Director Steve McQueen, Bruce Dern, and Sandra Bullock. The below photos are of our Sandra Bullock interview on the red carpet at the 10th Annual Hollywood Film Festival – HFF – At the Beverly Hilton Hotel in Beverly Hills on 10-23-06, by our news reporter Chris Owen :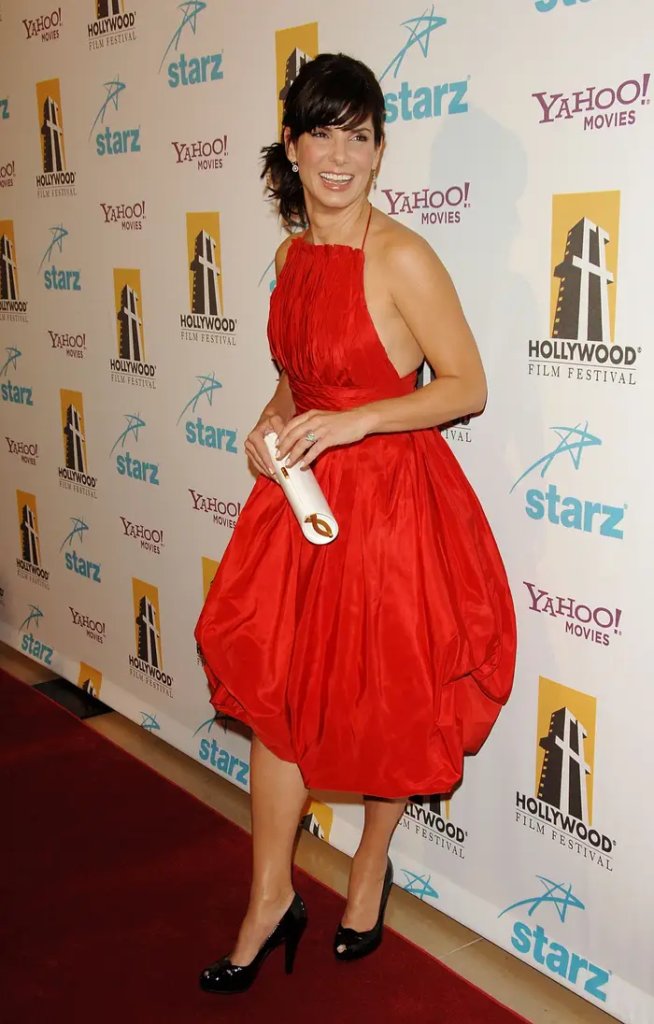 We went one-on-one with Academy Award Winner Sandra Bullock in 2 interviews – with our Entertainment Today reporters :  Chris Owen (see above photo), and Margie Rey, and with our European affiliate -Hollywood 26 TV show host Frans Billen –see the below photo from the red carpet, from another time that our TV show interviewed Sandra on: 10/24/2005 at the 9th Annual Hollywood Film Festival Awards Gala Ceremony at the Beverly Hilton Hotel: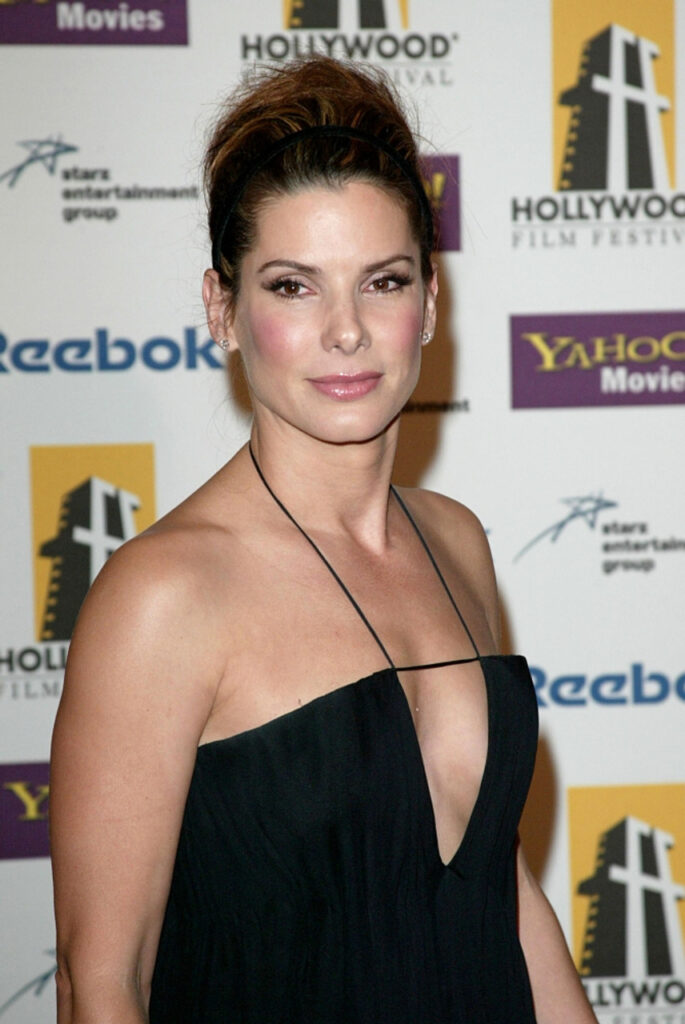 Our Reporter Chris Owen got the most out of Sandra for the interview, and going into great depth about her award winning acting- where we learn that Sandra is also a big sports fan ! 
Sandra Annette Bullock was born in Arlington, a Virginia suburb of Washington, D.C.  Sandra Bullock once famously said that she'd be the first person to recommend not dating her, "because I'll probably make you miserable." She is an American actress, producer, and philanthropist. She made her acting debut with a minor role in the 1987 thriller Hangmen, and she soared through space with George Clooney in the movie Gravity, :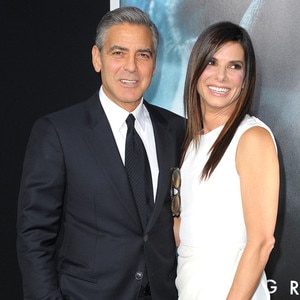 and then tried recreating that feeling as she hopped on the amusement park rides at The Santa Monica Pier with her husband and kids. She has just made a major donation to support the people affected by Hurricane Harvey.  For the complete story go to: entertainmentandsportstoday.com Facebook.com/entertainmentandsportstoday and Youtube.com/entertainmenttodaytv  @sandrabullock_official  For more stories that we did on Sandra clink the link:  https://www.entertainmentandsportstoday.com/one-on-one-with-academy-award-winner-sandra-bullock/
In this show are more great interviews with: Morgan Freeman, Gillian Anderson, and many more. These interviews were taken from the Academy Awards, Director's Guild Awards, Producer's Guild Awards, SAG Awards, Emmys, Golden Globe Awards, Charity Galas, and major film festivals: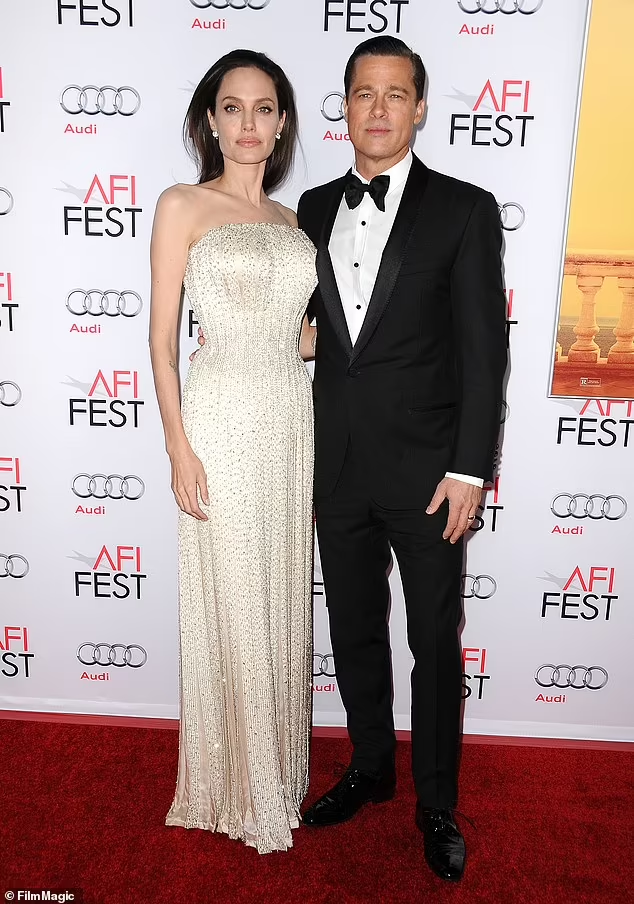 Entertainment & Sports Today interviews the biggest names in Showbiz- both the current and former #Oscar #Nominees for this #OSCAR #TVSPECIAL : #AngelinaJolie & #BradPitt, #SandraBullock, #LeonardoDiCaprio, #SteveMcQueen, #BruceDern, #MorganFreeman, #GillianAnderson. Below photo of (L-R): Al Pacino, Sylvester Stallone, and Robert De Niro @ American Icon Awards: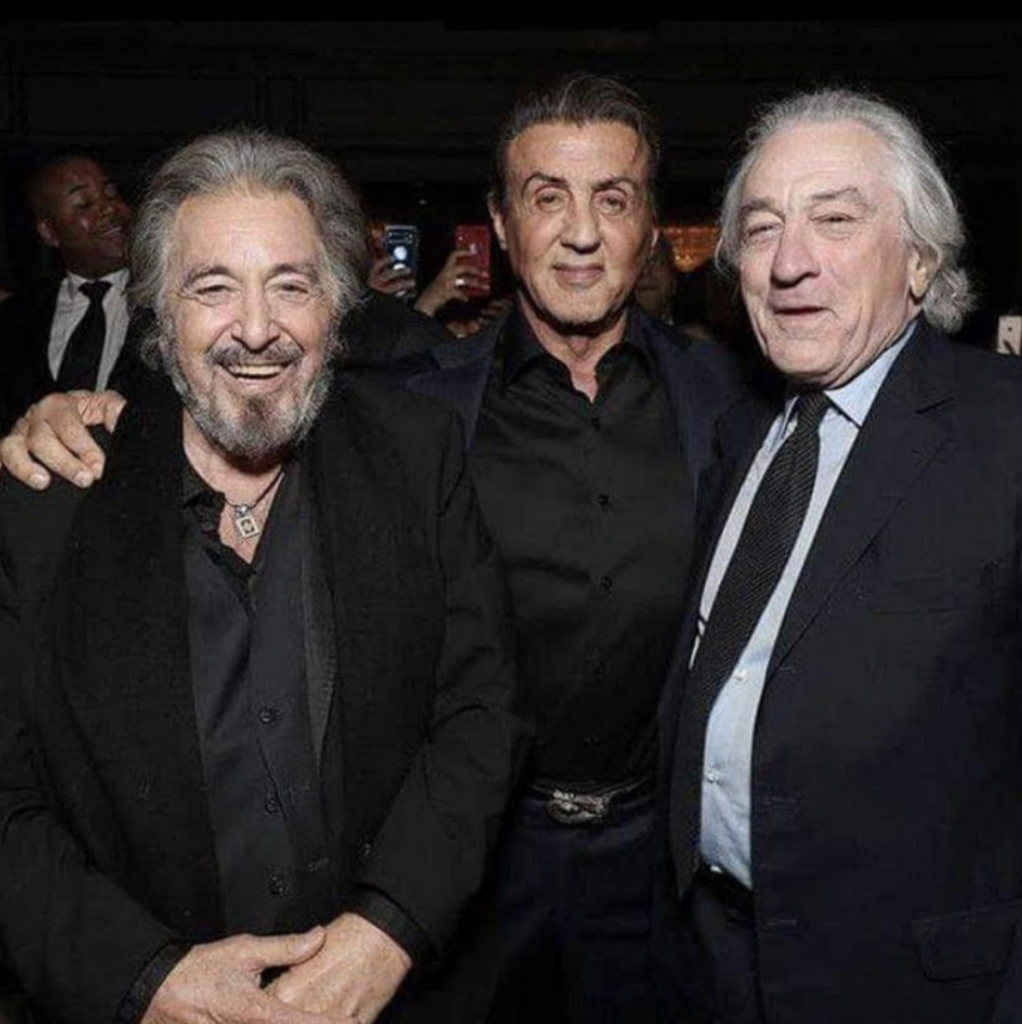 So stay tuned for more on the Oscars, and many other shows. For past and current TV shows, Interviews, and HD Global Web Streams, go to: www.EntertainmentandSportsToday.com Follow us on Twitter, Youtube.com/EntertainmentTodayTV,  Facebook.com/entertainmentandsportstoday, and Instagram.com/entertainmentandsportstoday   To read the whole story, and view the video and photos click: https://www.entertainmentandsportstoday.com/angelina-jolie-and-brad-pitt-oscar-tv-special-2/