The 36th annual Leigh Steinberg Super Bowl Party will take place in Arizona at The Salt River Fields iconic Spring Training Stadium. We will celebrate the best in sports, honoring athletes, owners, coaches, and all of those who are making the world a better place. We are honored to spotlight Champions for the Homeless, a wonderful local organization.
This event is on SATURDAY, 

FEBRUARY 11 

2023: 
12:00 PM
— 
5:00 PM
MST
TICKETS start at $1000.00. There are still tickets left for this once in a lifetime event, and for all of our viewers of Entertainment & Sports Today, and Entertainment Today TV- you can get a 65% discount! on your tickets by using our code:  ETVIP and placing your orders on the link: 
The "love of the game" extends beyond football… The camaraderie, passion, discipline, teamwork, and dedication of loving a sport can extend far beyond the field or the court. If harnessed, the love of the game can translate to a love of humanity. Athletes and their teams have the power to inspire, teach, raise awareness, and bring goodness into their communities. At the 36th Annual Leigh Steinberg Super Bowl Party, on Saturday February 11th, 2023 we will celebrate not only football, but the love of every game and the impact their players, coaches and partners can make in the world.
Some of the past attendees make up a "Who's Who" of celebrities from the worlds of Movies, TV, Music, Business, Tech, Health, Politics, and Sports: Alex Rodriguez: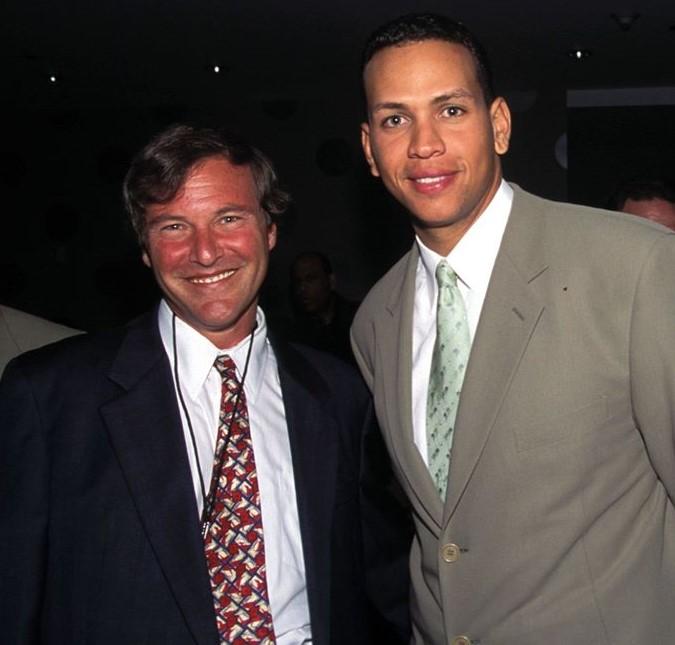 Robert Kraft: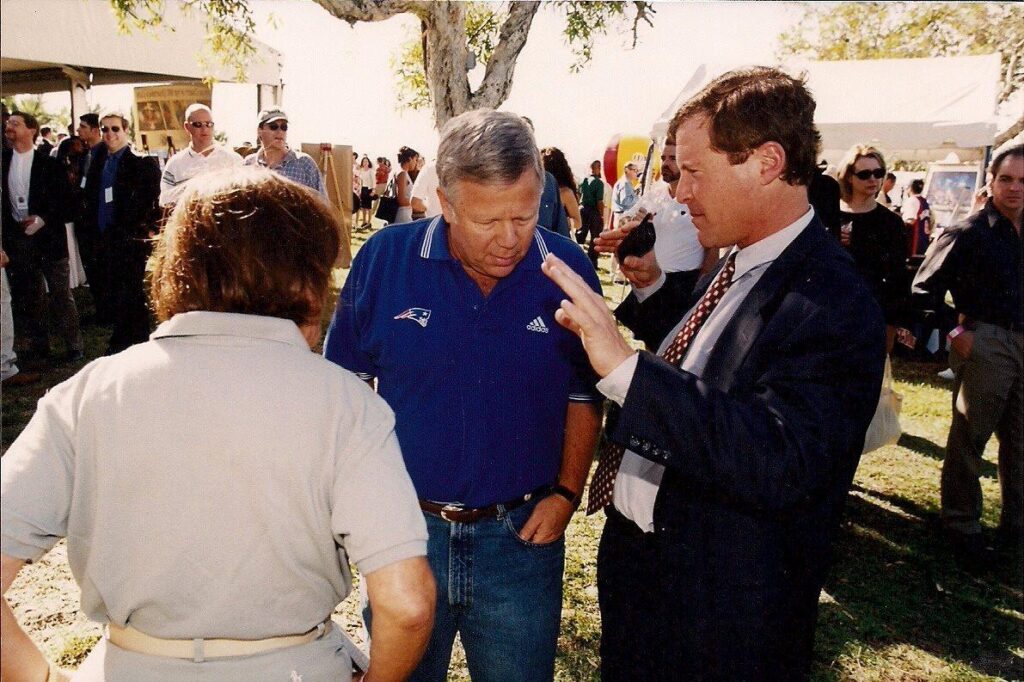 Patrick Mahomes • Steve Young • Troy Aikman Jay Leno •
Kevin Costner :
To view our exclusive one-on-one interview with Kevin Costner go to Entertainment Today or Entertainment & Sports Today TIME WARNER / Spectrum and click on the below link to view the whole TV Broadcast show, and read the whole story on our website: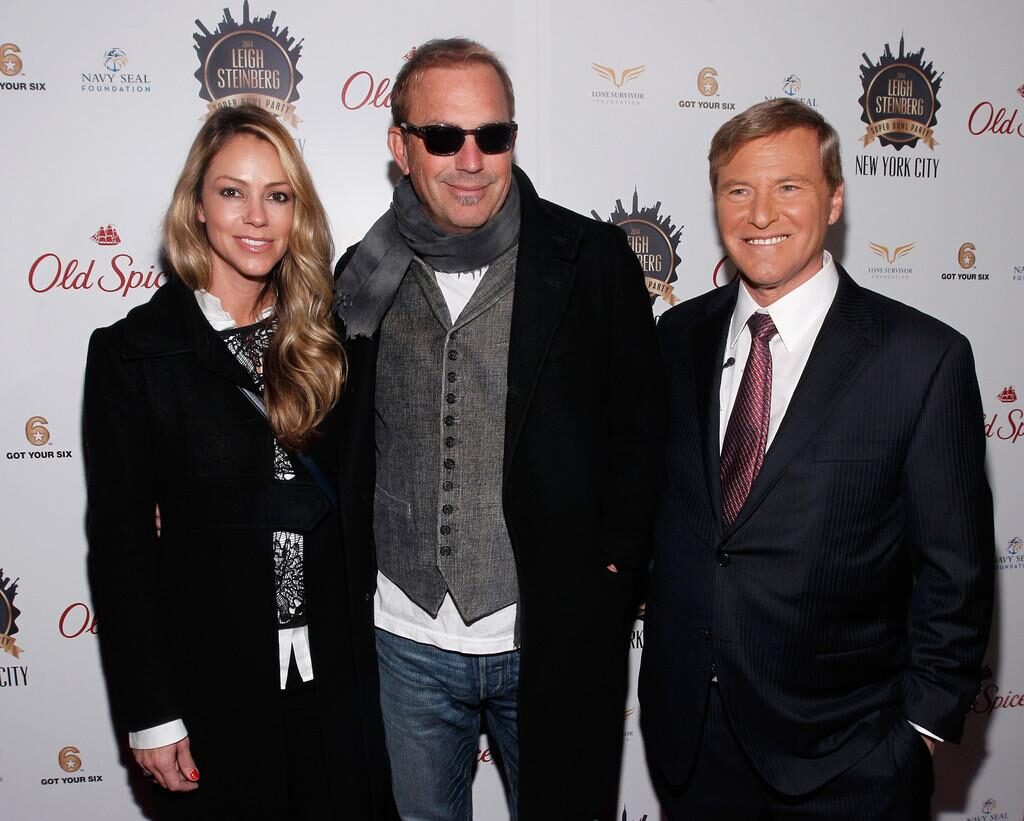 • LL Cool J :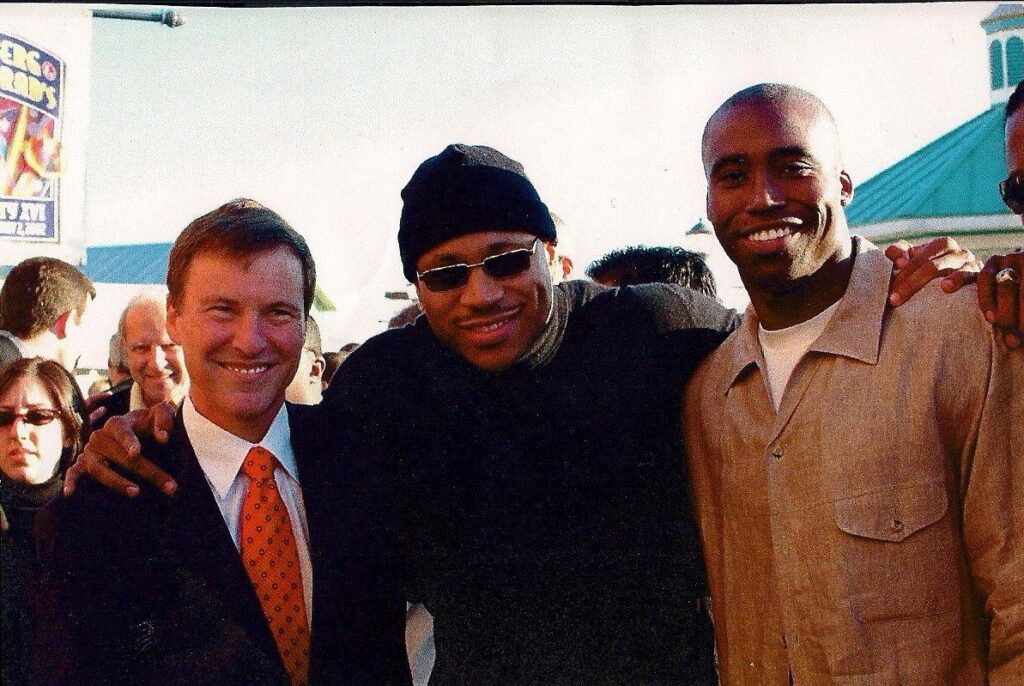 Dev Adrian • Lauren Sesselmann • Warren Moon • Christian Okoye •
Jerry Jones: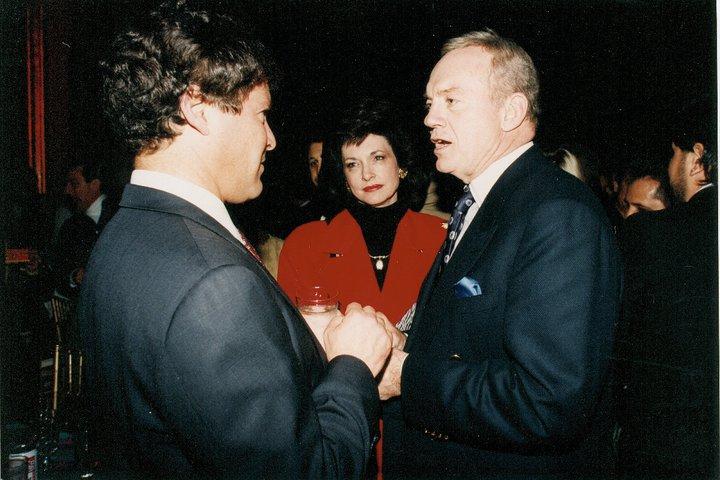 Walter Briggs George Clooney • Tom Cruise • Cuba Gooding Jr. • Serena Williams • Reverend Run • Jake Plummer • Outkast • NSYNC • Gabrielle Union • Michael Mina • Deion Sanders – Michael Chiklis • Jeremy Pivin • Wynonna Judd • Warren G • Ben Roethlisberger Cameron Crowe • Karina Smirnoff • Lee Elder Gov. Doug Ducey • James Valenti • Senator Ted Kennedy • Josh Gad • Ludacris • Chuck Liddell • Jeffrey Lurie • Ricky Watters • Rashad Jennings •
T.I. :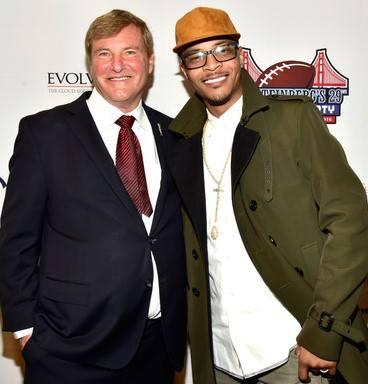 Bruce Arians • Steve Smith Sr. • Camille Grammar • Jim Furky • Ron Jaworski • Josh Lucas • Nene Leakes • Boys II Men – Oliver Stone • Woody Johnson • Earl Campbell • Adam Shefter • Lennox Lewis – Kardell Stewart • Christina Milian • Suzanne Ircha • Nick Lowery • Daymond John
+ Titans in the industries of sports, business, tech, entertainment, politics, and health.
For 35 years and counting the Leigh Steinberg Super Bowl Party has offered partners an opportunity to engage directly and effectively with a highly sought-after audience in an environment curated specifically for networking, relationship building, and developing good will. As one of the most influential figures in professional sports and philanthropy, Leigh's rolodex is like no other. Each year at Super Bowl, he gathers leaders in athletics, business, politics, health, tech, entertainment, and non-profits; not merely to celebrate, but to explore how his community can make the world a better place.
SALT RIVER FIELDS at TALKING STICK Spread throughout 140 acres of scenic landscape and boasting unmatched views of the iconic mountain ranges of Phoenix, Salt River Fields at Talking Stick is the first Major League Spring Training facility to be built on Indian land in the nation. The design uses Native American influence and regional architecture to create an immersive experience unlike any other stadium. The park serves as a symbol within the community, promoting and encouraging environmental stewardship, and the facility is the first LEED Gold-certified sports venue of it's kind in the United States. Beyond the pristine field, (where the annual Brain Health Summit and the Steinberg Denicola Humanitarian Awards will take place) the entry plaza, expansive wrap-around concourse, party decks and patios, interactive play field, press box, and VIP suites offer the perfect canvas to create the Leigh Steinberg Super Bowl Party. With hundreds of opportunities for branding, activation, unique interaction, and exposure to the highly curated list of event guests – partners will have a veritable FIELD DAY as a part of this year's event at the Salt River Fields.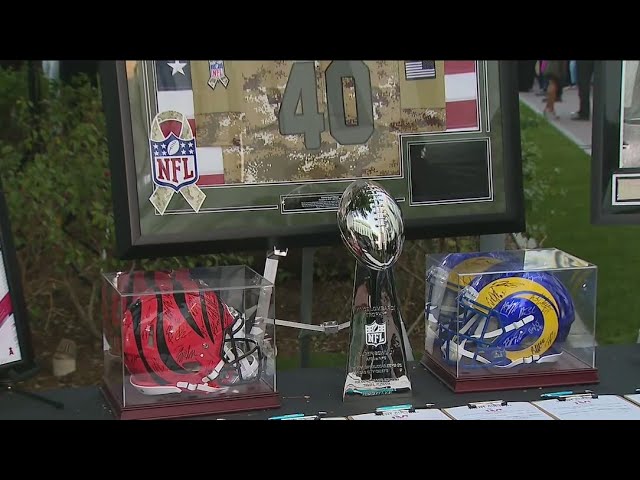 PRESENTING PARTNER • Exclusive Sponsorship with naming rights for the entire event (The 36th Annual Leigh Steinberg Super Bowl Party, Presented by ) • Custom, dedicated activation space (partner is responsible for production costs / execution) • Digital ad on the Loop 101 Billboard; runs Friday and Saturday of Super Bowl Weekend • Spotlight video on the stadium Jumbo Tron (partner may provide a 2 min. – 3 min. video) • Logo on the back of event credentials for all guests $300K • Prime logo placement on step & repeat, outfield banner and all event signage • VIP Access for 2 to "In the Dugout", an exclusive pre-event meet and greet with Leigh • 2 VIP tickets to the Waste Management Open held in Phoenix on the week prior to the event. • Full page ad in the event program (to be printed and distributed digitally) • 30 Tickets to the event HUMANITARIAN AWARDS SPONSOR $150K • Exclusive Sponsorship with naming rights for the Awards (The Steinberg DeNicola Humanitarian Awards, Presented by ) • Speaking opportunity at the awards ceremony • Name or logo on the awards statuette • Name or logo on awards photo backdrop for all winner / press photos • Full page ad in the event program (to be printed and distributed digitally) • Spotlight on the stadium Jumbo Tron (partner may provide a still image or 30 sec. video) • 15 Tickets to the event BRAIN HEALTH HEADLINE SPONSOR $150K • Exclusive Sponsorship with naming rights for the Annual Brain Health Summit (held from 12pm – 1pm on the day of the event) AND the Brain Lounge (see info on pg. 17) • Speaking opportunity at the Brain Health Summit • Activation space in the Brain Lounge (or chosen location in the stadium) • Prime Logo placement on all Brain Health Summit and Brain Lounge signage • Full page ad in the event program (to be printed and distributed digitally) • Spotlight on the stadium Jumbo Tron (partner may provide a still image or 30 sec. video) • 15 Tickets to the event
The Leigh Steinberg Super Bowl Party 2023 – Locals Only: 

By Leigh Steinberg Sports & Entertainment