I like to take you back in time 37 years to 1985, for a look back to the fabulous Farrah Fawcett! It was then that I was able to meet Farrah in person while she was filming on a movie set, which you can see in the below photo. Also on the movie set I met her boyfriend at the time: Ryan O'Neal, who was together with Farrah from 1979–1997, and then again from 2001–2009. Also there was Ken Osmond, who is best known for his role as Eddie Haskel on the iconic hit TV series: "Leave it to Beaver". At the time Ken was a Police Officer, working on the Motorcycle Patrol. I will always cherish this moment I had with Farrah: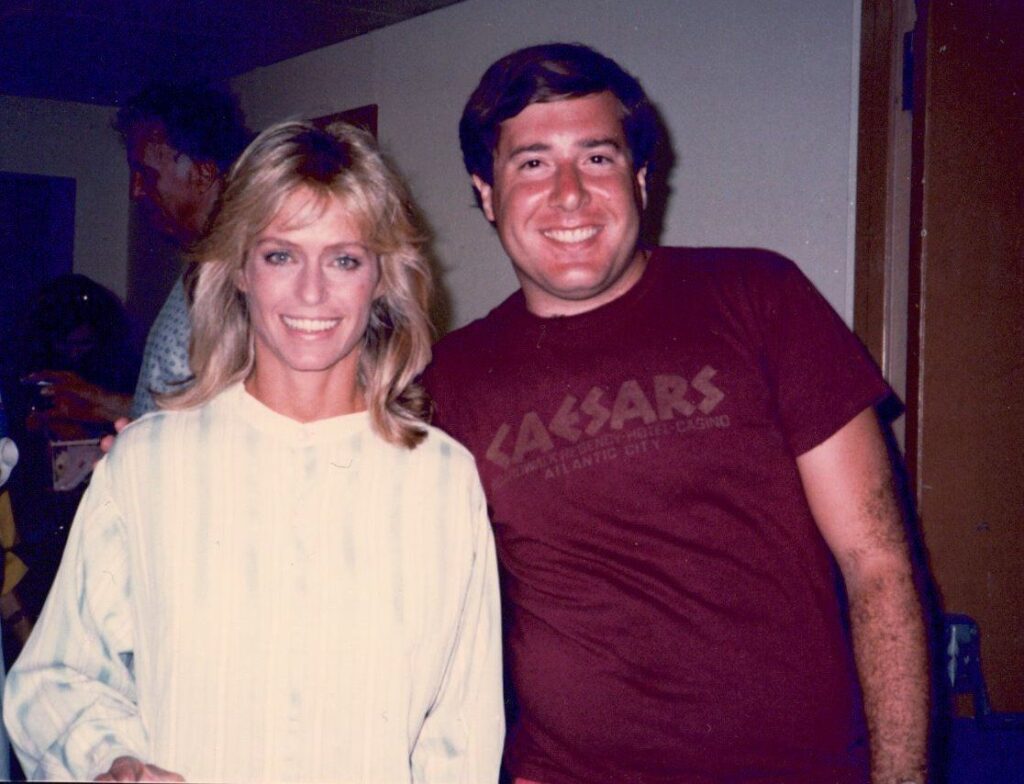 She was born on February 2, 1947, in Corpus Christi, TX, and it's been 23 years since she passed away from anal cancer. Originally diagnosed with the disease in 2006, she was declared cancer-free the following year. However, the cancer returned a few months later and had metastasized to her liver. She died at 2:28 a.m. PDT on June 25, 2009, at age 62 at Saint John's Health Center emergency room in Santa Monica, California with Ryan O'Neal and Alana Stewart by her side. Her death was almost exactly 12 hours before pop star Michael Jackson died at 2:26 p.m. the same day. I still remember being on my computer as these 2 news stories flashed on my computer, putting me into shock. There was a lottery for tickets that I won, to be able to attend Michael Jackson's funeral service/show at the Staple's Center in downtown Los Angeles.
Farrah was a model, actress, TV star, and one of the original "Charlie's Angels,"  whose good looks and signature flowing hairstyle influenced a generation of women, and bewitched a generation of men, beginning with a celebrated pinup poster. She first became famous when a poster of her in a red bathing suit, leonine mane flying, sold more than twice as many copies as posters of Marilyn Monroe and Betty Grable combined. No poster like it has achieved anywhere near its popularity since, and, arriving before the Internet era, in which the most widely disseminated images are now digital, it may have been the last of its kind. She was a four-time Primetime Emmy Award nominee and six-time Golden Globe Award nominee!
Farrah won praise for her serious acting later in her career, typically as a victimized woman. But she remained best known for the hit 1970s television show "Charlie's Angels," in which she played Jill Munroe, one of three beautiful women employed as private detectives by an unseen male boss who (in the voice of John Forsythe) issued directives and patronizing praise over a speaker phone. Her pinup fame had led the producers to cast her. Farrah and her fellow angels, played by Jaclyn Smith and Kate Jackson, brought evildoers to justice, often while posing in decoy roles that put them in skimpy outfits or provocative situations. "Charlie's Angels," created and produced by Aaron Spelling and Leonard Goldberg for ABC, was a phenomenon, finishing the 1976-77 season as the No. 5 network show, the highest-rated television debut in history at that time.
#throughback Thursdays #TBT #farrahfawcett