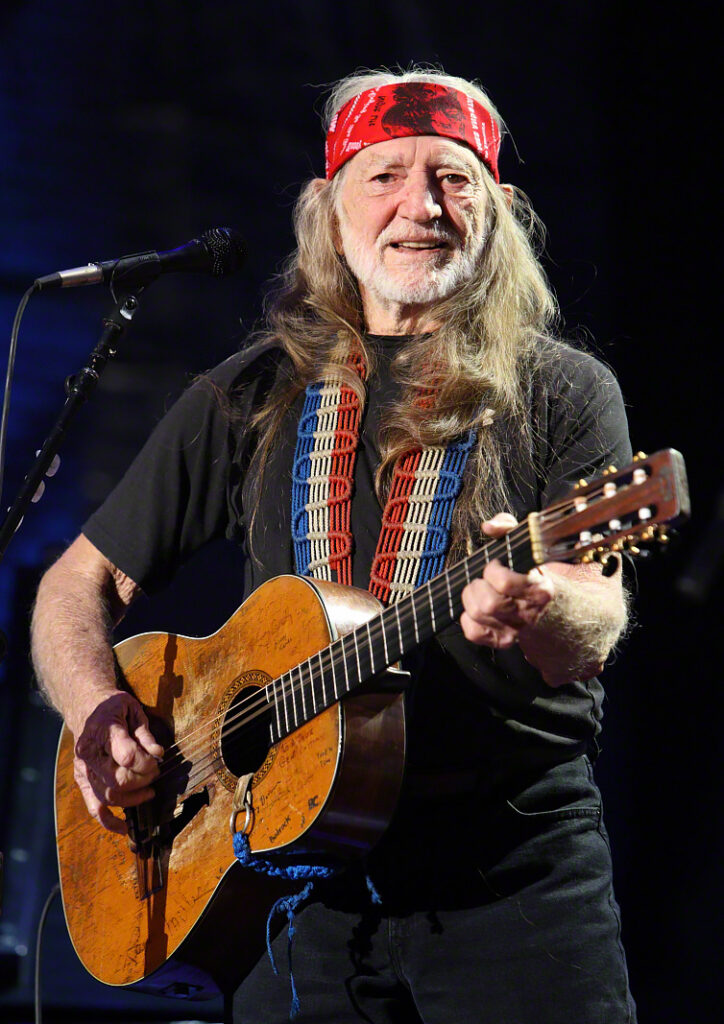 From the sponsor: Valley View Casino & Hotel, we were very lucky to get great tickets to see the legendary Country Singer Willie Nelson live in concert, that was held in downtown San Diego, California, on the beautiful, scenic, and tropical: Shelter Island, which is almost like an Island surrounded with water on 3 sides, right next to San Diego Bay and the Pacific Ocean, at the beautiful picture postcard perfect – outdoor theatre:  Humphrey's Concerts by the Bay: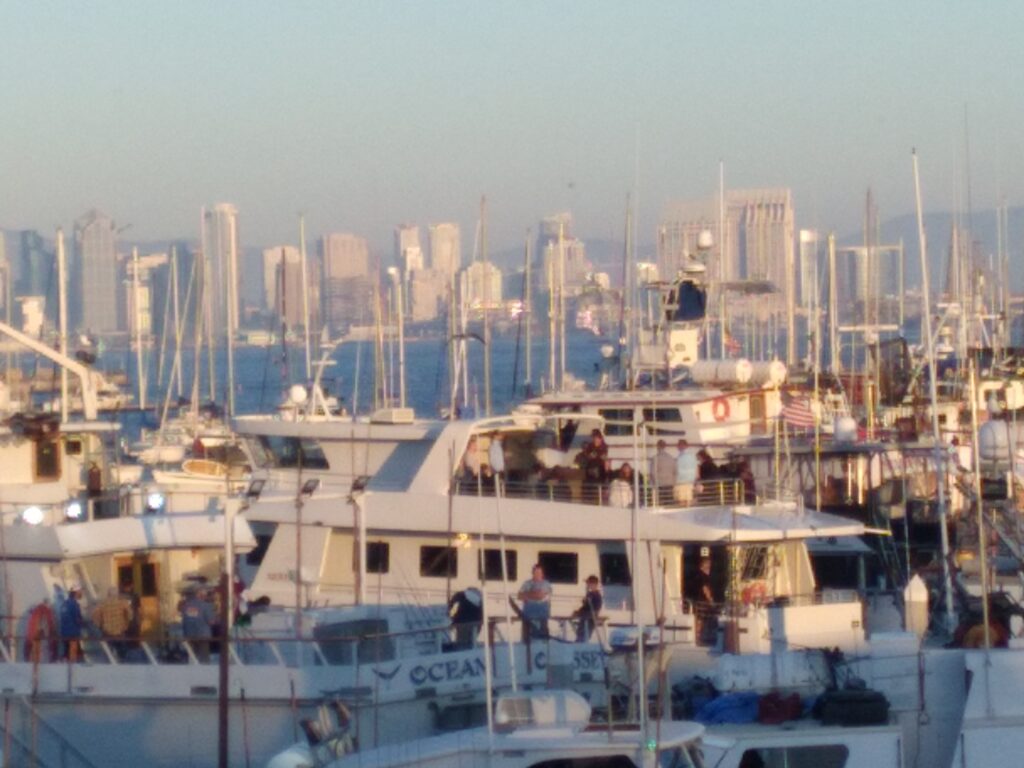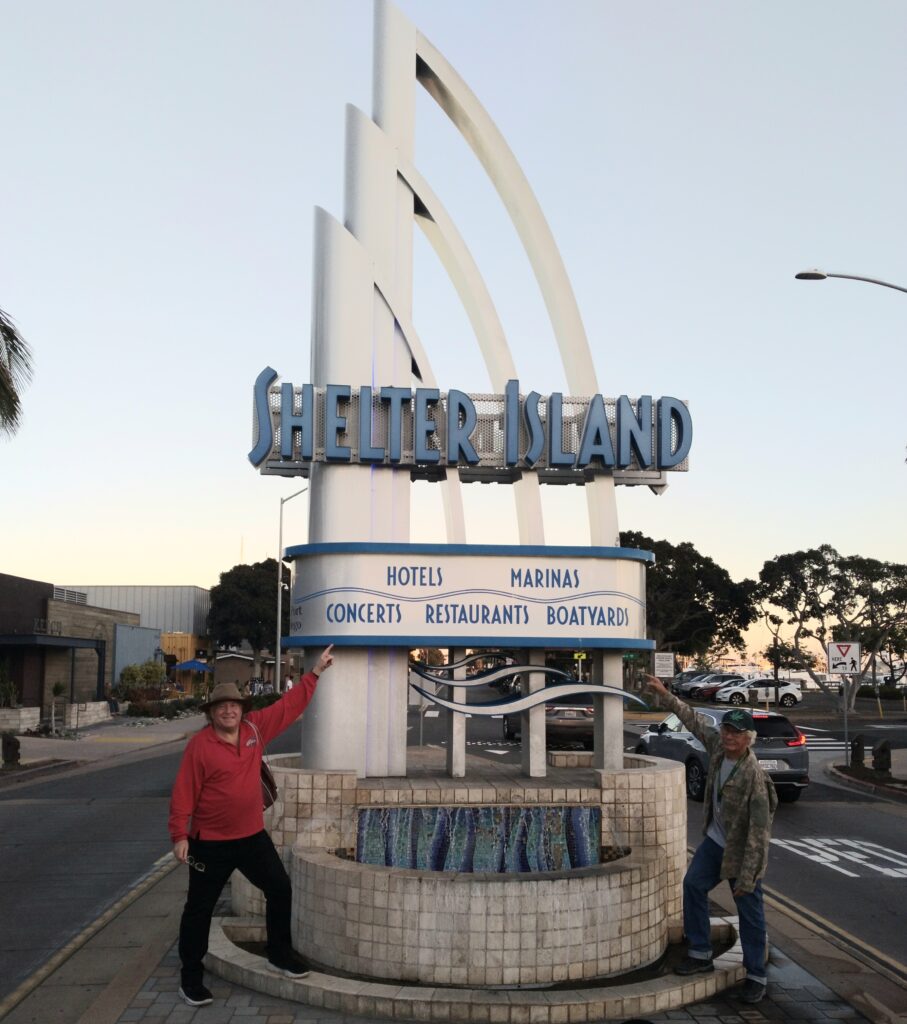 These almost year-round concerts are sponsored by Valley View. Hope to see you all again soon!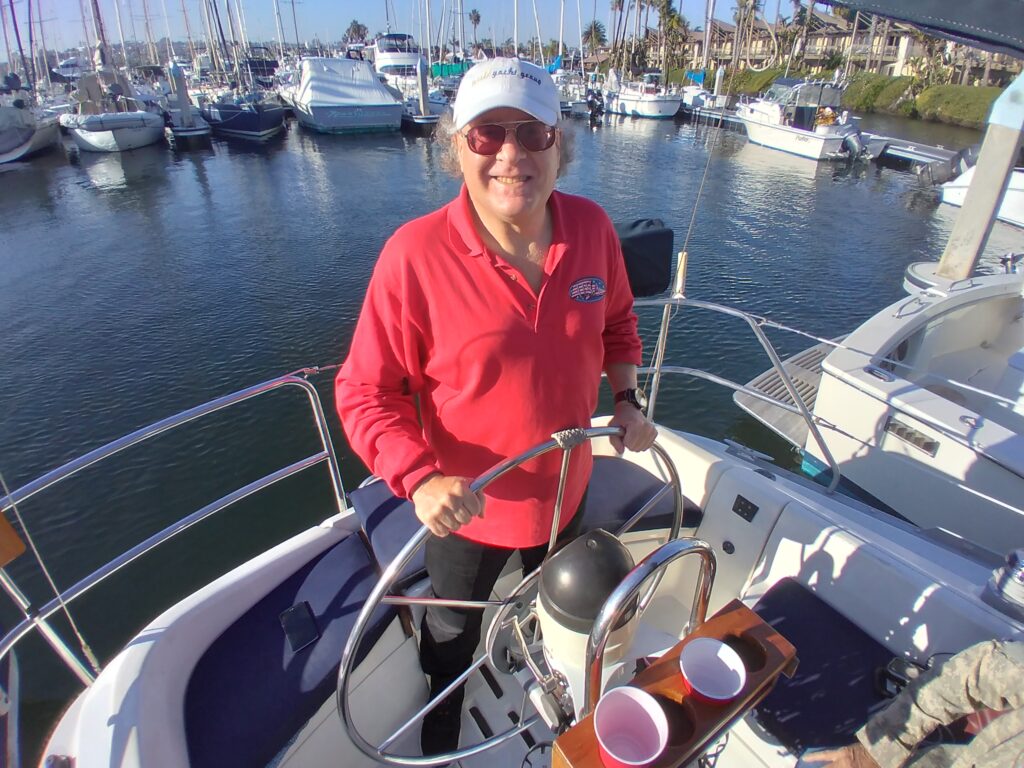 Before this epic concert we were aboard my friend Greg's boat in San Diego Bay, which is only 30 yards away from the stage! See above photo with me on the wheel of the boat, and below photos with the view of the stage from the boats on the dock: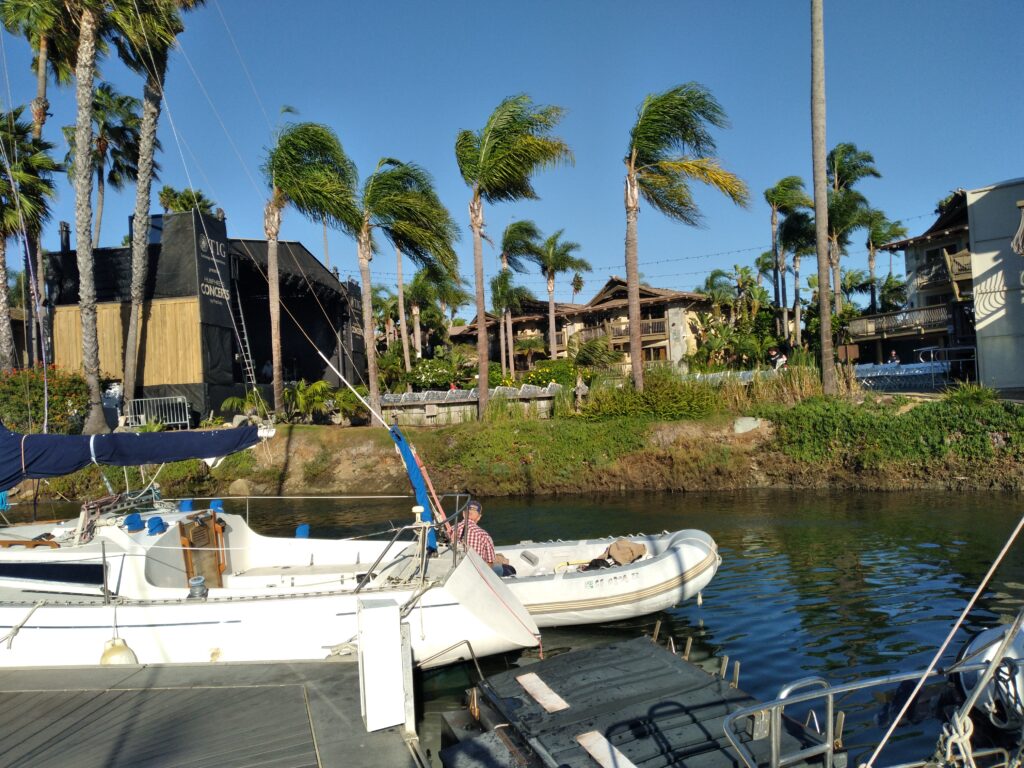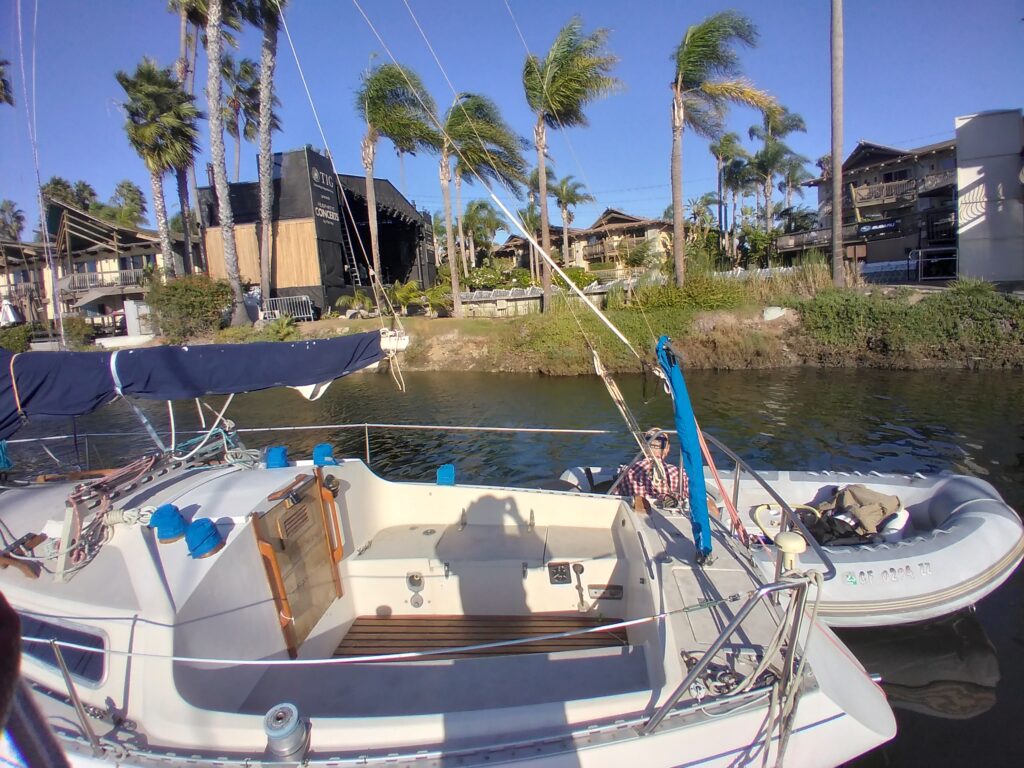 So there were many other Yachts on the left of the stage also watching the Willie Nelson Concert and having an amazing time. Before the concert we had some amazing Clam Chowder Soup, at one of the scenic restaurants right next to the docks: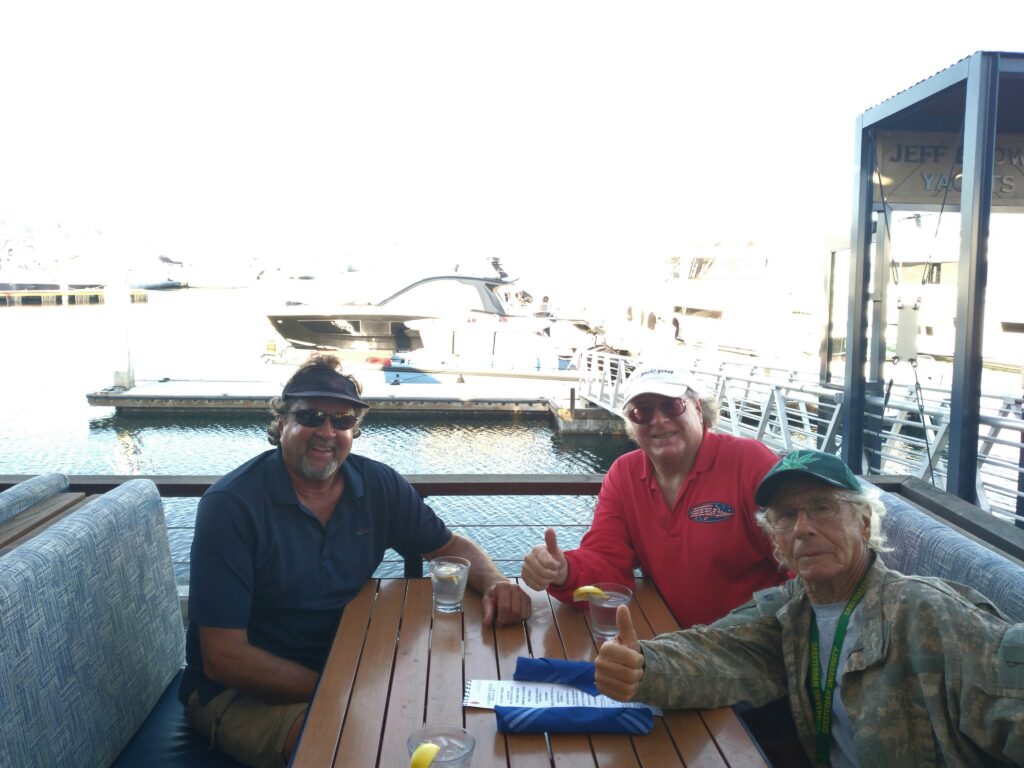 So when it was time for the concert to start we went into the theatre, where we had great tickets to watch The Award Winning Legendary Singer Willie Nelson, up-close for a Once in a Lifetime Live Concert at Humphrey's Concerts by the Bay! Below is a photo of the opening act singer: Noah Guthrie (on the left with me) for Willie Nelson. Noah has a great voice, and performed from 8PM to 8:30PM, with Willie performing from 8:30PM to 10PM. Noah also joined Willie and his 2 sons for the closing number of the concert.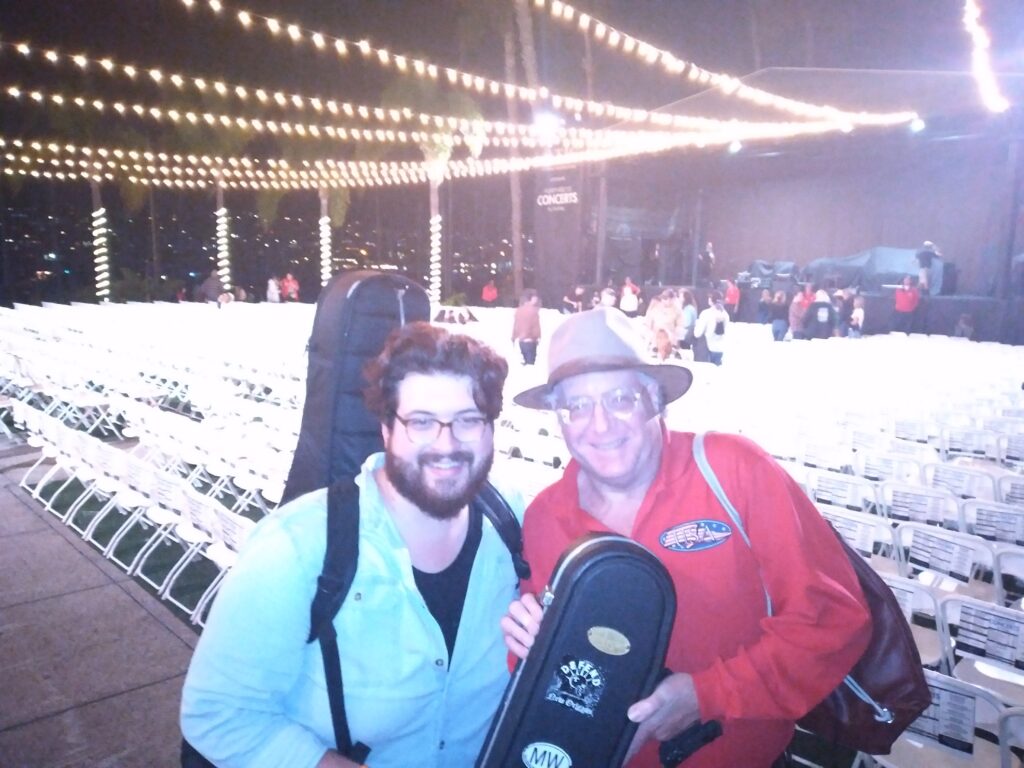 It was our friend's: Albert "Einstein" Birthday, so when Willie was on his Golf Cart going to the stage, Willie was nice enough to say hello to Albert. So you can see that video clip in this show, along with some clips from the concert! So enjoy this 28 minute video!
The 5′ 6″ Willie Nelson was born in Abbott, Texas, on April 29, 1933, making him now 89 years old, but his voice is still one of legendary status just like when he was younger, and he is physically in great shape, healthy, and he gives an amazing performance in his live concerts, so make sure you get to see him live the first chance you get!  Willie is also very funny, and had 2 songs to show that. Willie has won 13 Grammy Awards, 8 American Music Awards, 10 CMA Awards, and the People's Choice Award that I was present to see at Universal Studios, along with some of his Grammy wins at the Shrine Auditorium, and Staples Center! It was an amazing experience to see this music legend live in concert! Willie performed many of his greatest hits like: Always on My Mind, Crazy, Riders In The Sky, Mammas Don't Let Your Babies Grow Up to Be Cowboys (Willie performed this with Waylon Jennings), City of New Orleans, Okie from Muskogee, Me and Bobby McGee, Funny How Times Slips Away,  I'll Love You Till the Day I Die,  I Will Always Love You (Which Elvis Presley sang to Priscilla Presley, when he was leaving the courthouse after their amicable divorce), My Heroes Have Always Been Cowboys (from the movie The Electric Horseman), "Midnight Rider", a 1980 cover of the Allman Brothers song which Nelson also recorded for The Electric Horseman, Spanish Eyes, Good Hearted Woman, and my personal favorite: On the Road Again. "On the Road Again" is from the album Honeysuckle Rose, and peaked at number one on the Hot Country Songs chart in 1980. So enjoy the show!
Willie Nelson has written songs for other famous singers: "Family Bible," Claude Gray (1960)… "Crazy," Patsy Cline (1961) … "Pretty Paper," Roy Orbison (1963) …"Funny How Times Slips Away," Al Green (1973) …"Night Life," Aretha Franklin (1967) …"Sad Songs and Waltzes," Cake (1996).
My greatest memory of Willie was from a duet with Julio Iglesias titled "To All the Girls I've Loved Before". I was very lucky to witness Willie Nelson perform together with Julio Iglesias, one of Willie's hit songs: "To All The Girls I've Loved Before" at the NATPE convention in New Orleans, over 22 years ago! Julio Iglesias was performing a solo act up on stage for the Warner Brothers Party, when I was joking to my late great friend Ken Huthmaker – that wouldn't it be nice if Willie Nelson would join him for this song! I knew that this would be next to impossible, since Willie was not attending this convention or event, and only Julio's name was on the invite that I had, and Willie may not even be in town; and then by an amazing coincidence and true miracle: after Julio was about halfway through the song- Willie appeared in the back of the Showroom with his Guitar in hand, and joined in right on key – on the words: To All The Girls I've Loved Before! The crowd went crazy and everyone who was lucky enough to be there, were in total disbelief, as Willie was walking through the audience- around all the tables, and up on stage to sing the rest of this song with Julio! A true Entertainment Miracle! This was so nice of Willie to make this almost cameo singing appearance at this dinner show.  At the after party: Ken and I were both able to get our photos taken with Julio & Willie together! See this photo below. This was a night that I will always remember! So I would like to dedicate this show to my best friend ever: Ken Huthmaker, and his daughter Kelly!  
Another time at a special invite only Pre-Grammy concert event at the Wilshire Ebell Theatre, I was lucky enough to have 1st. row seats to see Willie perform a set of songs, that was the highlight of all of Grammy week!
I have meet Willie a few times, he has been interviewed on our TV show before, and I saw him perform many times, but this was the best full length concert that I was lucky enough to see this legend perform at! So read the history below of Willie Nelson on our website, and enjoy a few video clips from his concert on our show.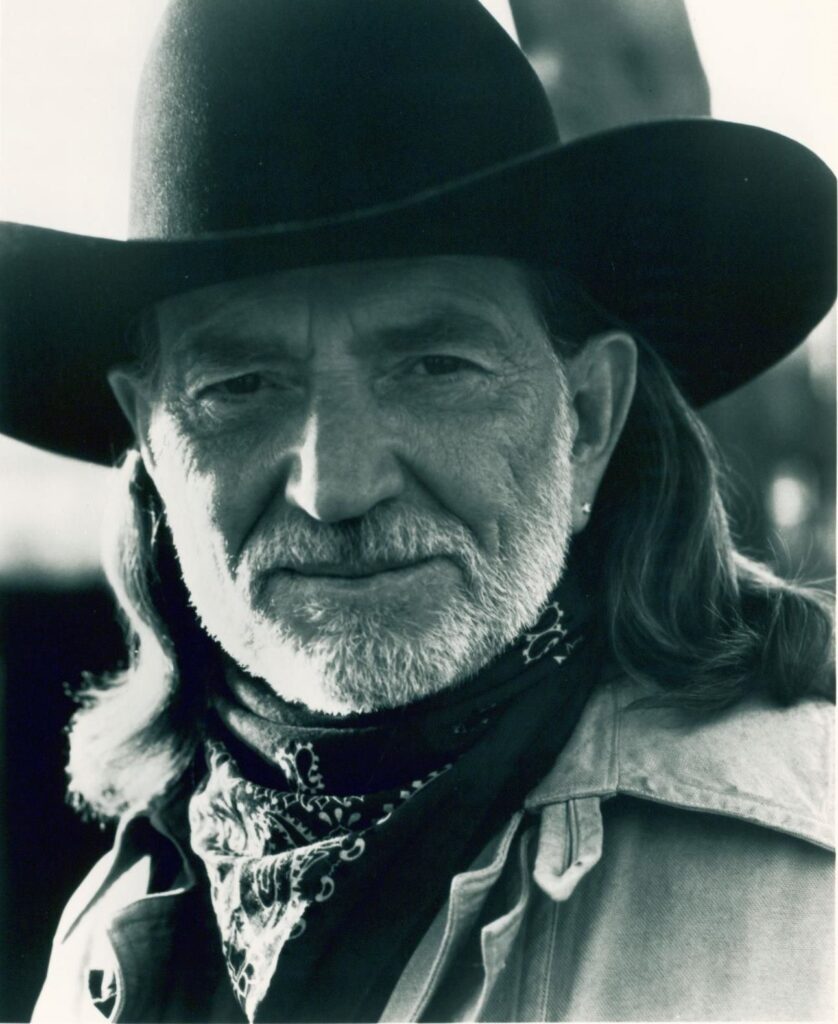 Willie Hugh Nelson (born April 29, 1933) is an American country musician. The critical success of the album Shotgun Willie (1973), combined with the critical and commercial success of Red Headed Stranger (1975) and Stardust (1978), made Willie Nelson one of the most recognized artists in country music. He was one of the main figures of outlaw country, a subgenre of country music that developed in the late 1960s as a reaction to the conservative restrictions of the Nashville sound. Nelson has acted in over 30 films, co-authored several books, and has been involved in activism for the use of biofuels and the legalization of marijuana. Born during the Great Depression and raised by his grandparents, Willie wrote his first song at age seven and joined his first band at ten. During high school, he toured locally with the Bohemian Polka as their lead singer and guitar player. After graduating from high school in 1950, he joined the U.S. Air Force but was later discharged due to back problems. After his return, Nelson attended Baylor University for two years but dropped out because he was succeeding in music. He worked as a disc jockey at radio stations in his native Texas, and in several radio stations in the Pacific Northwest, all the while working as a singer and songwriter throughout the late 1950s. During that time, he wrote songs that would become country standards, including "Funny How Time Slips Away", "Hello Walls", "Pretty Paper", and "Crazy".
In 1960 he moved to Nashville, Tennessee, and later signed a publishing contract with Pamper Music which allowed him to join Ray Price's band as a bassist. In 1962, he recorded his first album, …And Then I Wrote. Due to this success, Nelson signed in 1964 with RCA Victor and joined the Grand Ole Opry the following year. After mid-chart hits in the late 1960s and the early 1970s, Nelson grew weary of the corporate Nashville music scene, and in 1972 he moved to Austin, Texas. The ongoing music scene of Austin motivated Nelson to return to performing, appearing frequently at the Armadillo World Headquarters. In 1973, after signing with Atlantic Records, Willie turned to outlaw country, including albums such as Shotgun Willie and Phases and Stages. In 1975, he switched to Columbia Records, where he recorded the critically acclaimed album Red Headed Stranger. The same year, he recorded another outlaw country album, Wanted! The Outlaws, along with Waylon Jennings, Jessi Colter, and Tompall Glaser.
During the mid-1980s he had a big hit with "Pancho and Lefty", and he joined the country super group The Highwaymen, along with fellow singers Johnny Cash, Waylon Jennings, and Kris Kristofferson. In 1985, he helped organize the first Farm Aid concert to benefit American farmers; the concerts have been held annually ever since and Nelson has been a fixture, appearing at every one. In 1990, Nelson's assets were seized by the Internal Revenue Service, which claimed that he owed $32 million. The difficulty of paying his outstanding debt was aggravated by weak investments he had made during the 1980s. In 1992, Nelson released The IRS Tapes: Who'll Buy My Memories?; the profits of the double album—destined to the IRS—and the auction of Nelson's assets cleared his debt. During the 1990s and 2000s, Nelson continued touring extensively, and released albums every year. Reviews ranged from positive to mixed. He explored genres such as reggae, blues, jazz, and folk.
Country hit-maker Lacy J. Dalton is the only female vocalist featured on Willie Nelson's album, 'Half Nelson' which reached Billboard's Top 10 position. Dalton recently received a Platinum award for the album on which she recorded her duet with Nelson, "Slow Movin' Outlaw," a classic Texas outlaw ballad. The album contains duets performed by Nelson along with other legendary artists and resulted in multiple hits including "Pancho and Lefty" with Merle Haggard, "Seven Spanish Angels" with Ray Charles, "To All The Girls I've Loved Before" with Julio Iglesias, as well as duets with George Jones, Hank Williams, Leon Russell and more. Dalton is honored to be recognized for her outstanding participation on the 'Half Nelson' album!  "To be the only woman in the company of such greats as Ray Charles, Carlos Santana, Neil Young, and Willie himself was a high point for me and an important milestone in my career, and I believe for women in country music in general," shares Dalton.
Nelson made his first movie appearance in the 1979 film The Electric Horseman, followed by other appearances in movies and on television. Nelson is a major liberal activist and the co-chair of the advisory board of the National Organization for the Reform of Marijuana Laws (NORML), which is in favor of marijuana legalization, which our cameraman: Richard Marcella was a major part off! In addition Richard interviewed Willie on his TV show. On the environmental front, Nelson owns the biodiesel brand Willie Nelson Biodiesel, whose product is made from vegetable oil. Nelson is also the honorary chairman of the advisory board of the Texas Music Project, the official music charity of the state of Texas.
Nelson is active in a number of issues. Along with Neil Young and John Mellencamp, he set up Farm Aid in 1985 to assist and increase awareness of the importance of family farms, after Bob Dylan's comments during the Live Aid concert that he hoped some of the money would help American farmers in danger of losing their farms through mortgage debt. The first concert included Dylan, Billy Joel, B.B. King, Roy Orbison, and Neil Young among many others, and raised over $9 million for America's family farmers. Besides organizing and performing in the annual concerts, Nelson is the president of the board of Farm Aid. Nelson is a co-chair of the National Organization for the Reform of Marijuana Laws (NORML) advisory board. He has worked with NORML for years, promoting marijuana legalization. In 2005 Nelson and his family hosted the first annual "Willie Nelson & NORML Benefit Golf Tournament", leading to a cover appearance and inside interview in the January 2008 issue of High Times magazine.  After his arrest for possession of marijuana in 2010, Nelson created the TeaPot party under the motto "Tax it, regulate it and legalize it!" In 2001, following the September 11 attacks, he participated in the benefit telethon America: A Tribute to Heroes, leading the rest of the celebrities singing the song "America the Beautiful".  In 2010, during an interview with Larry King, Nelson expressed his doubts with regards to the attacks and the official story. Nelson explained that he could not believe that the buildings could collapse due to the planes, attributing instead the result to an implosion.
Solo studio albums
…And Then I Wrote (1962)
Here's Willie Nelson (1963)
Country Willie: His Own Songs (1965)
Country Favorites: Willie Nelson Style (1966)
Make Way for Willie Nelson (1967)
The Party's Over (1967)
Texas in My Soul (1968)
Good Times (1968)
My Own Peculiar Way (1969)
Both Sides Now (1970)
Laying My Burdens Down (1970)
Willie Nelson & Family (1971)
Yesterday's Wine (1971)
The Words Don't Fit the Picture (1972)
The Willie Way (1972)
Shotgun Willie (1973)
Phases and Stages (1974)
Red Headed Stranger (1975)
The Sound in Your Mind (1976)
The Troublemaker (1976)
To Lefty from Willie (1977)
Stardust (1978)
Willie Nelson Sings Kristofferson (1979)
Pretty Paper (1979)
Family Bible (1980)
Somewhere Over the Rainbow (1981)
Always on My Mind (1982)
Tougher Than Leather (1983)
Without a Song (1983)
City of New Orleans (1984)
Angel Eyes (1984)
Me & Paul (1985)
Partners (1986)
The Promiseland (1986)
Island in the Sea (1987)
What a Wonderful World (1988)
A Horse Called Music (1989)
Born for Trouble (1990)
The IRS Tapes: Who'll Buy My Memories? (1992)
Across the Borderline (1993)
Moonlight Becomes You (1994)
Healing Hands of Time (1994)
Just One Love (1994)
Spirit (1996)
Teatro (1998)
Night and Day (1999)
Me and the Drummer (2000)
Milk Cow Blues (2000)
Rainbow Connection (2001)
The Great Divide (2002)
Nacogdoches (2004)
It Always Will Be (2004)
Countryman (2005)
You Don't Know Me: The Songs of Cindy Walker (2006)
Songbird (2006)
Moment of Forever (2008)
American Classic (2009)
Country Music (2010)
Remember Me, Vol. 1 (2011)
Heroes (2012)
Let's Face the Music and Dance (2013)
To All the Girls… (2013)
Band of Brothers (2014)
Summertime: Willie Nelson Sings Gershwin (2016)
For the Good Times: A Tribute to Ray Price (2016)
God's Problem Child (2017)
Last Man Standing (2018)
My Way (2018)
Ride Me Back Home (2019)
First Rose of Spring (2020)
That's Life (2021)
The Willie Nelson Family (2021)
A Beautiful Time (2022)