For 2 nights in a row at the Pala Casino Events Center we were able to witness 2 amazing concerts from 2 legendary Rock bands: 1st we saw Three Dog Night, and then tonight we saw: War who are from Long Beach, California, and are a funk/rock/soul band best known for several hit songs like: The World Is A Ghetto,  Why Can't We Be Friends?  "Gypsy Man", "Me And My Baby Brother", and a re-recording of "All Day Music". This album proved a real challenge for the band since the pressure of their previous hits and too much focus on enjoying the fruits of their success made concentration difficult. Despite these conditions, the album went on to sell nearly two million copies!
So enjoy this video from this amazing live concert! The first segment starts of with the closing songs from this almost 2 hour long concert, with War's most well known #1 hit songs that are part of music history- their 2 signature songs: Why Can't We Be Friends? and then Low Rider, and then all the band introductions before the band said goodnight and left the stage.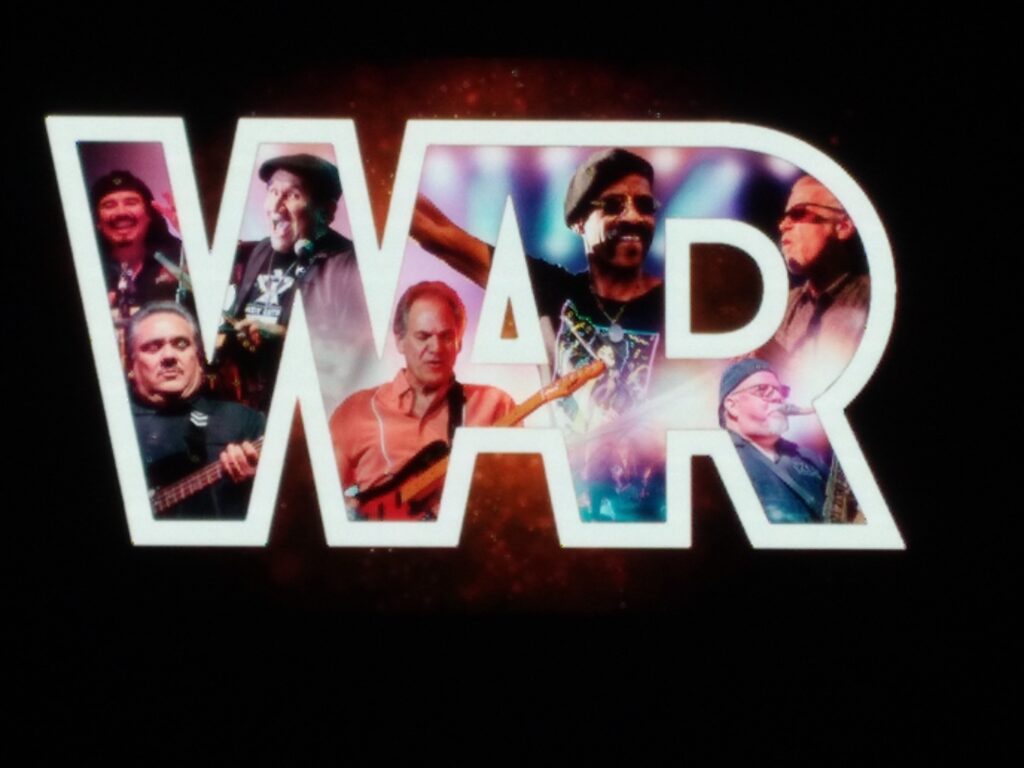 War was originally called "Eric Burdon and War" with classic Rocks songs that you would remember like: "Spill the Wine", "The World Is a Ghetto", "The Cisco Kid", "Why Can't We Be Friends?", "Don't Let No One Get You Down" "Low Rider", "You Got The Power" , "Don't Let No One Get You Down" , "Smile Happy" ,   "Summer"  Formed in 1969, War is a musical crossover band that fuses elements of rock, funk, jazz, Latin, rhythm and blues, psychedelia, and reggae. According to music writer Colin Larkin, their "potent fusion of funk, R&B, rock and Latin styles produced a progressive soul sound", while Martin C. Strong calls them "one of the fiercest progressive soul combos of the '70s". Their album The World Is a Ghetto was Billboard's best-selling album of 1973. The band transcended racial and cultural barriers with a multi-ethnic line-up. War was subject to many line-up changes over the course of its existence, leaving member Leroy "Lonnie" Jordan as the only original member in the current line-up; four other members created a new group called the Lowrider Band.
It was 1975 when the Why Can't We Be Friends? album was released. It contained the hit title track, "Low Rider", and "Don't Let No One Get You Down". This year saw WAR's touring, record sales, and notoriety reach new heights. They performed at the first Congressional Black Caucus and witnessed their hit "Friends…" played as a soundtrack to the first U.S.-Soviet space mission in which Astronauts and Cosmonauts linked up in the spirit of friendship. "Friends…" stayed on the U.S. charts for thirty-one weeks and earned the band yet another platinum-plus album. Exhausted from a non-stop schedule, the band took a year long hiatus from recording, but did release a Greatest Hits LP, which contained one new song, "Summer". War became the first group to ever include a new cut on a Greatest Hits package. With its easy flowing style the single went gold. Below is a photo taken after the concert with me and the Drummer for the War Band on the right- Sal Rodriguez: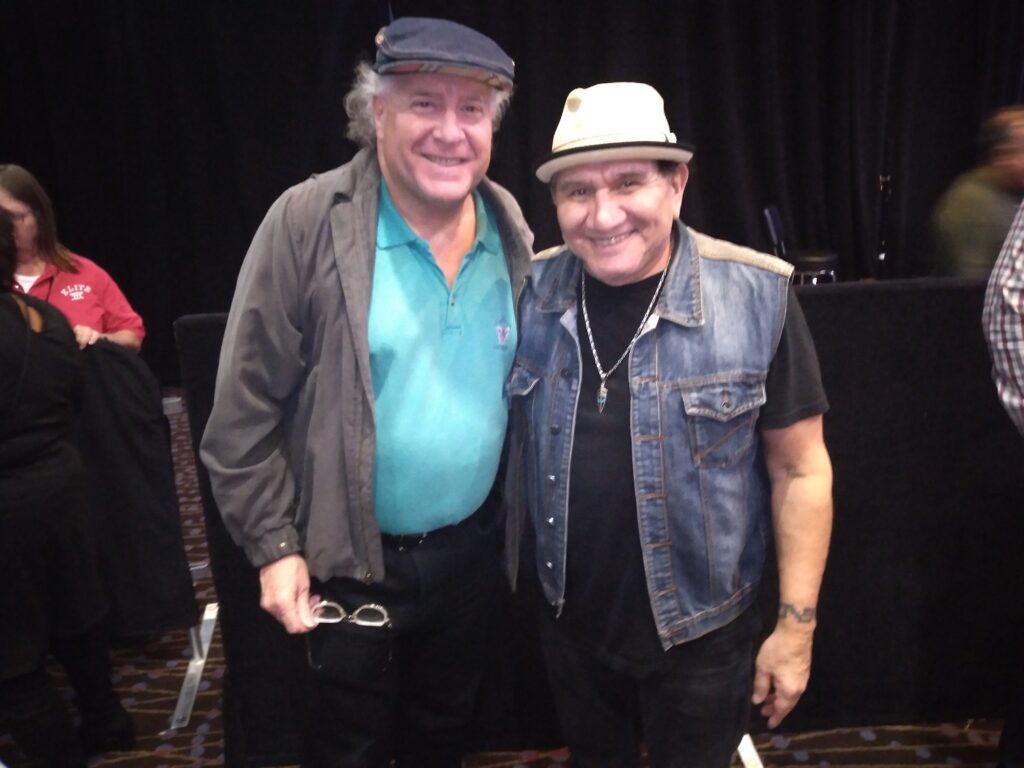 In late 1971 WAR released All Day Music, the title track would be the group's first hit single, and their first gold single "Slippin' Into Darkness" followed propelling the album to over 1 million sales and a winning streak that would continue for years!. In 1972 the band's sound was refined and deepened with the release of The World Is A Ghetto; a celebratory, reflective, and gritty album which was recorded in just 29 days with Goldstein and legendary British recording engineer Chris Huston behind the recording console. Its first single, "The Cisco Kid" shipped gold and brought the band a following in the Hispanic community that has remained loyal to the group to this day. The thought provoking title song "The World Is A Ghetto" fueled the album to the Number One chart spot in Billboard and was voted Billboard's Album of the Year. 
These 'kids' had the nerve to carry the name WAR at a time when peace was the slogan in an anti-Vietnam America. "Our mission was to spread a message of brotherhood and harmony". Original Band Members included; Lonnie Jordan/singer/keyboardist, Howard Scott/guitars/ vocal, Lee Oskar/harmonica, B.B. Dickerson/bass vocals, Harold Brown/drums/ vocals, the late Thomas "Papa Dee" Allen/congas/timbales, and Charles Miller /saxophonist/flutist.
"Our instruments and voices became our weapons of choice and the songs our ammunition. We spoke out against racism, hunger, gangs, crimes, and turf wars, as we embraced all people with hope and the spirit of brotherhood. It's just as apropos today" WAR, the original street band, was brought together by veteran record producer Jerry Goldstein ("My Boyfriend's Back", "Hang On Sloopy", "I Want Candy") and rock legend Eric Burdon (ex-lead singer of the top British band The Animals). "I first saw some of the guys who would eventually become WAR playing at a topless beer bar in the San Fernando Valley, backing Deacon Jones, the pro football player, from The World Champion Los Angeles Rams, and part of the "Fearsome Foursome" along with Hall of Famer Merlin Olsen, Rosey Grier and Lamar Lundy on a defensive line that at times was unblockable, and I knew immediately how potent these kids were," states Goldstein. We have interviewed Deacon Jones many times on our show before at the ESPY Awards, and at his celebrity golf tournament at the Carlsbad Country Club.  "I was friends with Eric and he was ready to throw in the towel on the music scene and return to Newcastle. He was tired of the 'rock' thing and desperate for a fresh authentic sound. I called him the morning after I first saw the band and made him return to the club the next night with me. Eric was so blown away by what he had heard that he jumped on stage to jam with them. The guys weren't familiar with Eric or The Animals. I had them in the studio within a week, and the rest is history!"
WAR from the beginning was a concept & musical laboratory. As Burdon's back band, it was the vehicle for Goldstein (as producer/songwriter) and Burdon (as lead singer) to experiment with the blending of many musical styles and influences. "At the time, I didn't envision WAR as a separate entity. It was just a band to back Eric. I kind of thought it would change with his musical moods" says Goldstein. "It turned out to be that constantly evolving device, just without Eric Burdon."
Nevertheless, Goldstein's spontaneous impulse to scratch Burdon's musical itch would yield a mother lode of chart gold and platinum. WAR would wind-up being honored with 17 gold, platinum or multi-platinum awards which include the triple platinum The World Is A Ghetto, double platinum Why Can't We Be Friends? and Greatest Hits, platinum Deliver The Word, WAR Live, All Day Music, Best Of WAR and…more and Platinum Jazz, and gold Eric Burdon Declares WAR, Galaxy, and The Music Band.
Eric Burdon and WAR began playing live shows and immediately found themselves in front of sold-out audiences throughout Southern California before entering into the studio to record their debut album Eric Burdon Declares WAR. The album's key track, the erotic Latin flavored "Spill The Wine" was an immediate worldwide hit and launched the band's career.
The Current Members: 
Leroy "Lonnie" Jordan – keyboards, lead vocals (1969–present)
Stuart Ziff – guitar, vocals (2002–present)
Scott Martin – saxophone, flute (2017–present)
Stanley Behrens – harmonica (2011–present)
Sal Rodriguez – drums, percussion, vocals (1990–present)
David "Pug" Rodriguez – percussion, vocals (2011–present)
Marcos Reyes – percussion (1998–present)
Trevor Huxley – bass (2015–present)
The Original Members:
Eric Burdon – vocals (1969–1971)
Howard E. Scott – guitar, vocals (1969–1994)
Lee Oskar – harmonica and vocals (1969–1994)
Thomas "Papa Dee" Allen – percussion and vocals (1969–1988; died 1988)
Charles Miller – saxophone and vocals (1969–1980; died 1980)
B.B. Dickerson – bass and vocals (1969–1979; died 2021)
Leroy "Lonnie" Jordan – keyboards, lead vocals (1969–present)
Harold Ray Brown – drums and vocals (1969–1994)