This was the "hottest ticket in town" and this concert has been sold out for the last 4 weeks! So the sold out audience at Pala Casino Spa Resort were on their feet, and singing along to all of THREE DOG NIGHT's iconic hit rock songs! In this video segment are some highlights from the concert, with all of their hit songs, and starts of with their closing number- their biggest signature hit: Joy To The World  – "Jeremiah was a Bullfrog" . . . . .  Enjoy as we take you down to 2 feet from right in front of the stage, as if this band was in your very own living room and performing just for you!
I wasn't since the late 1980's that I was lucky enough to be at a live Three Dog Night Concert. A very close friend of mine that was living in Las Vegas, was lucky enough and smart enough to call into a radio station at 2AM, to win 2 tickets to see Three Dog Night perform right after the baseball game played by the Las Vegas Stars Triple–A professional baseball team at Cashman Field in Las Vegas. They are a Dodgers' triple-A franchise. She called me in Los Angeles to invite me to go, so I flew out right away to see this concert, baseball game, and fireworks. It was over 33 years ago, and we were all younger then, and the band was amazing, as they still are today! So I like to dedicate this show to my friend who invited me to this great experience: Frances.
Three Dog Night is an American rock band from Los Angeles, California best known for their music from 1968 to 1975, during which time they achieved twenty-one consecutive Billboard Top 40 Hits and 12 consecutive Gold Albums. Three Dog Night are still active in 2022, touring and recording 53 years after their first album was released. The first of the band's 7 million-selling singles was One in 1969. They scored three number one singles: Mama Told Me (Not to Come), Joy to the World and Black and White.
THREE DOG NIGHT hits weave through the fabric of pop culture today, whether on the radio where they are heard day in and day out, in TV commercials or in major motion  pictures — songs like "Mama Told Me (Not To Come)", "Joy to the World", "Black and White", "Shambala" and "One" serve to heighten our emotions and crystallize THREE DOG NIGHT's continuing popularity.
This Grammy-nominated band is not content resting on its legacy alone. Always working
to expand its audience, THREE DOG NIGHT has embraced and been embraced by 21st
century music technology. New and existing fans buy THREE DOG NIGHT's music on
iTunes as well as at record stores.
Three Dog Night is an American rock band formed in 1967, with founding members consisting of vocalists Danny Hutton, Cory Wells, and Chuck Negron. This lineup was soon augmented by Jimmy Greenspoon, Joe Schermie, Michael Allsup, and Floyd Sneed.  The band had 21 Billboard Top 40 hits between 1969 and 1975, with three hitting number one. Three Dog Night recorded many songs written by outside songwriters, and they helped to introduce mainstream audiences to writers such as Randy Newman ("Mama Told Me Not to Come"), Paul Williams ("An Old Fashioned Love Song"), and Hoyt Axton ("Joy to the World", "Never Been to Spain").
Three Dog Night, in 1972. Back L-R: Joe Schermie, Floyd Sneed, Michael Allsup and Jimmy Greenspoon. Front L-R: Danny Hutton, Cory Wells and Chuck Negron: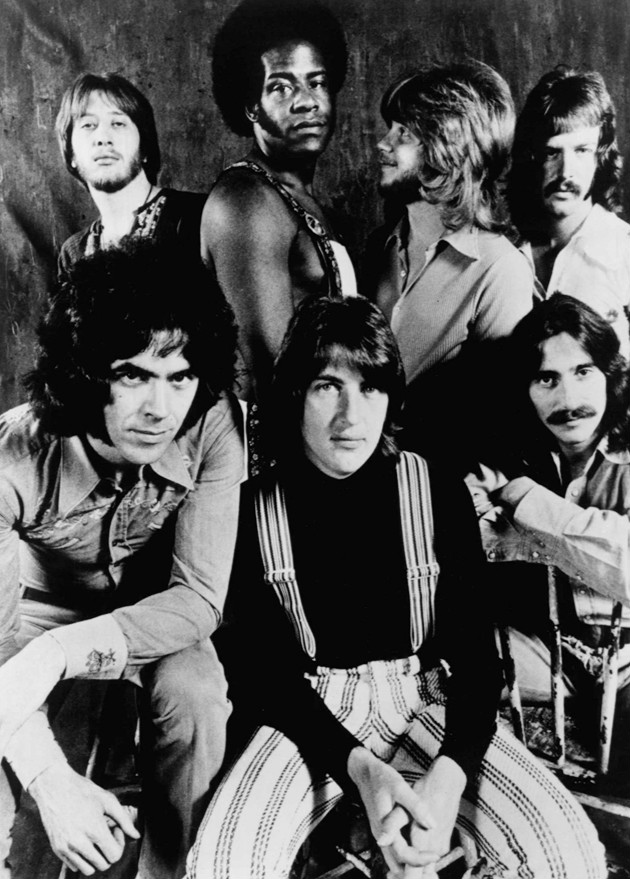 The official commentary included in the CD set Celebrate: The Three Dog Night Story, 1965–1975 states that vocalist Danny Hutton's girlfriend, actress June Fairchild (best known as the "Ajax Lady" from the Cheech and Chong movie Up In Smoke) suggested the name after reading a magazine article about Aboriginal Australians, in which it was explained that on cold nights they would customarily sleep while embracing a dingo, a native species of wild dog. On colder nights they would sleep with two dogs and, if the night were freezing, it was a "three dog night". Some say it originated in the Australian Outback. Others point to Alaska or Siberia as the source. No matter where it came from, the expression "three-dog-night" means a night so bitterly cold you'd need three dogs in bed with you to keep you warm.
Three Dog Night made its official debut in 1968 at the Whisky a Go Go, at a 5 p.m. press party hosted by Dunhill Records. They were still in the process of making their first album Three Dog Night when they heard the favorable reactions from the hypercritical audience. The album Three Dog Night was a success with its hit songs "Nobody", "Try A Little Tenderness", and "One" and helped the band gain recognition and become one of the top-drawing concert acts of their time. In December 1972, Three Dog Night hosted Dick Clark's first New Year's Eve special, which was then entitled Three Dog Night's New Year's Rockin' Eve.
The songs that Three Dog Night performs live vary, but here's the latest setlist that we have from the October 13, 2022 concert at Luhrs Performing Arts Center, Shippensburg University in Shippensburg, PA, US:
The Family of Man
Black and White
Never Been to Spain
Shambala
Out in the Country
Easy to Be Hard
Play Something Sweet (Brickyard Blues)
One
Let Me Serenade You
An Old Fashioned Love Song
Sure as I'm Sittin' Here
Liar
Mama Told Me Not to Come
Celebrate
Eli's Coming
Prayer of the Children
Joy to the World
Three Dog Night released 11 Top 10 hits in the US:
"Mama Told Me (Not To Come)"
"Eli's Coming"
"One"
"Easy To Be Hard"
"Joy To The World"
"Liar"
"An Old Fashioned Love Song"
"Never Been To Spain"
"Black And White"
"Shambala"
"The Show Must Go On"
Of these hits, three would reach number one: "Mama Told Me," "Joy to the World," and "Black and White."
The Current members are:
Danny Hutton – vocals (1967–1975, 1981–present)
Paul Kingery – vocals, guitar, bass (1982-1983 as substitute; 1985–1988, 1996–present)
Pat Bautz – drums, vocals (1993–present)
David Morgan – vocals (2015–present)
Howard Laravea – keyboards (2017–present)
Timothy Hutton – bass, vocals (2021-present)
Former members are:
Cory Wells – vocals, rhythm guitar (1967–1976, 1981–2015; his death)
Chuck Negron – vocals (1967–1976, 1981–1985)
Michael Allsup – guitar (1967–1974, 1981–1984, 1991–2021)
Jimmy Greenspoon – keyboards (1968–1976, 1981–2015; his death)
Floyd Sneed – drums (1968–1974, 1981–1984)
Joe Schermie – bass (1968–1973; died 2002)
Jack Ryland – bass (1973–1975; died 1996)
Skip Konte – keyboards (1973–1976)
Mickey McMeel – drums (1974–1976)
James "Smitty" Smith – guitar (1974–1975)
Dennis Belfield – bass (1975–1976)
Al Ciner – guitar (1975–1976)
Jay Gruska – vocals (1976)
Ron Stockert – keyboards (1976)
Mike Seifrit – bass (1981–1982)
Richard Grossman – bass (1982–1984)
Rick Seratte – keyboards (1985)
Mike Keeley – drums (1985–1993)
Scott Manzo – bass (1985–1988, 2004)
Steve Ezzo – guitar (fill-in for Allsup 1983–1984, 1985)
Gary Moon – bass, vocals (1988–1989)
T.J. Parker – guitar (1988–1989)
Richard Campbell – bass, vocals (1989–1996)
Eddie Reasoner – keyboards (2015–2017; substitute – 2014–2015)
Mike Cuneo – guitar (1989–1991)
Lead vocal credits:
"An Old Fashioned Love Song" – Negron
"Black and White" – Hutton
"Celebrate" – Hutton (Verse 1), Negron (Verse 2), Wells (Verse 3), who sings melody through the end refrain
"Easy to Be Hard" – Negron
"Eli's Coming" – Wells
"Joy to the World" – Negron
"Let Me Serenade You" – Wells
"Liar" – Hutton
"Mama Told Me (Not to Come)" – Wells
"Never Been to Spain" – Wells
"One" – Negron
"One Man Band" – Hutton sings melody with Negron on harmony on verses, then Negron takes the lead through the end refrain
"Out in the Country" – Group vocal in unison
"Pieces of April" – Negron
"Play Something Sweet (Brickyard Blues)" – Wells
"Shambala" – Wells
"Sure As I'm Sittin' Here" – Wells
"The Family of Man" – Hutton (Verse 1), Negron (Verse 2), Wells (Verse 3)
"The Show Must Go On" – Negron
"Til the World Ends" – Negron
"Try a Little Tenderness" – Wells
"Your Song" – Hutton