American Film Market® (AFM®)
The
AFM
is where the business of film comes to life every November. One of the world's preeminent film events and the only independently produced international sales market, hundreds of production, sales and distribution companies and thousands of buyers and professionals from every segment of the industry, convene at AFM in Santa Monica for six days of discovery, development, deal making, networking, marketplace discussions and world-class conferences.  More than US $1 billion in finance, production and distribution deals are closed each year on completed films and projects in every stage of development and spanning every genre, budget and language.  The AFM is produced by the Independent Film & Television Alliance® (IFTA®) and serves as the annual fundraiser for the association.
On the first day of AFM – The American Film Market, I had the pleasure of interviewing Director- Thor Moreno and Emmy award-winning actress Lindsay Wagner (the star of the hit TV series: The Bionic woman) about their new film called "When Jack Came Back". 
This is a gem of a film and the logline is: Jack, a down-on-his-luck actor, begrudgingly comes home after the death of his father only to find that his mom is in the grips of Alzheimer's Disease. Now the two of them must find some common ground as Nancy's time is running out.
THOR captured that. He wanted to encourage hope in a positive way, although painful. When you see someone doing something successful you've not been able to do you are encouraging it's possible- not just a fairytale. He made films about transcendence not about survival.
Just watching the trailer will make you see what a moving story it is. It follows a family at odds who at the end of the day come together and heal. "It's a story about love and transcendence" as lead actress Lindsay Wagner said, and went on to say: "This is a moving film about love, loss and letting go," . . . "I'm hoping it will help others who are supporting their loved ones to know they're not alone."
Actress Lindsay Wagner was the Bionic Woman for 3 years on ABC & NBC TV. The Bionic Woman is an American science fiction action-adventure television series created by Kenneth Johnson based on the 1972 novel Cyborg by Martin Caidin, starring Lindsay Wagner that aired from January 14, 1976, to May 13, 1978. The Bionic Woman series features Jaime Sommers, who takes on special high-risk government missions using her superhuman bionic powers. The Bionic Woman series is a spin-off from the 1970s Six Million Dollar Man television science fiction action series.  
Wagner stars as professional tennis player Jaime Sommers, who becomes critically injured during a skydiving accident. Jaime's life is saved by Oscar Goldman (Richard Anderson) and Dr. Rudy Wells (Martin E. Brooks) with bionic surgical implants similar to those of The Six Million Dollar Man Steve Austin (Lee Majors). Through the use of cybernetic implants, known as bionics, Jaime is fitted with an amplified bionic right ear which allows her to hear at low volumes and at various frequencies and over uncommonly long distances. She also has extraordinary strength in her bionic right arm and in both legs that enables her to jump great distances and run at speeds exceeding 60 miles per hour. She is then assigned to secret missions as an occasional agent of the Office of Scientific Intelligence, while teaching middle and high school students in her regular life.
Director Thor Moreno
is very proud of doing a story that
puts a light on families dealing with Alzheimer's and the deep pain they go through
but shows in this film that there can be hope, love and laughter that can help get you through.
See below photo of Thor Moreno and myself at AFM: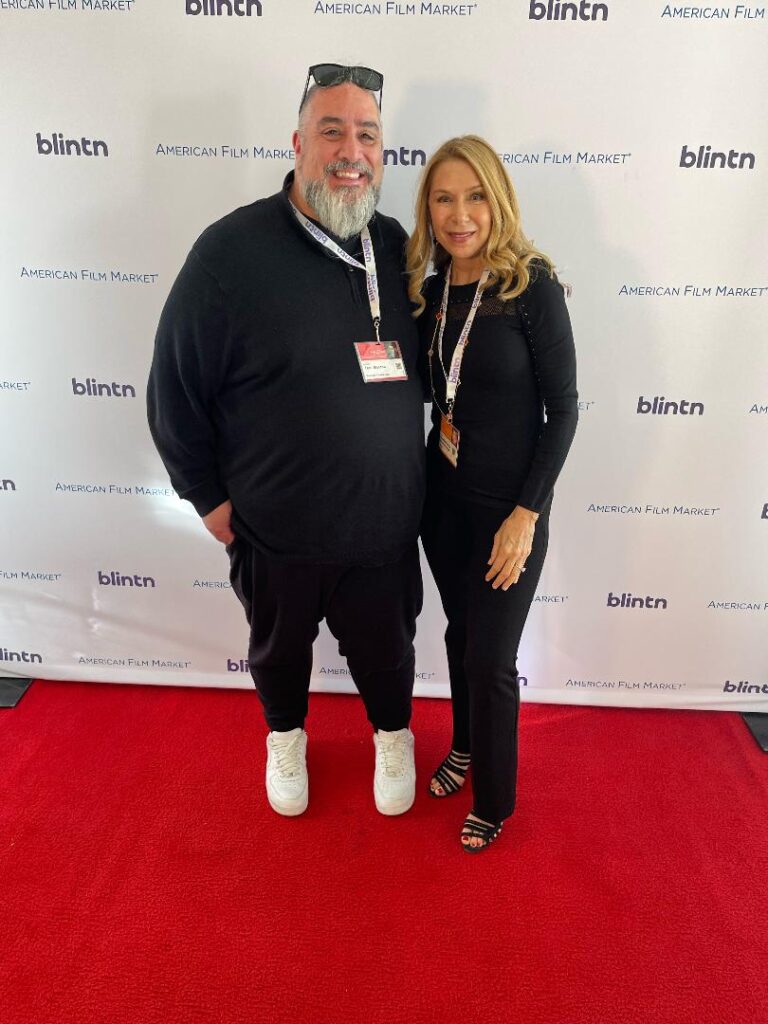 Since 2002, writer and director Thor Moreno has assembled a provocative body of work and drawn critical global acclaim. Splitting his time between the West Coast and Midwest, Moreno draws upon his unique life experiences to create complex character-driven films. He continues to expand his reputation as a risk-taking director whose films tackle provocative and timely issues. Thor is a talented Director and stay tuned for future projects of his, as they carry a real emotional depth.
Moreno draws upon personal experience to tell this hauntingly authentic story. In his youth, he lost his grandmother to Alzheimer's and remembers how his family navigated caring for her. 
"Alzheimer's is a cruel disease impacting millions of Americans and needs to be brought to the forefront of discussion," he said. "It's an honor to show 'When Jack Came Back' at AFM, and I'm humbled by the opportunity to share this film with the cinematic community."
According to
Alzheimer's Association
, the number of Americans living with Alzheimer's is growing quickly, with an estimated 6.5 million Americans age 65 and older living with Alzheimer's in 2022. This figure is expected to swell to 12.7 million by 2050. The disease disproportionately affects women. Older Hispanics are about 1.5 times as likely to have Alzheimer's or other dementias as older whites, and older Black Americans are about twice as likely.
 "When Jack Came Back" is a must see movie because it will fill your soul with hope and take you on a powerful journey. Everyone who has been at odds with a family member, deep down yearns to have the outcome that this film gives you the experience of. & As Lindsay said: make sure you bring your Kleenex for this emotionally fulfilling film.
By Entertainment Today News Reporter: Jacqueline Murphy