Al Pacino, Evander Holyfield, Quincy Jones, Robert De Niro, and Sylvester Stallone were live at The American Icon Awards at the iconic Beverly Wilshire Hotel in Beverly Hills, along with a star-studded line up of stars including:  Naomi Campbell (presenter), Joe Mantegna (presenter), Robin Thicke, David Foster, Kat McPhee, Laila Ali (presenter), Peter Facinelli (presenter) and girlfriend Lily Anne Harrison, Barry Bostwick, Sugar Ray Leonard, Wendi Mclendon-Covey, Bebe Winans, Devon Still (NFL great and honoree), Oscar De La Hoya, Phil Donahue, Marlo Thomas, Caleb Emery, Jonathan Baker (Director/Producer), Jack Perry, Bill Mack (artist), Sheléa (singer), Jackie Cruz ("Orange Is The New Black"), Matteo Bocelli (singer), Pia Toscano, Ruby Ofee, Matthias Schweighofer, Diana Madison (Mob Town), Sebastian Maniscalco (comedian), Janice Dickinson, Josh Altman, Christian Olivo, Jake Hoffman ("The Irishman"), Jonathan D. Fischer and Christine Avanti-Fischer (humanitarians), Joanne Lara (Autism Movement Therapy/Autism Works), Shari Liss and Anissa Kalinowski of Ignited organization, and many, many more! In this show you will see interviews with many of these stars, done by our TV show Host: Margie Rey, and News Reporter: Melanie Murphy – who both did a great job, with great in-depth interviews!  Below photo of Al Pacino, Sylvester Stallone, and Robert De Niro at The VIP Reception: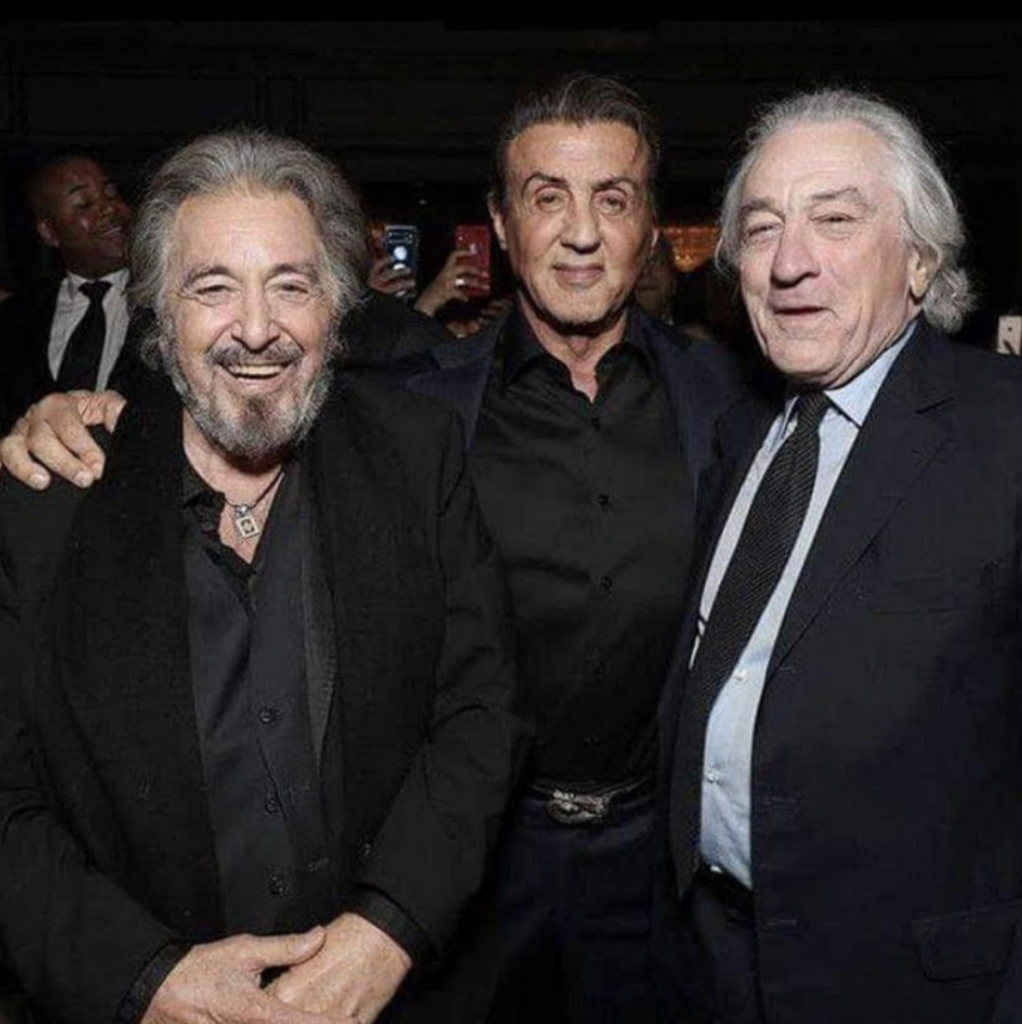 The American Icon Awards was a Black Tie star-studded Gala that included a private VIP cocktail reception, cocktail hour, spectacular silent and live auctions, a seated gala gourmet dinner, awards ceremony and a star-studded concert, with red carpet arrivals, speeches by charity beneficiaries, video montages to the honorees, musical performances and various other programming throughout the evening.
Earlier that same day, there was Private VIP Meet and Greet with Al Pacino, as part of an intimate 2 hour long luncheon that was held at Spago's Beverly Hills, where Al Pacino engaged in a Q&A moderated by Leonard Maltin ! Below photo of Al & the VIP guests who were so happy to meet him: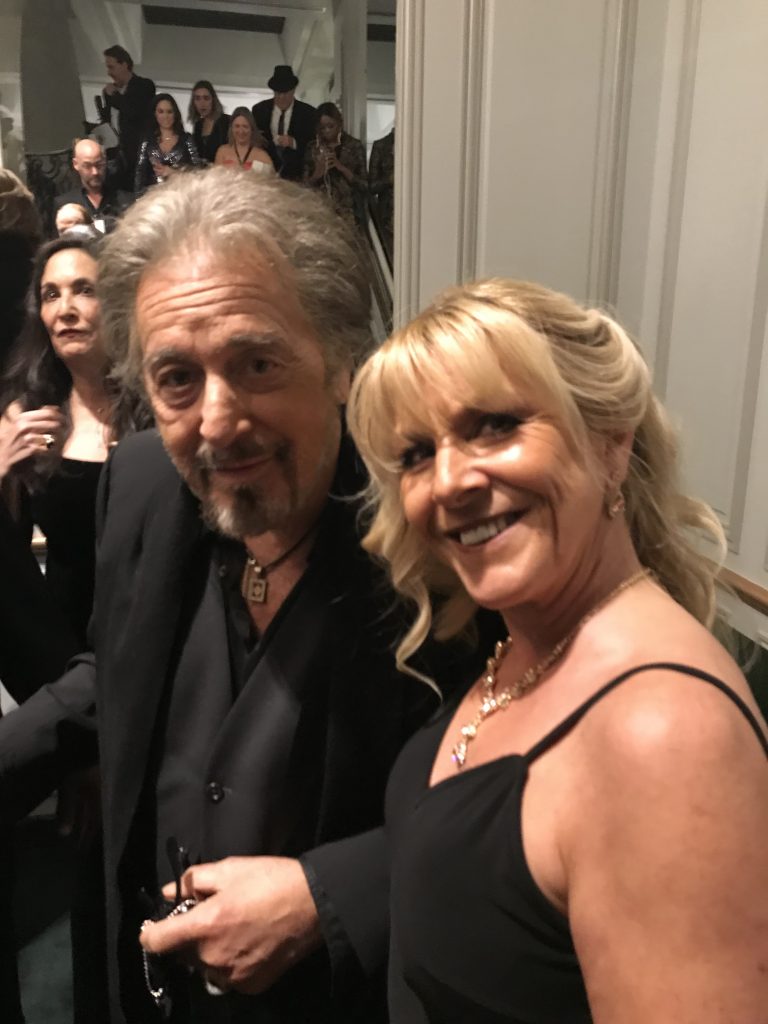 Martin Scorcese and Larry King served as honoree dinner chairmen at this Gala event to honor Actor Al Pacino, Music Industry Icon Quincy Jones, Sports Icon Evander Holyfield, humanitarians Jonathan D. Fischer and Christine Avanti-Fischer, and Still Strong Foundation founder NFL Veteran, Devon Still. 
Robert De Niro presented Al Pacino with the "American ICON Award" honor, and NAOMI CAMPBELL presented Quincy Jones with the "Lifetime Achievement Award" honor. Below photo of Quincy with Margie in his private area for the show: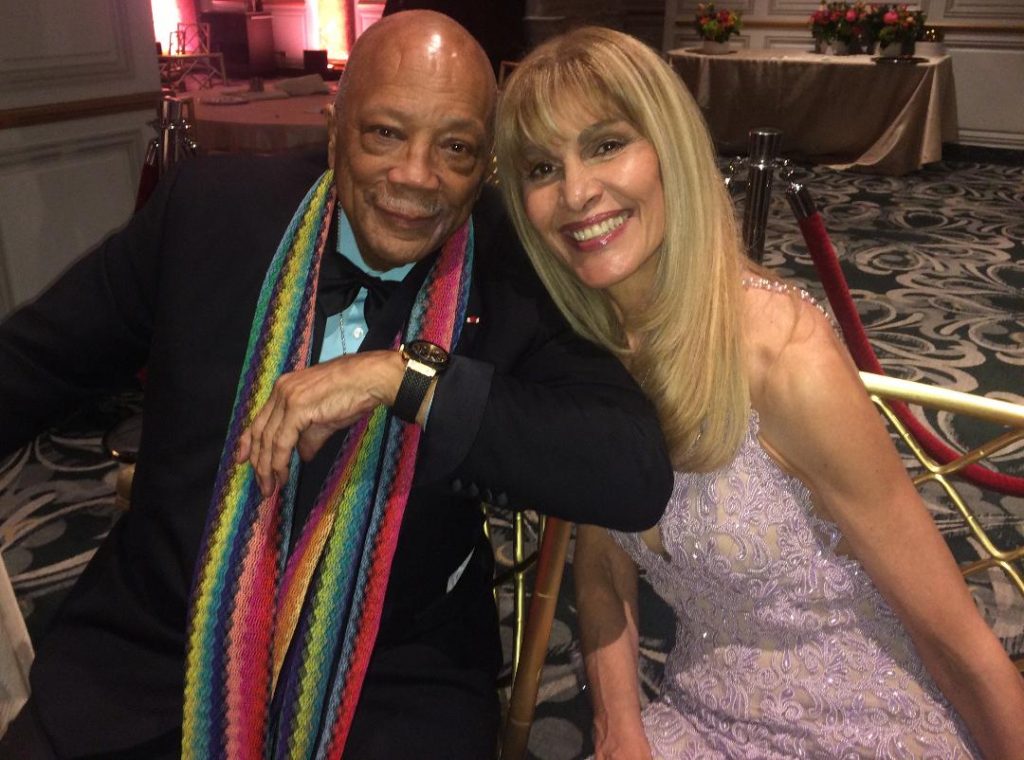 Muhammad Ali's daughter and undefeated champion boxer: Laila Ali presented the ONLY 4 time Heavyweight Boxing Champion of the World– Evander Holyfield with the "American Sports Legend Award" honor. Below photo of Evander Holyfield at The VIP Reception with Sylvester Stallone  :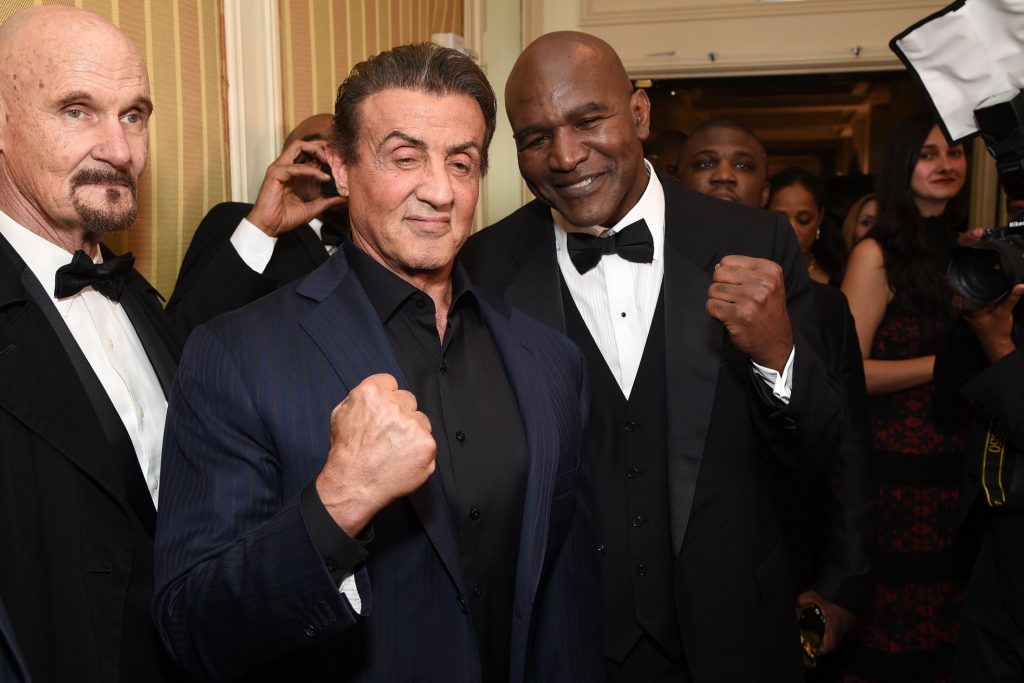 Below photo of "The Champ" Evander Holyfield and Producer Steve Taylor, who made all the arrangements for Evander to fly out from Florida to Beverly Hills to appear in person at The American Icon Awards, and to be honored with The American Icon  "American Sports Legend Award" :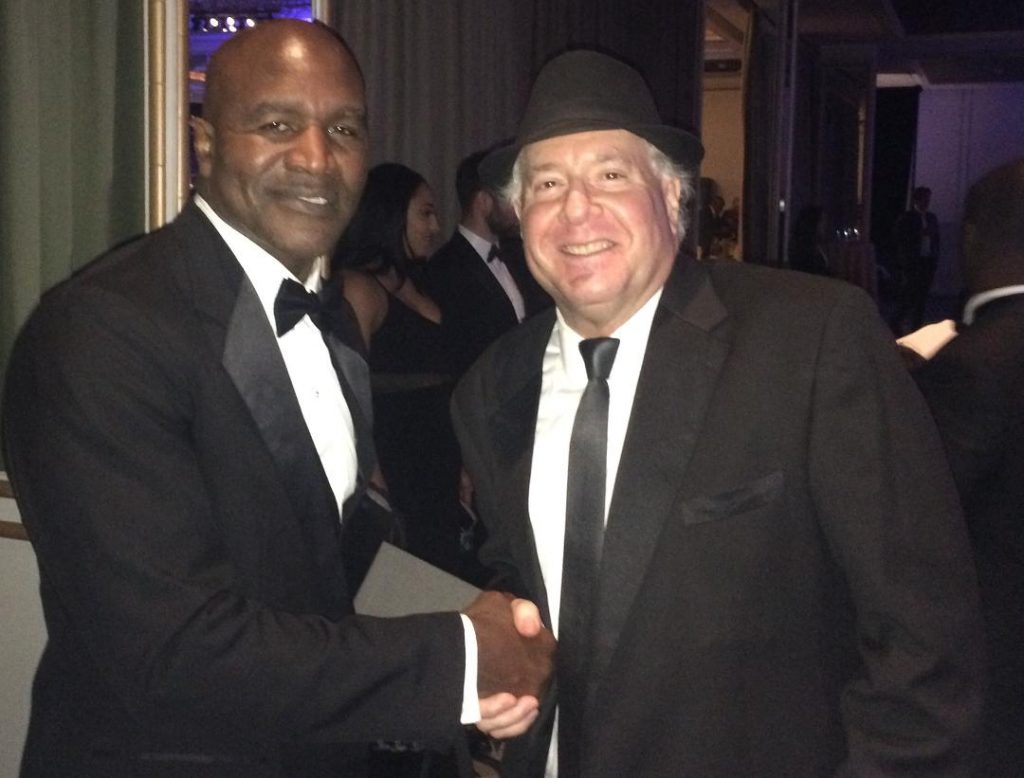 NFL great Devon Still was awarded the "Sports Philanthropy Award" honor.
This show was one that you will never forget, with spectacular entertainment and concert with live musical performances by Jackie Cruz of Orange Is The New Black, who just launched her album, and Robin Thicke who wowed the room with an incredible live stage show, and Sebastien Maniscalco who performed a live comedy set that the audience loved !
The night was made special by Musical Genius and Record Producer David Foster! When it looked the show was over- after the last award was handed out at 10:30 PM, David just kept adding on singers to perform for the concert- that went on for about an hour and a half- so that the show went till about 12 Midnight ! David curated a live set where he played piano alongside singers Shelea, and Pia Toscano and Matteo Bocelli: the son of the legendary Italian singer, songwriter, and record producer: Andrea Bocelli ! Celine Dion has said that "if God would have a singing voice, he must sound a lot like Andrea Bocelli," and David Foster describes Bocelli's voice as the most beautiful in the world. Well the son Matteo is just about as good as his father! I guess it runs in the family.  Below photo of Steve & Margie with David Foster after the show, as we thanked him in person for adding on another hour and a half of spectacular musical performances to this already amazing show: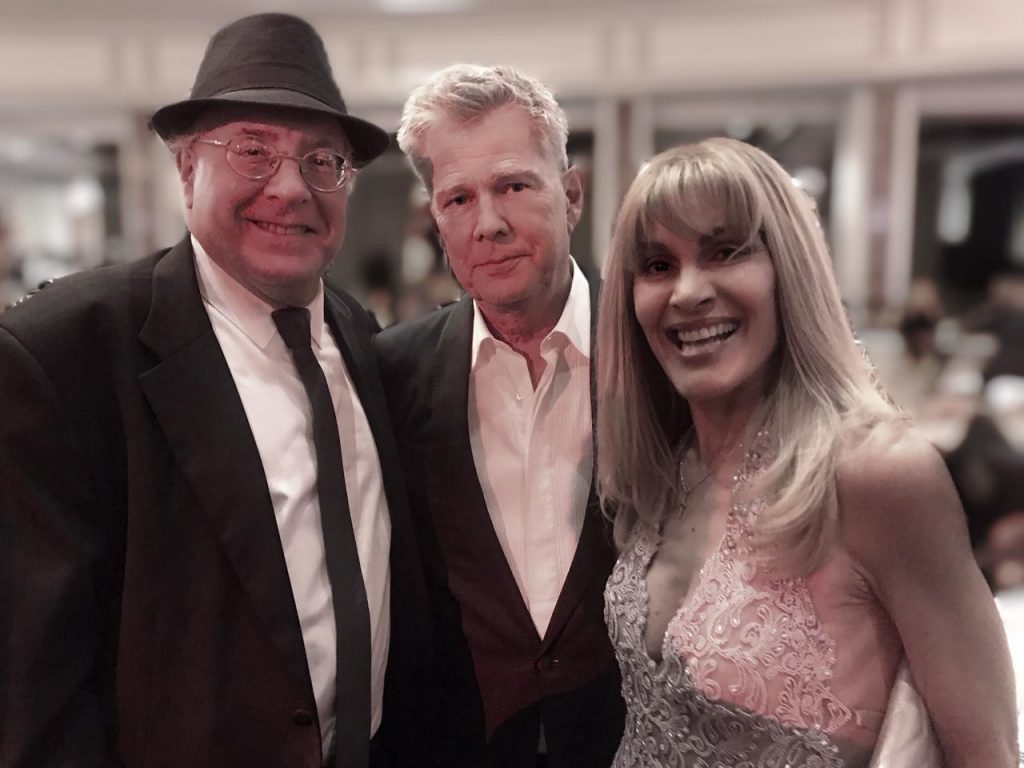 It was very nice of David to go the extra mile for all the people that support these worthy charities: St. Jude Children's Research Hospital, Autism Movement Therapy, Inc., Ignited; and of course The American Icon Awards! All of us ask you to continue to support these worthy groups throughout the year!
Sponsors including JILLUXE, Electra Meccanica's SOLO Single-Passenger EV (electric vehicle), Unique Life Boost health-conscious beverage, Eclipse Folliceuticals, MD, Jonathan D. Fischer Foundation, Clearly Canadian, BEAUTIFY Skincare – (JustBeautify.com), Go Charity, and Clay Lacy Aviation all supported the evenings incredible event. Below photo of our TV staff at our table during the show: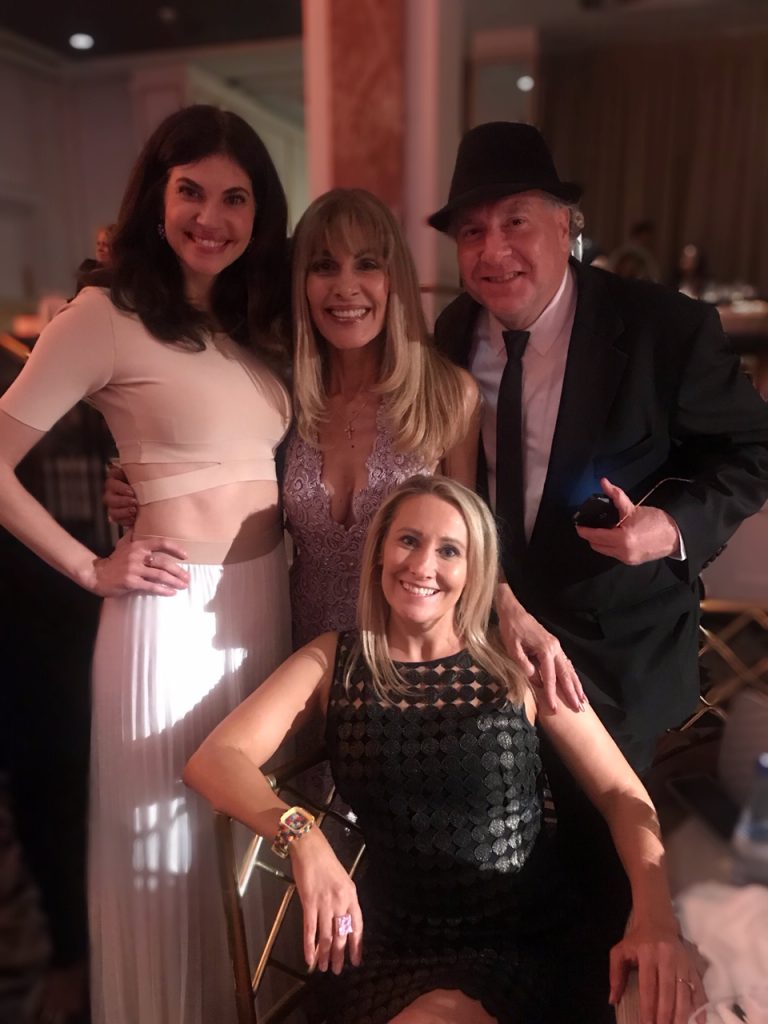 Stay tuned for live daily round-the-clock news coverage from our news team in Los Angeles, New York, Hollywood, Beverly Hills, and in the USA and Overseas during the year from Entertainment & Sports Today TV, and Entertainment Today, and for the complete story go to: entertainmentandsportstoday.com, on Facebook & Instagram: @entertainmentandsportstoday, and Youtube.com/entertainmenttodaytv #GarthBrooks @GarthBrooks #TrishaYearwood @TrishaYearwood #AlPacino #EvanderHolyfield #QuincyJones  #RobertDeNiro  #SylvesterStallone #DavidFoster #NaomiCampbell #JoeMantegna #RobinThicke #AmericanIconAwards @official.AlPacino_ @EvanderHolyfield @QuincydJones @RobertDeNiroDaily @SylvesterStallone1946 @DavidFoster @naomi @JoeMantegna @RobinThicke @AmericanIconAwards