Last night the Fabulous Lady Gaga was at the Beverly Hilton Hotel in Beverly Hills to honor Bradley Cooper at the 32nd Annual American Cinematheque Awards. Our reporters- Margie Rey and Melanie Murphy (in below photo bottom left corner) will take you live – right down on the red carpet for interviews with four-time Oscar nominee Bradley Cooper, and six-time Grammy Award winner Lady Gaga, and Patricia Clarkson: who has won an Academy Award, a British Academy Film Award, a Daytime Emmy Award, a Primetime Emmy Award, two Golden Globe Awards, and two Screen Actors Guild Awards!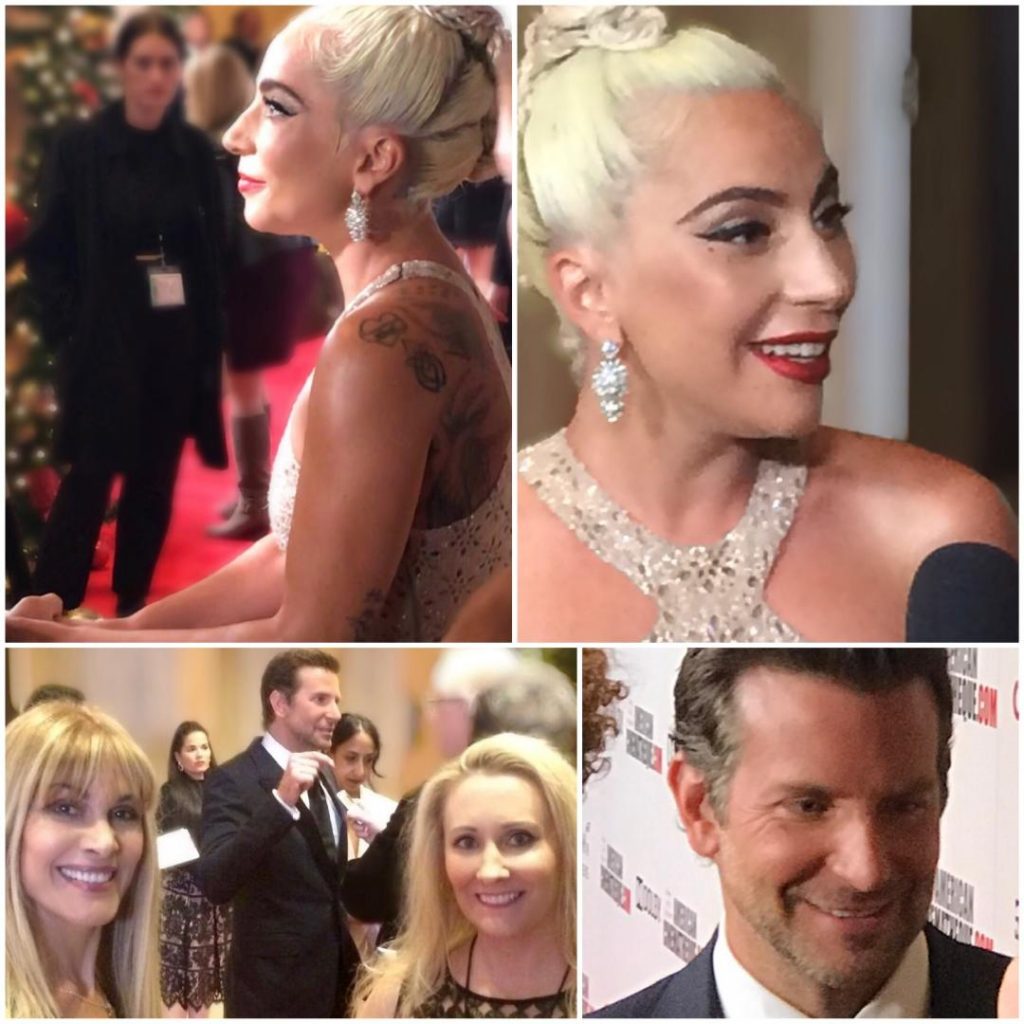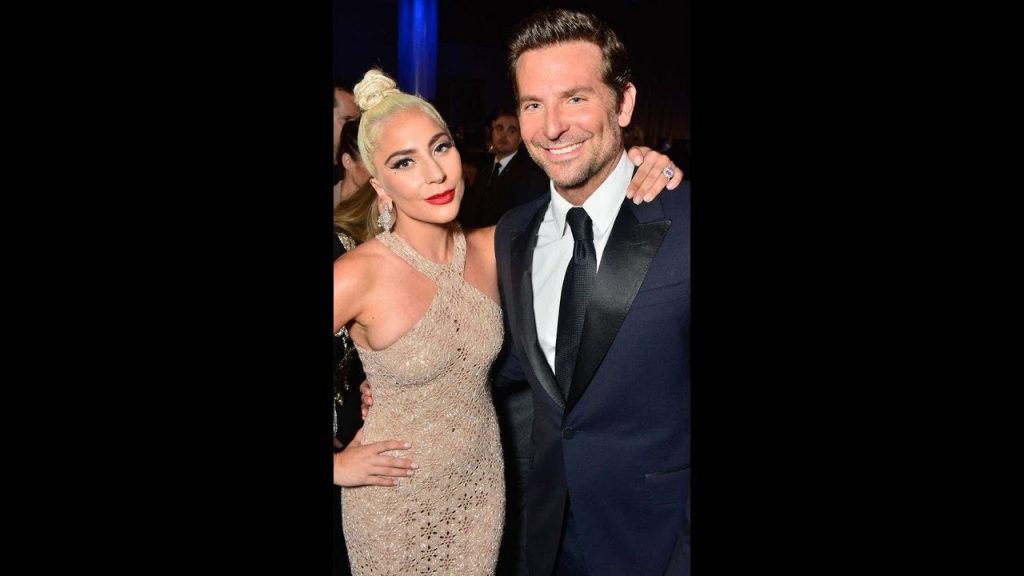 Below Photos: both of our reporters: Margie (1st. 2 photos) & Melanie (3rd Photo Down) interview Lady Gaga: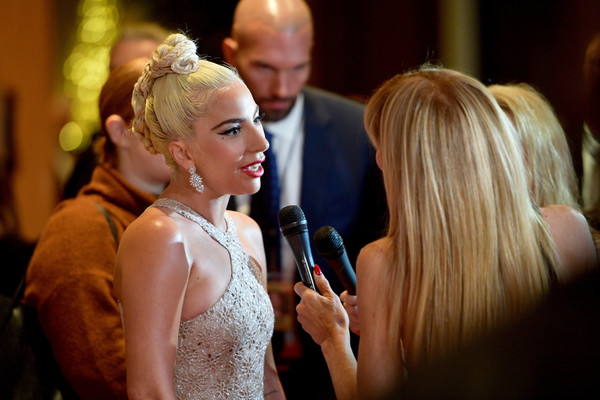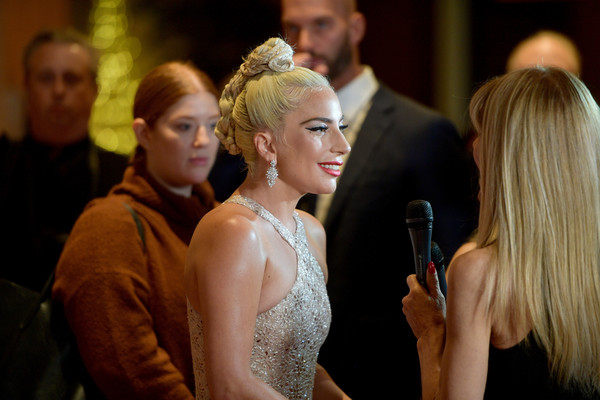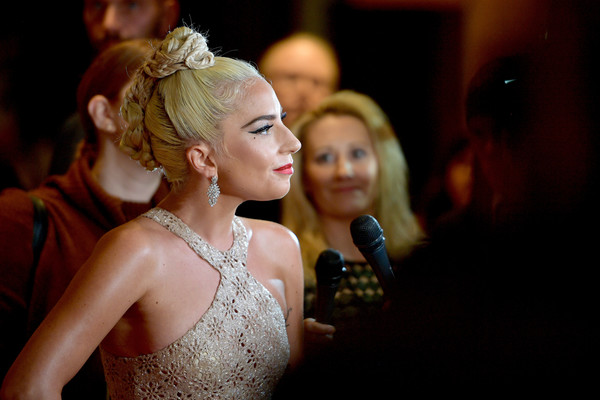 Then up next we have a first hand endorsement on The Hokaoneone Running Shoe from another person who was also working at this event. He told us how these shoes has changed his life! These amazing shoes has helped him so much with the inflammation in his feet, that he no longer has any pain, and he can now walk again without any problems!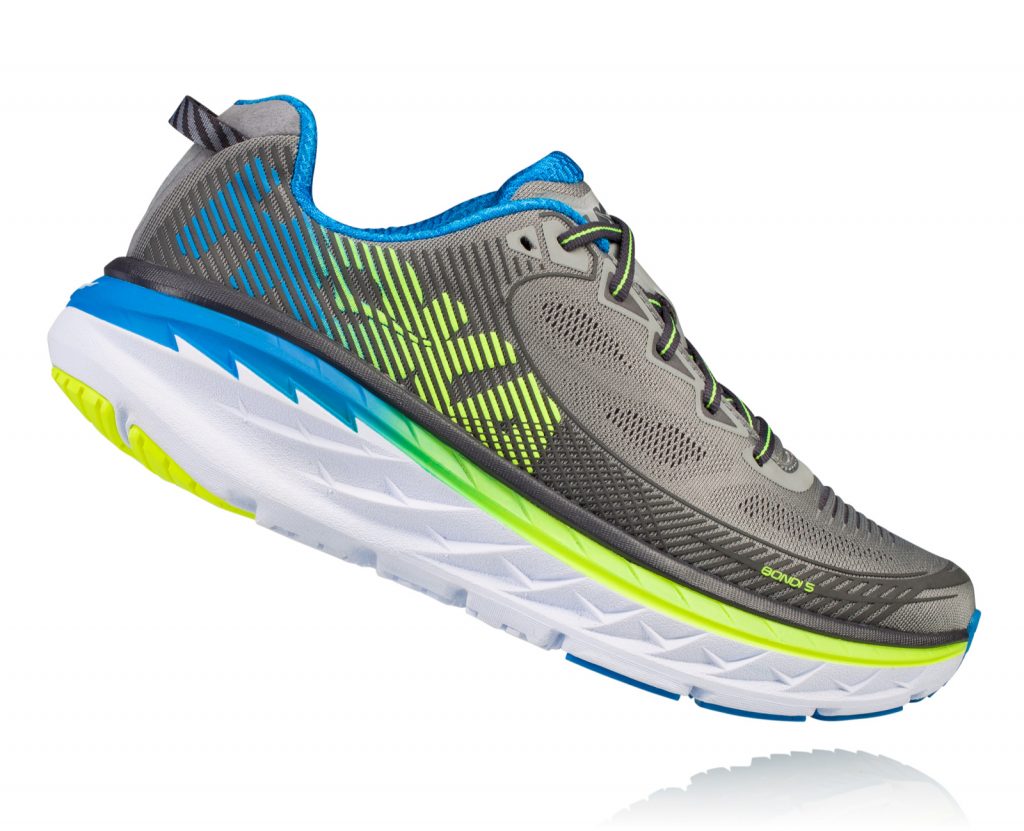 Then up next from the red carpet at The American Cinematheque Awards, our TV Show Host: Margie Rey– interviews the multi-award-winning actress Patricia Clarkson (Below on left, next to Bradley Cooper)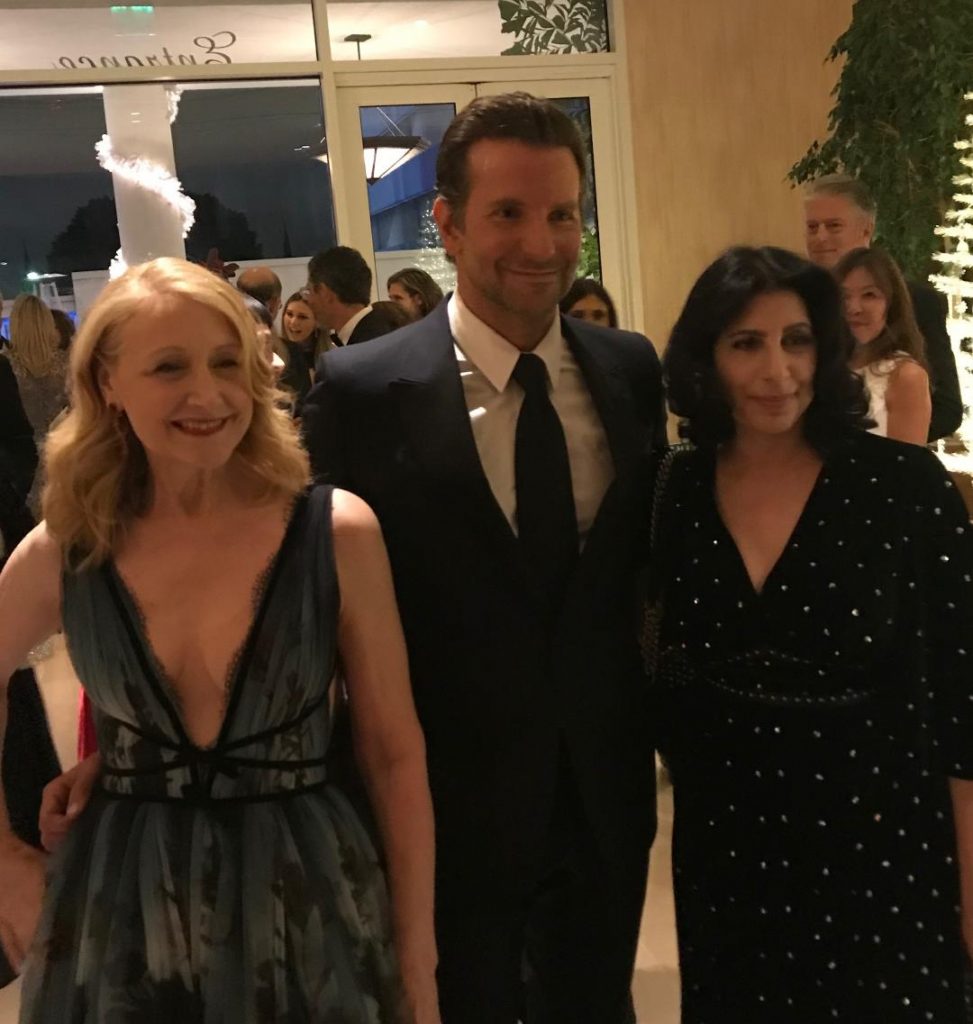 Then in the final segment of this show we interview the 2002 winner of The American Cinematheque Award : Denzel Washington. We were very lucky to have our news crew there in person back in 2002, and have the very first spot on the red carpet – right by the front entrance, which gave Margie a great vantage point to interview Denzel, and we can tell you that Margie has not aged one day since then – when you look at her now !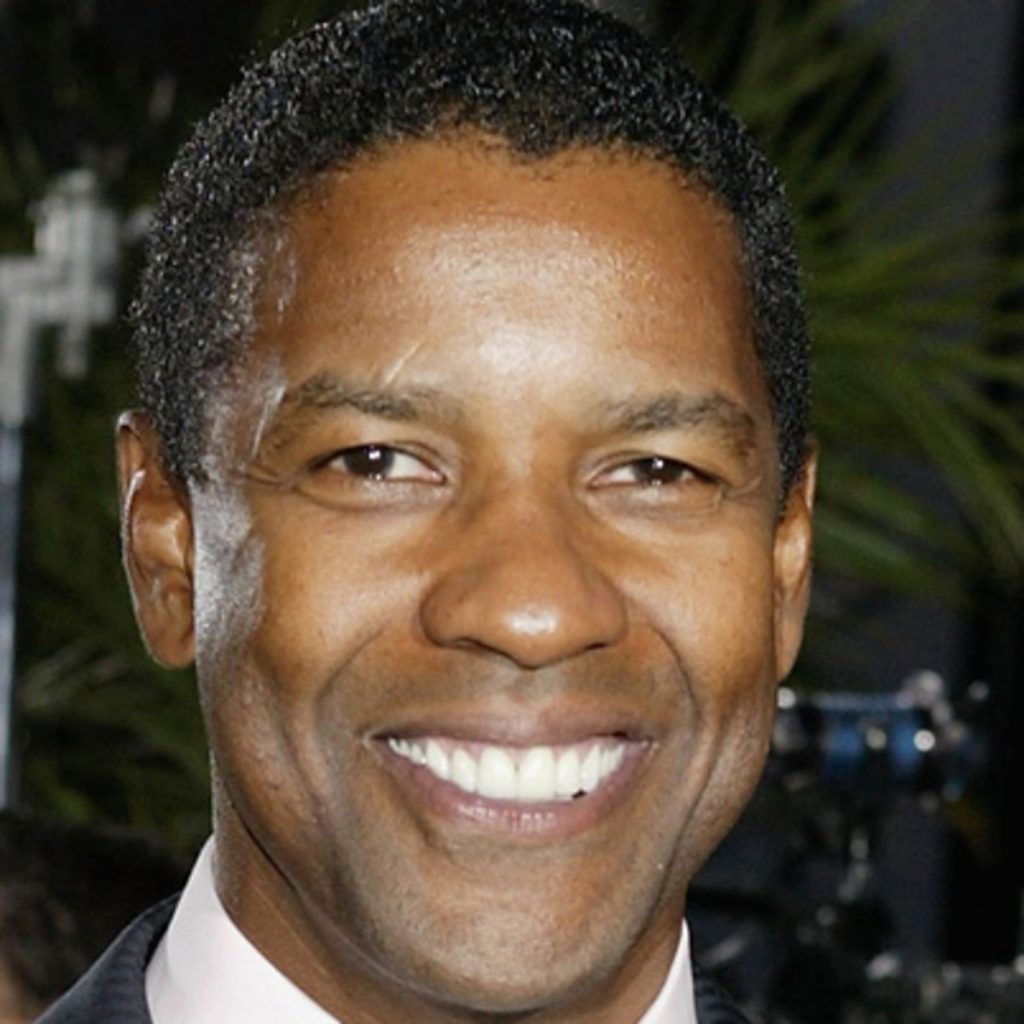 The American Cinematheque always has some of the legends of Showbiz at their events ! In this current day video clip we talk to Denzel about how he got started in acting. Thanks for watching Entertainment Today !
Also there in person was Sam Elliott (See Photo Below) who co-starred with Bradley in A Star Is Born, Vince Vaughn who co-starred with Bradley in WEDDING CRASHERS, Zach Galifianakis & Ed Helms who both co-starred with Bradley in the very funny comedy series of 3 movies of THE HANGOVER TRILOGY, Jennifer Garner who co-starred with Bradley in Valentine's Day: a 2010 romantic comedy , Brian Klugman, Sienna Miller, Sean Penn who presented the award to Bradley, and Director: David O. Russell who directed Bradley: in AMERICAN HUSTLE, Joy, and SILVER LININGS PLAYBOOK, to pay tribute to the four-time Academy Award-nominee Bradley Cooper at the Cinematheque's annual benefit gala.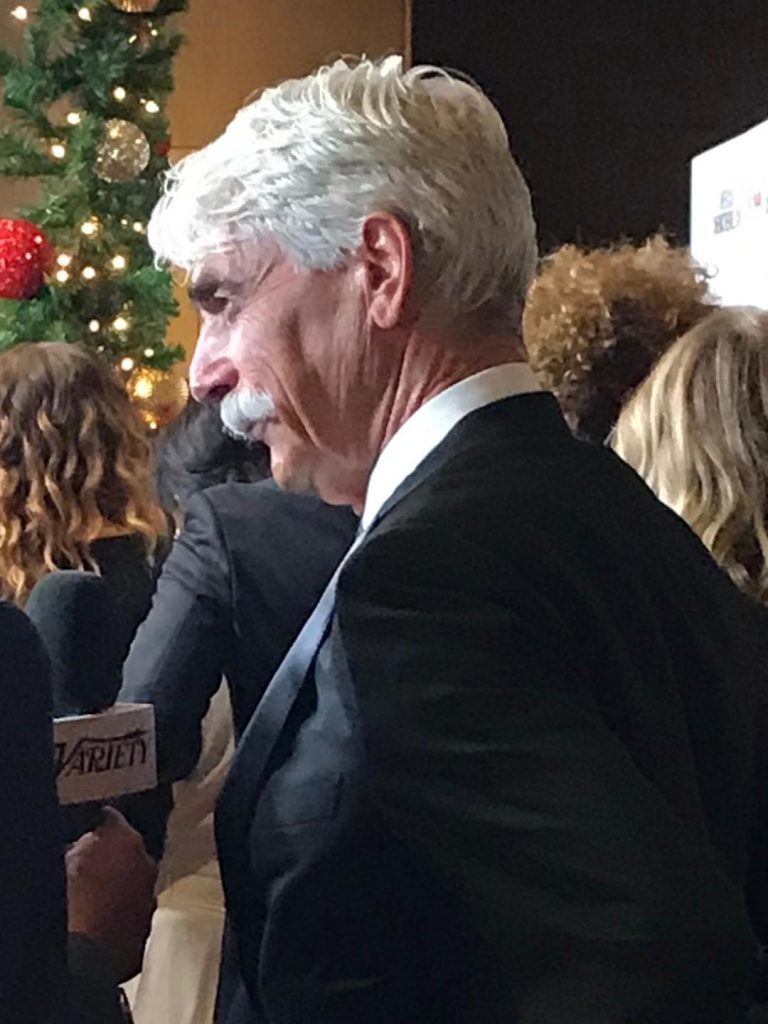 Lady Gaga was dressed in a stunning champagne-colored gown, and together with her "A Star Is Born" co-star Sam Elliot paid tribute to Bradley Cooper. "I felt comfortable with Bradley—not just because he's a hunk like Sam—but because Bradley is such a kind and loving and real person," she said. "I'm so honored to have you as my friend." During her speech, Lady Gaga who was born Stefani Joanne Angelina Germanotta, opened up about how Cooper helped her open up through her role: "I ran from Stefani for a long time. I put on a superhero cape and called myself Lady Gaga," she said. "You challenged me to deep dive into a place where I had to see her again, be Stefani again." She then expressed how thankful she was to have Cooper in her life: "I'm so grateful to you, not just for making me a better actress, but I've been able to call on you as a friend, and cry and be myself and have you never ever judge me and still respect me as a professional," she said. "I've never had an artistic experience like this before." In the below photo: She was very emotional during her speech, and you could see that she shed a few tears: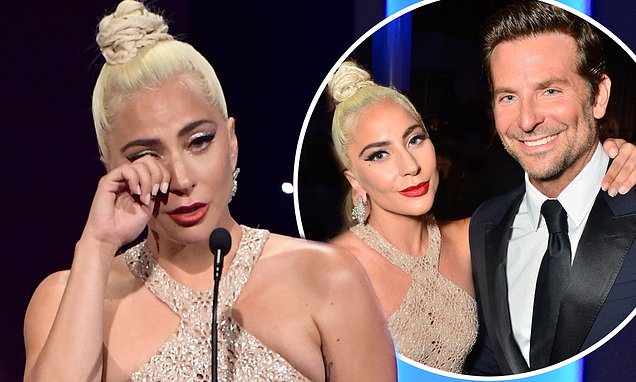 Our news staff, and invited guests of ours who were lucky enough to have great seats to the sold out VIP tickets for this Black Tie Dinner and Awards show, all had great stories to tell about Lady Gaga: about how nice and gracious she was to them, and how she took a lot of time to talk to them throughout this special Gala evening !
Four-time Oscar nominee, Bradley Cooper recently made his directorial debut with the critically acclaimed Warner Bros. film A STAR IS BORN, which he also co-wrote and produced. Additional film credits include: Oscar-nominated films AMERICAN SNIPER, AMERICAN HUSTLE, and SILVER LININGS PLAYBOOK; Derek Cianfrance's acclaimed THE PLACE BEYOND THE PINES; THE HANGOVER TRILOGY; LIMITLESS; GUARDIANS OF THE GALAXY; WAR DOGS; David O. Russell's JOY; BURNT; WEDDING CRASHERS and WET HOT AMERICAN SUMMER.
Stay tuned for more of our amazing in-depth interviews with Bradley Cooper, Lady Gaga, and Patricia Clarkson, done by Margie Rey and Melanie Murphy ; and GET THE FULL STORY on entertainmentandsportstoday.com, @entertainmentandsportstoday , and Youtube.com/entertainmenttodaytv #AMCinAward2018 #ACAward2018 tweet: @SidGrauman @bradleycooper #LadyGaga @LadyGaga #starisbornmovie @starisbornmovie #BradleyCooper @bradleycoopertv @bradleycooper__original #JenniferGarner @Jennifer.Garner #AndrewDiceClay @AndrewDiceClay www.astarisbornmovie.com #VinceVaughn #SeanPenn @SeanPenn #ZachGalifianakis #PatriciaClarkson @clarksonpatricia