The first-ever Celebrity Entrepreneur Summit by WealthFlix was a business conference, and a first-of-its-kind event that shared resources for future investors, and was a great learning experience for people, in a "Master Class" kind type of setting, where many people were able to meet in person, and network with some real heavy hitters in many fields of business, and entertainment. People were able to make many new connections, work on new and on-going business projects, and get the rare opportunity to meet successful business people, and even Billionaires! About every hour there were celebrity and business speakers, where people in the audience were able to ask questions during and after the speakers sessions. Wealthflix is the premier platform for high-net-worth individuals looking to connect with like-minded people.
Hosted at the famed TAO in Hollywood, "Wealthflix at TAO" was a live-taped interview event in collaboration with the iconic Tao Group Hospitality. The event brought together top investors, celebrities, entrepreneurs, business professionals and growing companies for a night of networking, peer education, and potential to secure seed funding from investors that were in attendance. Guests were treated to in-depth conversations around business and learn more about Wealthflix's innovative approach to bringing accessibility to the investing world from industry leaders such as NBA legend Magic Johnson and Shark Tank's Daymond John.
For more than 30 years our TV show has interviewed Magic Johnson- many times, and he has always been very generous with the time he has given us for the interviews, and was always happy to do promo spots for our show: Entertainment & Sports Today, and Entertainment Today- the best of which is when he was still playing for the LA Lakers, and he was in full Laker Uniform – he gave us his best promo ever! So for this event he gave us another great interview relating more to this business event. In the below photo you can see our Entertainment Today TV Show Host: Margie Rey posing for a photo with NBA Hall of Famer, All-Star, and Laker Legend:  Magic Johnson, right after Margie's interview with Magic on the Red Carpet: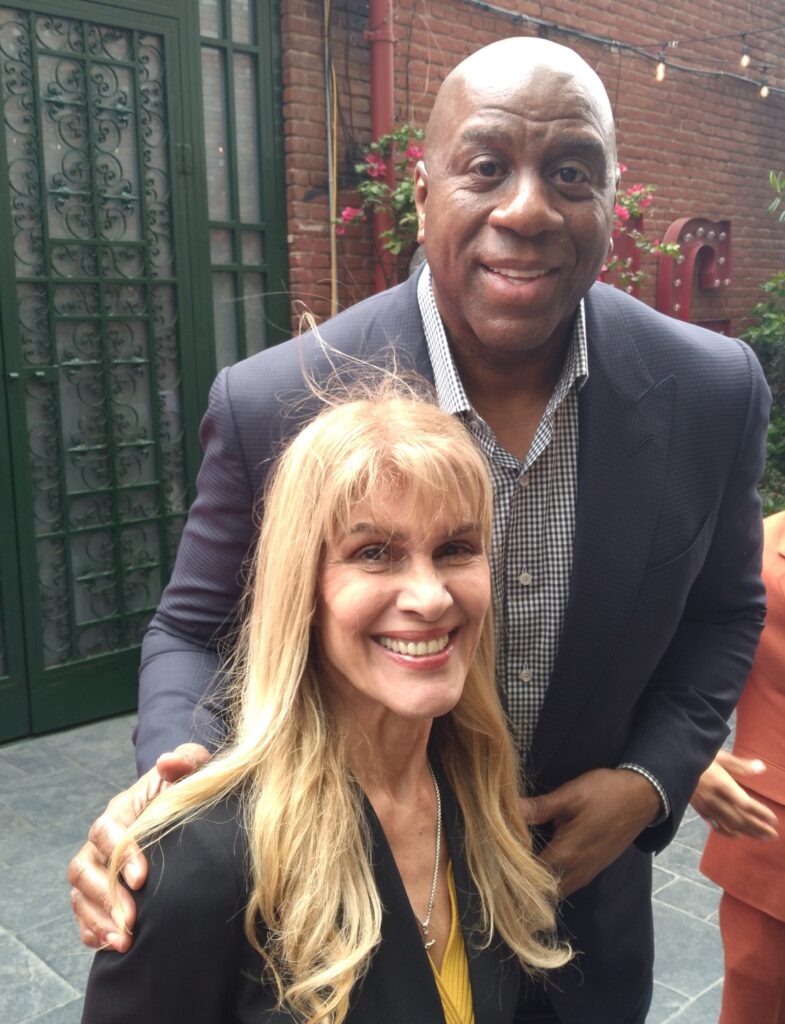 This 2 day event was held in the beautiful TAO nightclub in Hollywood, where attendees, and the speakers were treated to gourmet food, desserts, and drinks from the open bar, throughout the day and evening, with an excellent Lunch and Dinner that was served from the TAO restaurant – with everyone raving on how good the food and drinks was, which is the reason TAO has become famous for it's great restaurant and bars. In fact in the foyer reception area to the bathrooms there was a bar set up that served Champagne!
People had a great opportunity to hear from and speak with experts including Daymond John (Shark Tank Investor) who you can see being interviewed on the red carpet: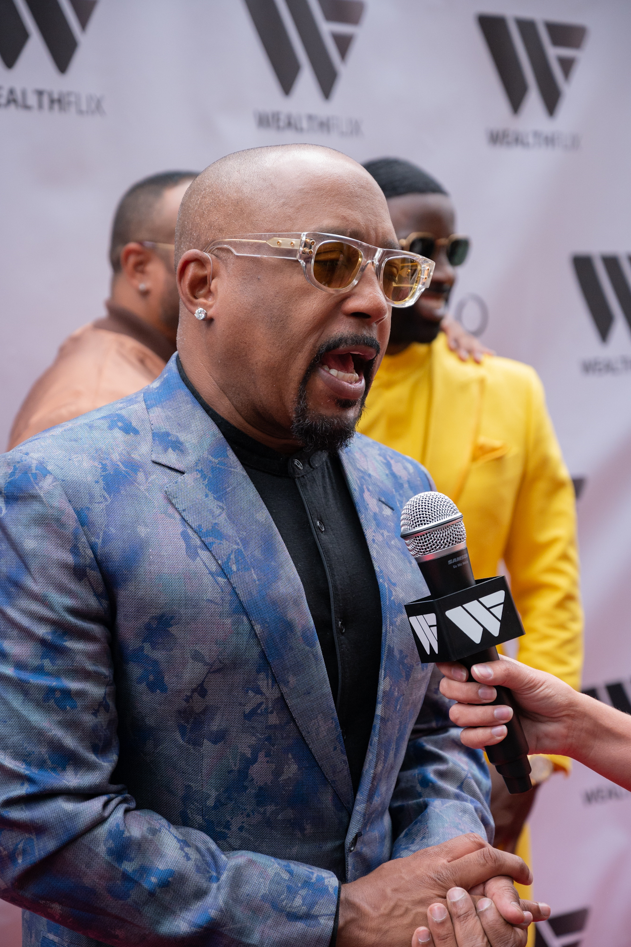 Magic Johnson (NBA Legend and Superstar turned Business Mogul), as he was being interviewed up on stage during his speaking session by Cathleen Trigg-Jones: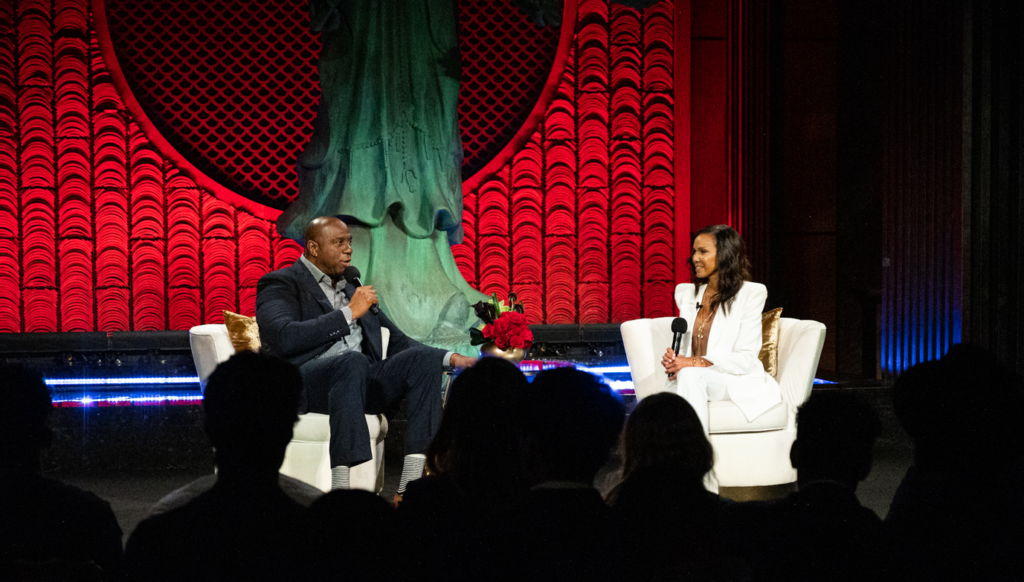 Magic Johnson spoke about his NBA career, from athlete to entrepreneur, and what is next for this business tycoon. In 2012, Magic joined with Guggenheim Partners, movie executive Peter Guber, and Stan Kasten and bought the Los Angeles Dodgers baseball team for $2 billion, the largest amount ever paid for a professional sports team! The 63 year-old – 6′ 9″ Earvin "Magic" Johnson Jr. is often regarded as the greatest point guard of all-time, and played 13 seasons in the National Basketball Association for the LA Lakers. After winning a national championship with Michigan State in 1979, Johnson was selected first overall in the 1979 NBA draft by the Los Angeles Lakers, leading the team to five NBA championships during their Showtime era. Johnson retired abruptly in 1991 after announcing that he had contracted HIV, but returned to play in the 1992 All-Star Game, winning the All-Star MVP Award. After protests from his fellow players, he retired again for four years, but returned in 1996, at age 36, to play 32 games for the Lakers before retiring for the third and final time. Johnson's career achievements include three NBA MVP Awards, three NBA Finals Most Valuable Player Awards, nine NBA Finals appearances, 12 All-Star games, and nine All-NBA First Team selections. He led the league in regular season assists four times, and is the NBA's all-time leader in average assists per game in both the regular season (11.19 assists per game) and the playoffs (12.35 assists per game). He also holds the record for most career assists in the playoffs. Magic has 17,707 total Points (19.5 ppg), 6,559 total Rebounds (7.2 rpg), and 10,141 total Assists (11.2 apg)
Out of all of Magic's amazing achievements, my favorite one is when he was a member of the 1992 United States men's Olympic basketball team ("The Dream Team"), which won the Olympic gold medal in Barcelona. Magic was the Co-Captain of this team along with another NBA Legend from the Boston Celtics: Larry Bird! This team had 11 future NBA Hall-of-Fame Legendary Players, and 1 College All-Star! This is the greatest All-Star team of athletes ever assembled in the entire history of Basketball, and in all of the entire sporting world, and no team before or since has ever come close to have this many superstars together on one team in any sport, and there is no way that this quality of talent can ever be joined together again on one team! This team was nicknamed the "Dream Team", and was the first American Olympic team to feature active professional players from the National Basketball Association (NBA). The team has been described by journalists around the world as the greatest sports team ever assembled. This team defeated its opponents by an average of 44 points en route to the gold medal against Croatia. The team was collectively inducted into the U.S. Olympic Hall of Fame in 2009, the Naismith Memorial Basketball Hall of Fame in 2010, and the FIBA Hall of Fame in 2017. The Naismith Hall of Fame calls the team "the greatest collection of basketball talent on the planet". Most of the opposing players on the other country's teams were more interested in getting autographs and their photos taken with the American team of NBA Superstars, than trying to win the actual game! In addition to the team induction, 11 players and three coaches have also been inducted individually into the Naismith Hall of Fame! In early 1991, Sports Illustrated labeled the forthcoming American roster as the "Dream Team" on the cover of its February 18 issue: 
The first ten players for the team were selected on September 21, 1991: Michael Jordan(above center in photo) and Scottie Pippen of the Chicago Bulls, John Stockton and Karl Malone of the Utah Jazz, Magic Johnson (above right in photo) of the Los Angeles Lakers, Larry Bird of the Boston Celtics (above left in photo), Patrick Ewing of the New York Knicks, Chris Mullin of the Golden State Warriors, David Robinson of the San Antonio Spurs, and Charles Barkley of the Philadelphia 76ers. On May 12, 1992, Clyde Drexler of the Portland Trail Blazers was chosen over Isiah Thomas of the Detroit Pistons for the final professional roster spot. As an acknowledgment to the previous amateur system, the U.S. basketball committee decided to include one collegiate player on the team: Christian Laettner of Duke University was added on May 12, 1992, chosen over Louisiana State University's Shaquille O'Neal. Sports Illustrated later stated that the Dream Team was "arguably the most dominant squad ever assembled in any sport" and compared it to "Johnny Cash at Folsom Prison, the Allman Brothers at the Fillmore East, Santana at Woodstock." For just one scrimmage practice game, the group divided into two teams: Blue (led by Johnson, with Barkley, Robinson, Mullin, and Laettner) and White (led by Jordan, with Malone, Ewing, Pippen, and Bird). White won, 40 to 36, in what Jordan recalled as "the best game I was ever in" and Sports Illustrated later called "the Greatest Game Nobody Ever Saw". . You can still see in theaters now the movie "Air" – the fascinating story of how Phil Knight's company: Nike created the "Air Jordan" Basketball shoe for Michael Jordan. "It was like Elvis and the Beatles put together," said the team Coach Chuck Daly,  "Opposing basketball players and athletes from other sports often asked to have photographs taken with the players." In one game, an opposing player guarding Magic Johnson was seen frantically waving to a camera-wielding teammate on the bench, signaling to make sure he got a picture of them together.  Magic said: "The 92 Dream Team was the greatest moment of my life in terms of basketball, bar none." Our Entertainment Today Reporter: Margie Rey interviewed Magic on the red carpet in the below photo: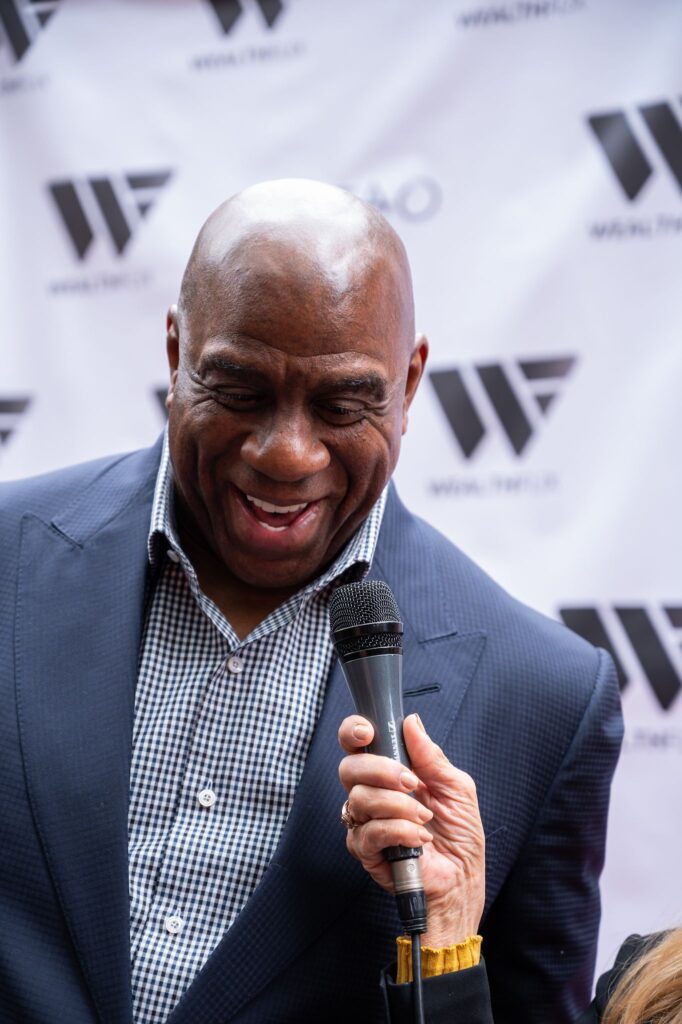 Cathleen Trigg-Jones (Emmy Award-winning journalist, talk show host, producer and actress) was the host of this event, and did the interviews with the speakers up on stage during their sessions. Below she poses up on stage with our TV SHOW HOST for Entertainment Today – Margie Rey: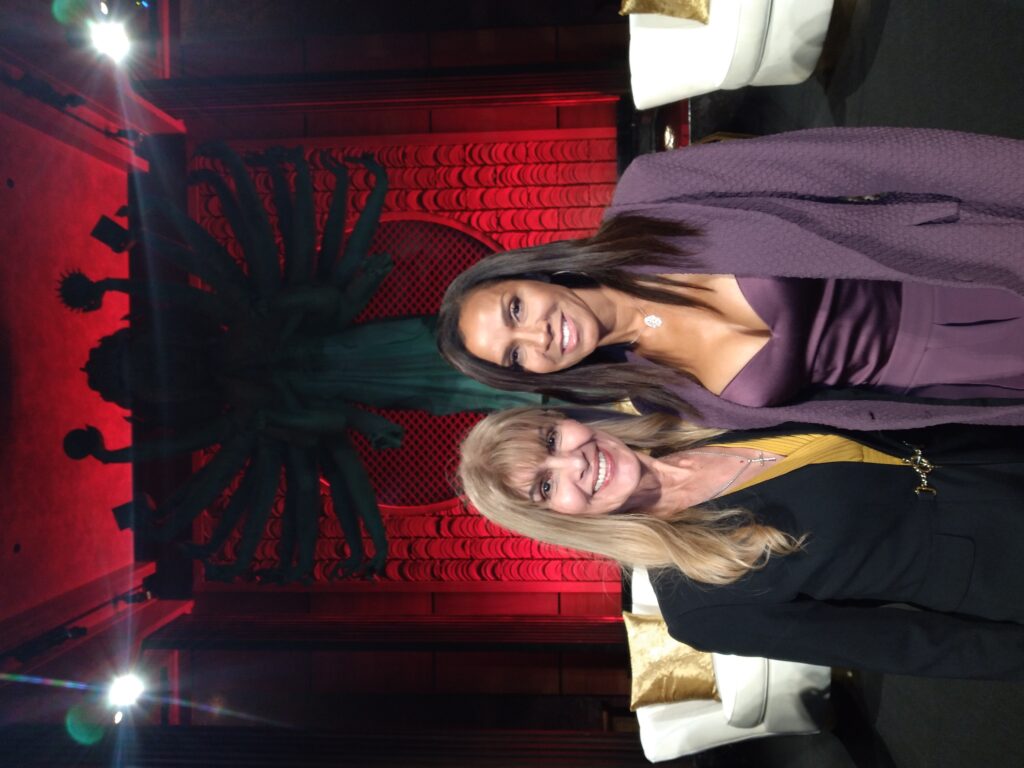 Ashlee Simpson-Ross (Singer and TV Personality) and her Co-Founder of Kempa Home: Jason Felts (previous CEO of two VIRGIN branded companies) – gave us a great speaking & interview session together up on the stage. Ashlee-Simpson-Ross— spoke about her music career, motherhood and her new business: KempaHome. She advised startup businesses and new companies- "don't have revenue displacement when giving away promotional gifts, but if you have to- do it strategically, with a good exit plan. Jason & Ashlee are both in the below photo: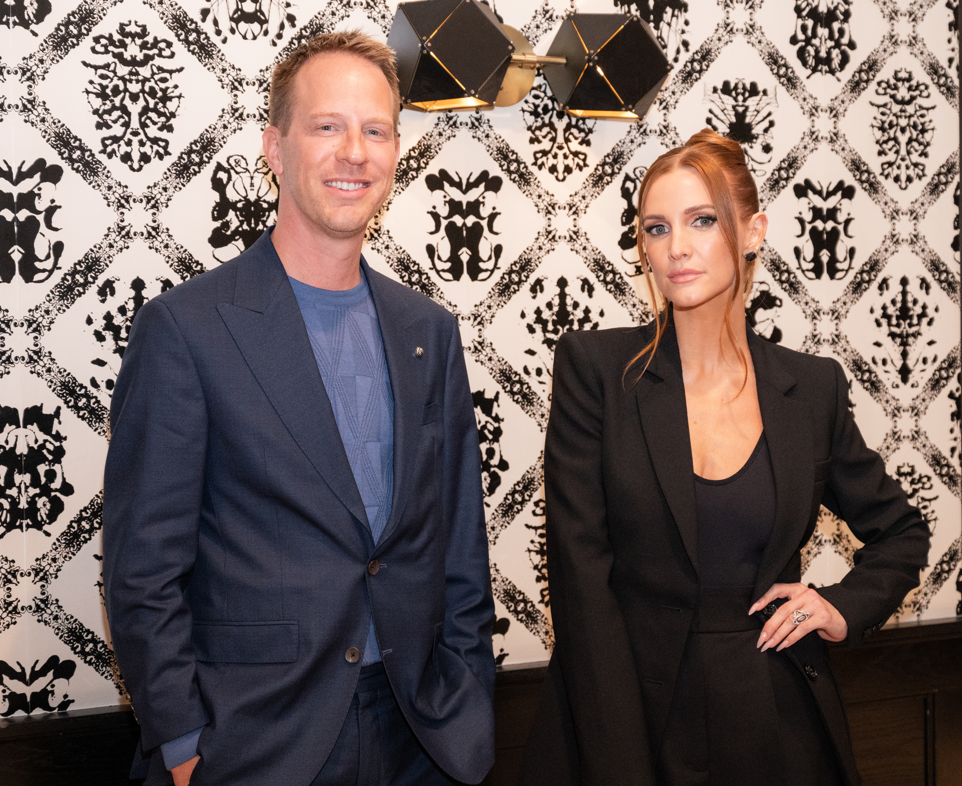 During her speaking session up on stage at TAO: Candace Nelson (Founder and CEO of Sprinkles Cupcakes): said that less than 2% is invested in Women's businesses from Venture Capitalists. The 49 year-old Candace Nelson is an Indonesian-born pastry chef and judge on the television series Cupcake Wars and Sugar Rush.  She told us a great story of  how her chef was offered a big cash bribe, in a back alley of her store, to sell her famous cupcakes recipes, and the chef was honest enough to turn them down! She advised us to build your own personal brand, and never take NO for an answer on any project or investment you are working on, and pivot around to a YES, and have confidence when asking for investors. Candace is in the below photo taken on the red carpet: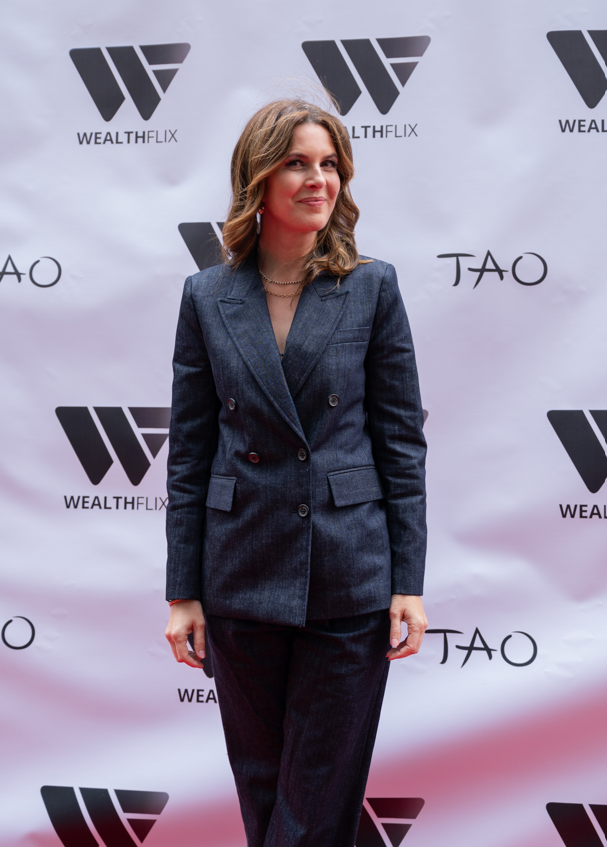 WealthFlix President, Dakota Smith and Co-Founder, Duquan Brown also were there. This gave attendees exclusive insight into their investing secrets, the journey to becoming successful entrepreneurs, their failures and the lessons they have learned along the way. The Wealthflix Celebrity Entrepreneur Conference brought hopeful entrepreneurs, budding investors, and potential business owners' direct access to heavy hitters in the business industry to bring accessibility and resources around entrepreneurship! Below photo from the closing of the show with (L -R) Cathleen Trigg-Jones, DuQuan Brown, and talking on the Mic: Aaron Bolden, who runs business development for Future Media: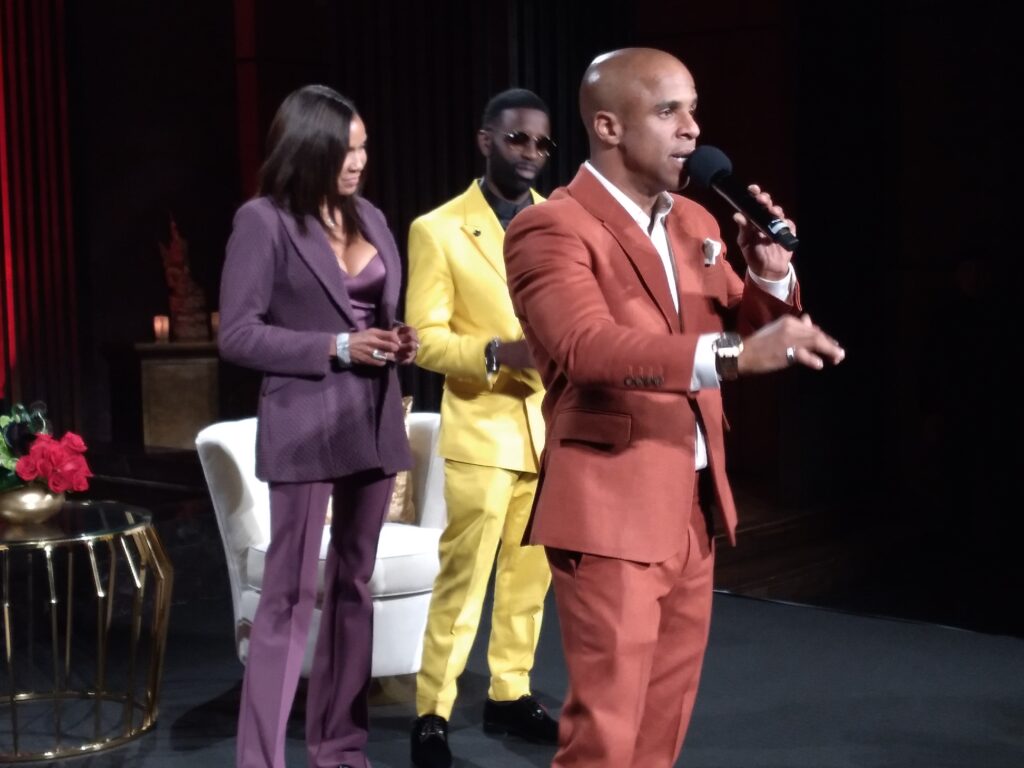 Magic Johnson was seen greeting young fans and signing some merch with big smiles: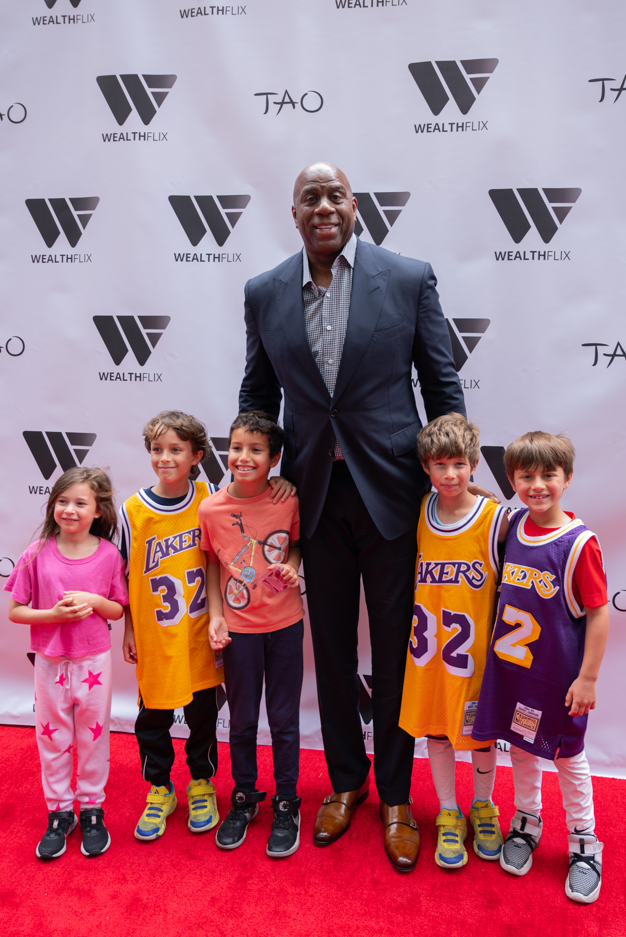 Before their panel discussions, Ashlee Simpson-Ross and Candace Nelson were snapped posing on the red carpet excited to be a part of the exciting day. Once the doors opened, guests headed to their seats where Daymond John took the stage to kick off a full day of informative discussions. Guests were treated to hors d'oeuvres provided by TAO and sipped on cocktails as they enjoyed the conference.
On this show our news crew did interviews with the speakers, filmed the event, and wrote a news story on the both days of the event. On the opening day our Video/Audio Producer/TV News Reporter/Editor: Doug Nolan filmed at the start of this show some amazing & beautiful aerial footage of Hollywood, this event, and The TOA Hollywood using up-in-the-sky 4K HD filming. As the Pilot- Doug was able to get FAA clearance for a flight route to film from an Altitude as high as 400 feet! For the opening day Doug also provided the 4K HD video camera equipment for the interviews on the red carpet, and a little of the Speaker Sessions inside of TAO. Photo below of TAO Hollywood taken from the sky: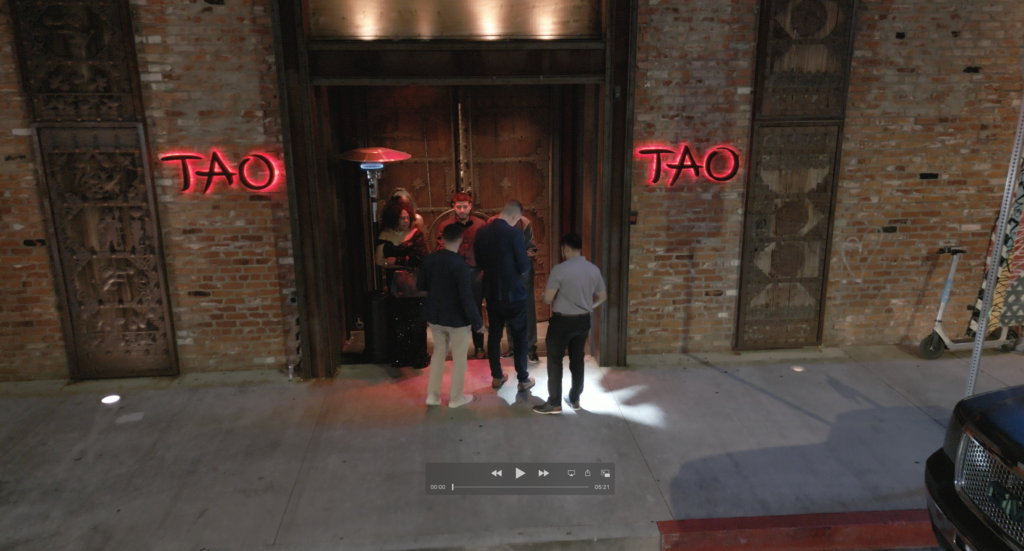 On the second closing day of this event our Entertainment Today TV Show Host: Margie Rey, and our Entertainment News Reporter/Master Class Teacher and Life Coach: Bernie Hiller interviewed most of the speakers on the red carpet, and a few that were not speakers- but were of great learning value! All the speakers gave our viewers some great advice, as they did during their sessions and interviews up on stage for everybody at TAO. So watch our show for complete news coverage with interviews from both days of this great event: The Celebrity Entrepreneur Summit by Wealthflix !
Co-founder of Wealthflix Duquan Brown was all smiles with Daymond John and Magic Johnson backstage. Shark Tank's Daymond John(Left), NBA Superstar Magic Johnson(Center) and Co-founder of Wealthflix Duquan Brown(Right) at Wealthflix's first-ever Celebrity Entrepreneur Conference at Tao Los Angeles:  
Our Entertainment Today TV Reporter: Margie Rey interviewed Daymond John on the red carpet, and then Daymond posed for a photo with Margie: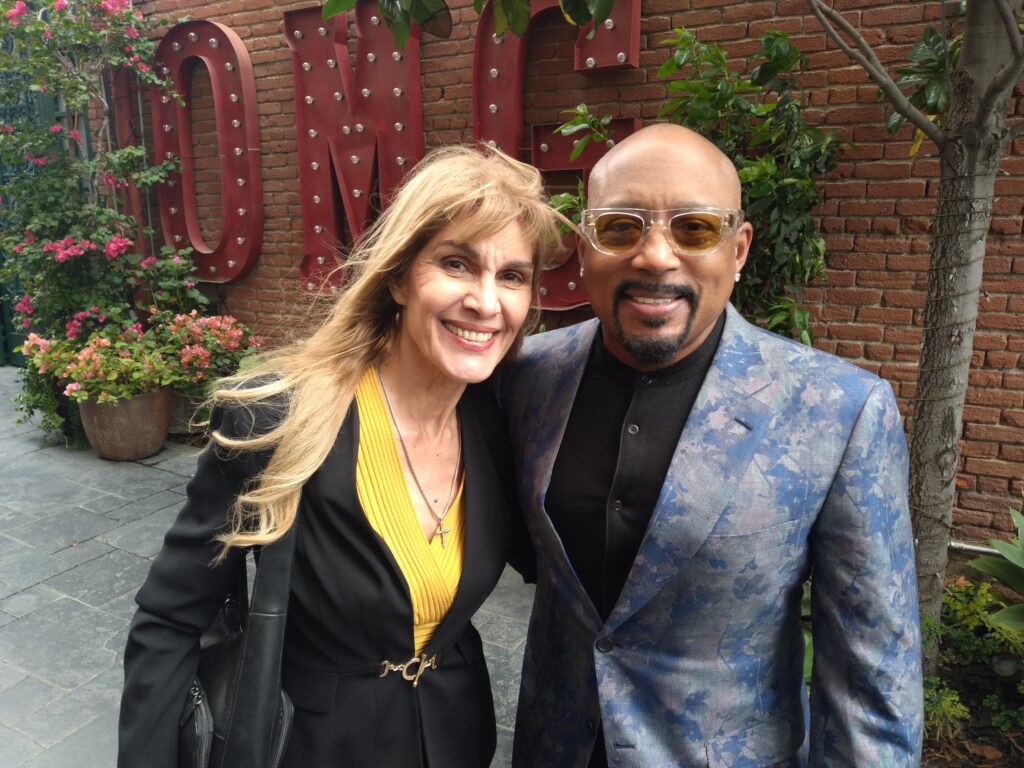 The 54 Year Old- Hollis, Queens, New York native: Daymond John gave our viewers some great advice, and talked about being one of the top investors on Shark Tank, his new book, business trends, and his Billion Dollar net worth. Daymond is an excellent businessman, investor, and television personality. He is best known as the founder, president, and chief executive officer of FUBU, and appears as an investor on the ABC reality television series Shark Tank. Based in New York City, John is the founder of The Shark Group. He and Mark Cuban are the only 2 actual Billionaires on this show, along with Multi- Millionaires: Kevin O'Leary, Robert Herjavec, Lori Greiner, Barbara Corcoran, and Kevin Harrington. Daymond John has come a long way from turning a $40 budget into FUBU, a $6 billion fashion game-changer. Throughout his career, Daymond has continued to be an entrepreneur in every sense of the word. He is not only a pioneer in the fashion industry but a Shark on the 4-time Emmy Award winning Shark Tank, a New York Times best-selling author, branding guru, and highly sought-after motivational speaker. As a passionate advocate for entrepreneurship, Daymond is committed to motivating and educating the next generation of aspiring entrepreneurs on the merits of hard work and having successful business relationships. Daymond gave a real amazing, and helpful session and interview up on stage for everybody at TAO: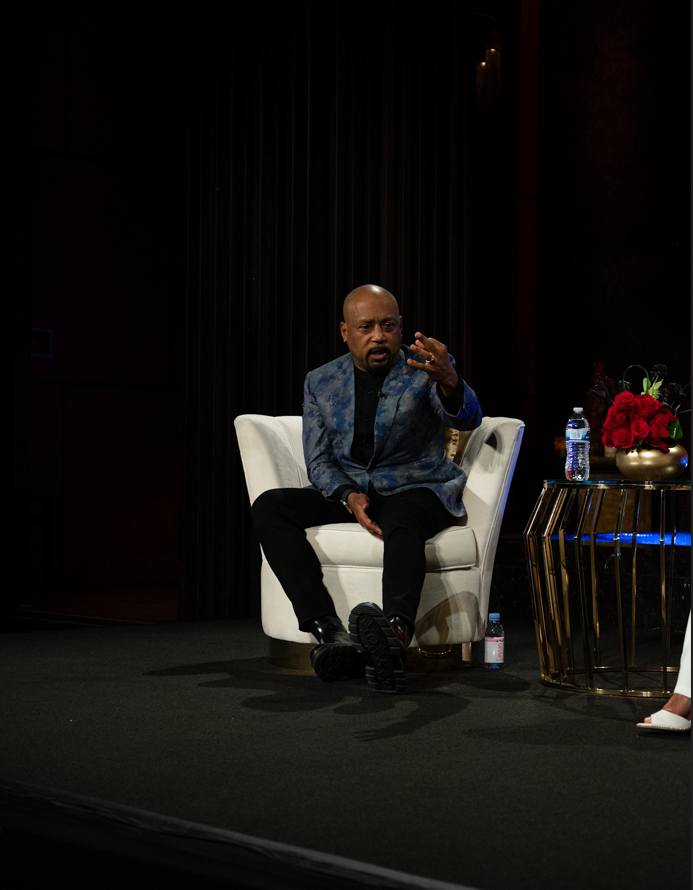 Our TV Show Host: Margie Rey was able to get a great interview with: Shaun Neff- the CEO of Neff Headwear, who built a $100 Million Apparel Company with the Kardashians, and is the Mastermind behind Kendall Jenner's, Shay Mitchell's and Millie Bobby Brown's Brands, and is the founder of Beach House Ventures, and has launched PATTERN with Tracee Ellis Ross, BÉIS with Shay Mitchell, MOON Oral Beauty with Kendall Jenner & Odell Beckham Jr., and FLORENCE BY MILLS with Millie Bobby Brown. He told us the story how he started out selling caps with logo's on them, to local skateboarders, and then T-Shirts, to get publicity, which let to a big financial success for him and his associates. When our TV Show Host/Reporter: Margie Rey interviewed him- the exact same advice he gave in Margie's interview on the red carpet, he gave up on stage in TAO during his speaking session. The best advice he ever got, that he told Margie about in his interview with her, was "from the former Owner of the Utah Jazz NBA Basketball team: Larry H. Miller, who had passed away a few years ago, who had told Shaun:  'Learn what your superpower is as a Entrepreneur and in life, and to learn to delegate what you are not great at- to other people who you can trust to work with you!' " You can see this interview in our second closing day news coverage on this show. Shaun Neff was interviewed during his speaking session by Dr. Rod Berger, after our TV Show Host/Reporter: Margie Rey interviewed him earlier: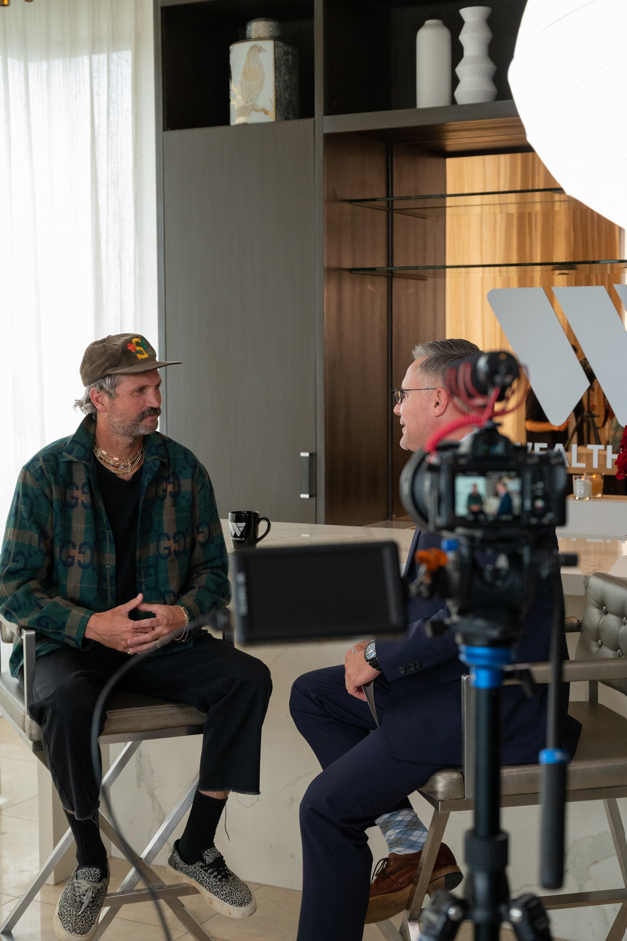 Shaun Neff was interviewed up on stage together with:
Taylor Ping, who is the CEO of Hierarchy Media, and CEO of Red Branch Media, a full-service marketing and advertising agency. She is a Speaker, writer & (now) stand-up comedian, and has built a community on Instagram with the Hierarchy Media brand, spanning across over 100, 000 members to help grow their business careers. She has grown Hierarchy Media to five divisions, all of which are built symbiotically, allowing her clients to reach each end of the spectrum of notability. Her craftsmanship has brought clients over 25 million views per month to their accounts and generated hundreds and millions of views altogether. Her business philosophy is built upon helping other businesses and individuals grow, and her passion for her work has enthralled all of those in the industry looking for PR representation. In 2020, Taylor Ping co-founded Deadgal LLC, which sells Amazon's Top Choice Nail Glue. The beautiful and talented Taylor Ping: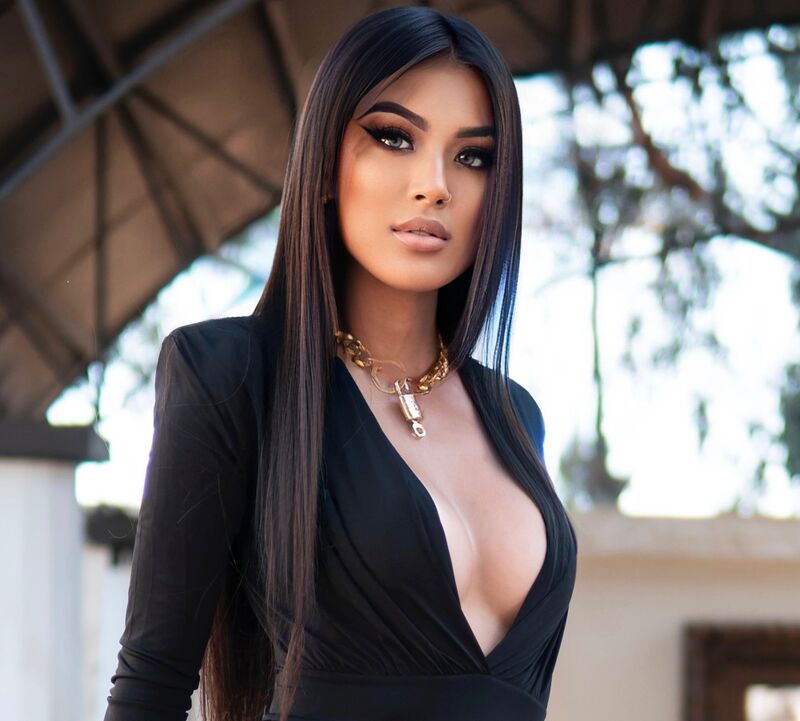 She told us the habits you need to have so that you can be a success: you need to have passion for your projects, be authentic, and have self-determination and drive. She went on to say: "that you should use "PR" for your financing needs"  . . . "I am the owner and CEO of a PR platform and media development company called Hierarchy Media. We service public figures, entrepreneurs, brands and corporate companies in crafting their exposure and presence authentically and strategically. I am most proud of the team I have working with me and their abilities to run the divisions we have added this past year. We have a Twitter Virality exposure division, Instagram Exposure Access division, national business publication division, Celebrity Giveaway growth division, and our in house full content production teams for photo and video. Over everything though, the community I have developed was driven by the mission to create a platform for ambitious women. There were no all female run PR and media development platforms that encouraged and helped craft women who were looking for help to get them to the next level in business by crafting them authentically and showcasing their true individuality. We now have millions of likeminded entrepreneurs, fans, photographers, videographers, creative partners and brands that share the same level of encouragement, support, intelligence and motivation and the community Hierarchy has been exponentially growing into is something I am so proud of. We are making a real difference in the way women are viewed and respected, and we are bringing together the most amazing and talented individuals under one roof." and is the force behind. Taylor launched "Forging Founders" which is a publication with a new platform designed to provide aspiring entrepreneurs with unique insights from international industry leaders. It aims to empower individuals intending to make their mark in diverse business sectors. Forging Founders offers information from experienced professionals across various sectors, including venture capitalists, fund managers, tech entrepreneurs, and women non-profit founders. The platform curates high-level press pieces, designed to nurture learning and growth for the next generation of business pioneers.
Russell Redeaux (15 Year Entertainment Industry Veteran), and Roberto "Rush" Evans (Co-Founder For Us By Us Network) were both together in one speaker session. Russell invests with Fans in celebrity projects that the stars own- like T-Shirts, clothing, memorabilia, and other products that celebrities own and sell. He said: "I am an entertainment industry entrepreneur with 15 + years of experience starting in event promotions evolving into key roles in A&R, Talent Management, Marketing & Brand Development. I have worked closely with some of the biggest entertainers in the world such as Snoop Dogg, Tyrese Gibson, Macy Gray, Lalah Hathaway, Far East Movement, Xzibit, Busta Rhymes, Mystikal, YG & Ty Dolla $ign to name a few. I have also developed large scale marketing campaigns for HTC Wireless, Heineken, LG Electronics, Adidas, Monster Energy and Doritos. I have also produced TV and Film as well as a Theatrical Stage play "Redemption of a Dogg" staring international superstar Snoop Dogg."  In the below photo: Millionaire Business man, and Investor: Russell Redeaux (center) with our Entertainment Today TV Show Host: Margie Rey (left) – and on the right our Entertainment News Reporter/Master Class Teacher and Life Coach: Bernie Hiller-  live on the red carpet, at the WealthFlix's first-ever Celebrity Entrepreneur Summit at TAO Hollywood, for an interview with Russell- who gave both Margie & Bernie some great business advice: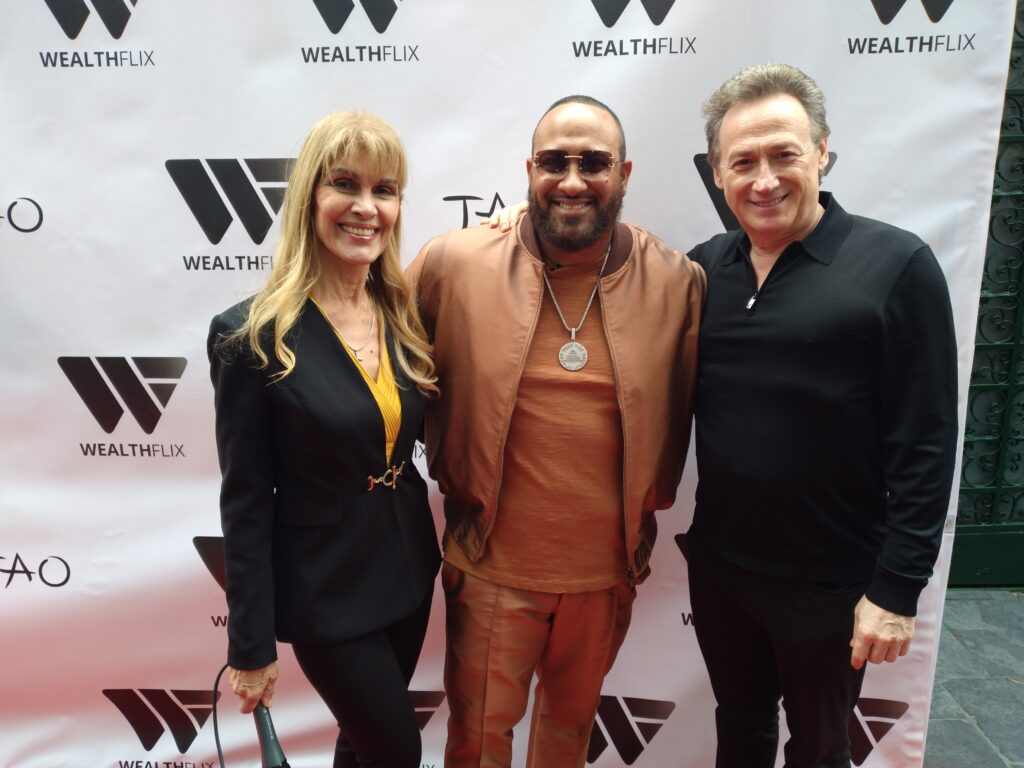 Roberto "Rush" Evans is from Brooklyn, New York, and is the Co – Founder @forusbyusnetwork streaming network- a division of @fubu, and the Executive Producer Head Of Content #ForUsByUs. He is Co – Founder ( FUBU ) For Us, By Us Network, and is from the New York City Metropolitan Area. He produces TV and Online shows like: Charli Knows Best (2018), Boxer Wives (2019) and Paradies 2; and on his first date with a women, took her to B & H Photo Video in New York, and bought her equipment to learn to produce, film, and edit shows – and ended up being his wife! She is working now as a showrunner. He advised all of us to keep the rights to all of your content, and on your first sale, try and sell your content for 1 million dollars, and on the second keep the rights to your catalogue, and license it. He together with Daymond John and Founded by FUBU Founder J. Alexander Martin -The For Us By Us Network that helped to make Fubu a Billion Dollar brand! They helped make Cardi B, an American rapper, who she is today in the Hip Hop world! On his streaming network he said that Steve LeBel did a show with only 1 camera (as apposed to the standard 3 camera TV show production) and made 1 million dollars! He didn't want to come out and say this about YouTube, but a few people in the audience pushed him to admit it: that despite the fact that YouTube has 30 Billion uploaded videos, DO NOT try to get picked up by YouTube since they do NOT pay enough percent of the profits to you, unless you have as many videos as a Justin Bieber would have, to make any money! He said to try Amazon ads, or another network. He also advises to get enough sleep! He said the next trend is NOT A.I. – but is streaming channels, as he told Hulu to stream content with their viewers, as he has worked with Lorne Michaels – the television and film producer, who created and produces Saturday Night Live.  Roberto "Rush" Evans: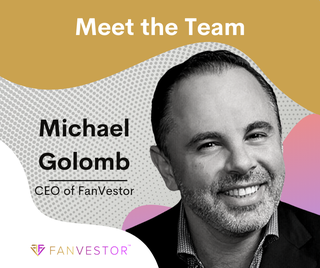 <Margie also had a great interview with Michael Golomb: the Founder and CEO of Fanvestor, who is a graduate of Occidental College in Los Angeles and gave Margie some great advice! He is a Senior Executive and company builder with a career record of leading companies through successful rapid growth, IPO, and M&A. He enjoys scaling companies 24/7- 365 days a year, and is the Official Member at Forbes Finance Council. Michael has had 9 past jobs including Chief Financial Officer, Treasurer, and Section 16 Corporate Officer at DASAN Zhone Solutions. A hands-on company builder, Michael's background as an entrepreneurial CFO with three exits behind him, is the culmination of twenty years of senior management experience across a broad spectrum of industries. His expertise has been successfully applied across verticals ranging from startups to large public corporations.
Margie Rey had a very interesting interview with Bling Empire Jessey Lee and Chérie Chan, who are the Bling Empire stars on Netflix: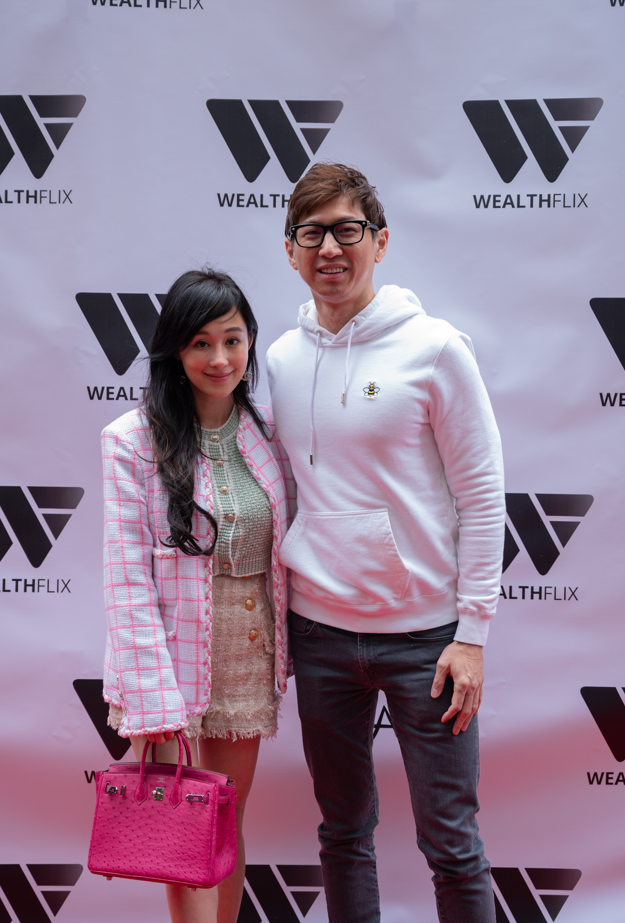 The second day wrapped up with an inspiring discussion with the 2 time NBA All-Star & superstar-turned-mogul Baron Davis as he let guests in on the secrets and failures to his success as a businessman following a successful career as an athlete, and talked about his $140 Million net worth, his NBA career, and investing in diversity & technology. Baron has 10 million followers on social media, despite the fact he doesn't post much- but he is still learning. During his speaking session he said that he: started out in grade school at only 5 foot 3 inches, and in the 10th grade was only 5′ 5″ . As a boy he hung on his mother's clothing line in order to grow tall, and is now 6′ 2 & 3/4″. His older Basketball teammates sat him down on the back of the bus, and advised him to get a lawyer rather than an agent in his business negotiations= and Baron said DON'T HAVE AN AGENT, since they take too much from your profits and do less for you than a lawyer could. Baron runs the Go Center, and Kiddie Center- that teaches kids about their finances and credit cards. He said he learned about investments and marketing and used it so well that he became a part owner in the very successful Vitamin Water company, and was an early investor in Vitamin water, cashing out after it was sold to Coca-Cola for $4.1 billion in 2007!  His advice is to pick coaches for Defense, Offense, and Special Teams, to coach players and run it like a business. His last reported NBA salary was $14.90 million. Baron Walter Louis Davis was born April 13, 1979, and works as a studio expert for the NBA on TNT. He earned the All-NBA Third Team in 2004 and led the NBA twice in steals. He was a two-time NBA All-Star! Below Baron poses for photos with some of his young fans, before he went up on stage for his speaking session: 
On the first opening day of this event our Video/Audio Producer/TV News Reporter/Editor: Doug Nolan interviewed Cathleen Trigg-Jones on the red carpet: 
On the first opening day of this event Doug was able to interview some of the Entrepreneurs: Nadia Amualem- Model/Actress and Influencer, Cowboy – Artist Development, Outsiders, Inc., Tawila Tapu – Entertainment, Claudia Salinas – Outfits Hiking Nature, Brian and Devon – Entrepreneurs, Amber Monè Jackson – Monès Cosmetics, and the Executive Producer/Host/interviewer/Speaker up on stage for this event: Cathleen Trigg-Jones- the Emmy Award-winning journalist, talk show host, producer and actress. The Speakers on the first day were: Allen Clary (TIGER 21 Chair, USF Professor Of Entrepreneurship), Tom Frederick (Sold Zeno Systems To Xerox), Marci Wilhelm (Sold MedPartners For $195M), Marcus Adolfsson (Sold Mobile Nations For $115M), Rob Prior (SpaceX Partnership 1st Man To Paint In Space For 10 Days), Jonathan Bates, Adam Anderson (Sold Palmetto Security, Helps Founders Create Investment Funds), and Mathew Knowles (Beyonce's Father, $5 Billion Generated). Doug did an amazing job of in-depth interviews on the red carpet, along with great filming inside of TAO during the speaker sessions, and filming Hollywood and TAO from up in the sky, to give you a beautiful birds eye view!
The collaborative joint venture between United Ventures and Future Media is disrupting the business education scene, creating a unique platform that provides education and networking opportunities for those most interested in business and entrepreneurship. Wealthflix intends to bring education and resources around generational wealth to its attendees. The success of the first set of live-taped seminars opens the door for a continued partnership between United Ventures and Future Media, where they plan to produce 30 Live Music Festivals through High School Nation at public high schools and an additional 30 surprise pop-up events with celebrity entrepreneurs and surprise speakers.
Tao or Dao ( Chinese (help·info)), came from Chinese, where it signifies the way, path, route, road, or sometimes more loosely doctrine, principle, or holistic belief. Below is a photo of the fascinating and unique statue up on the stage at TAO: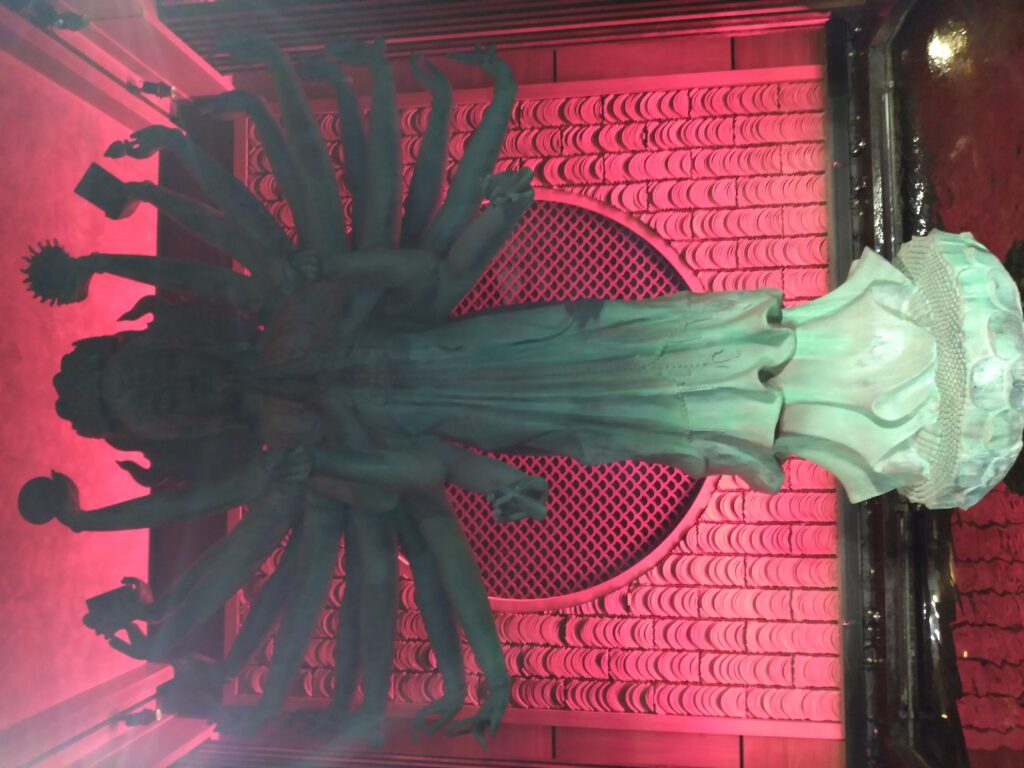 TAO Los Angeles is a dynamic two-level space, complete with two private dining rooms, lounge with large bar and main dining room anchored by their 16 foot Quan Yin statue. A grand staircase connects TAO's ground and lower level seating, creating the ultimate platform to see and be seen. African installation artist and sculptor, Daniel Popper, welcomes guests to TAO Nightclub Hollywood with his TAO Goddess creation, known as Tendai. Placed in front of the temple bar, Tendai greets and blesses all guests, as her deity was created for those to give thanks and to feel a sense of gratitude for their lives. Tendai originates from the female name meaning "give thanks to God" in Zimbabwean. Additionally, Tendai is the name of one of the first Japanese Schools of Buddhism, which set out to make Buddhism universal.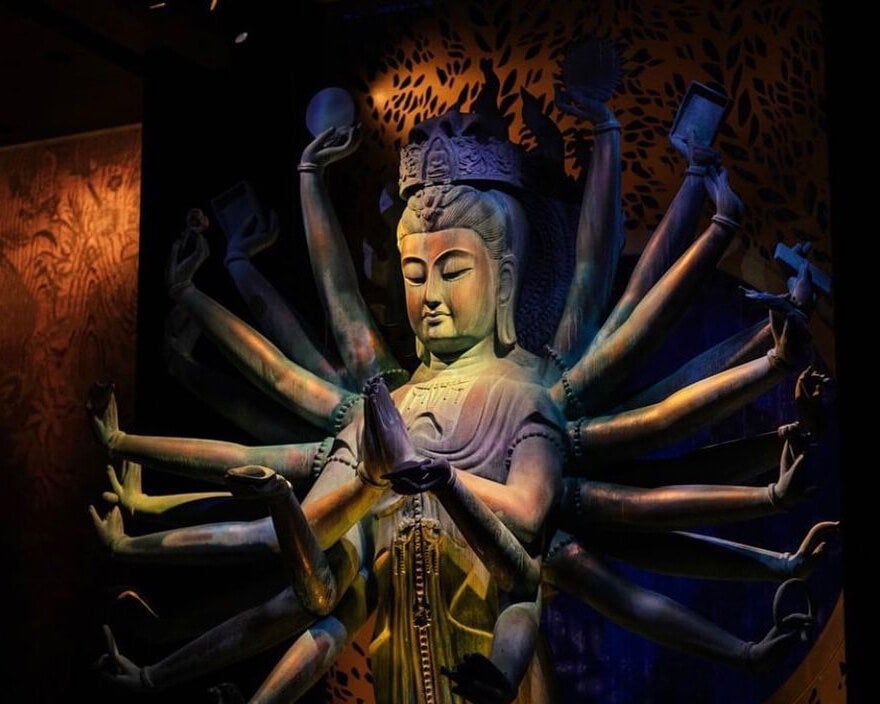 Tendai weighs about 8,000 pounds, stands 15 feet tall, crafted of glass, fiber, reinforced concrete, and fiberglass with a steel sub-frame. Guests are encouraged to interact and stand between her hands, as did Margie Rey and Cathleen Trigg-Jones, as she overlooks the stage and club.