In 8½ minutes, singer-songwriter Don McLean defined an entire generation's fears, disillusionment, grief, and even hope with the epic tapestry of the song "American Pie" has a big influence on people and music, and McLean's song has become a touchstone that continues to inspire artists and music lovers today. After 50 years this song is still one of the most enduring and original pieces of pop music ever composed, and neither the song nor McLean, have lost any of their potency a half-century later! 
Beginning with the February 1959 plane crash that killed Buddy Holly, Richie Valens, and J.P. "The Big Bopper" Richardson – an event that becomes an integral part of McLean's song – THE DAY THE MUSIC DIED: The Story of Don McLean's American Pie highlights cultural moments in America's history and tells the stories of the people who were a part of this tumultuous time. The film reveals the secrets and meanings behind McLean's astonishing lyrics, and their influence in the past, today, and into the future: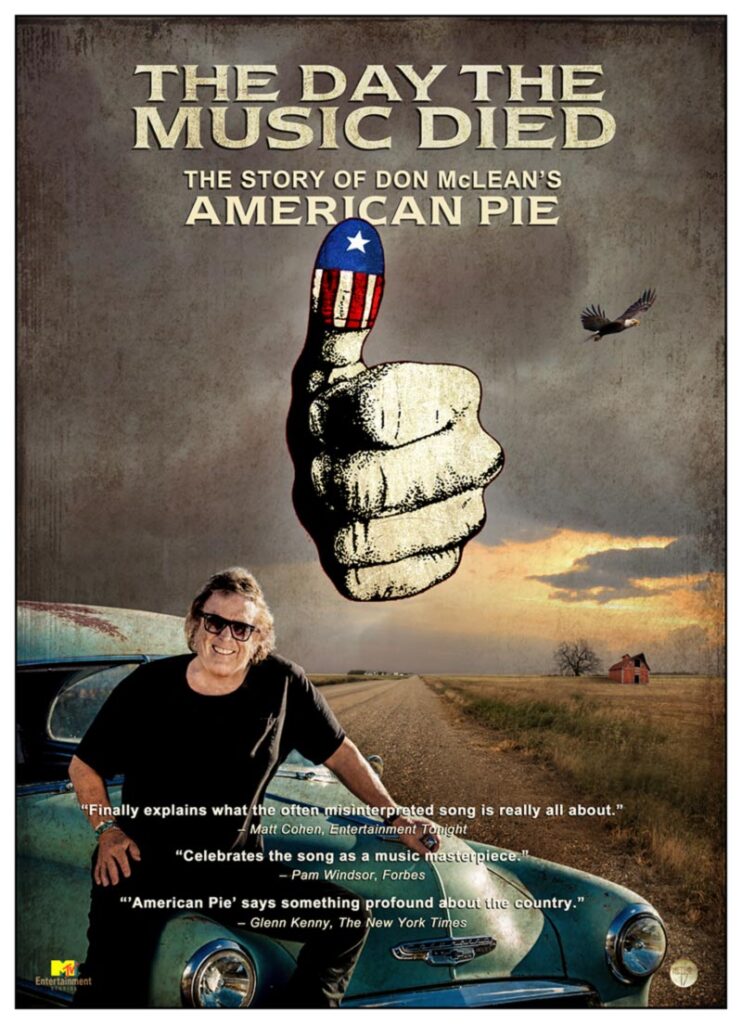 The inspiration for the title track hit McLean on February 3, 1959, when a chartered aircraft crashed in Mason City, Iowa just minutes after takeoff claiming the lives of Buddy Holly, Ritchie Valens, J.P. Richardson – "The Big Bopper" – and the pilot, Roger Peterson. The fateful day was coined "The Day The Music Died" by Don McLean and spanned his hit "American Pie."
On this show, we have a Re-Broadcast of our TV Broadcast from 2019: "Country artist Eileen Carey, & Don "The Day The Music Died" McLean", where we filmed the concert with Don McLean to celebrate the 60th anniversary of "The Day The Music Died" back in 1959, with an opening act by Eileen Carey: 
Country/pop singer, songwriter, and performer Eileen Carey opened for singer-songwriter-rock'n'roll and acoustic folk legend Don McLean at The Saban Theatre in Beverly Hills. In this news segment we have an exclusive interview with Eileen Carey, along with 2 minutes of footage from her concert. Then there is some concert footage of Don McLean.
To celebrate the 60th anniversary of "The Day The Music Died" back in 1959 , Don did a special rendition of his historic signature classic song: "American Pie" – that went on for more than 10 minutes! The entire sold out audience were up on their feet and sang along with Don, during this emotion packed song, and a chill went down my spine when he sang those iconic words: "And the three men I admire most The Father, Son, and the Holy Ghost They caught the last train for the coast The day the music died."
Eileen sang her current hit single, "Anything That Reminds Me of You," which has hit #1 on all of the top New Music Weekly charts, including Country, AC/Hot AC and Top 40, and is the sixth Country single of Eileen's to go #1 on the NMW radio charts within the last few years. Eileen also sang many of her cross genre radio hits, "That Town," "Good Bad Girl," "In the Air," "Faith," "Bottle Your Crazy Up," "Bring on the Big," "Let It Go," "Faith," and "Sweet Love."
Rock Legend Don McLean performed up on the iconic Beverly Hills Saban Theatre stage for almost 2 hours, after a great country music performance by Eileen Carey who performed for 1 hour. Don performed all of his classic hits, and one hit song from Buddy Holly, but when he started to perform his signature song: "American Pie" – all of the sold out audience got up on their feet to sing along with this historic rock tribute song to "The Day The Music Died" back in 1959 – making this performance of this song the 60th anniversary, with this day in 2019 being within 2 months to the day of that fateful plane crash !
It was a great heart felt emotion packed song, with a special 10 minute plus performance of this classic song, and when it seemed Don was done singing – he started up again- getting everyone to sing along, and sing together even longer, that made this a very emotional sing-a-long with Don- that warmed the hearts of everyone who was lucky enough to be there on this special night!
Don McLean is a Grammy award honoree, a Songwriter Hall of Fame member, and a BBC Lifetime Achievement Award recipient, his smash hit "American Pie" resides in the Library of Congress National Recording Registry and was named a top 5 song of the 20th Century by the Recording Industry of America (RIAA). A New York native, Don McLean is one of the most revered and respected songwriters in American history. After paying his dues in the New York club scene in the late '60s, he went on to score mega-hits like "Vincent (Starry, Starry Night)," "Castles in the Air" and many more. His catalog of songs has been recorded by Madonna, Garth Brooks, Josh Groban, Drake, "Weird Al" Yankovic, and countless others. In 2015, McLean's handwritten manuscript of the lyrics to "American Pie" was auctioned by Christies, selling for just over $1.2 Million. 2019 honored Don with a star on the Las Vegas Walkway of Stars and his song "And I Love You So" was the theme for Prince Harry and Megan Markle's wedding. Don landed a new recording contract with Time Life in 2020, with whom he released a catalog of recordings as well as a new album Still Playin' Favorites. In 2021, Don's "American Pie" was featured in the Avengers' Black Widow and the Tom Hanks movie Finch. McLean received a star on the Hollywood Walk of Fame, celebrated the 50th anniversary of "American Pie," and recorded a version of the song with a cappella group Home Free. In 2022, McLean received six Telly Awards for his collaboration with international heavyweight Tyson Fury, released American Pie: A Fable children's book, and was inducted into the Musicians Hall of Fame. Now in 2023, the Telly award-winning documentary 'The Day The Music Died' comes out on DVD and Blue-Ray, and he will receive a star in the Music City Walk of Fame. In unexpected news, President Yoon of South Korea sang "American Pie" for an elated audience of White House guests in Washington D.C. For more information, visit donmclean.com.
There is no slowing down for one of America's greatest singer-songwriters, Don McLean! Having recently honored the 60th anniversary of Buddy Holly's death and receiving Million-Air certifications from BMI for over 5 million certified airplays of "American Pie" and 3 million certified airplays for "Vincent (Starry, Starry Night)," McLean continues to bring his classic hit songs to stages around the world. McLean was nominated multiple times for Grammy Awards, and in 2002 "American Pie" was inducted into the Grammy Hall of Fame. McLean recently re-released his classic American Pie album in celebration of its 45th anniversary in both CD and vinyl formats.
The song was released in 1971 and spent four weeks at No. 1 in 1972. In 2001, thirty years later, the Recording Industry Association of America along with the National Endowment of the Arts named the it the fifth greatest Song of the Century. . "American Pie" was named one of the Top 5 Songs of the 20th Century by the RIAA and in 2002 was inducted into the GRAMMY Hall of Fame. 2017 brought a huge honor when his iconic song was inducted into the Library of Congress' National Recording Registry, joining less than 500 works including "Somewhere Over the Rainbow." With over 40 gold and platinum records worldwide, McLean's prowess for writing timeless songs was again captured on his 2018 album, Botanical Gardens, as he artfully weaves country, Americana, folk, and boot stomping rock for an eclectic, yet American sound that he is known for.
Stay tuned for live daily round-the-clock news coverage from our news staff. For the complete story go to: entertainmentandsportstoday.com, on Facebook & Instagram: @entertainmentandsportstoday , and Youtube.com/entertainmenttodaytv #DonMcLean @TheDonMcLean https://don-mclean.com/ #EileenCarey @EileenCareyMusic https://eileencarey.com/site/ #AmericanPie
For tickets to future events, and Sponsorships and Advertising Info, E-Mail : info@entertainmentandsportstoday.com – and for more info about us go to: www.entertainmentandsportstoday.com & thanks for watching !