Right now live from San Diego Bay- Shelter Island at Humphrey's Concerts by the Bay for a live Concert: "Graham Nash – an intimate evening of Songs and Stories" 
This show starts off with the closing numbers and introductions of the 3 member band. First- a tribute to Buddy Holly with the Graham Nash band performing:
"Everyday" and then closing this concert with Graham's signature hit song: "Teach Your Children" with all of the sold out audience standing up, and singing along to the words of the song! Great music and a great experience, on a beautiful sunny day, by the Bay, on Shelter Island in downtown San Diego!
Graham Nash Wrote Crosby, Stills, Nash and Young's "Teach Your Children" that originally featured a Jerry Garcia solo, the 'Déjà Vu' classic sent a message that remains just as relevant and powerful today.
For this concert The Graham Nash Band performed 2 Beatles songs, and many of their own signature hit songs: "Marrakesh Express," "Pre-Road Downs,"  "Lady Of the Island,"  "Teach Your Children,"  "Our House," "I Saw a Photograph," "Military Madness,"  "Love the One You're With" by Stephen Stills, & "Critical Mass" and Graham's song for the great whales: "Wind On The Water" by Crosby & Nash. At the end of Graham's & Joni Mitchell's time together, the couple were constantly bickering, and one day Mitchell walked out of the door permanently after deciding enough was enough. Nash was left heartbroken by Mitchell revealing her exit through a telegram, and he channeled his pain through his songwriting on 'Our House'. 
"Bus Stop" is a song written by English singer, songwriter and musician Graham Keith Gouldman and performed by the British Band The Hollies in 1966. "Bus stop, wet day, she's there, I say please share my umbrella…"
Graham Nash is a founding member and joined the band "The Hollies" since September 1962 – until December 1968. Graham Nash left the group in 1968 to form the super group Crosby, Stills & Nash, and CSNY (with Neil Young), and solo career. On a recent 91.9 WFPK Radio Independent Louisville Broadcast:
 an 
acoustic version of the song is amazing and has the collaboration of Shane Fontayne (born Michael Barakan), English rock guitarist, session musician, audio engineer, and collaborated as a guitarist and producer in 2016 Nash album "This Path Tonight".  Memory is living!
Graham truly lives up to the title of his concert: "Graham Nash – an intimate evening of Songs and Stories" by telling some really great stories from rock history, in between his songs!  Graham talked about his relationship with David Crosby, and about taking to him before he died, and then performed 2 songs that he sang in San Francisco in 1971 with David: "Critical Mass" and Graham's song for the great whales: "Wind On The Water." 
Towards the end of this concert show- make sure that you listen to the best story of this whole concert. My favorite story was an amazing and very serendipitous story about the creation of the song:  "Just A Song Before I Go" by Crosby, Stills, Nash & Young, and written by Graham Nash. Graham shared with us that on the last day of his trip to Hawaii he was "staying at a friend of a friend's house -who was a low level drug dealer," Graham was about to get up to leave for the airport for a flight back to Los Angeles, so he had a couple of hours to kill, so his friend said "Hey your supposed to be a big shot Songwriter- I bet you can't right a song just before you go" . . . "I'll bet you $500" – so then Graham said "Well you know I am a writer- so he didn't even know that he had given me the title of the song in the very question!" Then Graham played the song for the the audience at this concert, and after this song he said "The second part of the story is this  . . talk about circles in my life, on the last day of the last tour I did – a lady came up to me and she gave me a small envelope, and I put it in my back pocket and forgot about it, and then the next day I realized that I had an unopened envelope in my back pocket so I opened it up and to my surprise inside was a check for $500 from the family of the kid that made me to write the song in the first place! They knew he was a dealer and he probably didn't pay me, so they were paying me back 40 years latter!  . .  Actually that song was the biggest hit single that Crosby, Stills, & Nash ever had!  . .  If I had known it would be such a big hit I would have written a better song!"  The audience then laughed and gave a lot of applause. Below are the exact words to the whole song by Crosby, Stills & Nash:
Just a song before I go
To whom it may concern
Traveling twice the speed of sound
It's easy to get burned
When the shows were over
We had to get back home
And when we opened up the door
I had to be alone
She helped me with my suitcase
She stands before my eyes
Driving me to the airport
And to the friendly skies
Going through security
I held her for so long
She finally looked at me in love
And she was gone
Just a song before I go
A lesson to be learned
Traveling twice the speed of sound
It's easy to get burned
Graham Nash is a twice-inducted Rock Hall of Fame member,
whose shows feature just him, Shane Fontayne — Crosby, Stills, & Nash's longtime road guitarist, vocals
, and
keyboardist and vocals-  Todd Caldwell.
The set list features a cross-section of Nash's career — tackling hits by the Hollies, along with new solo work, and classics by Crosby, Stills, Nash, & Young.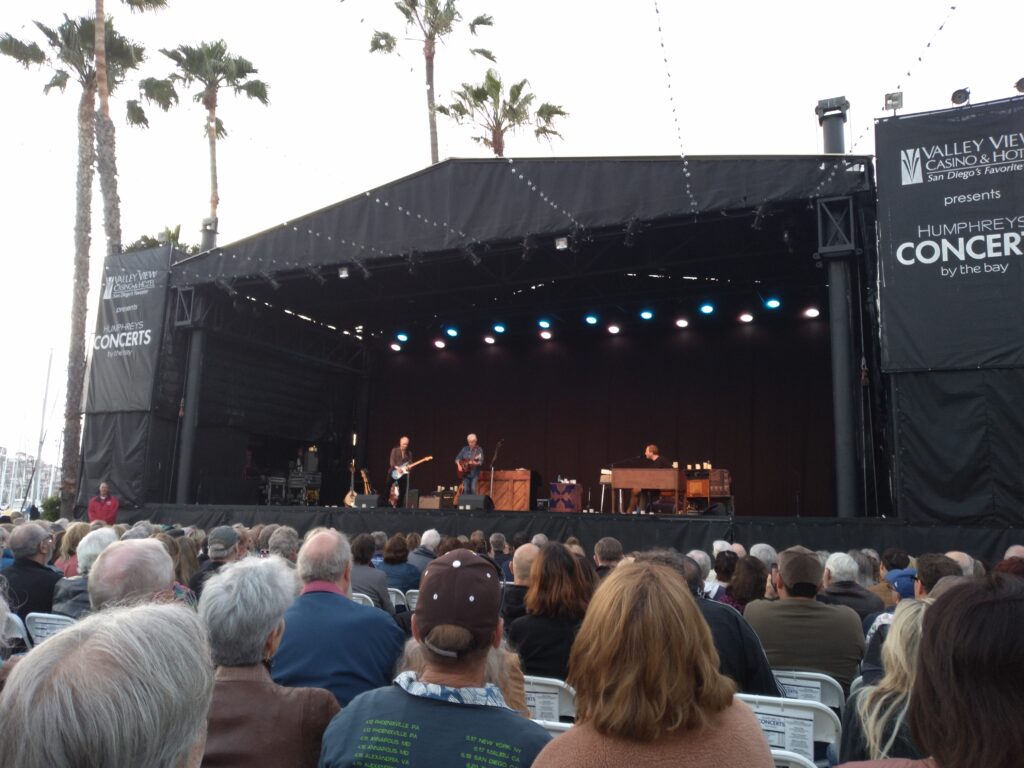 Graham Nash told us that not worrying about his partners' material on a nightly basis has proven to be a liberating thing for him: "It's really interesting having to deal with my music, not having to wonder whether
(David) Crosby
has equal songs, or
Stephen (Stills)
has equal songs, or
Neil (Young)
has equal songs. You know me; I've always been the democratic one in the band. But having to deal with just my music is kind of refreshing. It's very satisfying, actually."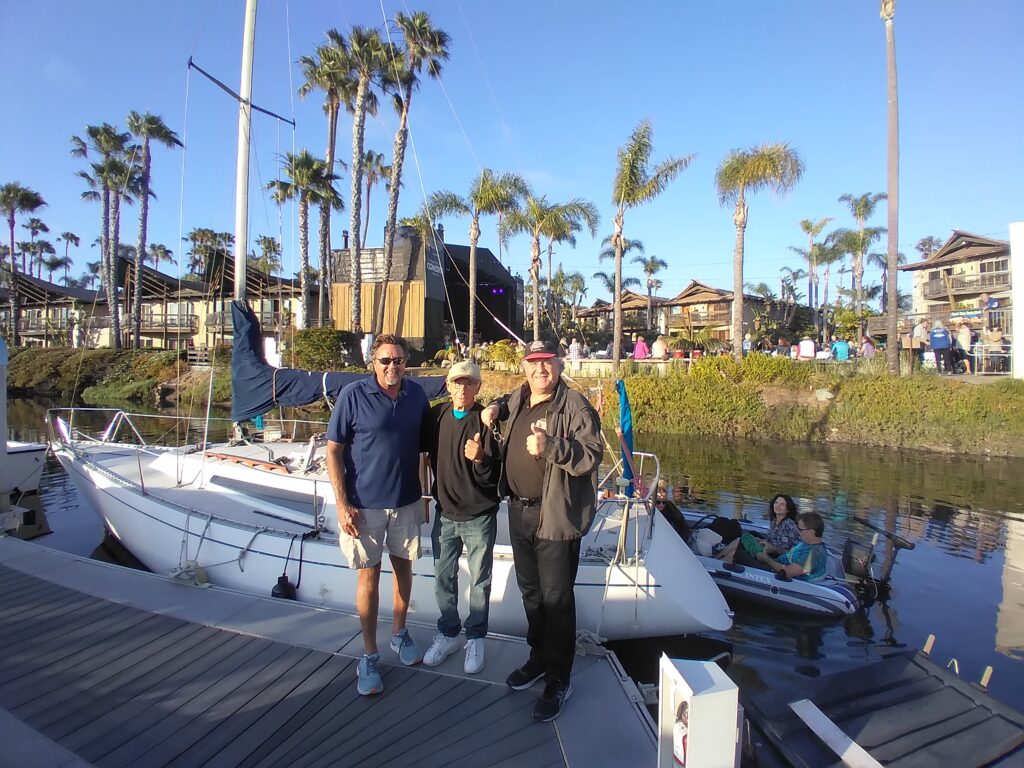 Nash admitted that his acoustic shows have brought him closer to his audience than ever before: "They more and more seem to think I'm one of them, and I like that a lot. Cause I don't want it to be, y'know, a bunch of people looking at some guy onstage as a star, y'know? Whatever we have done in our lives, every single decision we have ever made, up to this point will bring us to the show. So, why not have the best time? Why not have me do my job, which is as a musician, I go there, I sing songs, I hope to touch their hearts, I hope to touch their minds, I get paid money, and they leave smiling. What's wrong with this picture?"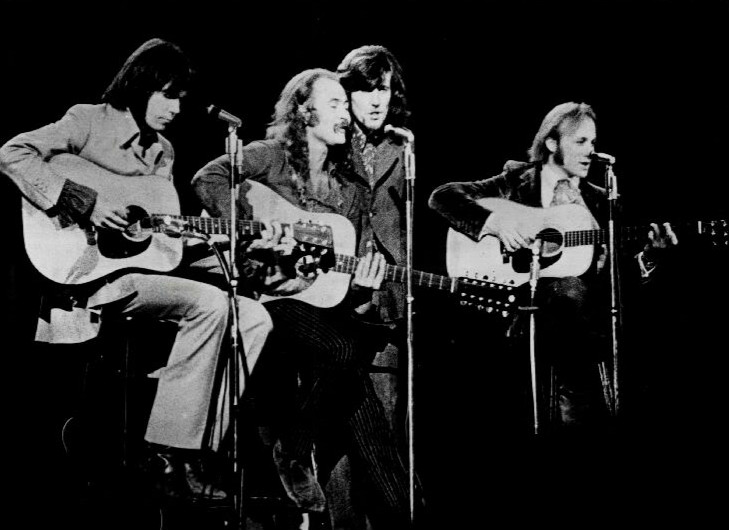 Towering above virtually everything that Graham Nash has accomplished in his long and multi-faceted career, stands the litany of songs that he has written and introduced to the soundtrack of our lives for nearly six decades.  "The art of songwriting," he has said, "to people who enjoy music but don't write music, is very mysterious. I'm not even sure how I can describe what I go through.  I wake up in the morning, I'm alive, I get on with my day, I check the news from around the world, I check the local newspapers, I check what's going on with my friends, and I write about my life, that's all I've been doing all my life."
Nash's remarkable body of work began with his contributions to the Hollies opus from 1964 to '68, including "Stop Stop Stop," "On A Carousel," "Carrie Anne," "King Midas In Reverse," and "Jennifer Eccles,"
and continues all the way to
This Path Tonight (2016),
his most recent solo album.  In 2018, Over the Years… compiled Nash's best-known CSN and post-CSN work, along with more than a dozen unreleased demos and mixes, on a 30-track, 2-CD collection.
Steve after the concert with Shane Fontayne: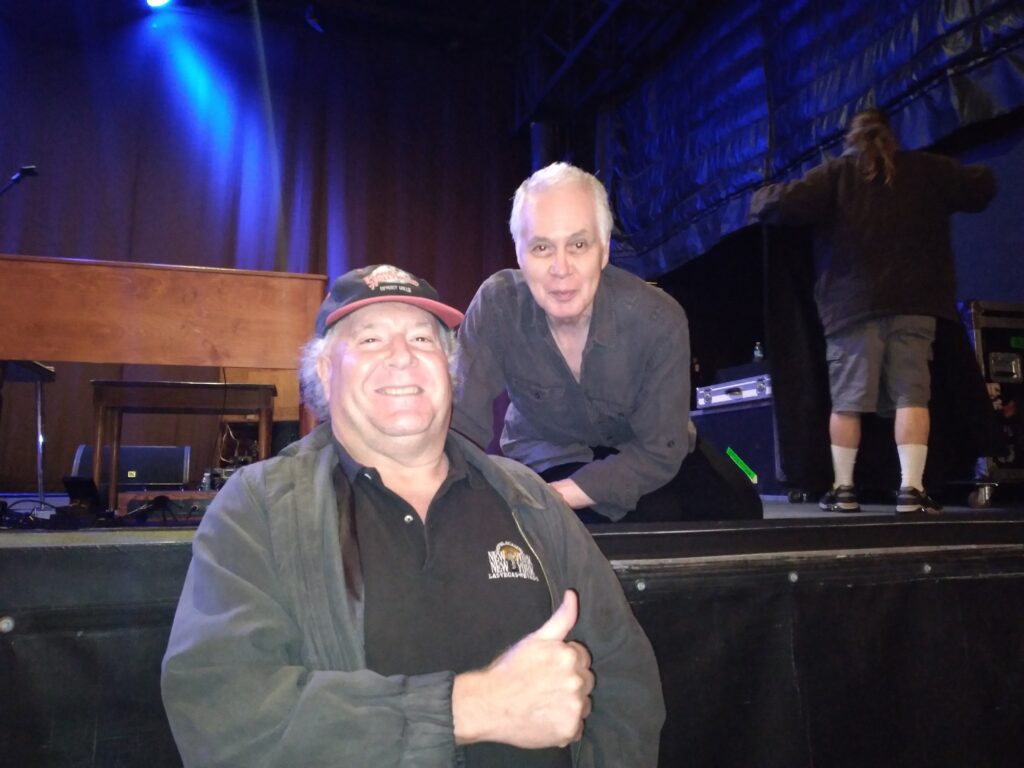 The original classic union of Crosby, Stills & Nash (& Young) lasted but twenty months.  Yet their songs are lightning rods embedded in our DNA
, starting with Nash's "Marrakesh Express," "Pre-Road Downs" and "Lady Of the Island," from the first Crosby, Stills & Nash LP (1969).  On CSNY's Déjà Vu (1970), Nash's iconic "Teach Your Children" and "Our House" (for Joni Mitchell) beseeched us to hold love tightly, to fend off the madness that was on its way.
Richard after the concert with Shane Fontayne: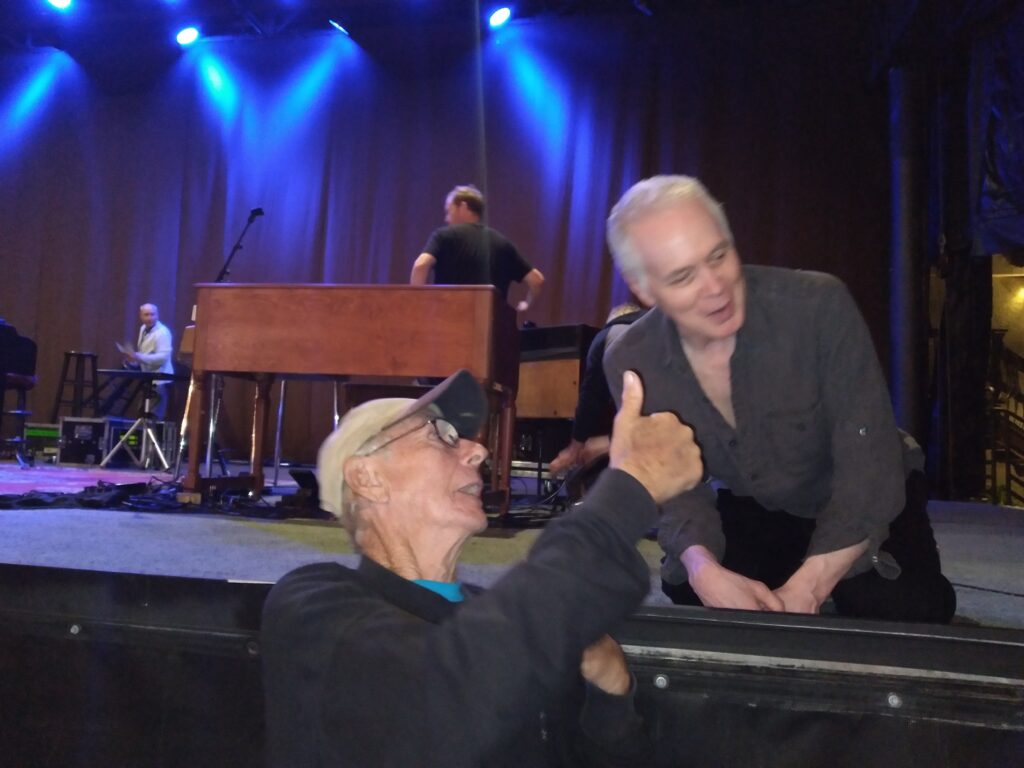 Graham Nash is a British singer/songwriter/musician who has been a well known name on the international popular music scene since the mid-'60s.
From his years as a founding member of the
British Invasion group The Hollies,
through his time with 
Crosby, Stills & Nash, Crosby, Stills, Nash & Young 
and his solo career,
Nash has been involved with iconic acts that pioneered a number of musical genres.
Nash holds dual citizenship with both the US and UK and has shared his political views in the songs that he writes and performs since the late '60s. He is known for an impressive vocal range and a unique voice quality, and has been featured as guest vocalist on numerous recordings by other prominent artists. Here are ten of the best known and best loved songs by Graham Nash.
10. "I Used to Be a King"  This is a track from Nash's first solo album Songs for Beginners in 1971. A country rock tinged song of regret and determination. The instrumental arrangement features acoustic guitar, pedal steel, and piano with a groove that shifts from country to pop rock with the vocal soaring at points above it all.
9. "Be Yourself"  Originally appearing on Songs for Beginners, a demo version of this song was featured in the 2009 George Clooney film "Up in the Air."  The song was co-written by Nash and Brit rocker Terry Reid, and is an acoustic track with a sing-a-long chorus and lots of clever word play.
8. "Myself at Last"  A song from GN's 2016 album This Path Tonight, this is a tune of self-reflection and taking stock of one's life. It is an acoustic track with with minimal production and an understated, fragile sounding vocal from a legendary musician and pop culture touchstone.
7. "Better Days"  This tune from 1971 features a lot of piano (played by Nash), as well as a saxophone solo which foresaw that instrument becoming the sound of choice for many tracks by artists later and throughout the '70s. Nash's impressive vocal range is on full display on this fan favorite.
6. "Immigration Man"  This was the lead single release from the first album by the Graham Nash and David Crosby duo in 1972. It was inspired by an encounter Nash had with The U.S. Customs. The story is unique subject matter for a rock song and is set to a strong melody with an outstanding blending of voices. It has become a Graham Nash classic and was a Top 40 hit.
5. "Prison Song"  From the 1974 album Wild Tales, this is a cautionary tale, said to have been inspired by Nash's own father having been falsely accused and convicted of a theft that he did not commit.  The song also is an example of the singer/songwriter's penchant for writing material that reflects his passion for political causes and the quest for a just society.
4. "Simple Man"  This is a track from the Songs for Beginners album. It is a short and sweet tune that Nash has said was a reaction to his breakup with folksinger Joni Mitchell in the very early '70s. "I just want to hold you. I don't want to hold you down."
3. "Chicago"   Probably Nash's best known political song, this was a Top 40 single release in 1971. It was inspired by the riots during The 1968 Democratic National Convention and its subsequent fallout, including the trial of the Chicago 8 (including Bobby Seale who is referred to in the lyrics). The line "Won't you please come to Chicago just to sing" was a plea to Nash's bandmates in CSN&Y to play a fundraiser for the defense of the Chicago 8.
2. "Our House"  Another song about Nash's well known relationship with the legendary singer/songwriter Joni Mitchell, this was included in the first collection by supergroup Crosby, Stills, Nash and Young Déjà Vu. It is an ode to domestic bliss in a simpler time. It was released as a single and reached Number 30 in the US.
1. "Teach Your Children"  This song also originally appeared on the CSN&Y album Déjà Vu. It was released as a single and was a Top 20 hit in 1970. The country rock tune expresses both an instructive theme as well as being sweet and inspirational. It is a classic tune that has become timeless.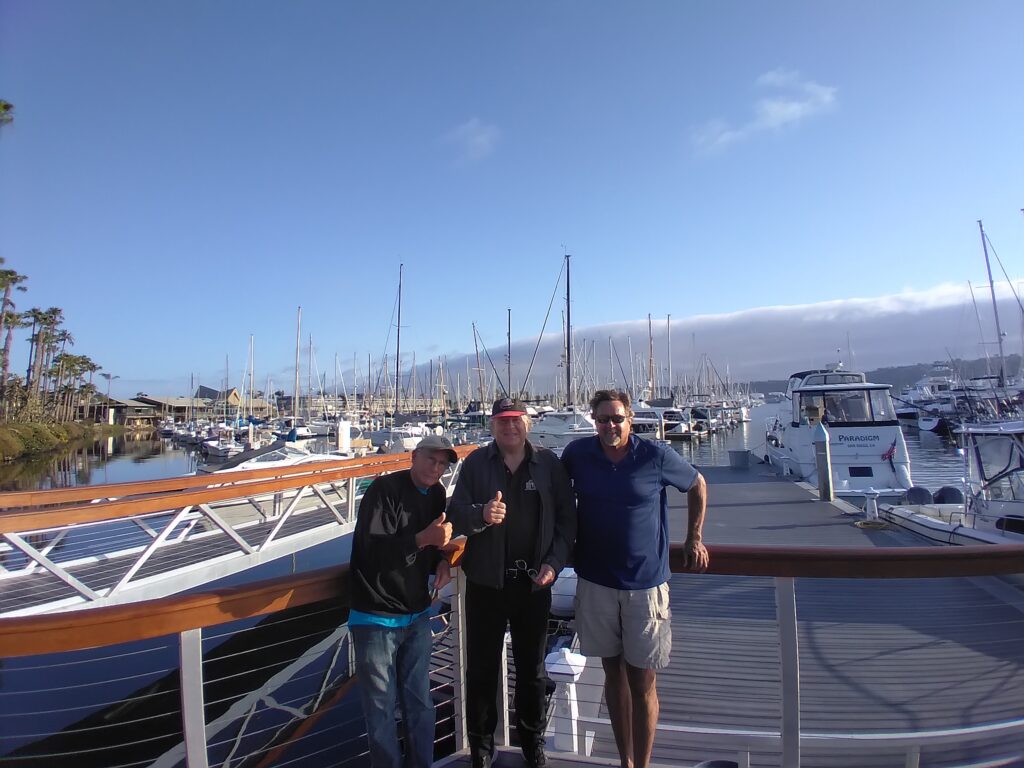 From the sponsor: Valley View Casino & Hotel, we were very lucky enough to get VIP tickets with great seats to see this great live concert, that was held in downtown San Diego, California, on the beautiful, scenic, and tropical: Shelter Island, which is almost like an Island surrounded with water on 3 sides, right next to San Diego Bay and the Pacific Ocean, at the beautiful picture postcard perfect – outdoor theatre:  Humphrey's Concerts by the Bay.