The Art Directors Guild (ADG, IATSE Local 800) tonight announced winners of its 22nd Annual Excellence in Production Design Awards in 11 categories of film, television, commercials, music videos and, for the first time, animation features, during a black-tie ceremony at the Ray Dolby Ballroom at Hollywood and Highland. Blade Runner 2049 (Dennis Gassner), The Shape of Water (Paul Denham Austerberry), Coco (Harley Jessup), and Logan (Francois Audouy), won Best Production Design for Feature Film. Television winners included The Handmaids Tale(Julie Berghoff), Portlandia (Schuyler Telleen), Will & Grace (Glenda Rovella), Black Mirror (Joel Collins, Phil Sims), and Game of Thrones (Deborah Riley) Glow (Todd Fjelsted), and Star Wars Battlefront II: Rivalry/PS4 (Jason Edmonds), respectively.
The awards took place before an audience of more than 1,000, including guild members, industry executives and press. ADG President NELSON COATES and Art Directors Council Chair MARK WORTHINGTON presided over the awards ceremony with comedian JOHNATHAN FERNANDEZ serving as host :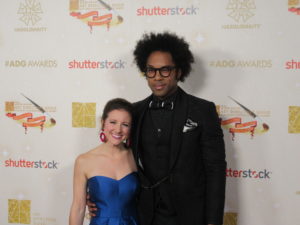 Returning again as producers of this year's ADG Awards (#ADG awards) were Production Designers THOMAS A. WALSH, ADG, and THOMAS WILKINS, ADG. The guild debuted its new award category Excellence in Production Design for an Animated Film and Pixars Coco was the first recipient of this award.
Oscar-winning Production Designer RICK CARTER (Avatar, StarWars: The Force Awakens) presented KATHLEEN KENNEDY (Star Wars: The Last Jedi, Jurassic Park, E.T. the Extra Terrestrial) with the prestigious Cinematic Imagery Award following a filmed salute to the eight-time Academy Award®-Nominee and President of Lucasfilm. The William Cameron Menzies Award honored Disneys Oscar®-nominated animation filmmakers RON CLEMENTS and JOHN MUSKER (Moana, Hercules, Aladdin) and was presented by ANIKA NONI ROSE (Dreamgirls, The Princess and The Frog), :
 who thrilled the audience with her vocal performance of The Little Mermaids Part of Your World. A special Leadership Award was bestowed upon International IATSE President MATTHEW D. LOEB by ADG Executive Director CHUCK PARKER.  
The Outstanding Creative Achievement Award went to Production Designer MICHAEL BAUGH by ADG President NELSON COATES :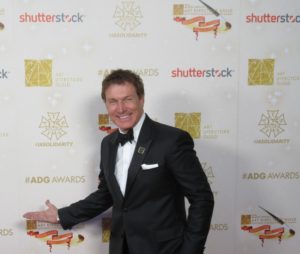 and Art Directors Council Chair 
MARK WORTHINGTON. 
Lifetime Achievement Awards were presented to Production Designer 
NORM NEWBERRY 
by Production Designer 
RICK CARTER;
 Emmy®-winning and Oscar®-nominated Production Designer/Set Designer 
JAMES MURAKAMI 
by four time Oscar®-nominee 
GARY FETTIS
; Scenic Artist 
JOHN
MOFFITT: 
by
 ED STRANG,
 and Senior Illustrator/Art Director 
MARTIN KLINE
 by
 CASEY BERNAY
. The late Oscar-winning Production Designer 
SIR KEN ADAM
 (
Dr. Strangelove, James Bond
) Senior Illustrator and Bambi's Concept Designer 
TYRUS WONG 
were inducted into the ADG Hall of Fame.
Additional presenters for this years awards included GARY OLDMAN (Darkest Hour):
Focus Features Takes Churchill Biopic Darkest Hour : Starring Gary Oldman, for Golden Globe & SAG Awards ! :
 WILL ARNETT (Arrested Development), LOU DIAMOND PHILLIPS (Longmire):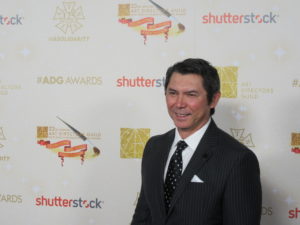 KATE BURTON
 (
Scandal):
     and
KATEE SACKHOFF
 (
Battlestar Gallactica
),: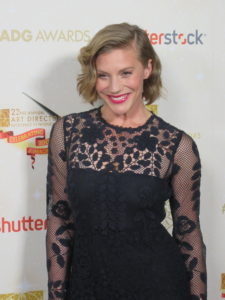 NANCY CARTWRIGHT 
(
The Simpsons
);: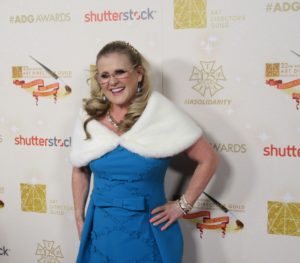 CATHERINE OHARA(Home Alone), and RIAN JOHNSON (Director, Star Wars: The Last Jedi).
WINNERS FOR EXCELLENCE IN PRODUCTION DESIGN FOR A FEATURE FILM   1. PERIOD FILM :  THE SHAPE OF WATER  Production Designer: PAUL DENHAM AUSTERBERRY  2. FANTASY FILM :  BLADE RUNNER 2049  Production Designer: DENNIS GASSNER  3. CONTEMPORARY FILM  : LOGAN  Production Designer: FRANÇOIS AUDOUY 4. ANIMATED FILM : COCO Production Designer: HARLEY JESSUP: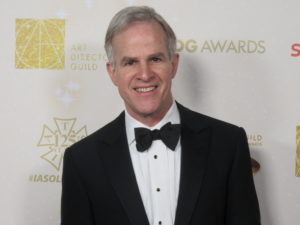 WINNERS FOR EXCELLENCE IN PRODUCTION DESIGN FOR TELEVISION ARE:  5. One-Hour Period or Fantasy Single-Camera Series: GAME OF THRONES: Dragonstone, The Queen`s Justice, Eastwatch –Production Designer: DEBORAH RILEY  6. One-Hour Contemporary Single-Camera Series :  THE HANDMAIDS TALE: Pilot, Offred, Birth Day, Nolite Te Bastardes Carborundorum Production Designer: JULIE BERGHOFF   7. Television Movie or LIMITED Series : BLACK MIRROR: USS Callister  Production Designers: JOEL COLLINS, PHIL SIMS  8. Half Hour Single-Camera Series :  GLOW: Pilot, The Wrath of Kuntar, The Dusty Spur –  Production Designer: TODD FJELSTED  9. MULTI-CAMERA Series :   WILL & GRACE: Eleven Years Later, A Gay Olde Christmas  – Production Designer: GLENDA ROVELLO  10. Short Format: Web Series, Music Video or Commercial  : STAR WARS BATTLEFRONT II: Rivalry / PS4 – Production Designer: JASON EDMONDS  11. Variety or Competition Series/AWARDS OR EVENT SPECIAL: PORTLANDIA: Portland Secedes, Ants, Fred's Cell Phone Company Production Designer: SCHUYLER TELLEEN  
For the complete story go to: entertainmentandsportstoday.com, on Facebook & Instagram: @entertainmentandsportstoday , and Youtube.com/entertainmenttodaytv @LOUDPHILLIPS  @adg800  @GaryOldmanWeb