DANCES WITH FILMS FESTIVAL OPENING NIGHT WORLD PREMIERE OF GOOD SIDE OF BAD, had it's red carpet arrivals of about 200 stars from more than 100 world premieres movies, shorts and documentaries, from all 11 days of this amazing 26 year old film festival, and both the Pre & After-Party at the historic Hollywood landmark: The Roosevelt Hotel,  and the World Movie Premiere of Good Side of Bad at the world famous TCL Chinese Theater on Hollywood Blvd. right across the street from the Roosevelt Hotel. 
Dances With Film aka DWF:LA had its 26th annual independent film festival on 11 fun packed days and nights in June and July.  Always prioritizing important storytelling above all else, this year's theme of "Peace, Love, & Celluloid" is a nod to some of its powerful programming that promotes healing, highlights social justice, and celebrates inclusivity and diversity.  DANCES WITH FILMS has been recognized by USA TODAY readers as a TOP TEN North American Film Festival!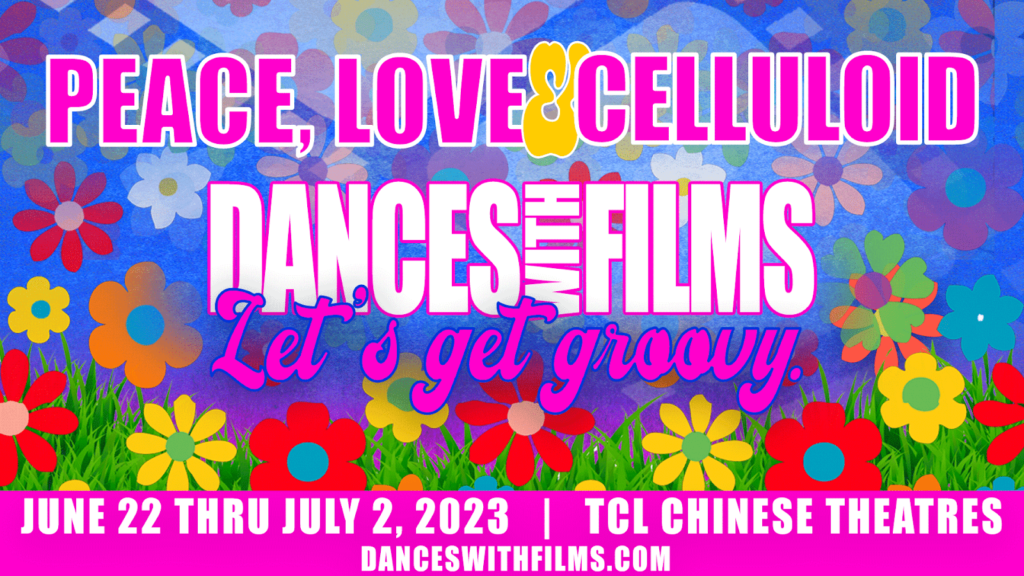 The world premiere of GOOD SIDE OF BAD, is a powerful drama based on the award-winning novel of the same name by Beverly Olevin. Directed by Alethea Root and starring Jules Bruff (Zodiac) and Lexi Simonsen (S.W.A.T.)- on right of bottom photo, Alex Quijano (High School Musical: The Series) and Academy Award Nominee Tess Harper (Crimes of the Heart, No Country For Old Men), the film depicts a raw and intimate look into what it means to be a family navigating the waters of mental illness.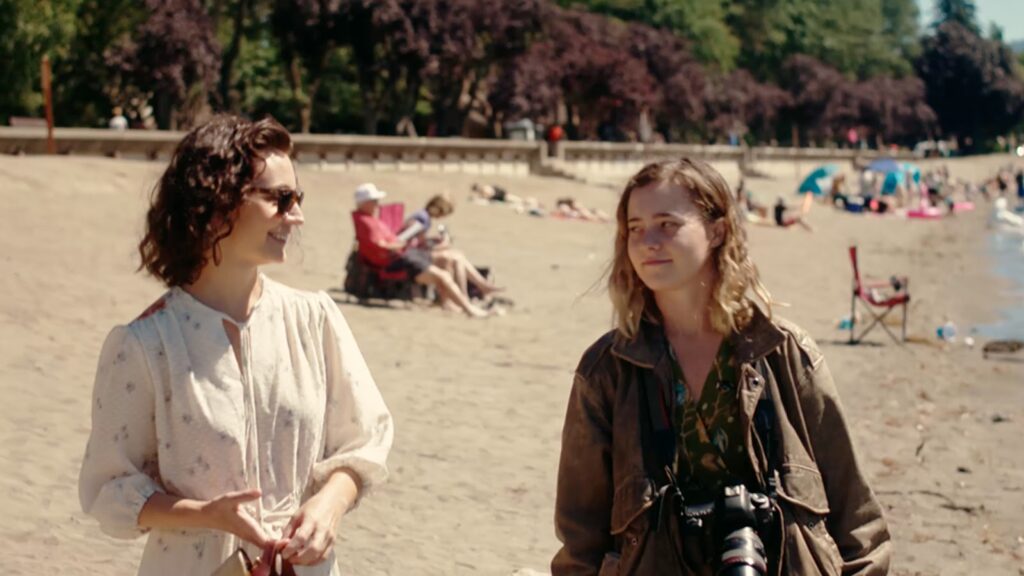 Celebrities expected include: Anthony Rapp (Rent), Wendie Malick (Hot In Cleveland) on this show you can see her interview by our Entertainment Today news Reporter: Doug Nolan- as in our feature photo: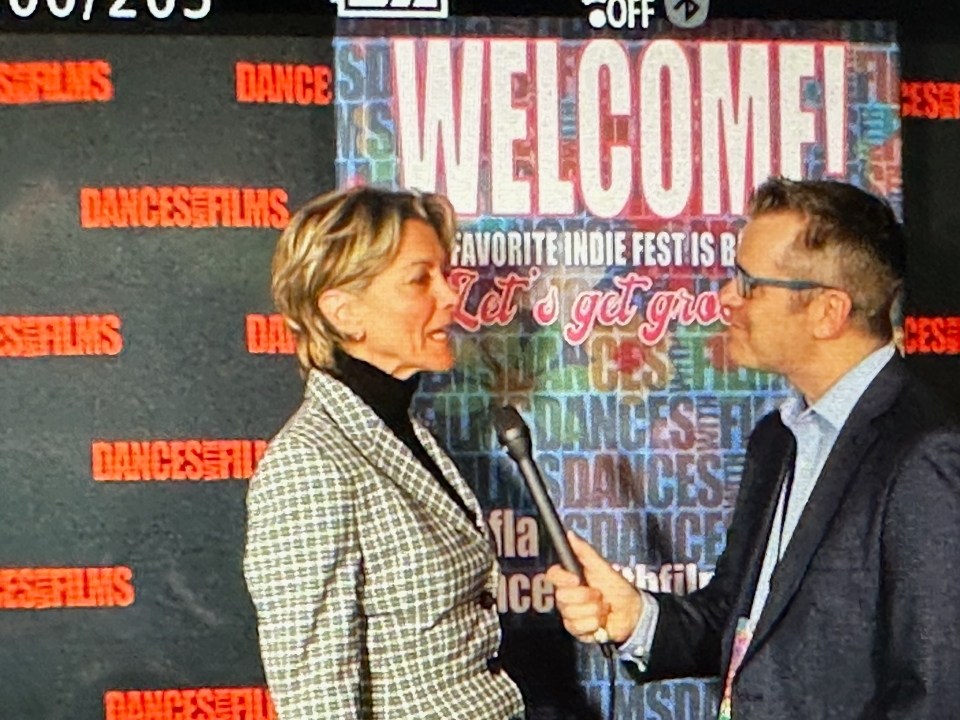 RJ Mitte (Breaking Bad), Dina Meyer (Saw Franchise), Aaron Dominguez (Only Murders In The Building), Angela Sarafyan (Westworld), John Farley (brother of Chris Farley) on this show you can see his interview by our Entertainment Today TV Show Host: Margie Rey, Ray Abruzzo (The Sopranos), Lexi Simonsen (S.W.A.T.), Alex Quijano (High School Musical: The Series) and more!  Below Entertainment Today's TV Show Host/News Reporter: Margie Rey doing interviews on the red carpet for Opening Night at the Historic Roosevelt Hotel in Hollywood: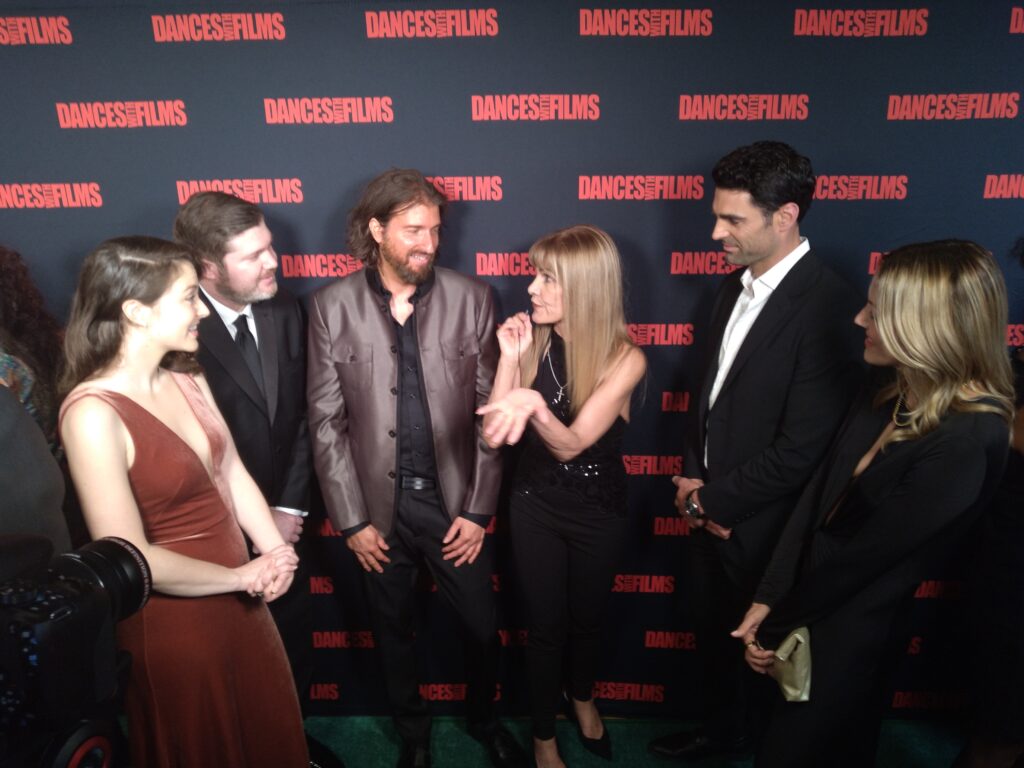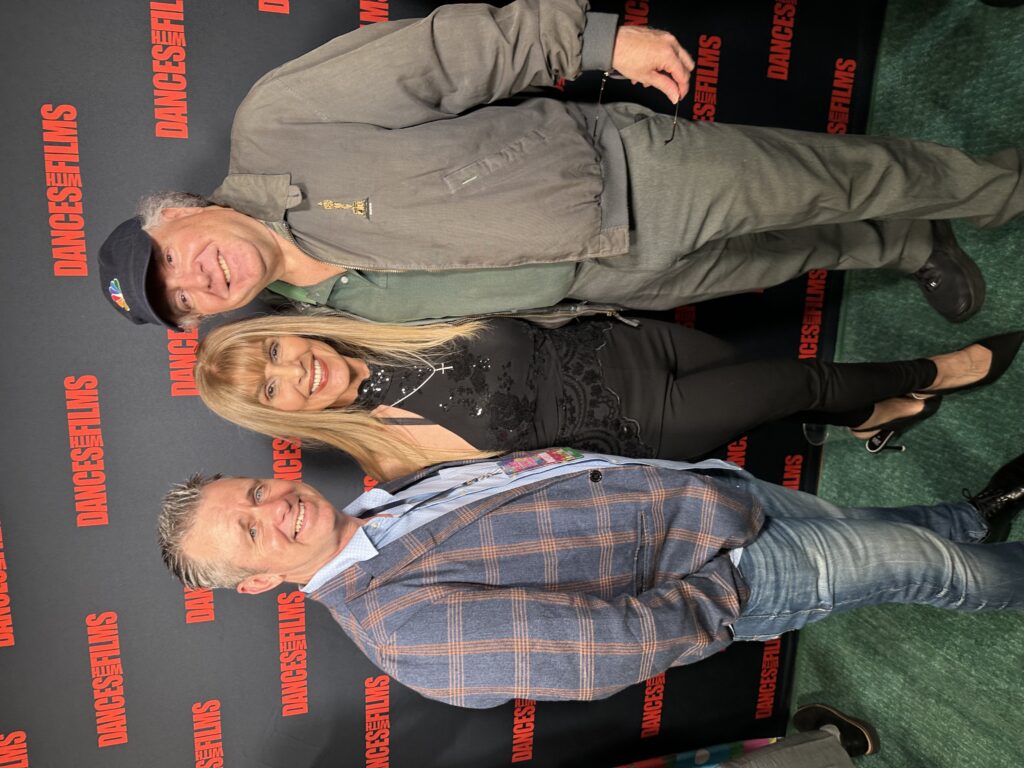 See above photo for our Entertainment Today TV News Crew of L – R: Producer, Reporter, and Eye-in-the-Sky Filmmaker: Doug Nolan, our TV Show Host: Margie Rey, and TV Producer: Steve Taylor. Doug Nolan & Margie Rey did fun, interesting and in-depth interviews with over 200 Actors, Producers, Directors, Staff and Crew from movies, shorts and documentaries! You will be able to see that on this show and upcoming shows on DWF.  Below Entertainment Today's Producer/News Reporter: Doug Nolan doing interviews on the red carpet for Opening Night at the Historic Roosevelt Hotel in Hollywood: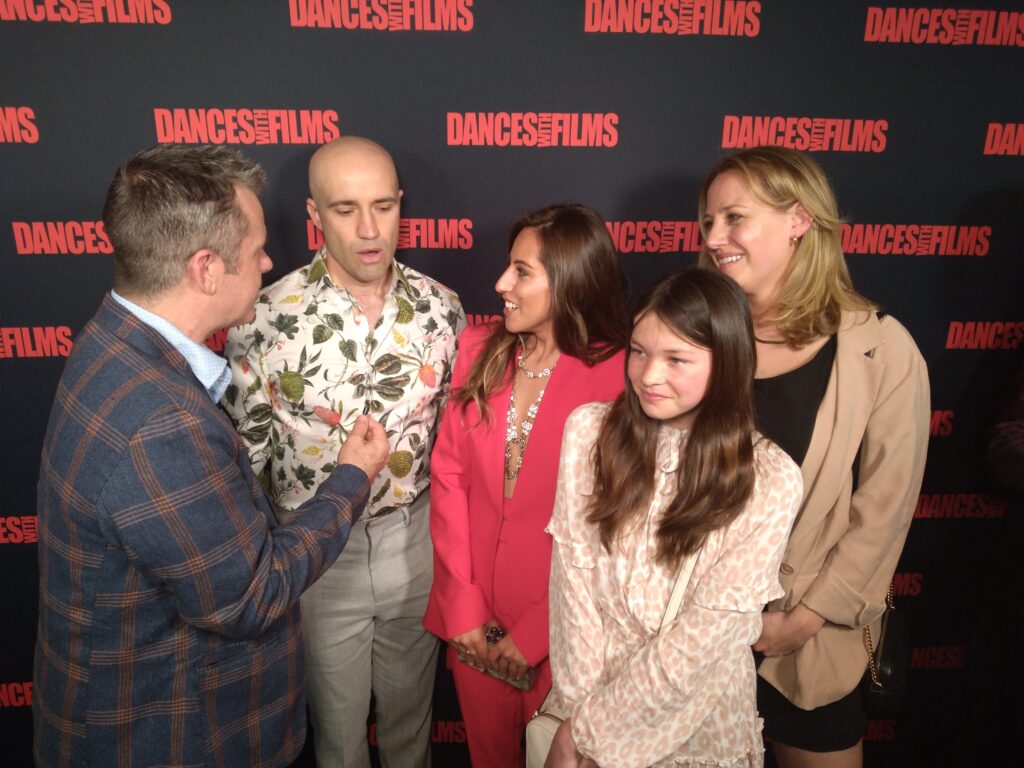 Below you can see Entertainment Today and Entertainment & Sports Today TV show Producer: Steve Taylor with the star of GOOD SIDE OF BAD: Lexi Simonsen (S.W.A.T.) – and below that is The Q & A – right after the movie- inside the movie theatre: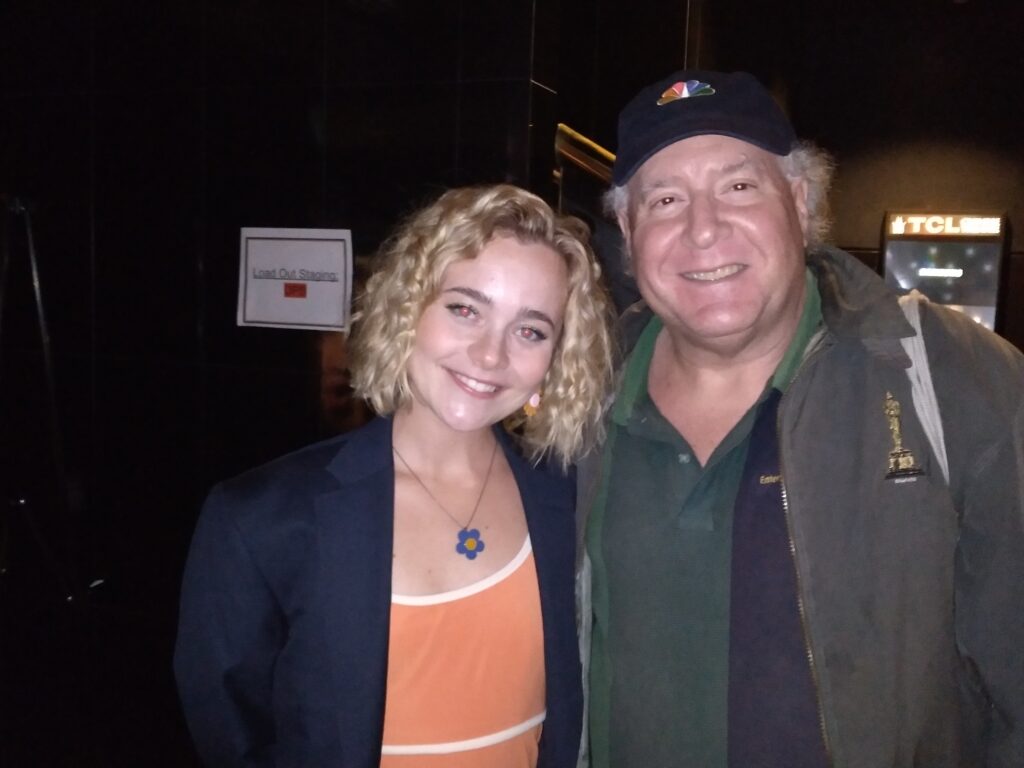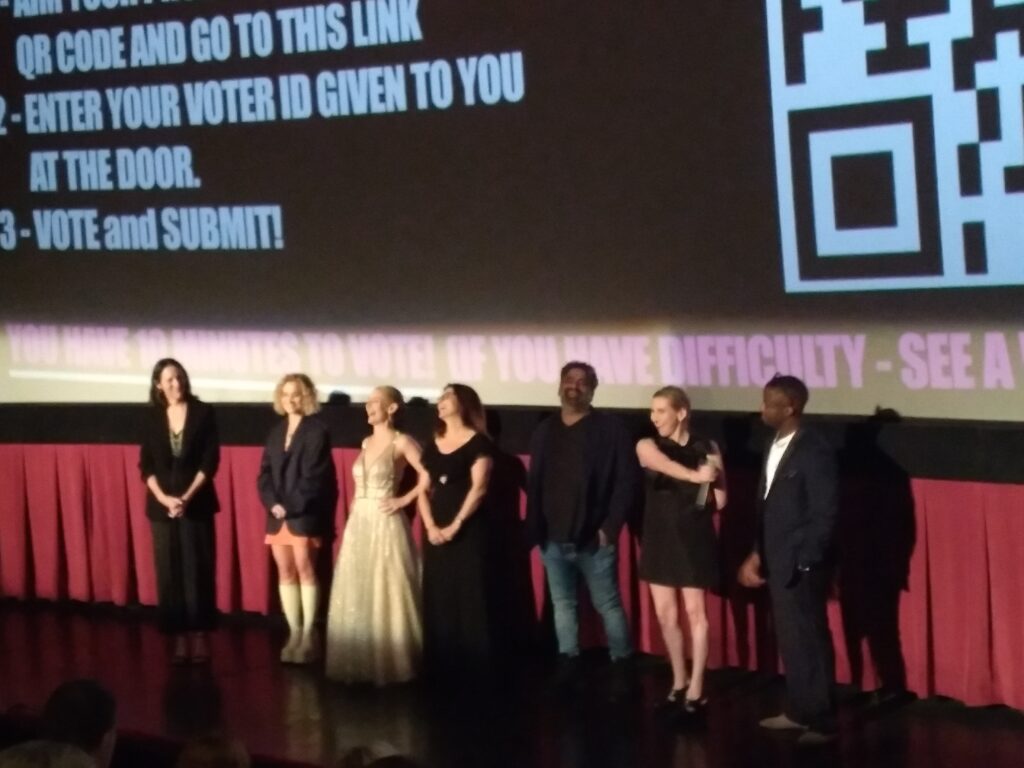 The Dances With Films festival, now in its 26th year, was formed with the vision of celebrating the quality of work in film, rather than relying on "who you know." Over the years, DWF has grown substantially and is now considered a significant discovery festival with a reputation for fostering relationships among filmmakers. Dances With Films (DWF) has been a beacon for independent filmmakers. Held in the heart of Los Angeles, DWF is a discovery festival known for its friendly spirit and commitment to helping filmmakers forge relationships. DWF is one of the highest-attended film festivals in Southern California, with more than 20,000 attendees each year! The festival, which has been a cornerstone of independent cinema since 1998, was held at the historic TCL Chinese Theatres in Hollywood, over 11 days and nights! 
To celebrate strong female voices in film, Dances With Films has curated a slate of features written, directed by and starring females. The world premiere of 7000 Miles, directed by Amy Glazer stars Wendie Malick (Hot In Cleveland), Emmy Award Winner Juliet Mills (The Rare Breed, Passions), Maxwell Caulfield (Grease 2, Empire Records) and Ray Abruzzo (The Sopranos).
Our Reporter: Doug Nolan did 5 interviews, with almost everyone from the Hot new supernatural thriller: "The Unseen" that is written and produced by neurodiverse filmmaker Jennifer Goodman under her banner Lakefront Pictures, also stars in the film alongside R.J. Mitte (Breaking Bad). 
AND "Hedgehog" – As the war starts in Ukraine, six years old Nina is sent to her grandmother's remote village. In the shack outside, Nina discovers a badly wounded Russian soldier.  WRITER/DIR: D. Mitry, PRODS: Citlalli A. Ruiz, Dave Messick, Simona Calin, Glen Reynolds, CAST: Emma Pearson, Elina Golde, Vladimir Varakossov, Nadia Lupiwok, Yuriy Brailko
AND The World Premiere of "Forever Now" – 70-year-old Robyn takes a formula that reverses the aging process, unlocking the chance to rewrite her life and facing her deepest regret.  WRITER/DIR: Henk Pretorius  STORY BY: Henk Pretorius, Jennifer Nicole Stang, Greg Blyth  PRODS: Llewelynn Greeff, Barend Kruger  CAST: Diana Quick, Bernard Hill, Stephanie Beacham, Mark Jackson, Amy Tyger, Anna Wolf, Julian Glover. That went on to win DWF's INDUSTRY CHOICE AWARDS – OVER 40 MINUTES
AND the short: "Don't Be Sorry" – After her husband is assaulted in an Anti-Asian hate crime, a timid but resilient Korean-American senior is empowered to fight back when she discovers viral face-slapping competition videos.  WRITERS: David Au, Mark Neal
DIR: David Au  PRODS: Joyce Liu-Countryman, David Au, Mark Neal  CAST: Angie Rhee, Nick Molari, Peter Liu
AND the World Premiere of "Mama!" – The death of George Floyd was the tipping point for an invigorated racial justice movement. However, hundreds of others, often Black men, have died under questionable circumstances during interactions with police. This is the story of those left behind who loved them the most, from the very first moment they drew breath: their mothers. Follow three mothers from Minnesota, the national hotbed for the Black Lives Matter movement in 2020, as they fight for accountability for their fallen sons, finding strength in one another to make sure no other mothers suffer their grief again. WRITER: Carl Reid  DIR: Sofia Drai  PRODS: Carl Reid, Enrico Natale, Sofia Drai  FEATURING: Amity Dimock, Del Shea Perry, Katie Bryant, Adrian Wilson  Mama! Is a powerful documentary by first time filmmaker Sofia Drai that highlights the wrongful deaths of 3 young black men at the hands of police.  The film focuses on the mothers and families that are left behind to deal with the unbearable and senseless loss.  It takes a village rings true here, and these mothers come together to fight for social justice and reform.
AND the DWF GRAND JURY SHORT Honorable Mention Award Winner: REUNION  written by Tim Naylor & Zainab Jah  directed by Zainab Jah & Tim Naylor  produced by Djaka Souaré. Reunion tells what happens when a West African immigrant living the Bronx, discovers the child soldier who destroyed her family, years later, is now a best selling author living in New York City. Combining live action with graphic novel illustrations, the film captures a refugee, New Yorker and African perspective.
Our TV Show Host: Margie Rey did fun and in-depth interviews with:
5 people from:  "What The Elf?!" – Your typical workplace-comedy… if your workplace is a Santa House at the mall. The series follows Elle, an actress who gets canned from her network show, and is forced to take the only other job she's qualified for: A Christmas Elf at the mall. But with the help of her unlikely new friends, and Santa Claus — played by the incomparable George Wendt (Cheers) — she just might discover the magic of Christmas and become the elf she was always meant to be. WRITER: Cameron Kelly  DIR: Tate Hanyok  PRODS: Amanda Markowitz, Caden Douglas, Michael Lomenda  CAST: George Wendt (co-star- Norm of that iconic hit TV series "Cheers"), Cameron Kelly, Nicole Alyse Nelson, Kenton Chen, Ena Fleming. Which went on to win DWF's WEB PILOTS AUDIENCE AWARD
AND The World Premiere of: "Katie's Mom," by first time female director Tyrrell Shaffner, a comedy inspired by The Graduate, stars Dina Meyer (Starship Troopers, Saw) and Aaron Dominguez (Only Murders In the Building). A recent divorcée's holiday celebration with her adult children derails when she falls for her daughter's charming new boyfriend. A comedy influenced by "The Graduate," told from the perspective of a protagonist inspired by Mrs. Robinson. WRITERS: Meryl Branch-McTiernan, Tyrrell Shaffner  DIR: Tyrrell Shaffner  PRODS: Tyrrell Shaffner, Meryl Branch-McTiernan, Corey Moss  CAST: Dina Meyer, Aaron Dominguez, Julia Tolchin, Colin Bates, Jason Wiles, Shannon Dee. Which went on to win DWF's FUSION FEATURE AUDIENCE AWARD  
AND: Escaping Ohio, a coming-of-age drama written, directed, produced and starring Jessica Michael Davis features Emily Bergl (The Rage: Carrie 2) and Adam Pascal (Rent).
AND: Broadway's iconic show Rent, documentary Meet Me Where I Am directed by Grant Garry, explores the topic of grief through individual stories of loss, love and hope and features Anthony Rapp (Rent) and John Farley, brother of late comedian Chris Farley.
Other documentary highlights include Hollywood's Finest, directed by Claire Collins and produced by the Los Angeles Times, gives a searing, unflinching and raw portrait of a young female addict struggling to survive on the streets, get help, and get clean in order to provide for her newborn baby. Her nomadic mom, and social worker Leslie offer emotional support and guidance to attain housing, but ultimately McKenzie's demons get the best of her.  The film offers a hard look at homelessness and housing insecurity in LA.
Short films include comedy Chicken, starring world famous magician Criss Angel and comedian Courtney Karwal. Animus, the story of a Nobel Prize-winning physicist suspected of murdering three husbands, stars Angela Sarafyan (The Twilight Saga, Westworld) and Nancy Travis (Three Men and a Baby, The Bill Engvall Show).
Dances with Films is focused on celebrating inclusivity, diversity and different and unique perspectives on social issues. Additional titles dealing with important issues include Daruma, which features disabled leads and is the recipient of the Project ReFrame stamp of approval from Women in Film and The Sundance Institute.
So make sure you stay tuned for more from the 26th Dances With Film Festival (DWF:LA) in Hollywood, from Entertainment Today!