The Green Pre-Oscar Gala Fundraiser, Cocktail Reception, Dinner, Awards, Live Auction and Entertainment, at the beautiful Petersen Automotive Museum was again a big success only 3 days before the Oscars!  It was an unforgettable night of entertainment, live music, great food, and cocktails, and planet-friendly gift-bags: as celebrities, athletes, VIPs, eco-champions, eco-conscious celebrities, thought leaders, and zero-emission advocates walked down the green carpet, to raise funds all for a good cause to benefit everything Green: Energy Independence Now (EIN), and the DriveH2 Movement, and to learn about and raise funds for research, policy advocacy and public outreach to promote the widespread adoption of diverse zero emissions solutions.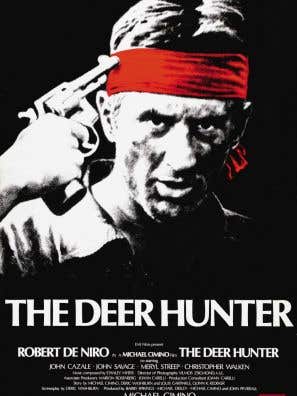 On this show our TV Show Host: Margie Rey-  interviewed many of these celebrities, and VIPs on the Green Carpet, which you can see on this show. Of all the interviews that Margie did that night, her favorite was one of the biggest eco-conscious celebrities and Green supporters: John Savage – who starred in many epic movies and TV shows, and C-Starred with Robert De Niro in The Deer Hunter (1978)- The Movie poster is on the left.  John Co-Starred with Ted Danson in the award winning Movie: The Onion Field, and he starred in the movie musical hit: Hair! This interview is at the start our our show.  Margie's second favorite interview was with: George Lazenby – who is an Australian actor. He was the second actor to portray fictional British secret agent James Bond in the Eon Productions film series, playing the character in: On Her Majesty's Secret Service in 1969! Below photo is of Lazenby with Diana Rigg while filming On Her Majesty's Secret Service in 1969: 
Sofia Milos (in the green dress- second from the left in the below photos) the star of many movies and TV shows like: Miami CSI – was so kind to pose for photos with many of the VIP guests that supported this great event: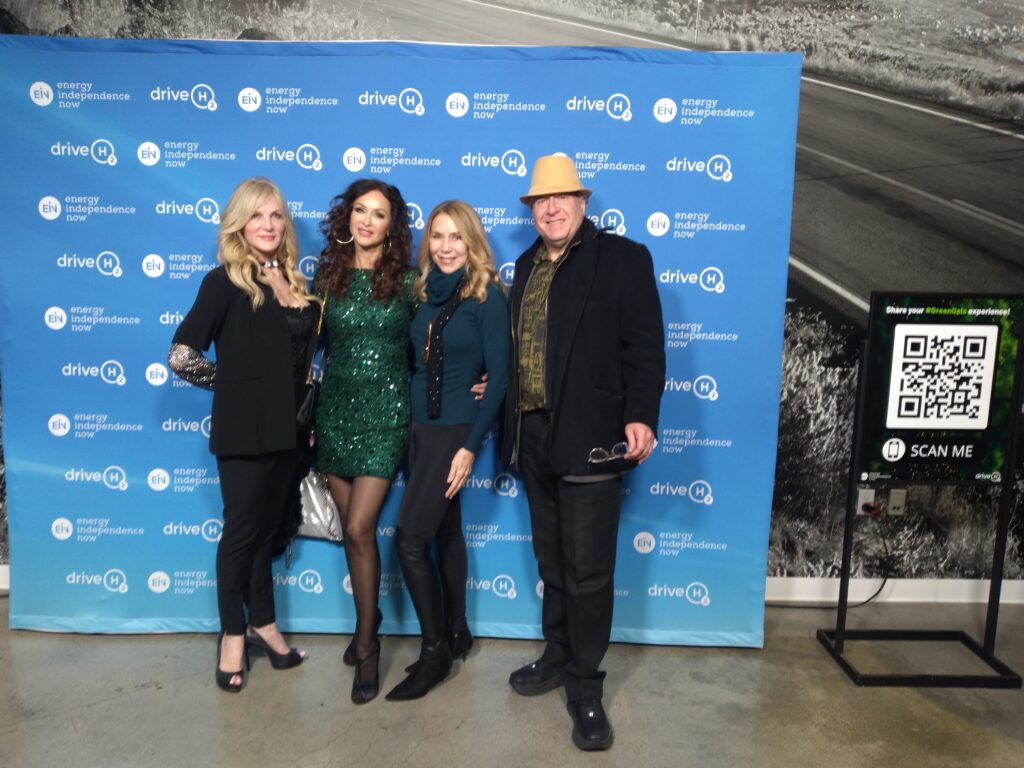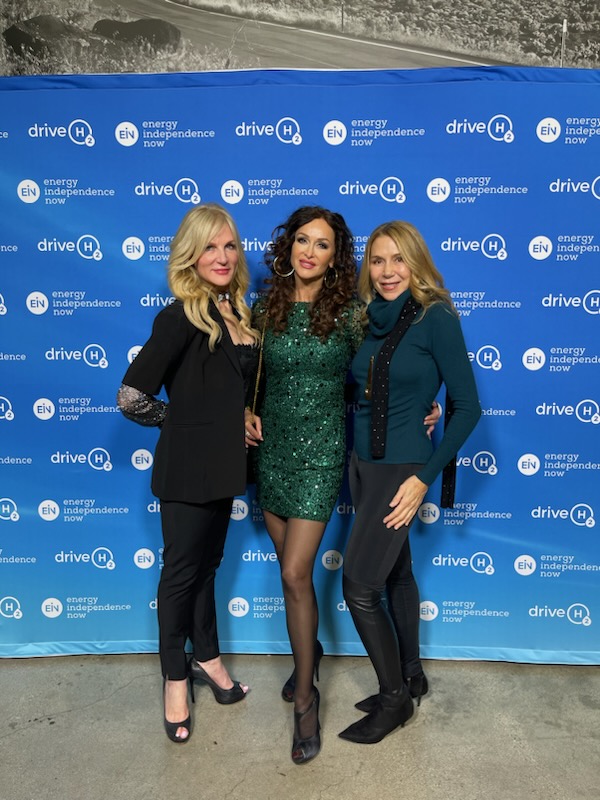 The event featured musical performances by YDE and NBA legend Baron Davis (as his DJ alter ego Bart Oatmeal), featured experiential live auction items and shone the spotlight squarely on sustainable entertainment, cars, cocktails and a glimpse into a more environmentally-friendly future. Planet-friendly gift-bags (containing surprises such as ManukaGuard's all-natural Medical Grade Manuka Honey Nasal Spray, and samples of sustainable Noble Oak Double Oak Whiskey) were provided to guests, who were also treated to sustainable foods and drinks.
Sponsored by Toyota and Noble Oak Double Oak Whiskey, the Green Pre-Oscar Gala event benefitted the DriveH2 zero emissions movement and was designed to bring an unforgettable night of entertainment, cars, celebrity chef procured cuisine, sustainable cocktails, a lively fundraising auction, and a glimpse into a more sustainable future.
Also receiving the spotlight on the evening was DriveH2, the public service initiative by environmental nonprofit EIN and its message of a hydrogen powered future. Working with EIN, Toyota (one of the event's sponsors, and makers of the Mirai, a groundbreaking hydrogen fuel cell powered car), has already made vehicle donations to non-profit organizations such as the American Red Cross, Petersen Automotive Museum (for education programs), Social Justice Learning Institute, ThinkWatts LA, Via Care and After-School All-Stars.
"It's exciting to see high profile personalities and influencers from film, television, sports and music working to educate themselves about viable, planet-friendly innovations and solutions to the gas and emissions crises and step forward and use their platforms to share what they've learned with their audiences," said Brian Goldstein, EIN's Executive Director. "If we are to effectively meet emission reduction goals, governmental and private investments in H2 are critical and it was gratifying to see so many influencers here to explore the solutions with us tonight."
You can learn more at www.driveh2.org, or follow EIN's story and updates across all social media platforms at @DriveH2
DriveH2 is a public service initiative by Energy Independence Now (EIN), an environmental nonprofit committed to educating the world about the benefits of hydrogen fuel cell electric vehicles. The organization engages in comprehensive research, policy advocacy and public outreach to promote the widespread adoption of a diverse zero emissions portfolio. 
It was a star-studded night, with many celebrities walking down the Green Carpet for interviews from media from all over the world:   Susie Abromeit (Jessica Jones); Cam Akers (LA Rams); Francesca Amiker (E! News); Anthony Anderson (Black-ish); Sasha Anne (singer, influencer); Skye Aurelia (model); Carmit Bachar (Pussycat Dolls); Holly Barker (fitness model); Theotis Beasley (pro skateboarder); Rachelle Carson Begley (Living with Ed); Blanca Blanco (influencer); Bob the Drag Queen (RuPaul's Drag Race); Mychal-Bella Rayne Bowman (Underground Railroad); Kandi Burress (The Chi); Jake Busey (The Frighteners); Christian Cage (wrestler); Weston Coppola Cage (Get Gone); Autumn Calabrese (celebrity trainer); Tia Carrere (True Lies); Donovan W. Carter (Ballers); Blac Chyna (model, actress); Lindsey Coffey (model); Chris Cole (skateboarding legend); Porscha Coleman (Dad Stop Embarrassing Me); Ismael Cruz Cordova (Lord of the Rings: Rings of Power); Joe Cortese (Green Book); Keelan Dadd (pro skateboarder); Baron Davis (NBA legend – also DJing the event); William Stanford Davis (Abbott Elementary); Ken Davitian (Borat); Gianni DeCenzo (Cobra Kai); Tony Denison (The Closer, Major Crimes); Vincent DePaul (The Bay); Johnny DePhillipo (Bachelor in Paradise, The Bachelor); Christina DeRosa (Secret by the Shore); Adrian Dev (Star Wars Obi Wan Kenobi); DJ Paul (Three 6 Mafia); John Dolmayan (System of a Down); Jessica Francis Dukes (Ozark); Mariah Duran (Olympic skateboarder); Damon Elliott (Oscar Nominee for Best Song); Justin Ervin (Six Months Later);  Christian Garcia (X Factor Mexico); Giancarlo Giannini (Quantum Solace); Stephen Kramer Glickman (Storks, Big Time Rush); Tyler Lawrence Gray (Wolf Pack); Michael Harris (Death Row Records Co-Founder); Michelle Harris (Alive & Well); Matthew Hatchette (NFL legend); Lexi Hensler (model, influencer); Lil Rel Howrey (Get Out); Kelly Hu (Scorpion King); Paul Johansson (One Tree Hill); Jill Jones (Girlfriends); Christina Kartchner (Never Have I Ever); Jessica Parker Kennedy (The Flash); Nika King (Euphoria); Jesse Kove (Cobra Kai); Dan Lauria (Wonder Years); Anais Lee (The Sun is Also a Star); Mirabelle Lee (Slapface); Jarry Lee (model); Jessica Lee (Deal or No Deal);  Bai Ling (international actress); Lisa Loeb (recording artist); Louis Lombardi (Sopranos); Luenell (legendary comedienne); Daniel Mac (influencer); Mallory James Mahoney (Bunk'd); Eva Marcille (All the Queen's Men, Real Housewives Ultimate Girls' Trip); Kristina Menissov (model); Jesse Metcalfe (Desperate Housewives); Troy Metcalfe (Babylon); Cameron Monaghan (Shameless); Jason Moore (Los Angeles Chargers); Esai Morales (Mission Impossible); Tahj Mowry (Smart Guy); Terrell Owens (NFL legend); Daniel Patrick (designer); Ronnie Radke (lead singer, Falling in Reverse); Jessica Ross (Kingpin Katie); Saraya (pro wrestler); Serayah (BMF); Chel Sgro (model, singer); Amanza Smith (Selling Sunset); Michelle Soel (fitness influencer); Jordin Sparks (recording artist); Jade Starling (singer/songwriter); Angie Stevenson (model); Sai Suman (designer); Jiaoying Summers (comedian); Al B. Sure (R&B legend); Sarah and Leah Talabi (models); Lew Temple (Walking Dead); Mario Van Peebles (New Jack City); Danielle Vasinova (Kominsky Method); Zhaleh Vossough (Mayans MC); Patrick Warburton (Rules of Engagement); Tye White (American Auto); Sheree Whitfield (Real Housewives of Atlanta); YDE (musical performer – will perform at the event); and Ramona Young (Never Have I Ever).