For over 25 years our news outlets and news staff have covered and attended the GBK Gift Lounges for the major awards shows, and this year again was no different, and again GBK had another big success, with the: GBK Productions Annual Pre Oscars-Celebrity Gift Lounge Celebrating the 2023 Academy Awards, which was held again this year at the Kimpton La Peer Hotel, on 627 La Peer Drive, in West Hollywood, CA 90069, with Oscar Nominees, Presenters, Past Winners, Press, and other A-List Celebrity Talent that attended!
Earlier today our TV news crew, and TV Show Host Margie Rey were at the GBK Productions Annual Pre Oscars-Celebrity Gift Lounge Celebrating the 2023 Academy Awards, so our news staff learned a lot about some great new products, and many Oscar Nominees, celebrities, and the press were given all kinds of gifts, which Margie will talk about on this TV show, and she will interview the owners and reps of these companies that had some amazing products at this amazing gift lounge! 
In our featured photo L-R are Writers/Directors Ross White & Tom Berkeley who just won the 2023 Oscar for their short film: "An Irish Goodbye" at the GBK Brand Bar Pre Oscars Lounge. (Photo by Tiffany Rose/Getty Images for GBK Brand Bar): 
Viola Davis receives a Netvue Bird Feeder cam.
Netvue Netvue Birdfy Feeder Cam is a perfect bird feeder plus a perfect camera, which detects, recognizes and records birds moment for you. (Photo Credit: Will Roberts):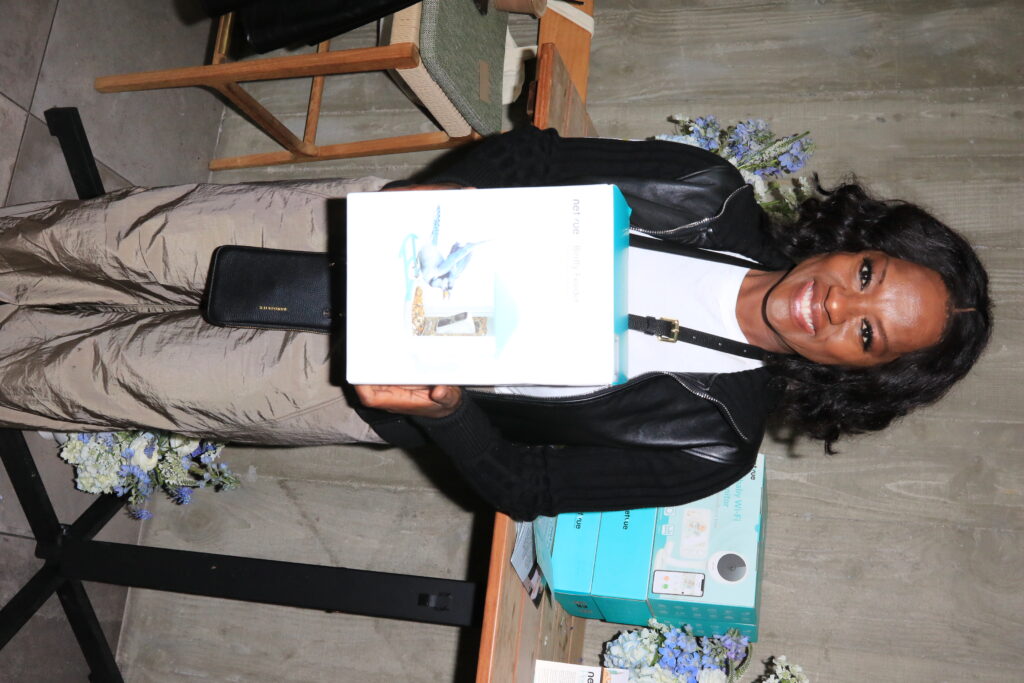 Euphoria star Nika King receives El Cristiano Tequila.  El Cristiano Tequila The world's most delicious and additive free tequila made from 3rd generation master tequila makers, from the finest Jalisco highlands blue agave. (Photo Credit: Bella Sky Photography):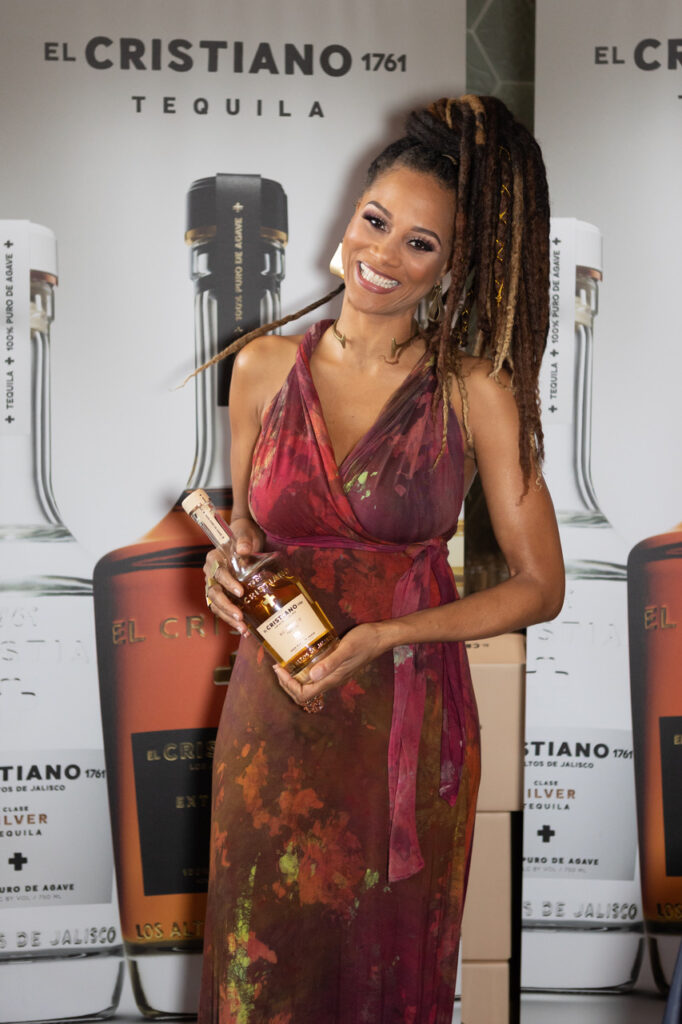 This year's Presenters & Nominees were given over $75,000 in gifts and trips which includes top brands such as Kahuna Chair, Ciel Spa Treatments at the SLS Hotel, All Inclusive LUSH African Safari, 2 Bedroom Ocean Front Suite @ Baha Mar Rosewood in Bahamas, including Dinner and SPA Services, Sail Rock Resort in Turks , Joe Pesci Luxury Sunglasses , GE Electronics , Emeril Cookware , Power XL Air fryer, Hair Tools, including men's grooming Flat Iron, Blow dryer, and Wand.
This lounge was a great opportunity for press to mingle with this year's Oscar nominees, presenters and other A-List talent while they got a first-hand experience of all of the gifts.  A tantalizing assortment of food and drinks was served from the moment we walked in the door with the house DJ spinning the best music.
One of our favorite products at GBK Gift Lounges, and any other gift lounge is Cardinal Du Four Armagnac, so in this show you can watch the interview by our TV Show Host: Margie Rey at the stand for the Cardinal du Four Armagnac, with the company rep of this amazing high-end Brandy: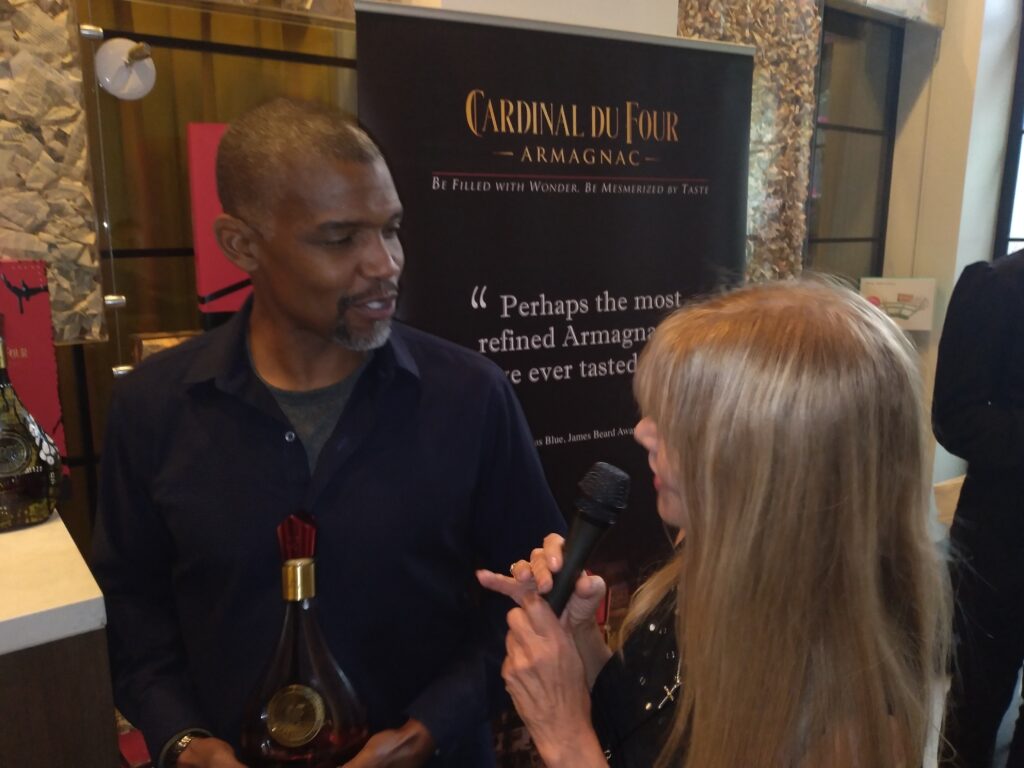 At GBK's 2023 Oscar Gift Lounge Cardinal du Four Armagnac, 21 Rébellion – a harmonious blend of vintage Armagnac's from 21 to 43 years of age, had a great pairing experience with Petrossian Caviar. In the below photos there are close-up photos of the bottle of this great Armagnac: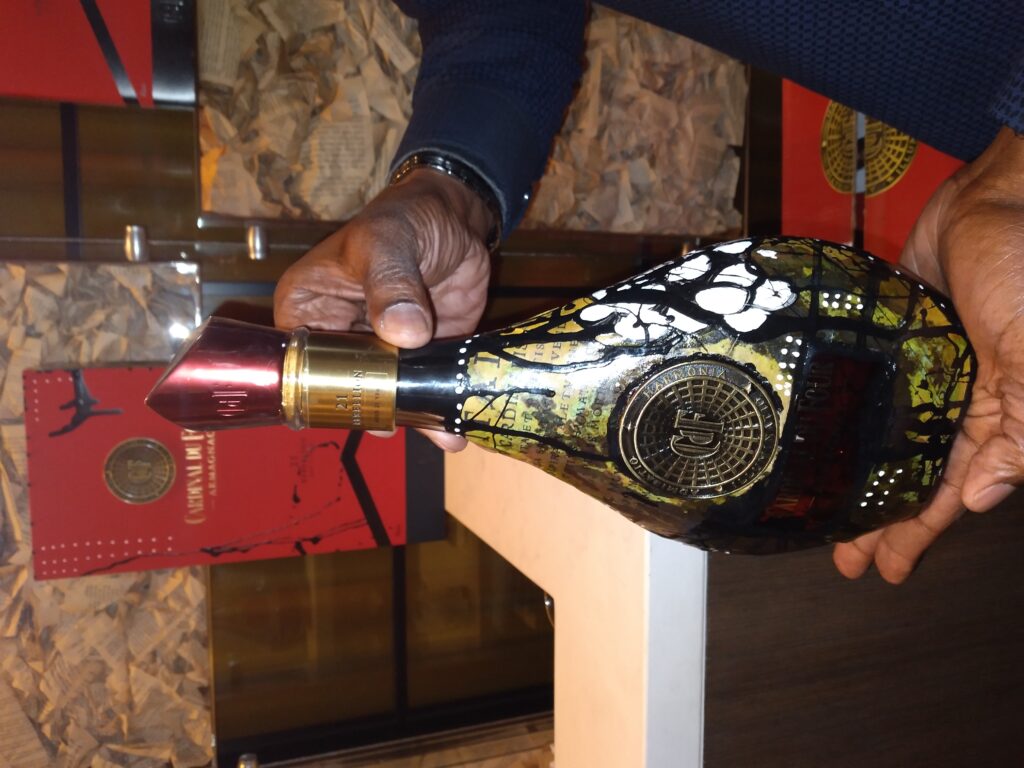 CARDINAL DU FOUR ARMAGNAC
Organization
For over 700 years, "l'aygue ardente" has distinguished itself as one of the world's most noble eaux-de-vie. Best known under the name Armagnac, this brandy rapidly became identified for having 40 virtues due to research conducted in 1310 by Maître Vital du Four. As Cardinal du Four, he was recognized as a great intellect, accomplished theologian, man of science, whom published a celebrated book about his remarkable discoveries, "To keep your health and stay on top form." The original texts have been preciously guarded in The Vatican library in Rome since the 14th century.
This work bestowed an exceptional destiny for the Armagnac region of France. Cardinal du Four Armagnac, 21 Rébellion is a harmonious blend of choice vintages aged in 400-liter French oak casks from the forests of Monlezun and Limousin. The youngest and more vibrant eau-de-vie has been aged for a minimum of 21 years with the oldest Armagnac in the blend dating back from 1976 vintage – 43 years old. Produced from the highest quality grapes of Ugni Blanc, Baco, Folle Blanche and Colombard that are harvested in the Bas-Armagnac and Ténarèze terroirs, these fine eaux-de-vie are distilled from a traditional continuous copper still called the "Alambic Armagnacais." With this honorary creation, we pay tribute to the Cardinal as we continue to ensure that the immortal spirit of Armagnac flourishes. Tasting Experience: Soft and brilliant amber brown color. Floral aromas of jasmine and iris followed by gingerbread spices like nutmeg and cinnamon intertwined with dried fig, caramelized apples and toasted wood vanilla flavors. Long lingering finish with notes of cacao beans and salted caramel. Cardinal du Four Armagnac, 21 Rébellion combines complexity and power with elegance …
The top of the line "Cardinal Du Four Armagnac" liquor – is one of the best quality liquor you will ever try, and it is the Paris 2019 winner of the Gold Medal!  The brand is called: Cardinal du Four Armagnac, 21 Rébellion, which is a Harmonious blend of vintage Armagnacs from 21 to 43 years of age, and for more details, and to order this great Armagnac go to CardinalDuFour.com
Rastegar Family Foundation
 is gifting
Ari Rastegar's book: The Gift of Failure
, with the purpose of empowering individuals to speak their truth, persevere through failures and realize their ultimate potential.
I read this book, and it is a great read, with stories of 2 live on location party type of events that Ari produced- that he failed at, and we also happened to be at those 2 events! He learns from his failures to go on to be a BIG SUCSSESS IN REAL ESTATE!
In the below photo you can see a
group photo of their company's staff with some interested reporters, with all of us wearing their company's hats: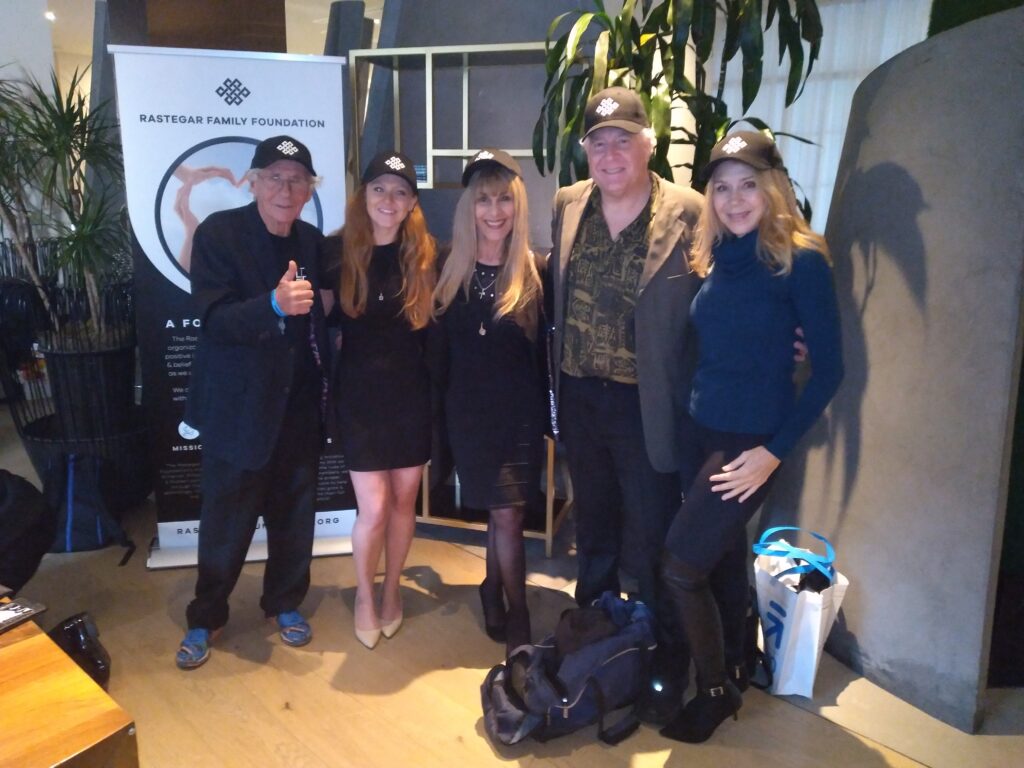 RENPHO USA RENPHO Active Thermal Massage Gun, RENPHO Eye Massager, RENPHO Smart Jump Rope, The RenphoSmart Scale.  You can view our Reporter Margie's interview with the company rep on this show, and he will explain how the products work, and all the great benefits of using them!
Ike's Love & Sandwiches Ike's sells World Championship Sandwiches for Meat eaters, Vegans, Vegetarians, and Gluten Free folks. $1,000 in Ike's Sandwiches Black & Gold VIP Gift Certificate, and you can view our Reporter Margie's second interview with Ike himself on this show, who will tell you about all of his new locations!
Schwank Grills Revolutionary portable gas infrared grill that heats up to 1500 degrees to deliver premium quality taste in any outdoor area, and they served everyone at this gift lounge some mouth watering Ribeye Steaks!
Hibachi House LA Hibachi dining experience with executive teppanyaki chef and live fire show for 8 guests at your home. They were so kind to serve about 15 of us an amazing dinner, made up of chicken fried rice, shrimp, and eggs, with a special yum yum sauce, on their amazing Hibachi grill!
Here are the other great products at this Gift Lounge:
ADM Entertainment DJ/ Corporate DJ & Emcee servicing Southern California & Beyond.
Albanese World's Best Gummies The gummi with the 'A' on the tummy offers a soft chew and is bursting with flavor!
Almighty Pineapple, The Beautiful Resin Agate Pendants with Gold accents to help you with your intuition.
Artisan Group, The Collection of handcrafted artisan gifts. In the below photo our Reporter: Margie Rey does an interview with the owner at her booth: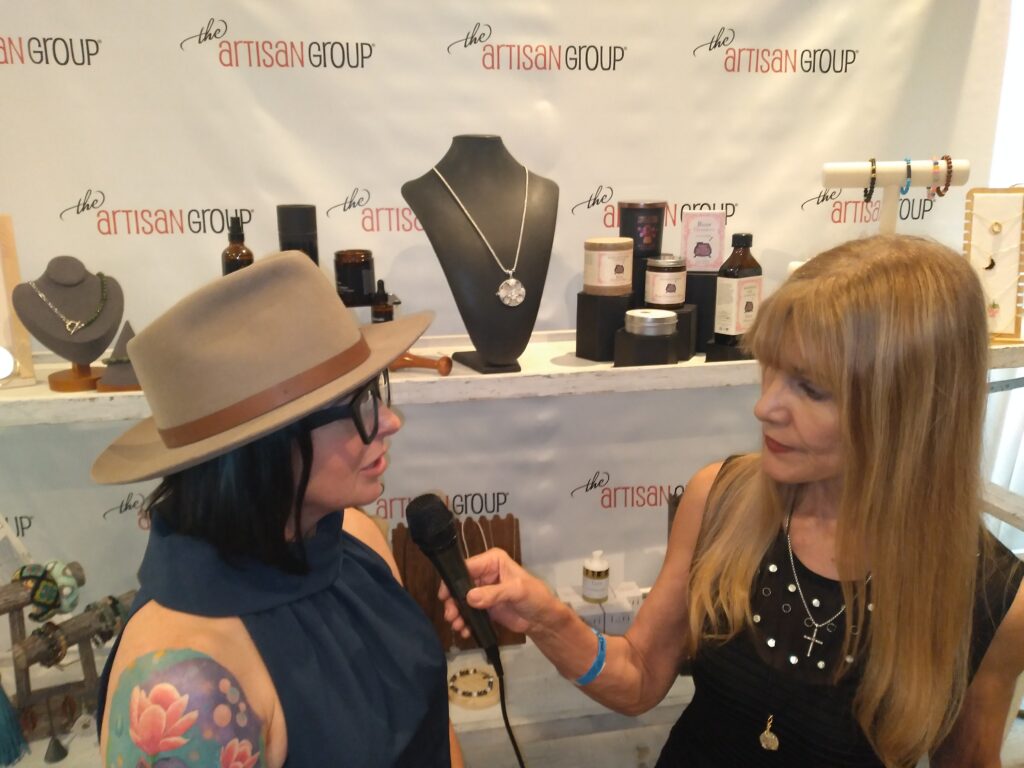 AXR Napa Valley Join AXR at their historic estate located in the heart of the Napa Valley for a tour and tasting for four guests.
BADAZZ GLAZZ By Joe Pesci Joe Pesci inspired designer sunglasses.
California Caviar Company Gift Certificate for a Caviar Gift Set including 1 oz. caviar, blini, crème fraiche, two mother of pearl spoons and a personal caviar cooler. Selection includes our Award Winning White Sturgeon, Kaluga-Hybrid, Paddlefish or Trout Roe.
 
Childhelp The country's oldest and largest non-profit dedicated to the treatment & prevention of child abuse.
CORE® Foods A year's supply of snacks from CORE® Foods–a "CORE®to your DOOR" program. Plant-based superior nutrition bars and snacks that provide immune support with a combination of probiotics and prebiotic fiber.
Debate Wine, The A private tasting for four at The Debate, including three single-vineyard Cabernet Francs and three single-vineyard Cabernet Sauvignon, highlighting the influence the terroir of distinct AVAs in Napa Valley have on great wines.
Don't Be Salty A blend of seasoning mixed by Chef Rose King.
Educating Young Minds Mission is to holistically transform, enhance or impact the academic, emotional, social and professional trajectories of today's high risk, at-risk, low-income, under-served, and/or special needs students.
Emeril Lagasse Created with the home chef in mind, the Emeril Lagasse Forever Pans 10-piece cookware set includes the essential pots and pans for every kitchen.
GE Lighting, a Savant company A duo of Cync, powered by Savant, smart home products—including Dynamic Effects Smart Bulb and Light Strip—designed to elevate entertaining and gaming.
Higher Calling Bracelets Sterling silver and gemstone message bracelets customized for Oscar nominees with crystals and 14K gold-plated components; message options include: "Stardust"and "Golden."
Jeff Nishinaka Paper Sculpture Artist that creates intricately crafted multidimensional paper sculptures that are original in design and handmade in Los Angeles.
Kahuna Chair #1 Celebrity Loved Massage Chair. Fusion of traditional Asian healing techniques & modern technology for ultimate relaxation.
Kalmado Aromasound therapy candles curated with your mental health in mind.
Kame Bodywork Gifting a house call service providing a premium 90 minute intuitive bodywork therapy experience to help this year's nominees look, feel, and move their best by restoring postural alignment, treating stubborn pains, and unlocking movement potential like never before.
Lorenzi Estate Vineyards and Winery Nationally acclaimed, award winning wines by cult winemaker Don Lorenzi.
Lush Africa Safaris Top US-based and Africa-operating travel company arranging personalized safaris for travelers from all over the world. Gifting a 3-5 day African Safaris to East Africa.
MY AVANA The MYAVANA Hair Strand Analysis Kit is a healthy hair care experience that provides a digital hair profile of recommended products, ingredients, and regimens for your unique hair type, texture, and goals using an analysis of your hair.
PowerXL The PowerXL® Vortex Pro Air Fryer with Vortex Rapid Air Technology allows you to enjoy deliciously crispy meals without the guilt.
Rear Ended "Frame the booty" TM Athleisure brand made in the USA created to celebrate & accentuate women.
Remington Infused with antioxidant-rich Argan oil and protein-rich Keratin, every styling tool in the REMINGTON® SHINE THERAPY™ collection rejuvenates your hair while you style for a smooth, radiant shine. The REMINGTON® Trim & Fit™ Personal Groomer's unique built-in storage allows you to conveniently store all accessories inside the handle to avoid losing or misplacing them. The REMINGTON® Easy Fade Haircut Kit is designed to help you DIY a smooth fade at home, without time-consuming, expensive trips to the barber.
Rosewood Baha Mar Escape to The Bahamas for four nights in a two-bedroom suite at Baha Mar, the island's newest luxury resort destination. Perfectly located along pristine white sand beaches and tranquil turquoise waters, Baha Mar is home to three iconic hotel brands – the stylish and modern Grand Hyatt, the playfully hip SLS and the richly refined Rosewood. This gift is inclusive of meals and access to Baha Mar's endless array of amenities.
Sailrock Resort Premier Luxury Turks and Caicos Resort/ 5-Night Stay & Private Villas.
SOULTOX The World's Best Alkaline 10PH Mineral Recovery Water for your Mind, Body, and Soul. SOULTOX recovery kit: A case of SOULTOX, A jar of Muscle Crack Cryotherapy Gel for pain and New SoultoxRX Alkaline 10PH CBD infused water and a pack of 10mg CBD gummies.
Stephen Silver Fine Jewelry Premier jewelry house gifting money clips for personal engravings and fresh water pearls.