On this TV show is an exclusive Michael Bolton interview by our Entertainment Today's TV Reporter: La Donna Stinson, at the The landmark 10th Annual Guild of Music Supervisors Awards at the historic Wiltern Theatre in Los Angeles. Then this interview is followed by an amazing and sold-out live concert: " Michael Bolton the SYMPHONY Sessions" filmed from the first row, at Harrah's Casino Resort Southern California.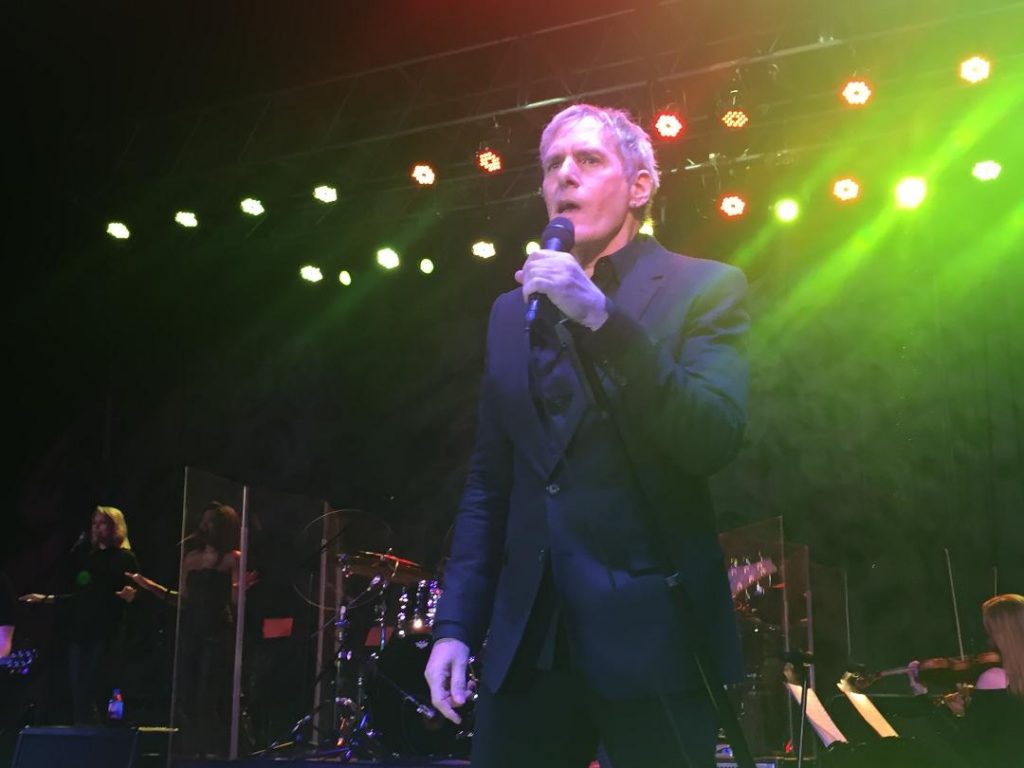 Michael Bolton has performed on our TV show before, and we had interviewed him as far back as the late 1990's, and most recently 30 days ago almost to the day- at a Pre-Oscar Awards show: The Music Supervisors Awards– just 2 days before the Oscars. Our TV Reporter who had just flown in from Dayton, Ohio: Donna Stinson- was able to do 2 great, long and in-depth interviews with Michael! Donna had very little sleep so she was dead tired, didn't have anytime to get ready, and the airline still had her luggage – so she had to buy expensive cloths at the last second – and still came through with great interviews, and then even stayed till way past the end of the show, and enjoyed the after-party till 1AM! Thanks Donna – for making it a "Night to Remember" ! Below photo of Donna and TV Producer Steve Taylor: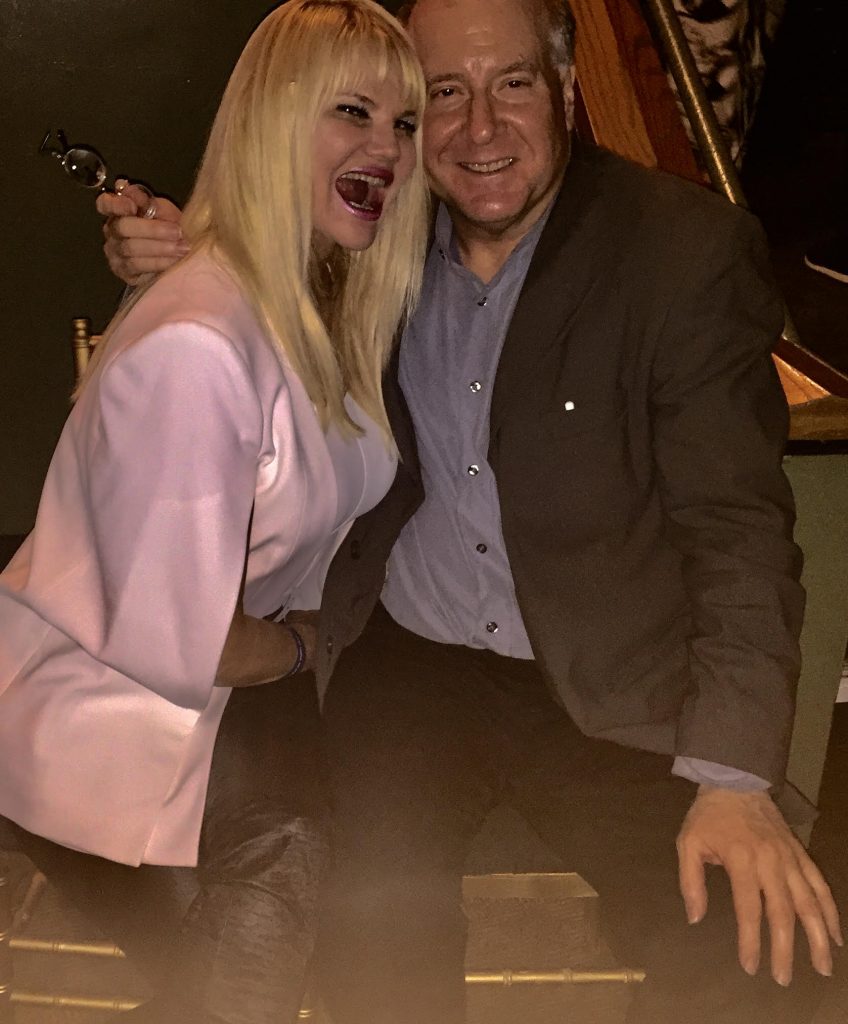 Michael Bolton, the multiple Grammy Award-winning Singer, Music Icon, Songwriter and Social Activist, gave an amazing performance ! During his Live in Concert: " Michael Bolton the SYMPHONY Sessions" his powerful voice covered a wide range of music ranging from Otis Redding to Frank Sinatra hit songs. 
To start of this show we have musical clips of a wide range of other music superstars, that sang direct to our video camera, and/or sang for our TV Show Hosts Margie Rey & Renee Esebag, or were interviewed by our reporters. We are sure you will love this copulation of music clips: MTV Boy Band, 7 time Grammy Winner: the Legendary Gladys Knight; Eric Benet, International Artist: David Bisbal; Rapper and Grammy Award and Soul Train Music Award Winner: Run DMC: Darryl McDaniels;  Rock Legend, Grammy Winner, and Grammy Hall of fame: Don McLean; Multi Grammy, MTV, Golden Globe and Academy Award Winner: Lady Gaga; Lance Bass, Rock Legend and Multi Grammy, MTV, Golden Globe and Academy Award Winner: Sir Elton John; Multi MTV, Billboard, American Music, and Teen Choice Awards Winner: Jennifer Lopez; Country Music Stars and Multi Grammy, Billboard, American Music, People's Choice, and Country Music Awards Winners: : Garth Brooks and Dolly Parton; Multi MTV, Billboard, and Teen Choice Award Winner: Miley Cyrus; and Rocker and Rock & Roll Hall of Fame: Alice Cooper.
After this musical clip segment, is the Exclusive Michael Bolton interview, and then the live Concert, as Michael gave a lot of himself to all of his fans in the audience when he came down off of the stage and walked right into the crowd- and I was able to get right in front of him – only 2 feet away, to get this amazing shot of him! In this segment that was filmed from right in front of the stage, right in front of Michael- you can see Michael perform "When a Man Loves a Woman".  In the next segment you can see Michael perform his closing number to his show: "Time, Love and Tenderness". Below photo is of all of Michael's Band and singers on stage as they bow down to the audience at the close of the show: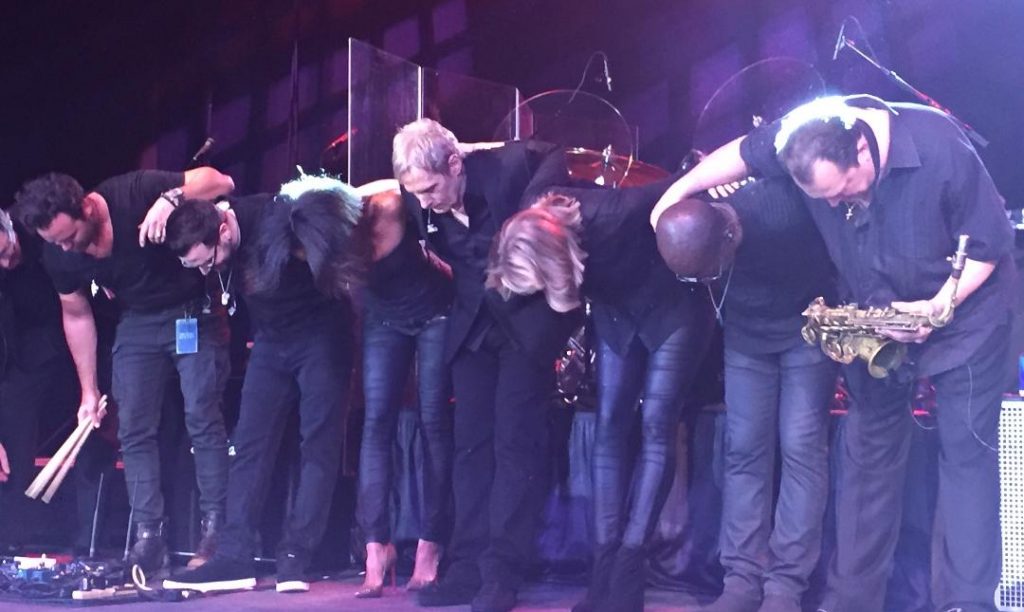 His soulful voice and poignant lyrics have contributed to more than 65 million record sales globally. First signed at the age of 16, Bolton has made his musical mark on the entertainment industry for 50 years, with his most recent release, A SYMPHONY OF HITS, taking #1 album on the Billboard Classical Chart. Bolton continues to tour the world, all while writing, recording and taping for a wide array of projects spanning music, film, television and branded entertainment. Also committed to many humanitarian causes, Bolton gives back through The Michael Bolton Charities as well as other philanthropic organizations.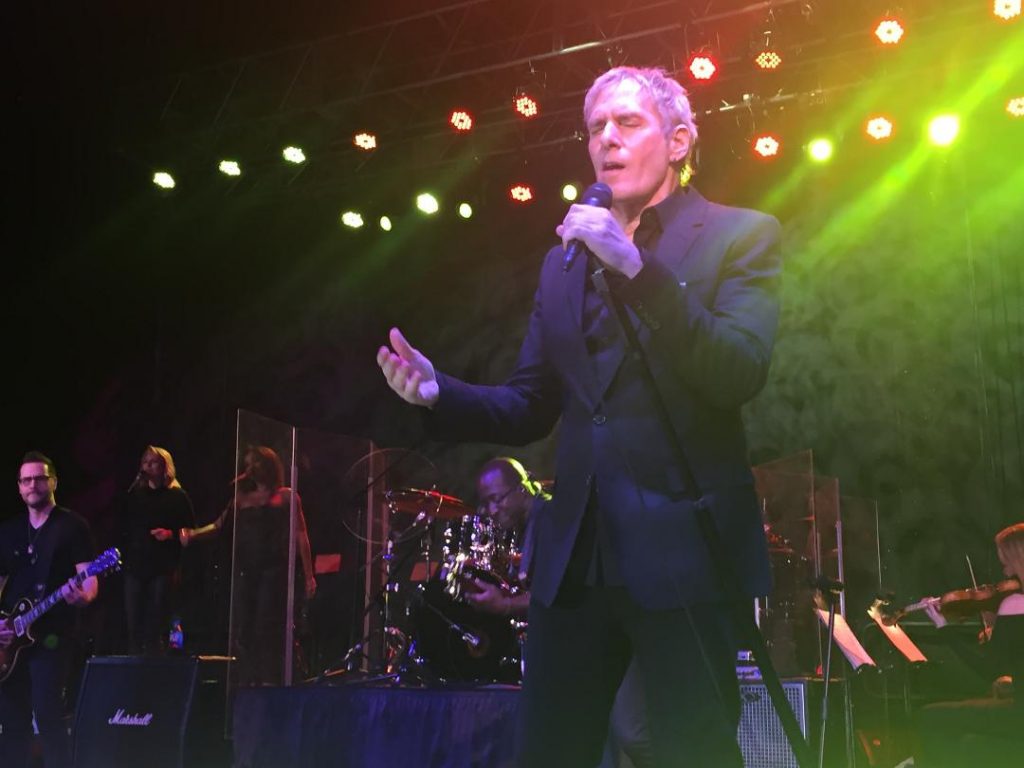 For more information, and if you like to buy any of these great products that you saw on our TV show, E-Mail us direct: info@entertainmentandsportstoday.com so that one of our staff can connect you with the right people. #MichaelBolton Music by LatinAutor, LatinAutor – SonyATV, Sony ATV Publishing, and LatinAutor – UMPG