In Las Vegas the Flamingo Hotel & Casino GO POOL always has the best, and wildest and hottest pool parties in Vegas, and everyone has the time of their lives! They have live entertainment, music, dancing, DJs, food and drinks, waterfalls, a fun water slide, lagoon, caves, mountains, cliffs, grotto, palm trees, ponds, a little river, a lazy river, a natural habitat with beautiful Pink Flamingos, turtles, desert penguins, fish and birds; and a beautiful tropical paradise, to make it the Ultimate Pool Party, and the place to be! On Holiday weekends there are free drinks and gifts given away by major liquor company sponsor models.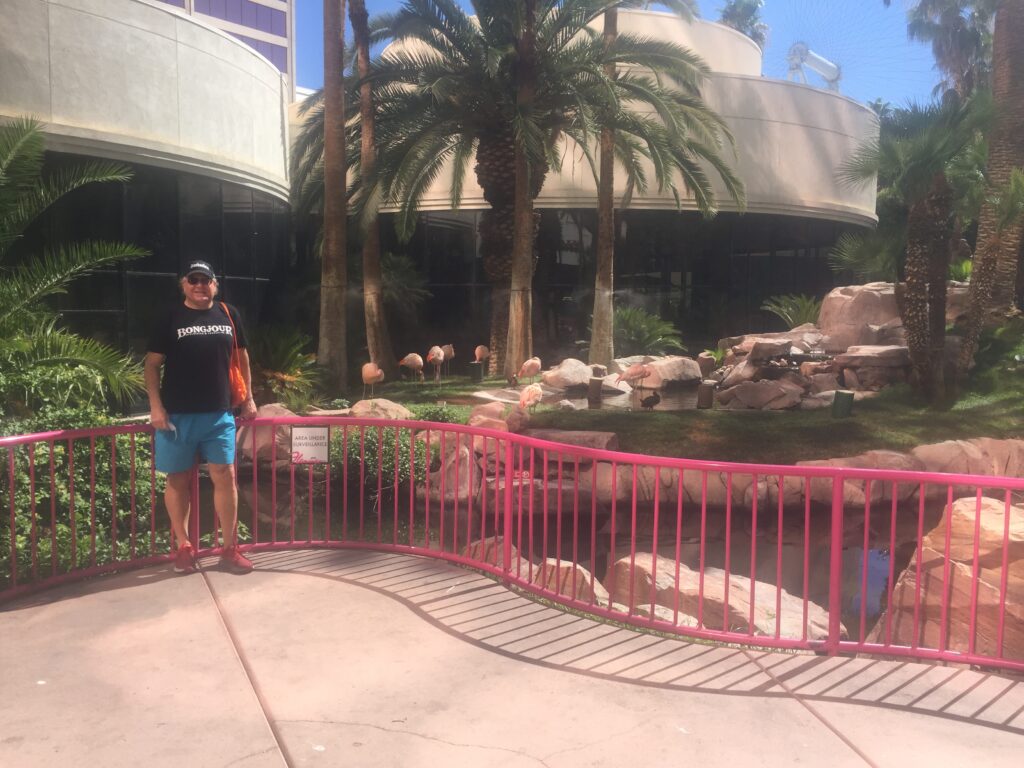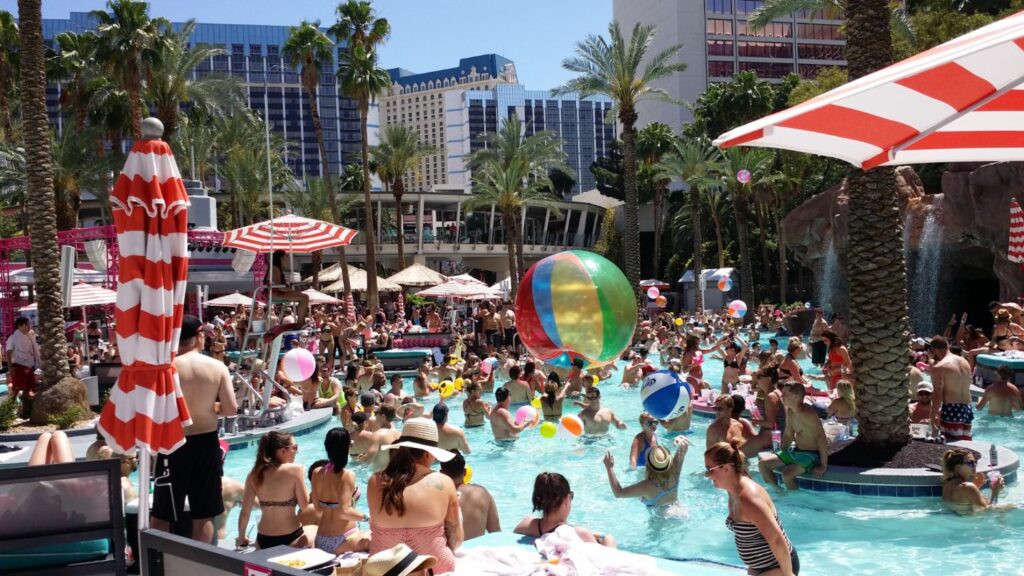 During the summer season, which is about April through early October: almost every SATURDAY, and sometimes Friday and Sunday there are LIVE PERFORMANCES BY big name Grammy Winning performers, with a real wild Bikini "" contest about 1 hour before the concert on Saturdays, that is hosted by Brian Thomas, who always does a great job to get the crowd motivated to party, and really gets all the beautiful & sexy ladies from the pool that happen to be there that day, all revved up to agree to sign up, and be excited to show off their "stuff" and shake their buts for the very large crowds who are lucky enough to be there that day! Below is a photo of the Limbo Contest Winner and finalists: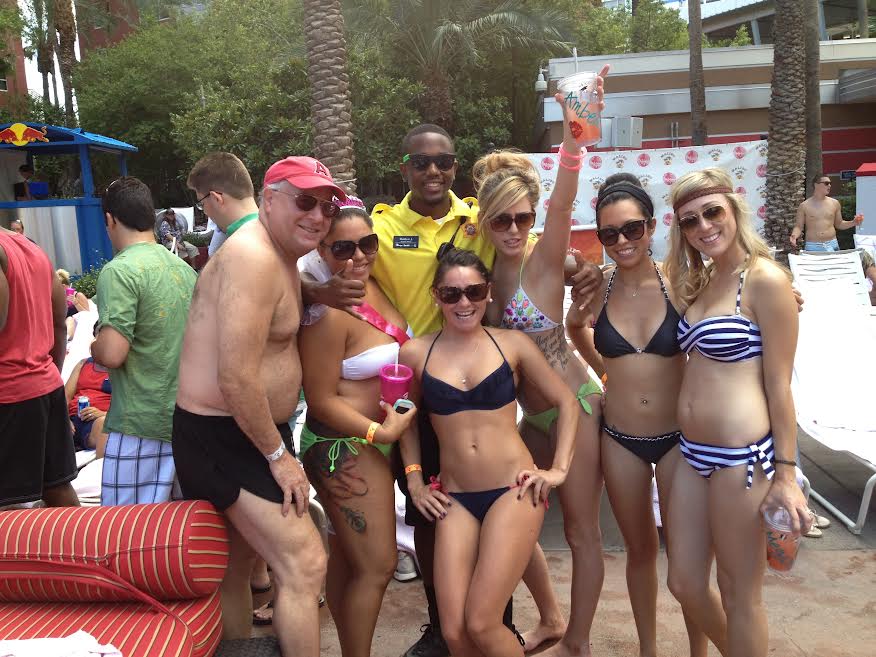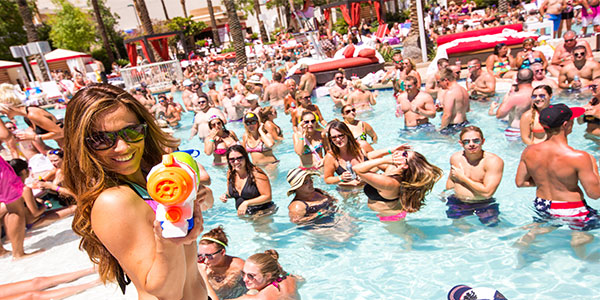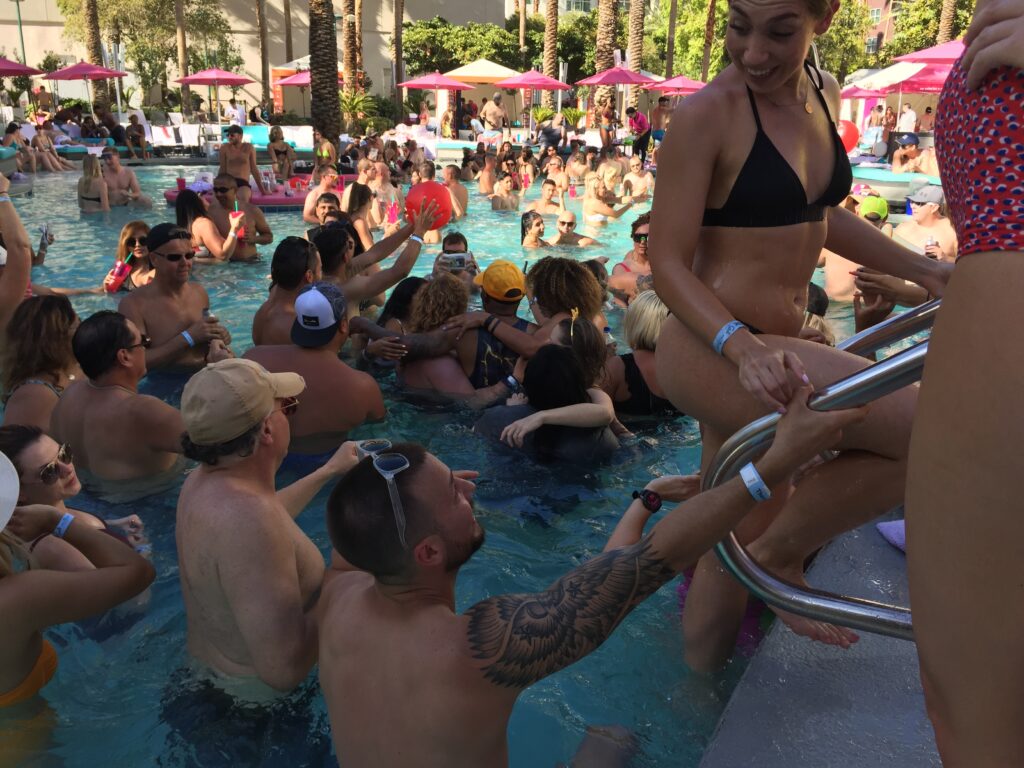 So stayed tuned with VIP Diamond access shows from the Flamingo Pool this summer!! The Flamingo Hotel & Casino has built a stage right by the water by the edge of the pool- so that you can stay wet and cool, and watch a great concert!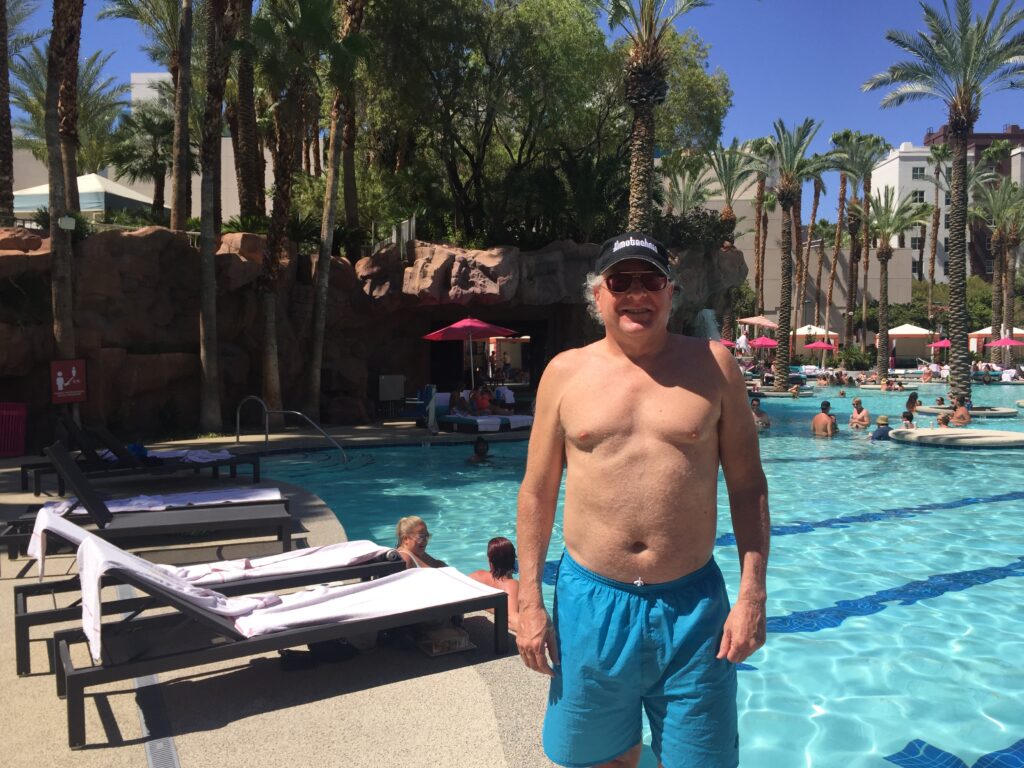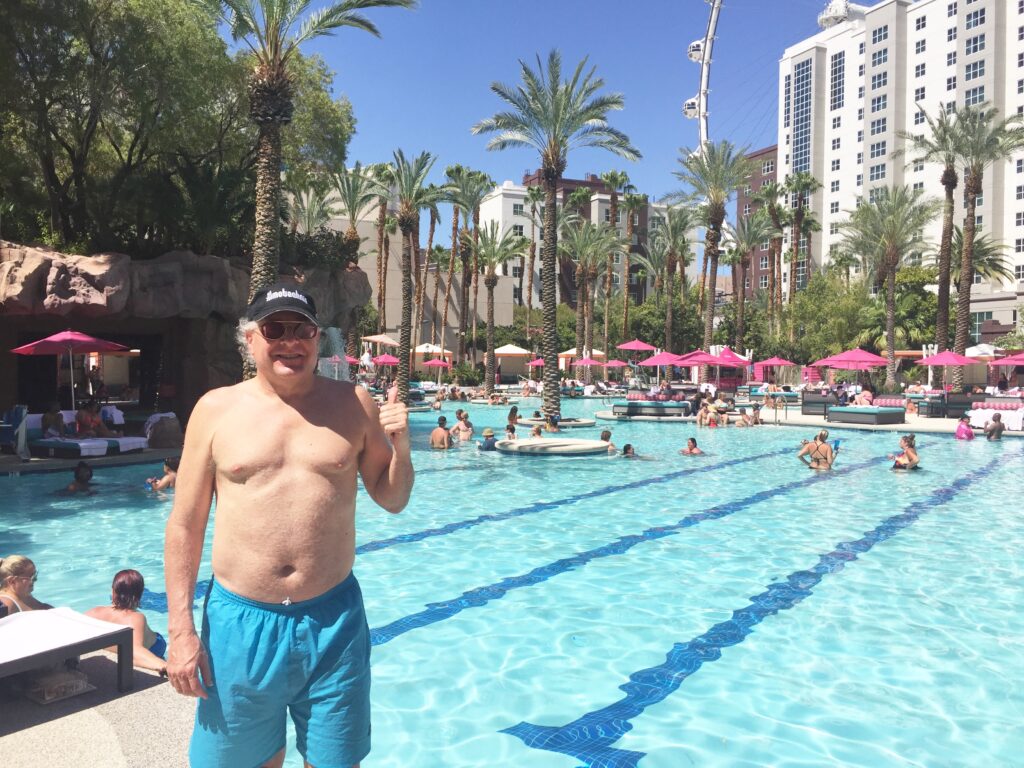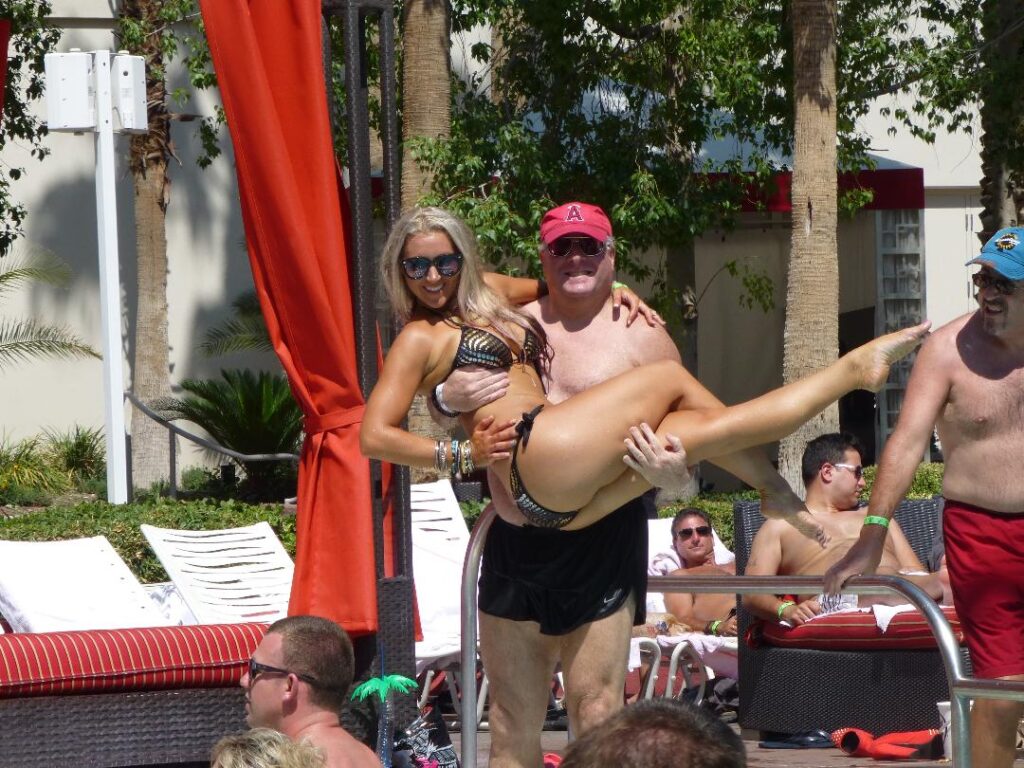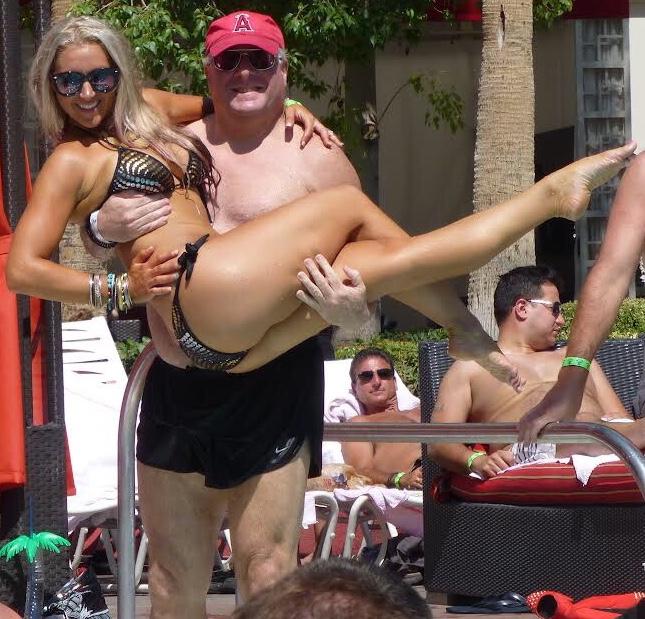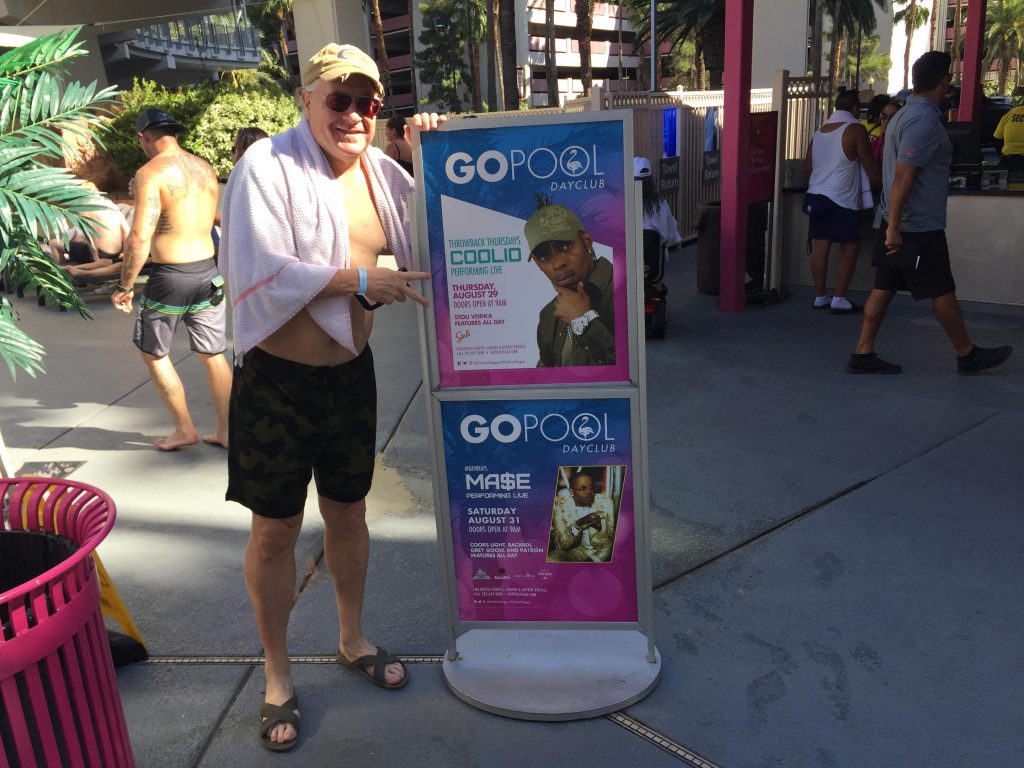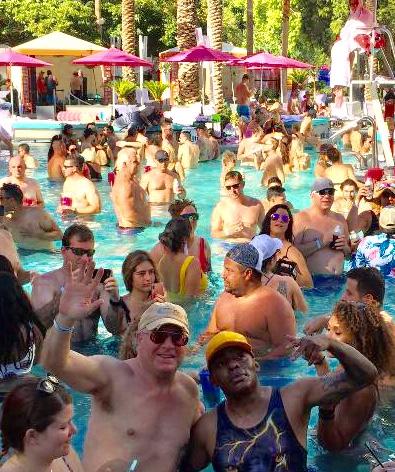 In this video you will see just one example of the wild pool parties at the Flamingo. Some of the big name Grammy Winning singers that have performed at the Flamingo Pool include: the iconic Rapper: Coolio who is best known for his 1995 Grammy Award-winning hit single "Gangsta's Paradise". Coolio had the crowd going wild as he performed all of his Grammy Winning hit songs like "Gangsta's Paradise",  as he went up close with all his fans, and then after his concert he jumped in the pool to meet everyone and was so nice to pose for photos as you see us here in the middle of the pool: Coolio in a yellow cap and green tank top, and me in a light brown cap and sunglasses, he posed with me for a photo (above left). It was a great experience again to see him perform up close- only inches away from him at The Flamingo Pool :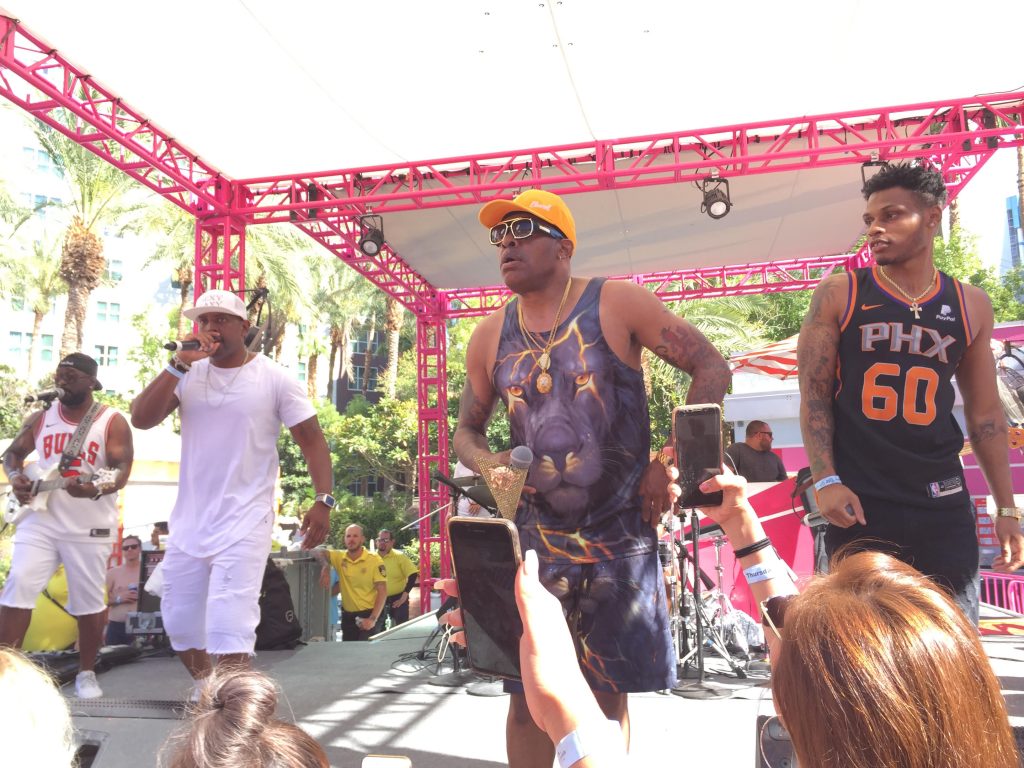 He gave us a great interview both at The Billboard Music Awards and The Billboard Bash Party, and The Grammy Awards: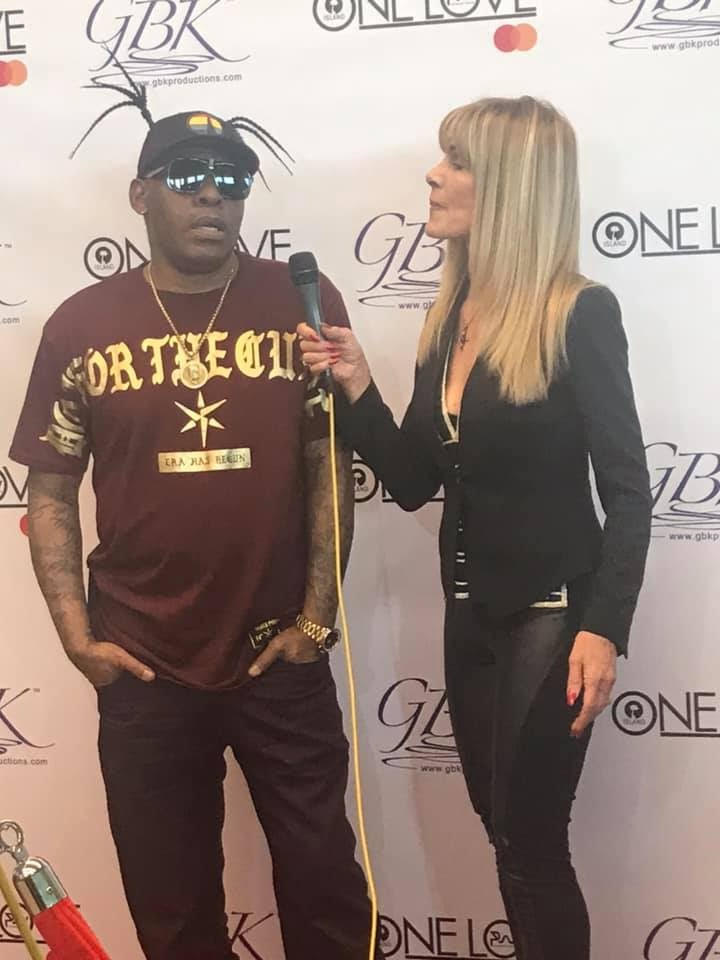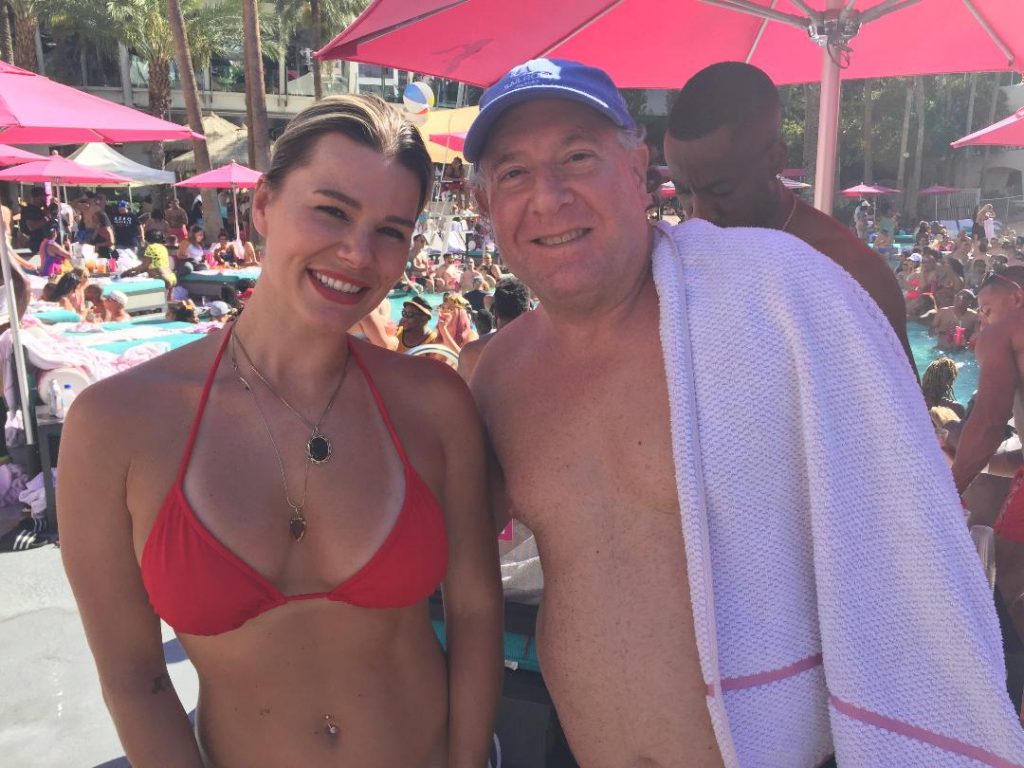 Some of the live entertainment in the pool area included: A Quadruple Threat, just 1 way to describe KoKo, the most sought after up and coming DJ, producer, songwriter and performer in the industry today. You might remember KoKo wearing a big Panda Head ! Also there was Captain Morgan himself ! and The beautiful Captain Morgan Models giving away free shots :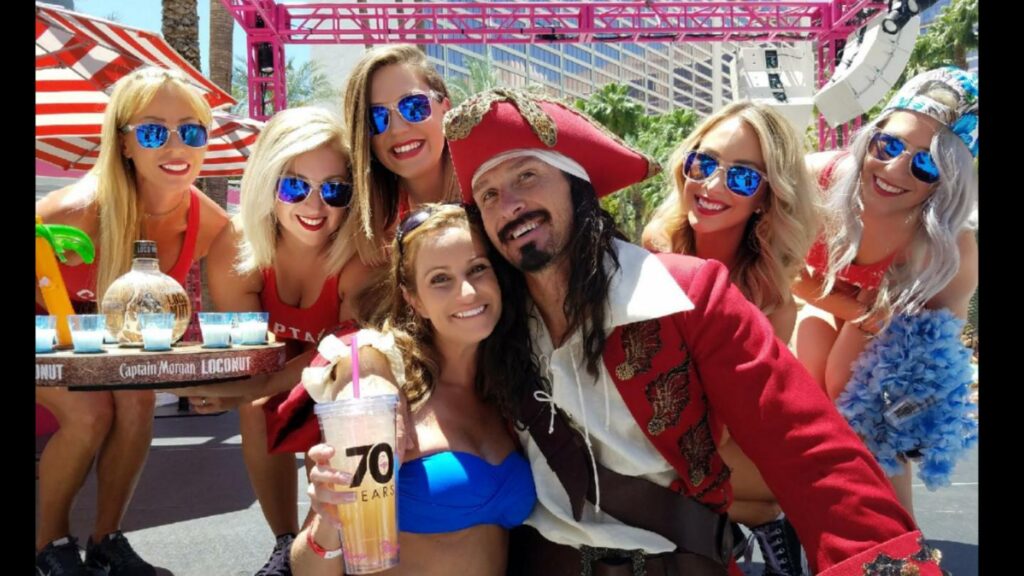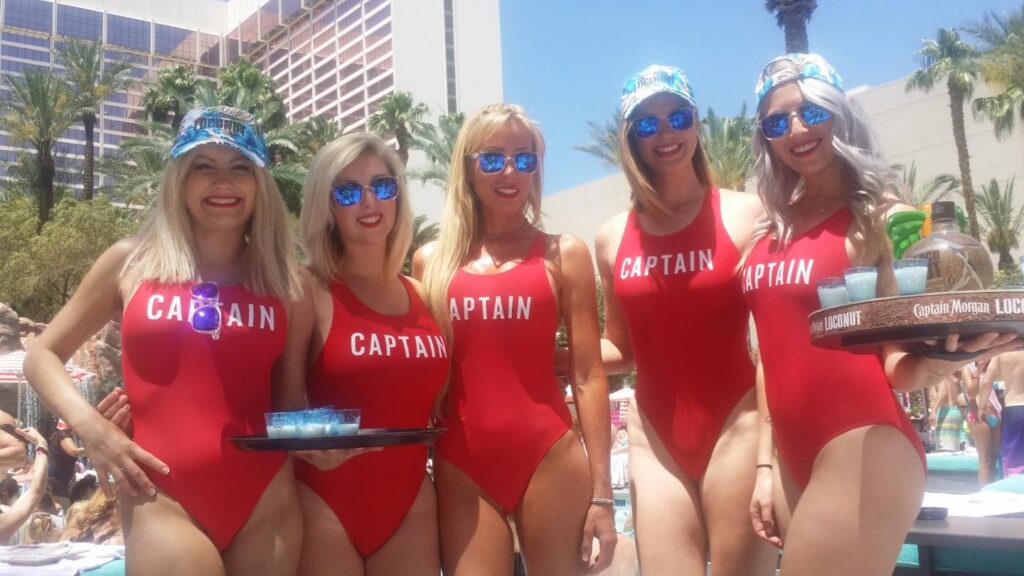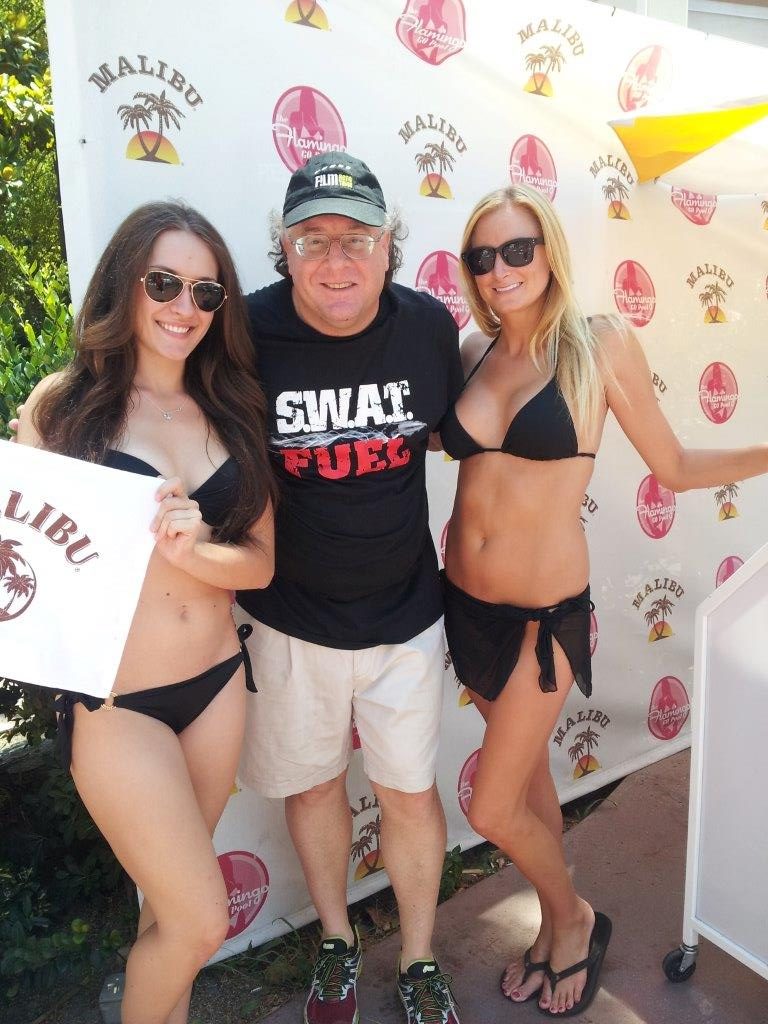 They have had The Hawaiian Tropic Girls as pool host models, with Carrie (below right Blonde) who is now performing in the Hit stage show at Harrah's Las Vegas Hotel and Casino – "X  Country" :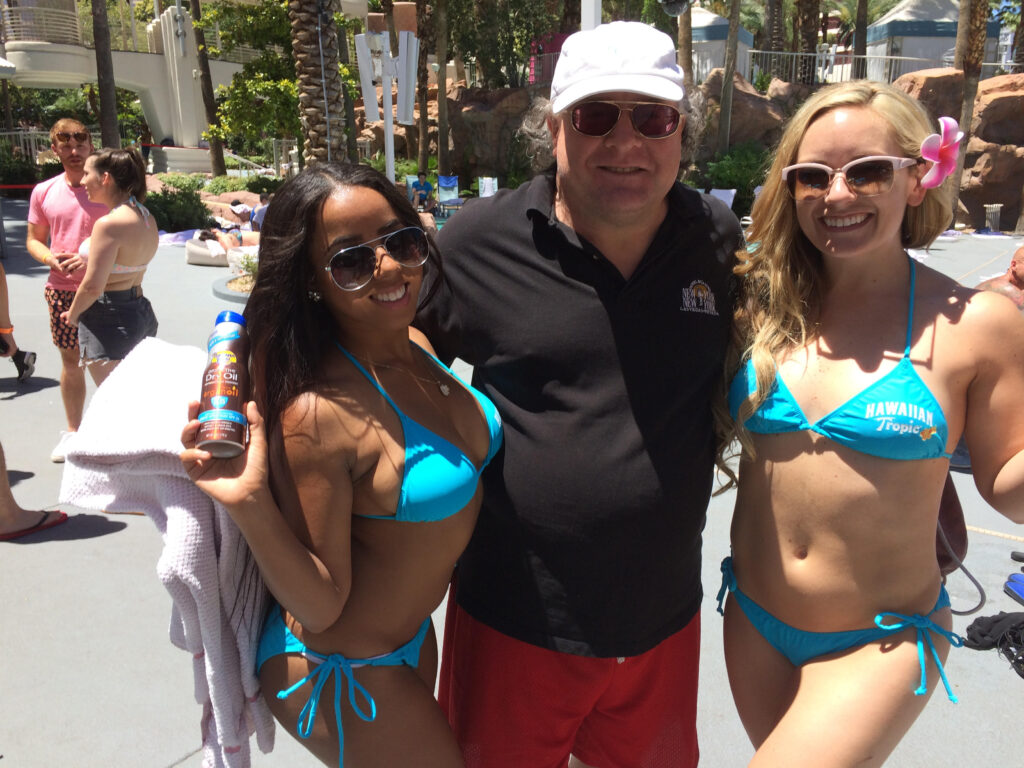 In the VIP "Meet & Greet" with Grammy & Billboard Music Award Winner: Mark McGrath- the lead singer for the rock band Sugar Ray. I was very lucky to talk to Mark at the backstage VIP area of The Flamingo Pool, about when we interviewed him on our TV show- Entertainment Today,  at The Billboard Music Awards – to which he said "Yea  . . I remember that  . . . that was the best day of my life  . . .  thanks for coming by !  . . "  in Photo below. The above photo taken from right in front of the stage during his Night Beats Concert at The Flamingo Pool.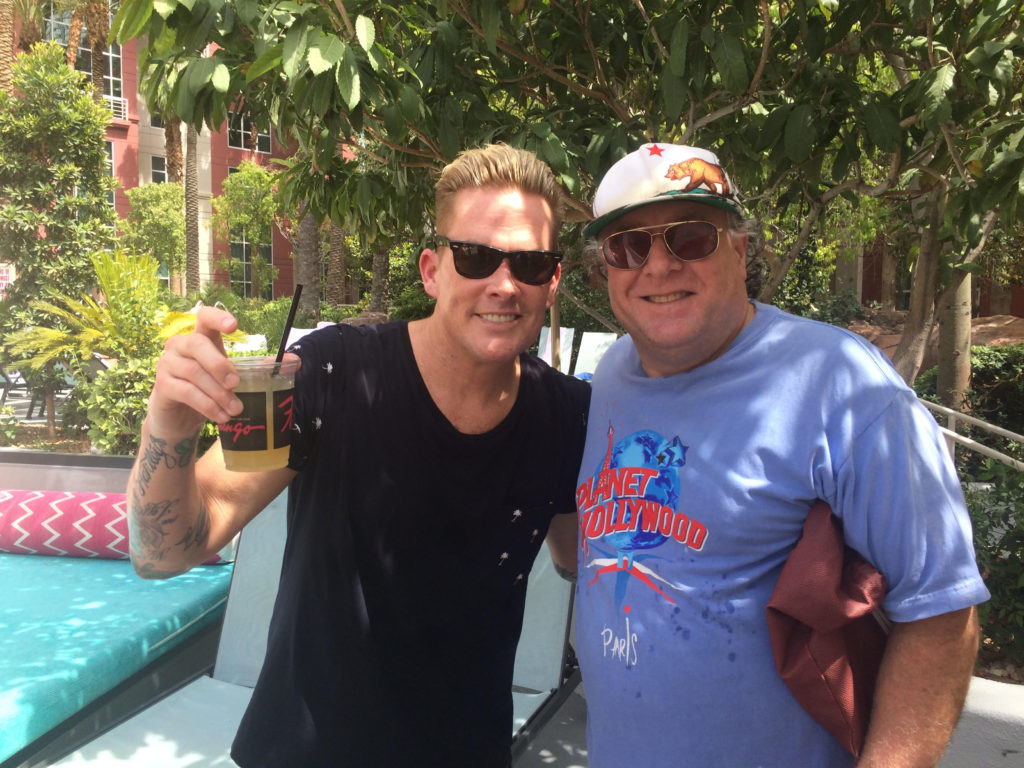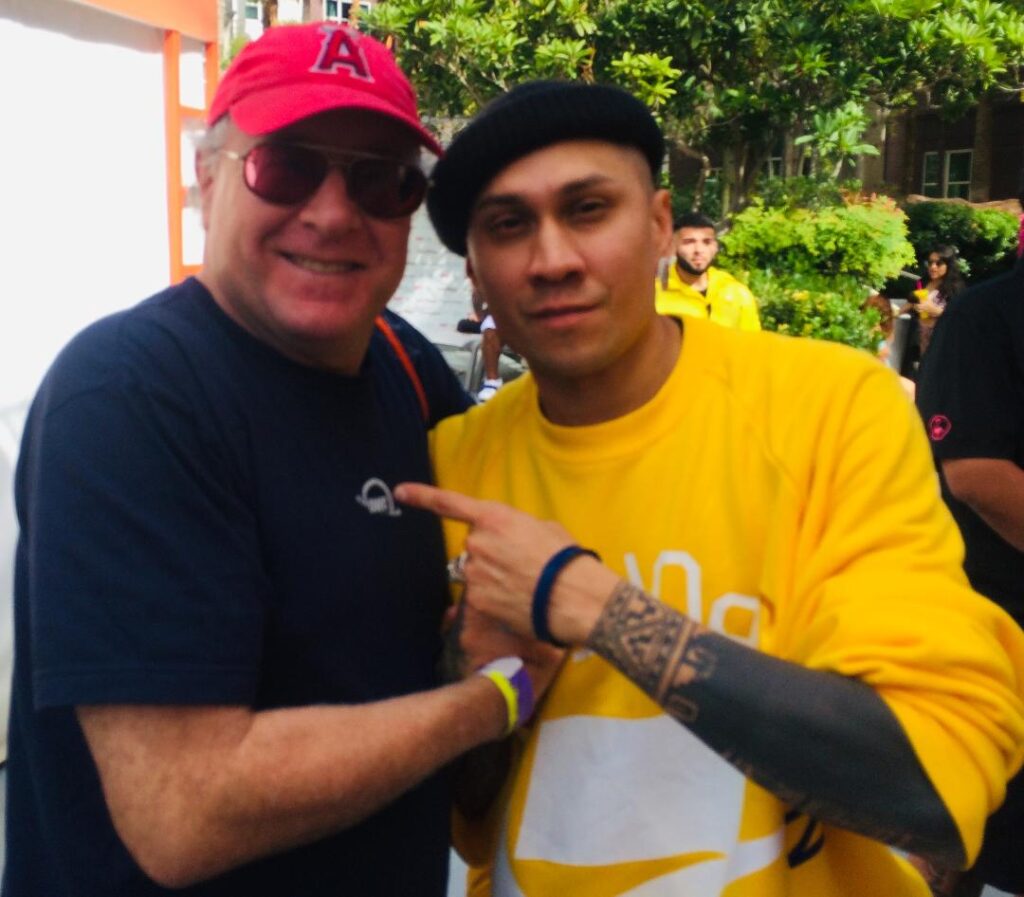 In an amazing live performance of Grammy Winning Taboo from The Black Eyed Peas who uplifted the crowd and interacted with everyone, and jumped off of the stage and ran all around the pool, to get the beautiful girls in Bikinis to sing along with him, and dance, for an amazing and wild pool party ! It would be fair to say that this was the ultimate pool party. Above photo from the VIP "Meet & Greet", and below photo from the concert as Taboo jumps off of the stage and comes into crowd by the pool- to dance and sing with his many fans: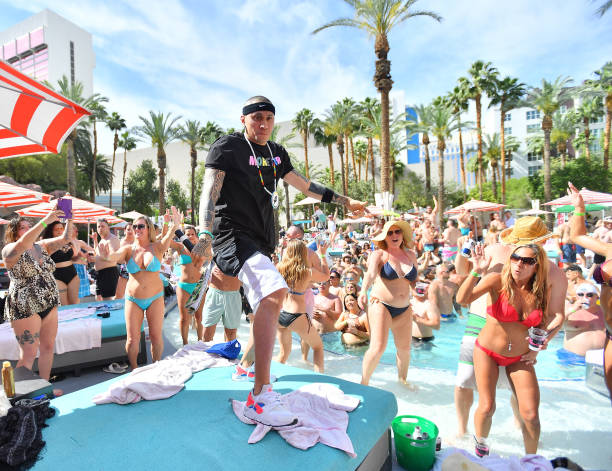 To start of this show we have musical clips of a wide range of other music superstars, that sang direct to our video camera, and/or sang for our TV Show Hosts Margie Rey & Renee Esebag, or were interviewed by our reporters. We are sure you will love this copulation of music clips: MTV Boy Band, 7 time Grammy Winner: the Legendary Gladys Knight; Eric Benet, International Artist: David Bisbal; Rapper and Grammy Award and Soul Train Music Award Winner: Run DMC: Darryl McDaniels; Rock Legend, Grammy Winner, and Grammy Hall of fame: Don McLean; Multi Grammy, MTV, Golden Globe and Academy Award Winner: Lady Gaga; Lance Bass, Rock Legend and Multi Grammy, MTV, Golden Globe and Academy Award Winner: Sir Elton John; Multi MTV, Billboard, American Music, and Teen Choice Awards Winner: Jennifer Lopez; Country Music Stars and Multi Grammy, Billboard, American Music, People's Choice, and Country Music Awards Winners: : Garth Brooks and Dolly Parton; Multi MTV, Billboard, and Teen Choice Award Winner: Miley Cyrus; and Rocker and Rock & Roll Hall of Fame: Alice Cooper, and then 2 time Grammy Award Winner: Michael Bolton.