Live from Pala Casino Spa & Resort: The Beatles Tribute Band: "Yesterday – The Beatles Tribute"  opening up the concert show with: "I Wanna Hold Your Hand", and then "Rollover Beethoven!" and then closing with "Revolution" filmed from 2 camera angles. This video has highlights from the whole show, and closing number that are taken from 2 different concert shows, from the last 2 years, with 2 camera angles: one from the front middle of the stage, and one from the first row stage right. This was filmed from the 1st. row – Center!
This group has worked out the legal rights with Apple Corps, LTD. to perform their Beatles Tribute Show anywhere in the world, and in the feature photo are "Yesterday – The Beatles Tribute" Band backstage with the original Beatles Band Member and Co-Lead: Sir Paul McCartney ! This band is so good that they are Paul McCartney, Toby Keith & Bill Medley's Favorite Tribute Act! 
Yesterday – The Beatles tribute encompasses all eras of Beatles music from The Hamburg days through the Shea Stadium performances into pop history's magical Sgt Pepper album and beyond. The British Are Coming! Yesterday's most rock and roll show and running an unprecedented three years in Atlantic City at the Tropicana Hotel Casino Resort on the Boardwalk, The British Are Coming! depicts The Beatles historic journey into the US with first performances on the Ed Sullivan Show, the Hollywood Bowl and New York's Shea Stadium. Classical Yesterday Expertly performing with Symphonies worldwide thorough out the last 15 years, Yesterday provides charts for a 45 piece Orchestra. They are all Excellence in Entertainment!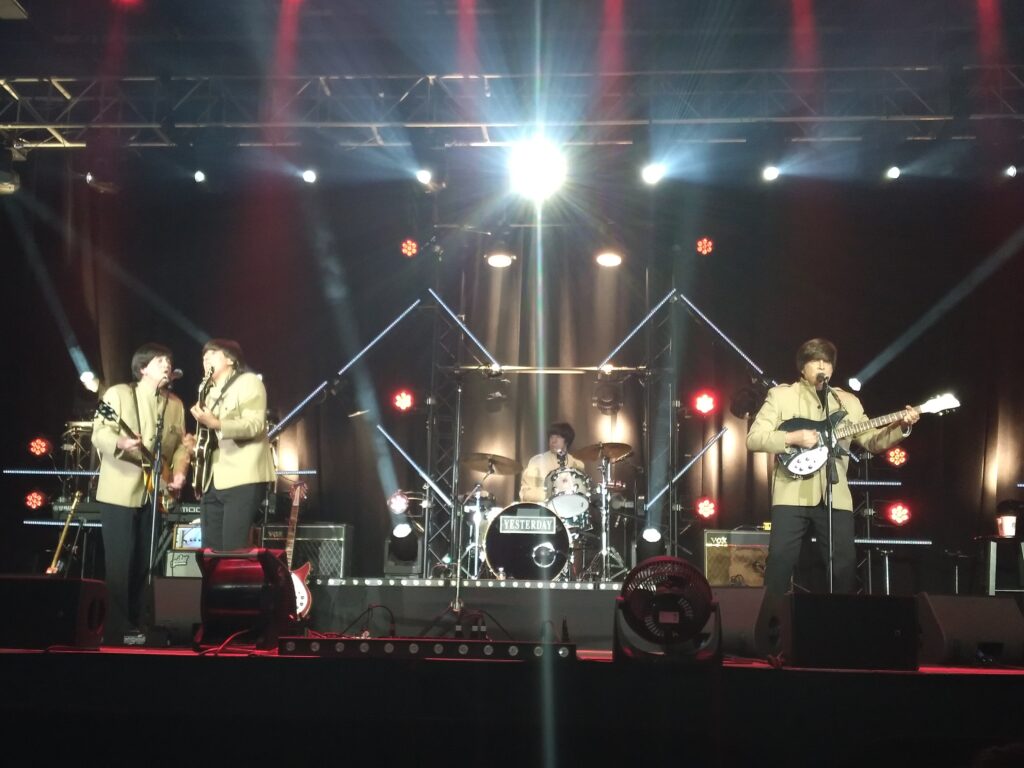 The Yesterday Beatles Tribute Band did a almost 2 hour long concert with all of the Beatles biggest hits. Music is licensed by LatinAutor – SonyATV, LatinAutorPerf, UNIAO BRASILEIRA DE EDITORAS DE MUSICA – UBEM, and Sony ATV Publishing, and UMPG Publishing.
To start of this show we have musical clips of a wide range of other music superstars, that sang direct to our video camera, and/or sang for our TV Show Hosts Margie Rey & Renee Esebag, or were interviewed by our reporters. We are sure you will love this copulation of music clips: MTV Boy Band, 7 time Grammy Winner: the Legendary Gladys Knight; Eric Benet, International Artist: David Bisbal; Rapper and Grammy Award and Soul Train Music Award Winner: Run DMC: Darryl McDaniels; Rock Legend, Grammy Winner, and Grammy Hall of fame: Don McLean; Multi Grammy, MTV, Golden Globe and Academy Award Winner: Lady Gaga; Lance Bass, Rock Legend and Multi Grammy, MTV, Golden Globe and Academy Award Winner: Sir Elton John; Multi MTV, Billboard, American Music, and Teen Choice Awards Winner: Jennifer Lopez; Country Music Stars and Multi Grammy, Billboard, American Music, People's Choice, and Country Music Awards Winners: : Garth Brooks and Dolly Parton; Multi MTV, Billboard, and Teen Choice Award Winner: Miley Cyrus; and Rocker and Rock & Roll Hall of Fame: Alice Cooper, 2 time Grammy Award Winner: Michael Bolton, and Grammy Hall of Fame member and music legend Jimmy Buffet!