Last night I witnessed AN EXCLUSIVE GRAMMY MUSEUM® SCREENING OF THE AWARD-WINNING BLUES DOCUMENTARY:  BORN IN CHICAGO, that was FOLLOWED BY A very interesting PANEL DISCUSSION AND Historic LIVE PERFORMANCE BY The Legendary Jazz Band: THE CHICAGO BLUES REUNION, FEATURING Jazz Icons: BARRY GOLDBERG, HARVEY MANDEL, JIMMY VIVINO, ROB STONE, Rick Reed and Vince Fossett Jr.!  In this video you can witness for yourselves this historic live concert of these legendary Jazz musicians as they all perform on stage in the Clive Davis Auditorium, at the Grammy Museum! This show was filmed from only 5 feet from the front of the stage.
 The film was followed by a panel discussion and audience questions with a number of the film's principals, including co-directors John Anderson and Bob Sarles, author Joel Selvin who worte the script as well as Barry Goldberg, Harvey Mandel and Jimmy Vivino, plus a video message from Nick Gravenites who wrote the film's title song.

Born In Chicago is a feature-length documentary chronicling the untold story of unprecedented mentor/apprentice relationships between first generation Chicago blues masters and a younger crop of talented white aspirants who were inspired by their musical idols. Encompassing a wealth of explosive archival performance footage and no shortage of players steeped in blues heritage, Born In Chicago, now complete after an effort spanning decades, pays loving tribute to a distinctly American art form. This joyous doc traces the origins of Chicago blues from the Deep South to the South Side, as white prodigies such as Paul Butterfield, Mike Bloomfield and Barry Goldberg seek out and fall in with Muddy Waters, Howlin' Wolf, Buddy Guy and other Black legends, learn from them, perform with them, and introduce their musical tradition to a new generation of fans. Proving the blues revival of the 1960s went beyond Eric Clapton, Jeff Beck and The Rolling Stones, directors John Anderson and Bob Sarles meticulously showcase the era and conditions that made Chicago the epicenter of the American blues scene. The film is enthusiastically narrated by blues fan (and Blues Brother) Dan Aykroyd, who also Produced this great film, while giving a producing credit to John Belushi!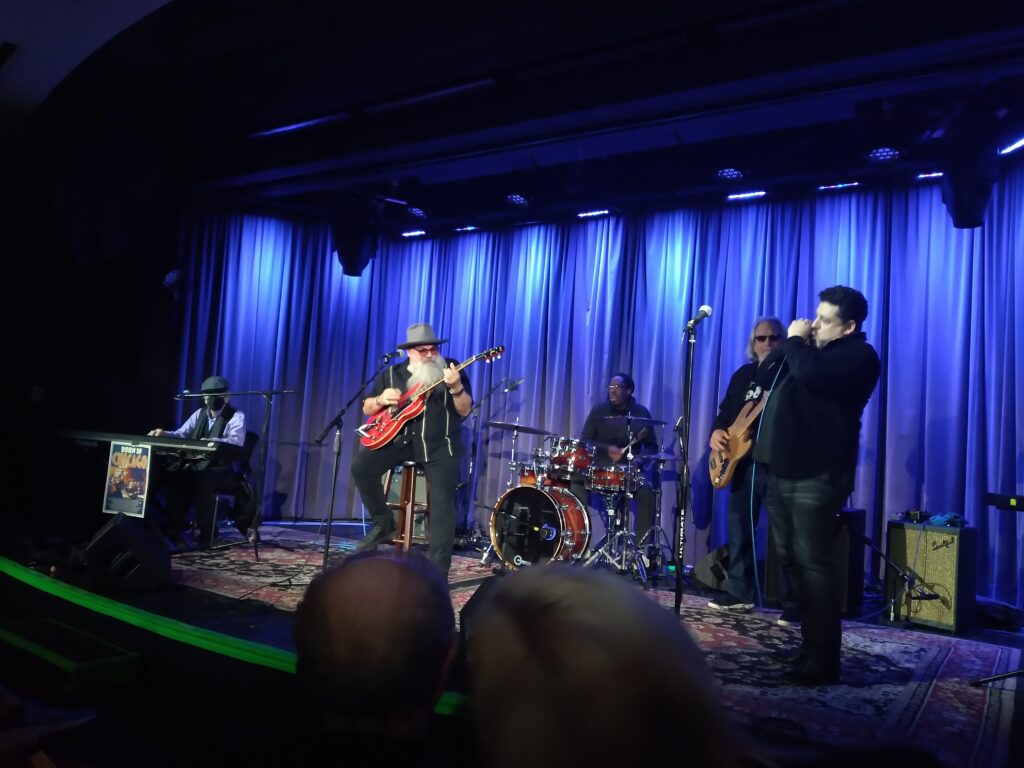 A Ravin' Film presented by Shout! Studios and Out The Box Records, Born In Chicago was directed by Bob Sarles and John Anderson, produced and edited by Bob Sarles. Co-producer and story editor was Christina Keating. Produced and written by Joel Selvin. Featuring: Barry Goldberg, Nick Gravenites, Harvey Mandel, Sam Lay, Charlie Musselwhite, Elvin Bishop, B.B. King, Buddy Guy, Bob Dylan, Keith Richards, Steve Miller, Eric Burdon, Marshall Chess and Hubert Sumlin.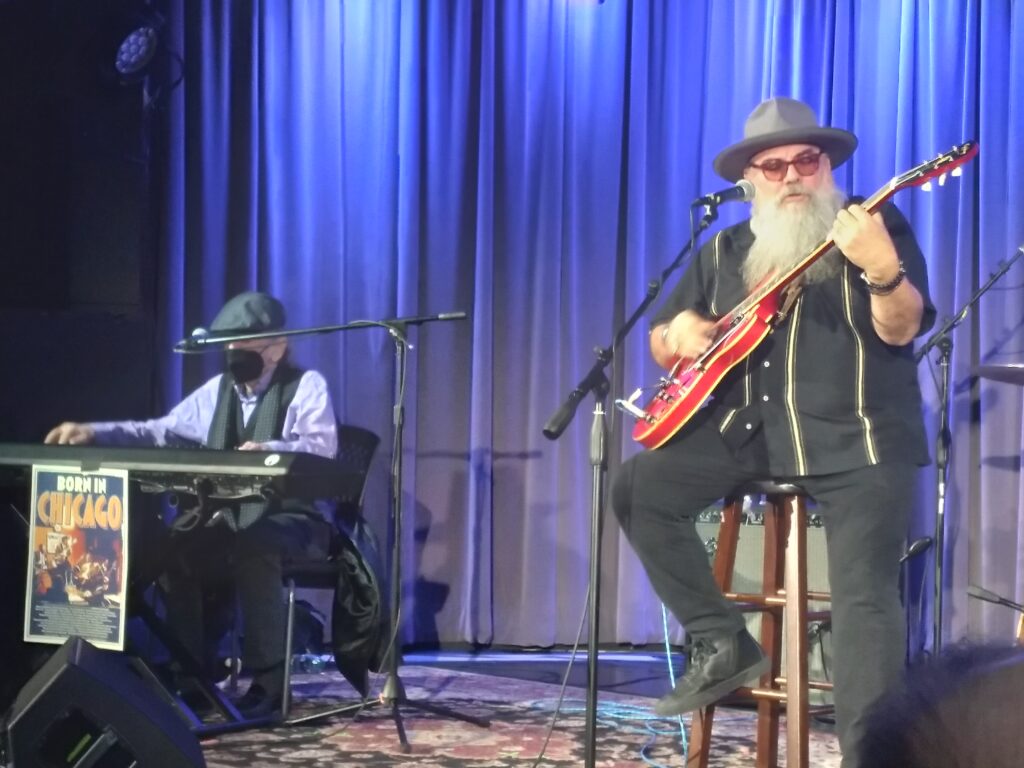 Bob Sarles is a Primetime Emmy nominated film and television editor, producer and director. He edited the Peabody Award winning documentary series Moon Shot, MTV's ground breaking reality series The Real World. He co-directed and edited the feature documentary BANG! The Bert Berns Story and directed and edited the Sony Music/Legacy Recordings-produced documentary SWEET BLUES: A Film About Mike Bloomfield. He recently produced and edited the television documentary The Nine Lives of Ozzy Osbourne for A&E.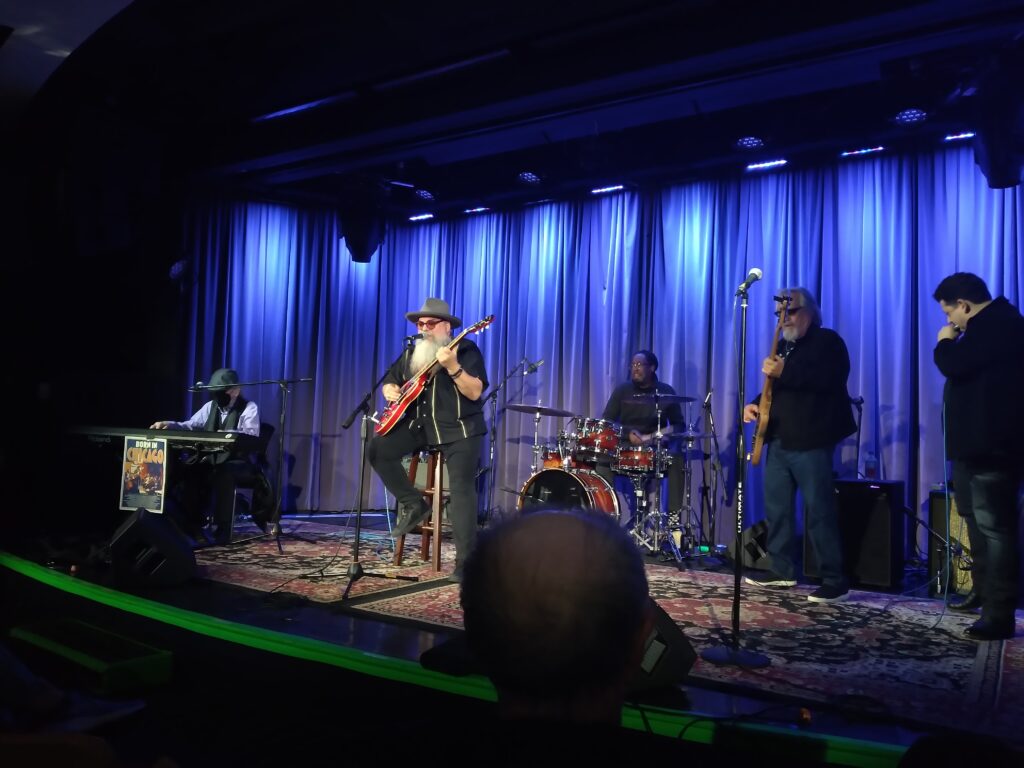 John Anderson is a GRAMMY®-nominated and Emmy-winning director, producer and editor. He was nominated for a 2006 GRAMMY for his direction of Brian Wilson Presents SMiLE, which marked Anderson's fourth collaboration with the Beach Boys leader, following Imagination, Brian Wilson On Tour, and Pet Sounds Live In London. John Anderson's directorial projects include Sam Lay In Bluesland, Horn From The Heart: The Paul Butterfield Story, The Beach Boys: Doin' It Again. He is currently completing a documentary about the jazz vocal group Manhattan Transfer.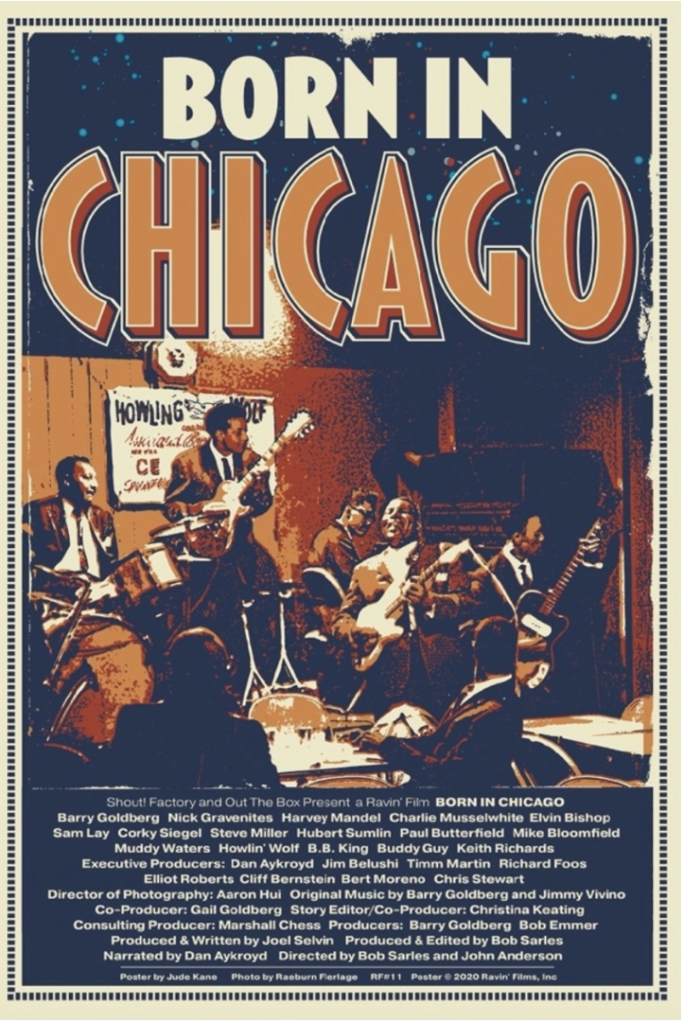 Chicago Blues Reunion: 
Barry Goldberg (keyboard) was a fixture on the 60's Chicago blues scene dating from his teen years. He was co-founder of the Barry Goldberg – Steve Miller Blues Band and went on to form The Barry Goldberg Blues Band, recorded the seminal "Two Jews Blues" with Michael Bloomfield and founded The Electric Flag. Along the way, he's written hit songs for Rod Stewart and Gladys Knight, backed up Bob Dylan at Newport, worked with Phil Spector and The Ramones, produced a GRAMMY-nominated album for Percy Sledge and has scored numerous films and TV shows.
Harvey Mandel (guitar) is considered by many critics to be one of the best electric guitarists in the country. He's recorded with The Rolling Stones, toured with British blues icon John Mayall, and was a member of Canned Heat, who were featured in the landmark music film, Woodstock. As a soloist and as a band member, his musical pedigree is legend.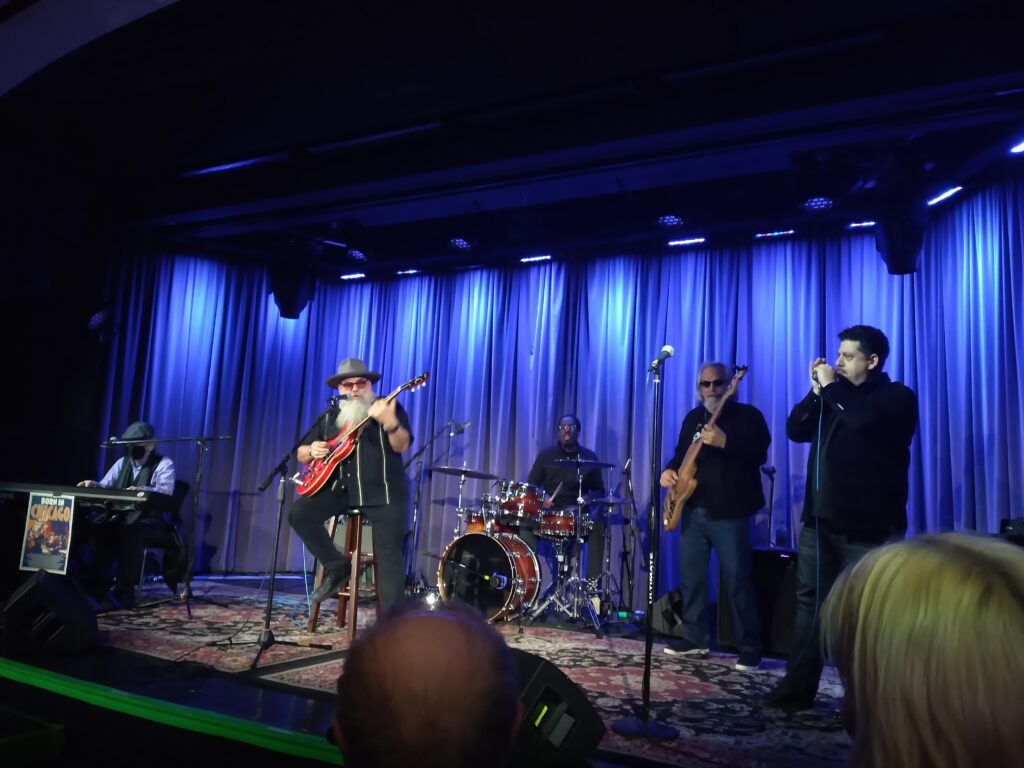 Jimmy Vivino (guitar), seen on stage in the Born In Chicago documentary, is best known for years as Conan O'Brien's musical director, guitarist and bandleader for 26 years. He has produced, led bands and recorded with a countless number rock and roll and blues artists for five decades including the likes of Hubert Sumlin, Warren Haynes, Bob Weir, Keith Richards, Elvis Costello, Johnnie Johnson, Son Seals, Shemekia Copeland, Levon Helm, Phoebe Snow, Dion, Laura Nyro, Bob Margolin, Lowell Fulson, John Sebastian, Joe Louis Walker and Al Kooper.
Rob Stone (harmonica/vocals) combines tough Chicago blues tradition with a swinging West Coast rhythmic drive. He cut his musical teeth in the gritty clubs of Chicago's north, south and west sides, learning from certified blues masters like his Chicago Blues Reunion bandmates. He has shared bills with B.B. King, Etta James, Robert Cray, James Cotton, Los Lobos, Jose Feliciano, Sheryl Crow and others, as well performing with Chicago blues heroes like Robert Jr. Lockwood, Hubert Sumlin, David "Honeyboy" Edwards, Pinetop Perkins, Jimmy Rogers, Koko Taylor, David Myers, Henry Gray, and Jody Williams to name a handful.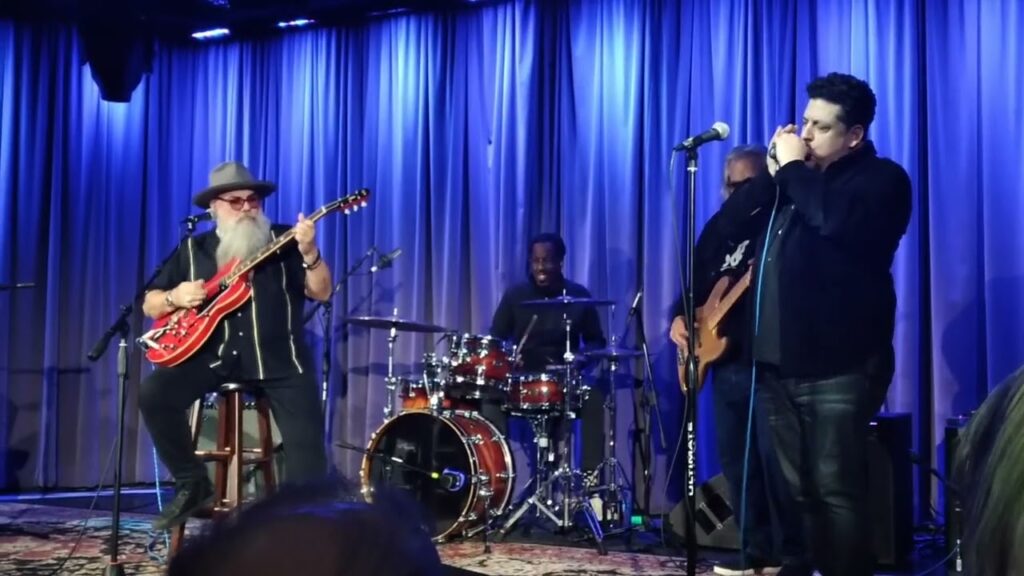 Rick Reed (bass) is a veteran of the Paul Butterfield Band and has played with countless legends. His recent international tours have been with Canned Heat, Fabulous Thunderbirds founder Kim Wilson as well as Chicago Blues Reunion.
Vince Fossett Jr. (drums) began drumming at the age of two, having been inspired by his father, a drummer who worked with gospel artists including James Cleveland and R&B stars such as Earth Wind and Fire. Vincent Jr. went professional at the age of 17 and has since played with gospel and greats including Karen Clark-Sheard and Alex Aisles. He currently serves on the faculty of LA's Musicians Institute.