World Traveler, Businessman, Philanthropist, Restaurant Owner, & Friend to Many Sports Hero's & Celebrities: Dion Rich, Dies at 92 Years Old, just a few days short of his 93rd Birthday in San Diego.
 Dion was a very successful business man, who owned 4 sports bar and restaurants, and was a ticket broker in the sporting world, and was always involved in sports his whole life, and had 2 books written about him.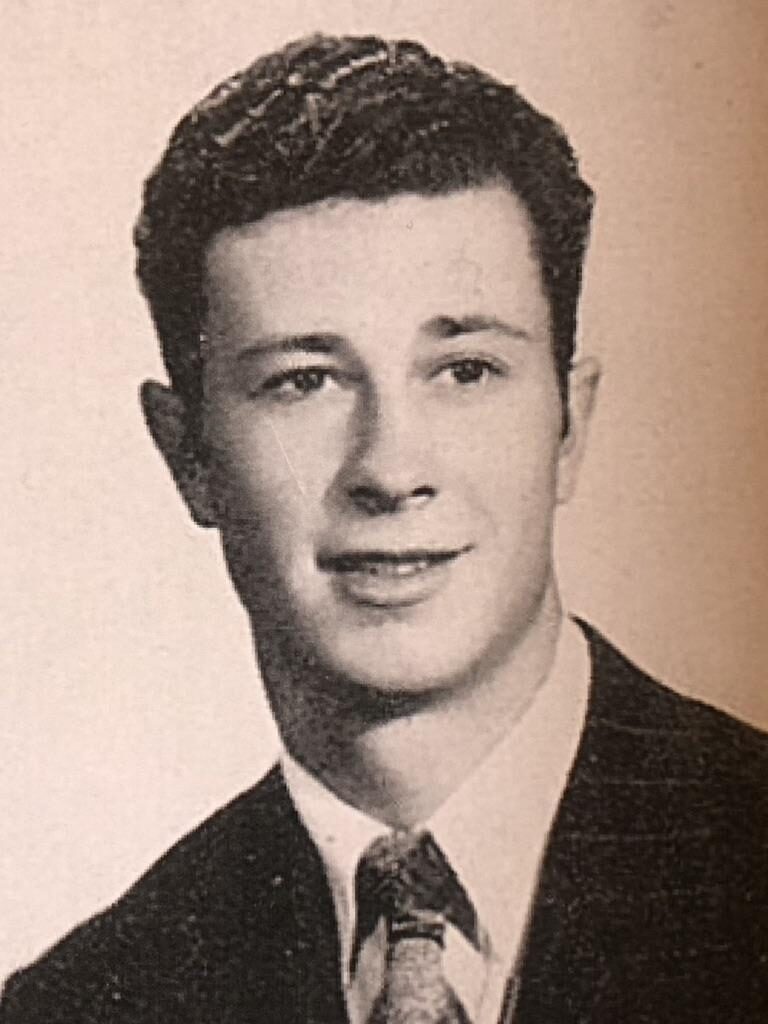 Dion went with me to so many sporting events like the Super Bowl in Houston, Texas and the last one in Los Angeles, and a few charger football games. He also went with me to so many showbiz events like the Oscars, Golden Globe Awards, SAG, Grammy Awards, People's Choice Awards, Emmy Awards, and many major charity galas, fundraisers, conventions, film festivals, major hotel grand openings in Las Vegas, the Playboy Mansion, Bakersfield Business Conference, The Miss America and Miss Universe Beauty Pageants at Planet Hollywood in Las Vegas, and so many parties, and special events all over the world! I was so lucky to share so many great experiences, big time special events, and parties together with Dion, all over the country, and over the world in: San Diego, Los Angeles, Hollywood, Beverly Hills, Palm Springs, Bakersfield, Oakland, San Francisco, Las Vegas, Dallas & Houston Texas, New Orleans, New York, Miami Beach & Coco Beach & Fort Lauderdale Florida, and Cannes, France!
We meet so many A-List celebrities together- in fact I took a photo of him with President Bill Clinton at a charity gala that I was working on, that he used for the cover of his book: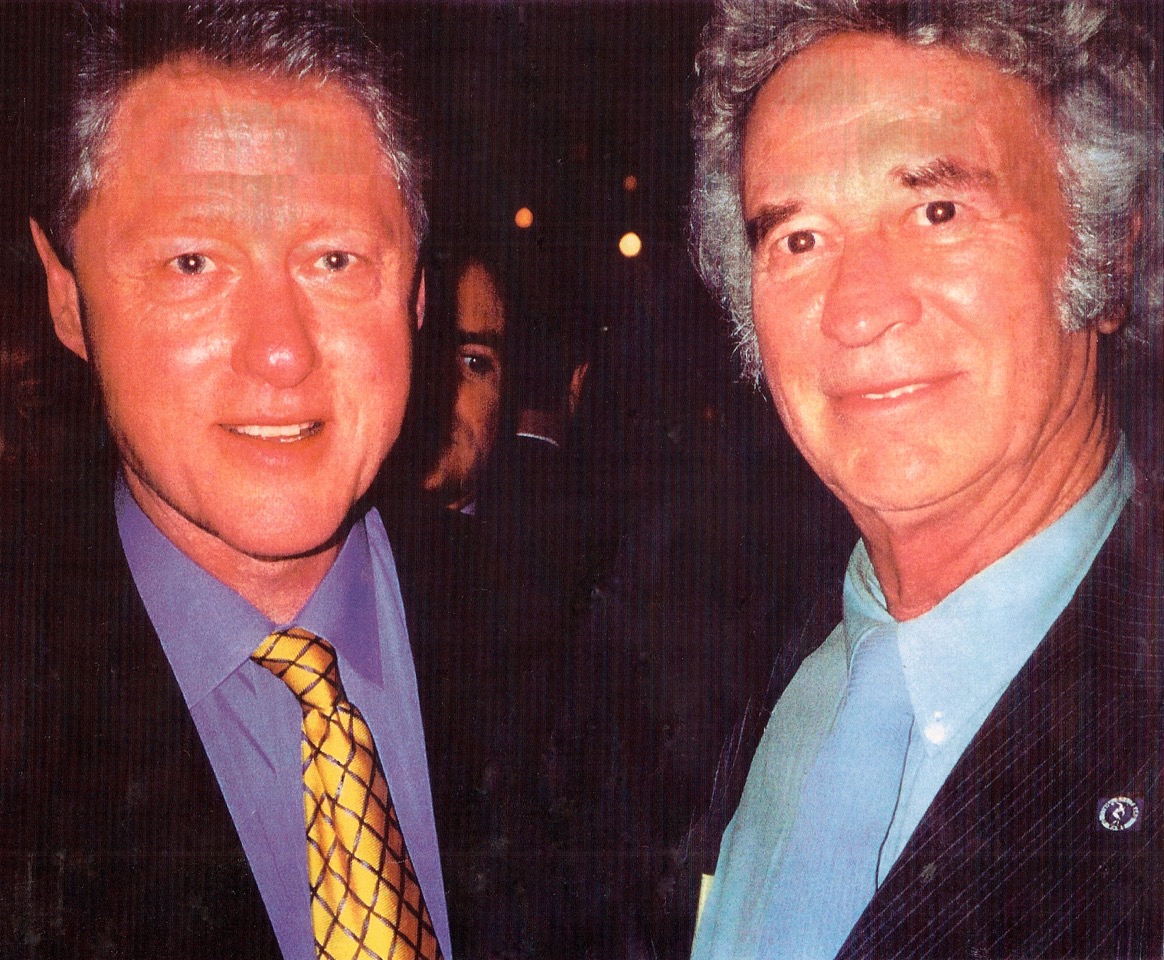 In fact that same night we both got photos of each other with 2 Presidents, including President Ford in the photo below, and at other events some of the other still living presidents below:

Dion attended the very first Super Bowl ever played in 1967,  and the most recent in 2022, and out of 56 Super Bowls that were played,  Dion attended everyone except for 3! 
See the below photo from
 Super Bowl 12 that was on January 15th, 1978, where the Dallas Cowboys beat the Denver Broncos
 27 to 10-  where
 Dion made worldwide news when he held up the late head coach Tom Landry on his shoulders down on the field when the Dallas Cowboys won the Super Bowl,
 and that same photo with him, Tom, and other players has been used so many times for other news stories about The Cowboys and Tom Landry,  all over the world.
The younger Dion in the photo is on Tom Landry's left, with a white wide collared dress shirt, and blue Jacket, as Tom looks down on him.
This photo is part of history: 
Dion also attended many Olympic games, Kentucky Derby's, and so many big events all over the world!
In the below photo you can see Dion at the 2019 World Series at Dodger Stadium: 
Dion was always a good and kind person, he was a sponsor at charity events, and helped out underprivileged youths. One time he rented out a large Yacht to take the children fishing: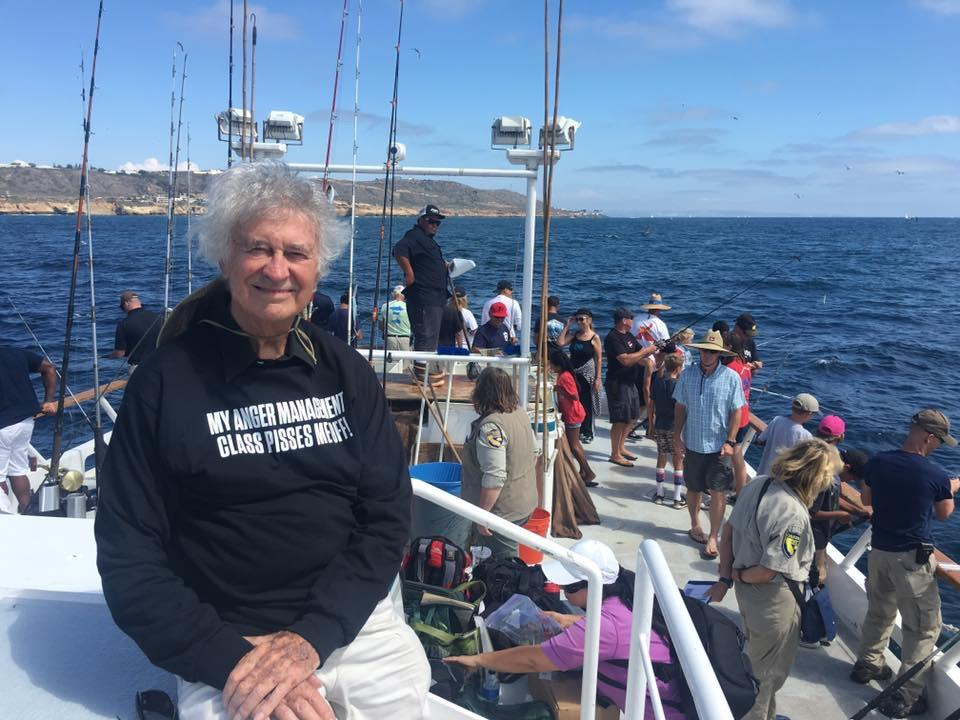 and had set up scholarship funds for children in need, and would donate tickets for major sporting events to schools and organizations that helped children out.
We had a lot of great times together living the good life, at the biggest events in showbiz and Sports, and at so many special events and fun parties. 
The below photo is of Dion when he was younger and in his prime, when he served in the Army during the Korean War: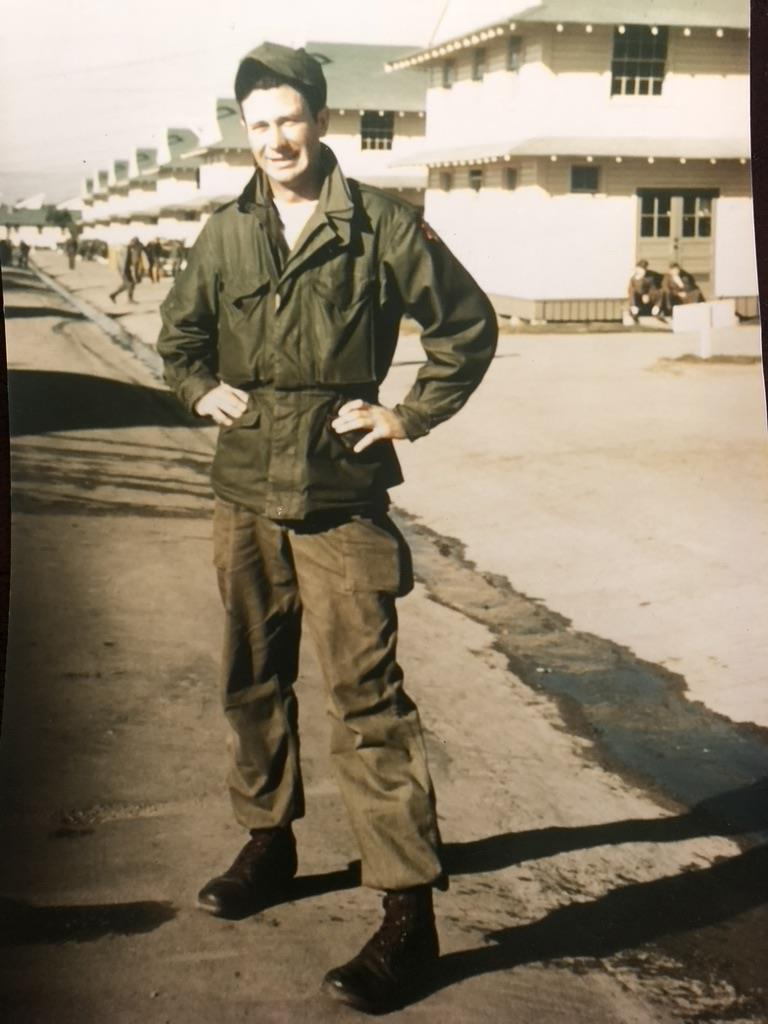 The below photos are from his
 90th birthday Party,
 where he spent $40,000 on, to rent out the
Ultimate Sky Box
– that had an amazing view of
PetCo Stadium
: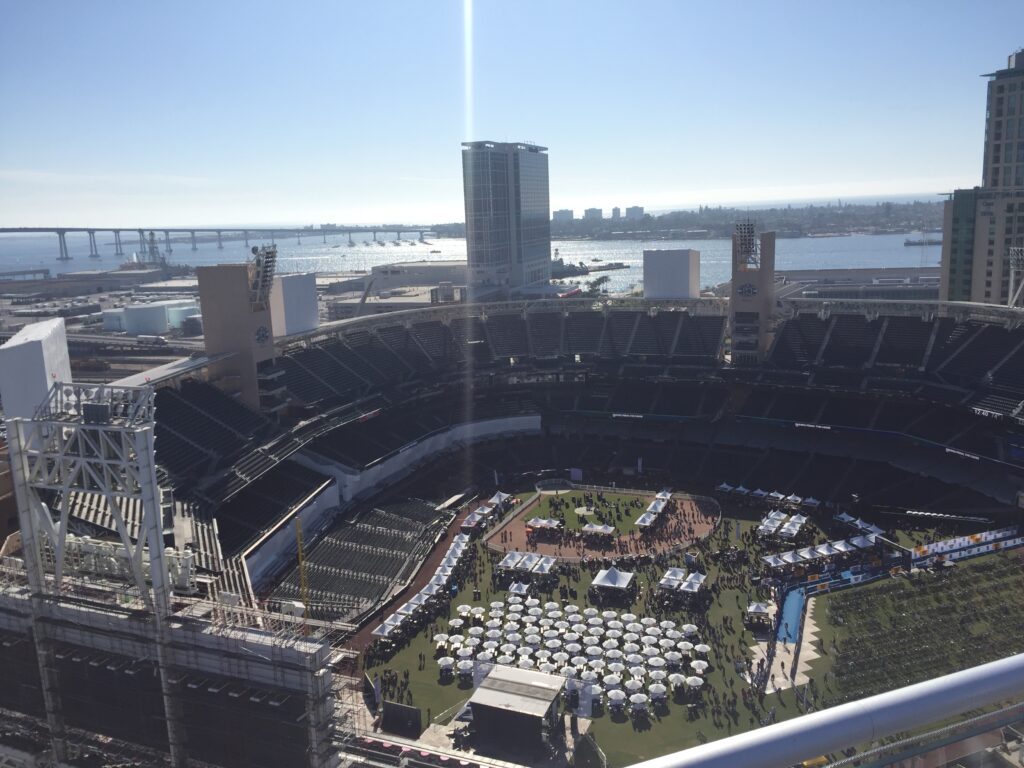 were the
San Diego Padres
played baseball, and who were just in the
Playoffs in the battle for the National League Pennant-
which amazingly Dion had attended with the help of his friend and caregiver Mariana Aguilar!  Dion had a live band, gourmet buffet, and a hosted bar to pay for drinks for over 200 of his friends, including the
Mayor of San Diego in the blue Jacket, as you can see in the below photo, with me and Dion: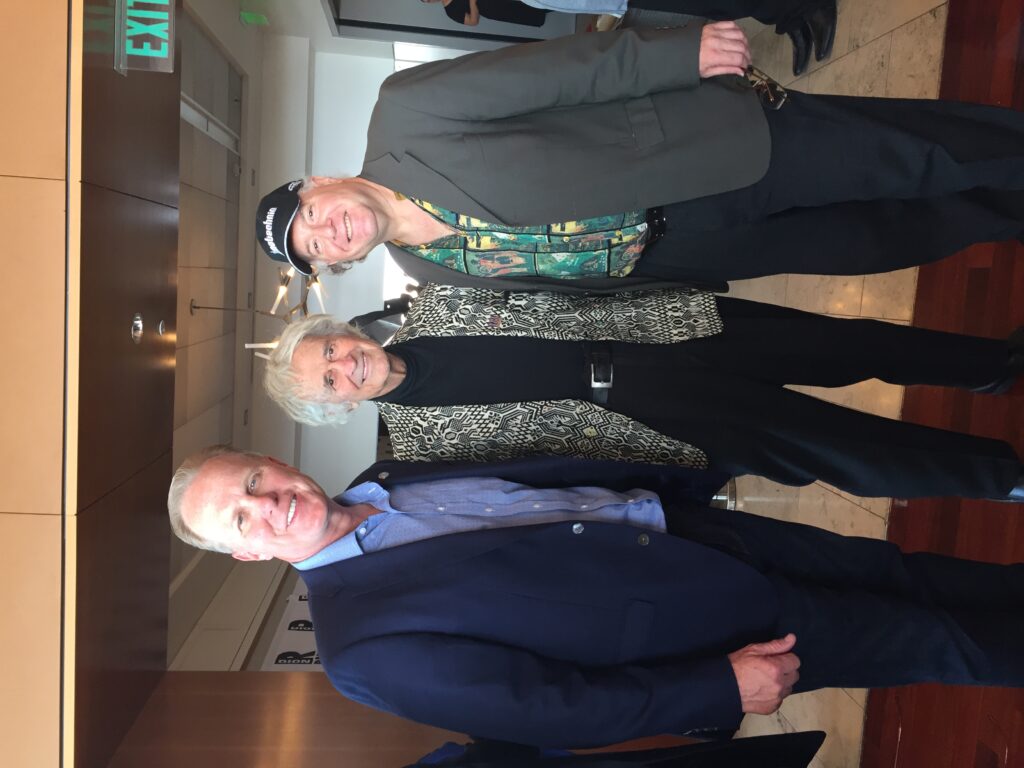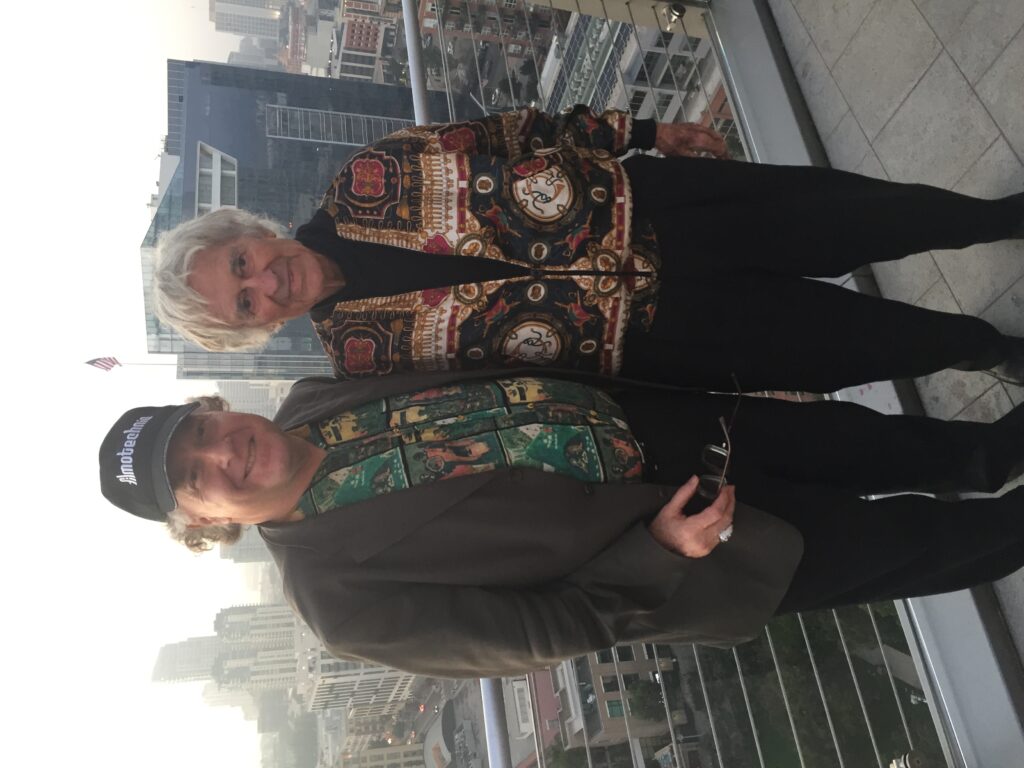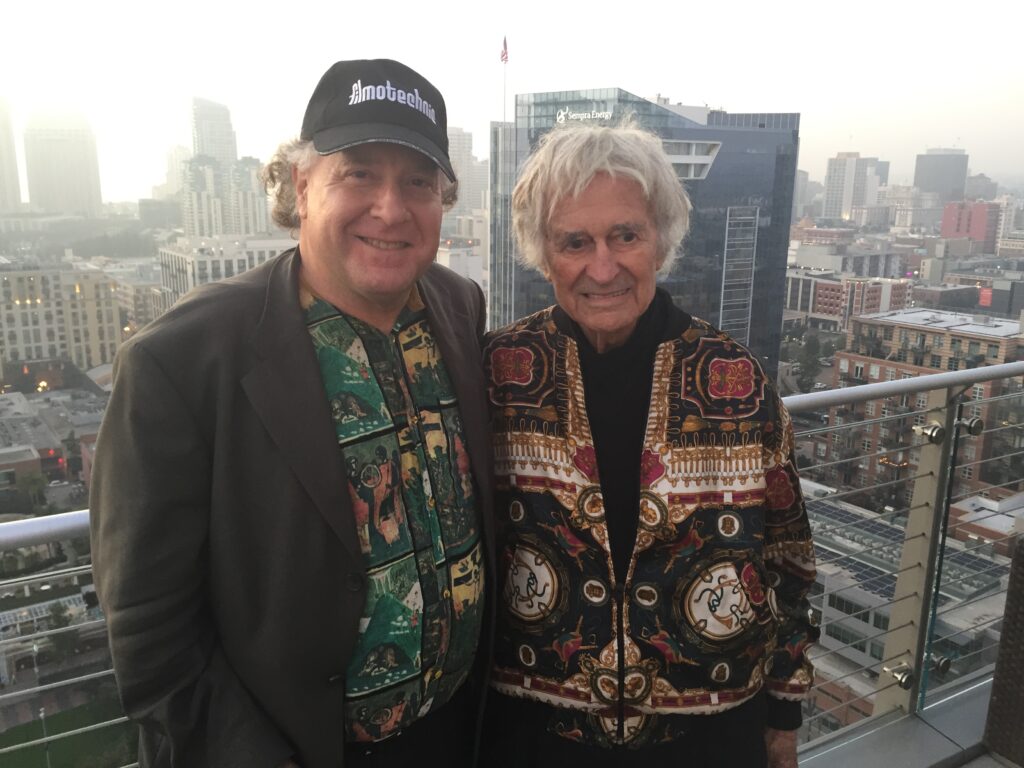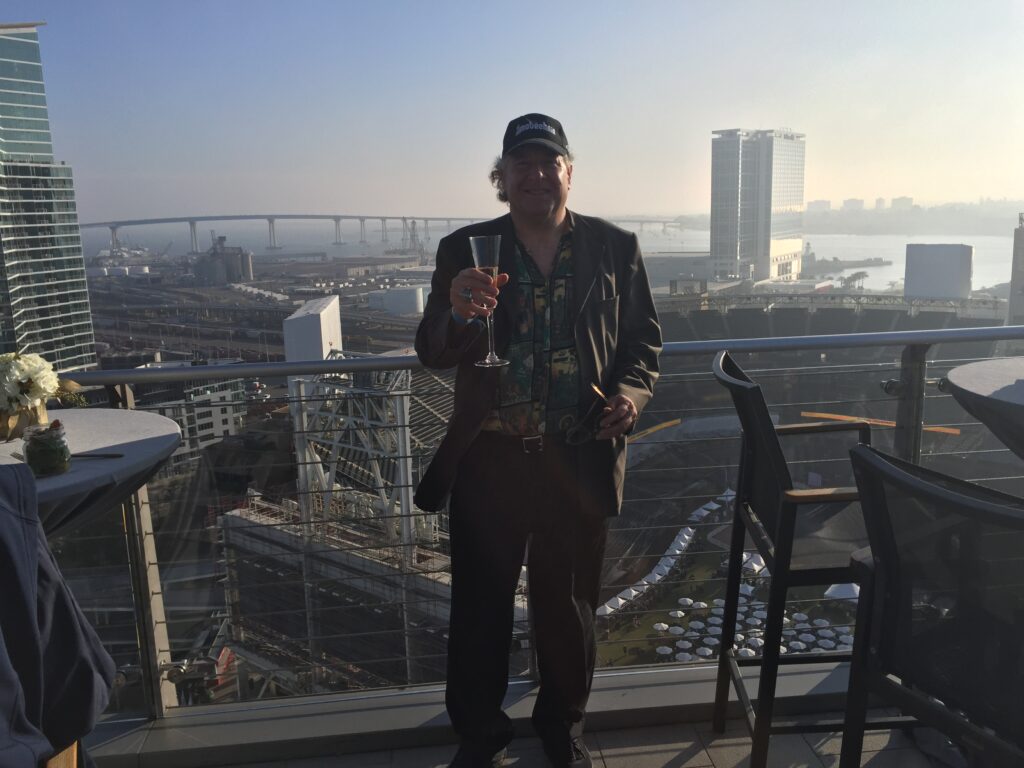 I have personally been at the biggest events in the world with Dion Rich, and I have taken his photo with some of the world's most famous people.
For more than 30 years we have attended the Oscars- both at the LA Shrine Auditorium and The Dorothy Chandler Pavilion, and later the Kodak Theater- where Dion would walk the red carpet and set in the best seats next to famous stars, and then attend the Governors Ball and after parties-
Like the official after party for the Oscar winning movie Titanic- where Dion got photos with Leonardo DiCaprio and Kate Winslet, or in the Governors Ball Dion got a photo with best actor Oscar winner Tom Hanks, then Clint Eastwood, and Al Pacino for Scent of a woman, Robert DeNiro, Dustin Hoffman, David Coperfield and his beautiful famous model wife Claudia Schiffer, Ernest Borgnine, and Lauren Bacall.
Dion has been at the Golden Globe Awards and all the after parties in The Beverly Hilton Hotel- at least 15 times that I was there with him, and got a photo with Halle Berry, at the HBO after party right after she won the Golden Globes Award, Matt Damon, Ben Affleck, Gwyneth Paltrow , and James Coburn.
Dion has meet every major superstar at The people's choice awards, SGS, PGA, DGA, Emmy Awards, American Comedy Awards, and the Spirit Awards: Kirk Douglas, Michael Douglas, Bergius Meridith, Denzel Washington.
Dion has went to over 20 Grammy Awards at The Shrine Auditoriums and The Staples Center, 10 Billboard Music Awards in Las Vegas , and the American Music Awards where he meet Neil Diamond, BB King, Ray Charles, Brittany Spears, – the 2 Justin's- Justin Beaver, and Justin Timberlake , John Legend, Coolio, Sammy Davis JR. and Natalie Cole.
In addition to holding the Dallas Cowboys football coach: Tom Laundry on his shoulders – Dion has been to The Espy Awards and Sports Spectacular at the Century City Hotel, The Deacon Jones Celebrity Golf Tournament in The La Costa County club, the Maury Wills golf tournament in the Riviera Country Club, with Troy Aikman, Bill Russell, Wayne Gretzky, Muhammad Ali, Tom Brady, Walter Peyton, Peyton Manning, Tony Dorset, Joe Namath, Koby Bryant, and the Frank Sinatra Celebrity Golf Tournament with Buddy Hacket, Joe Peschi, Paul Anka, and Wayne Newton.
Dion has been to hundreds of charity Gala Balls – like the $5000 a ticket Carousel of Hope Ball, and countless others where I took a photo of him with Presidents Bill Clinton and Gerald Ford, and Woopie Goldberg, Sugar Leonard, Elton John, Sylvestor Stallone, Elizabeth Taylor, and Faith Hill.
I am now so overwhelmed- as this is the death of my 5th friend, in about the last year, and 4 of whom are from San Diego! First my friend Paul Walton's father Sydney died at 102 years old, then Paul died not so soon after, and mine, Dion, and  Paul's friend Frank died, then Dion – all from San Diego, and our friend Ernie died- who lived in Beverly Hills- making 5 deaths in about a year's time! Please pray for their souls.
I hope we can all carry on in their tradition by making the best of everyday and enjoying life to the fullest! God Bless You all, and may Dion and Paul both party together in the San Diego section of heaven! & Of Course with Frank, and Paul's father Sydney- all from San Diego. Rest in Peace Dion.
Dion lived in style and will best missed by so many people! Rest In Peace Dion in that big stadium, theatre, and Auditorium up in Heaven!
As my friend Paul Walton told me before he died: " I have no regrets . . I did everything I wanted to do " as did Dion: who attended the biggest events in showbiz and the sporting world, and I was lucky enough to attend many of those events together with Dion.
What I can learn from this, to share with you: is to make the best of everyday, and experience whatever it is that brings you great joy, since you only live once, and you never know when the lord may be calling you to join him – the time of your death is never known to you and may catch you by surprise: so live your live to it's fullest now while you are still able to!  God Bless You All!
Dion Rich Funeral Service in Singing Hills Memorial Park, San Diego: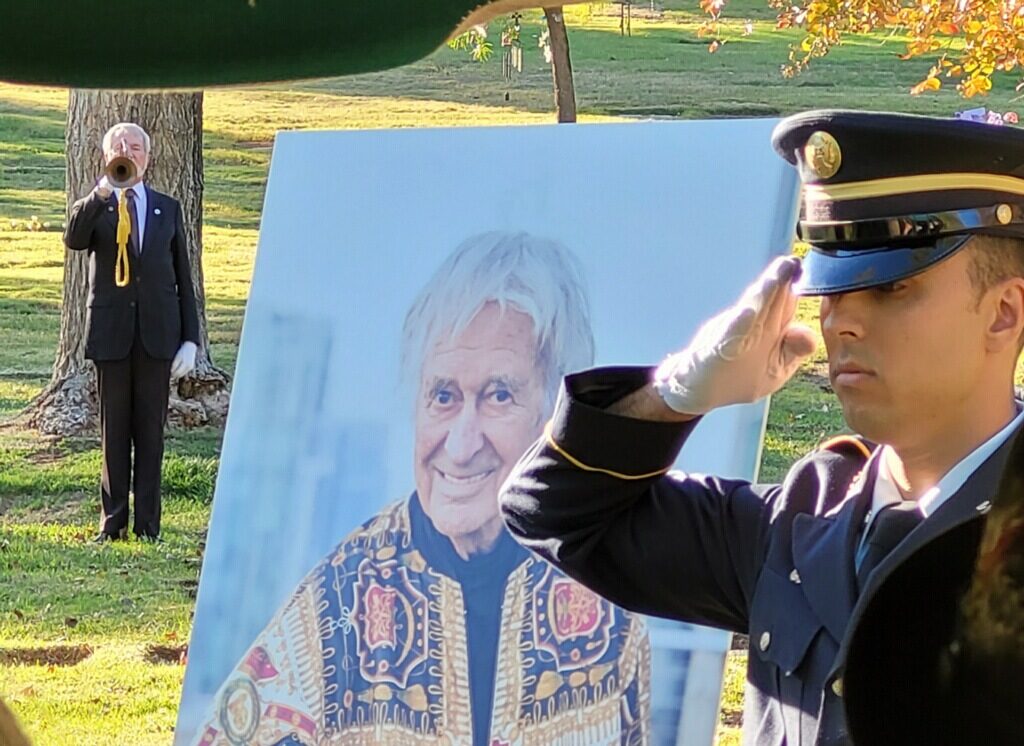 The final resting place of Dion Rich.
Since Dion was in the Army during the Korean War in the early 1950's, he was given full military honors, with the American flag by 2 army soldiers, and taps was played by the bugle man(who you can see in the background):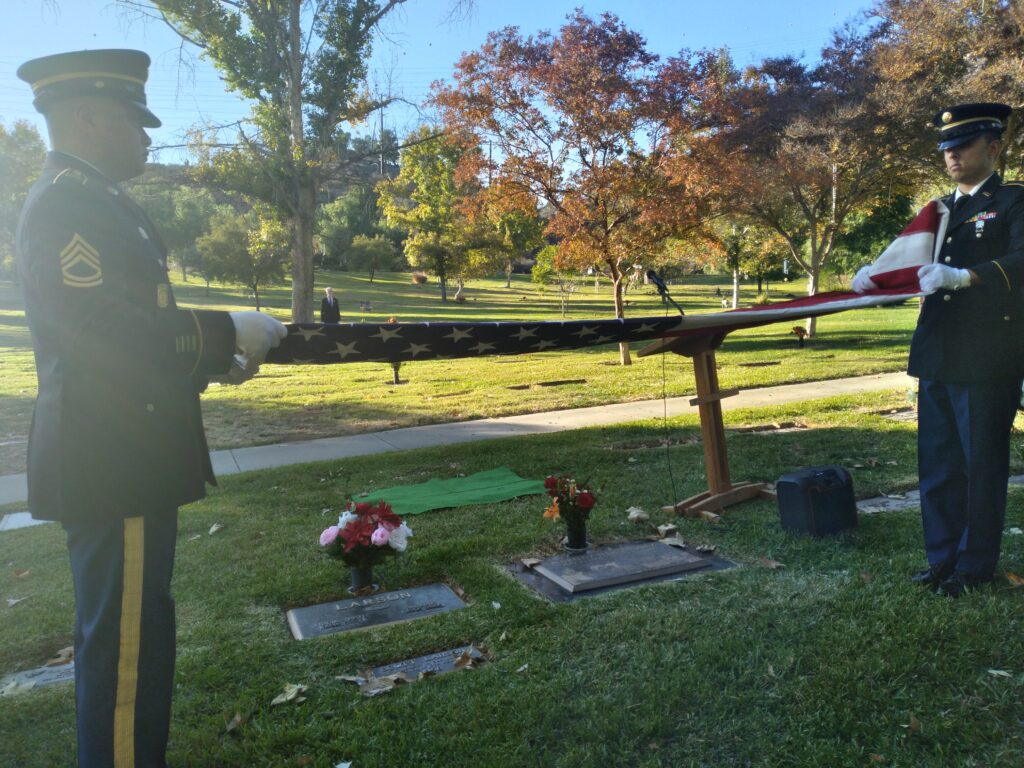 as Dion was laid to his final resting place in a small box by Mariana(in the below photo) Dion had wanted in his grave: CAUSE IF DEATH: LIVING, which was on his poster at the funeral.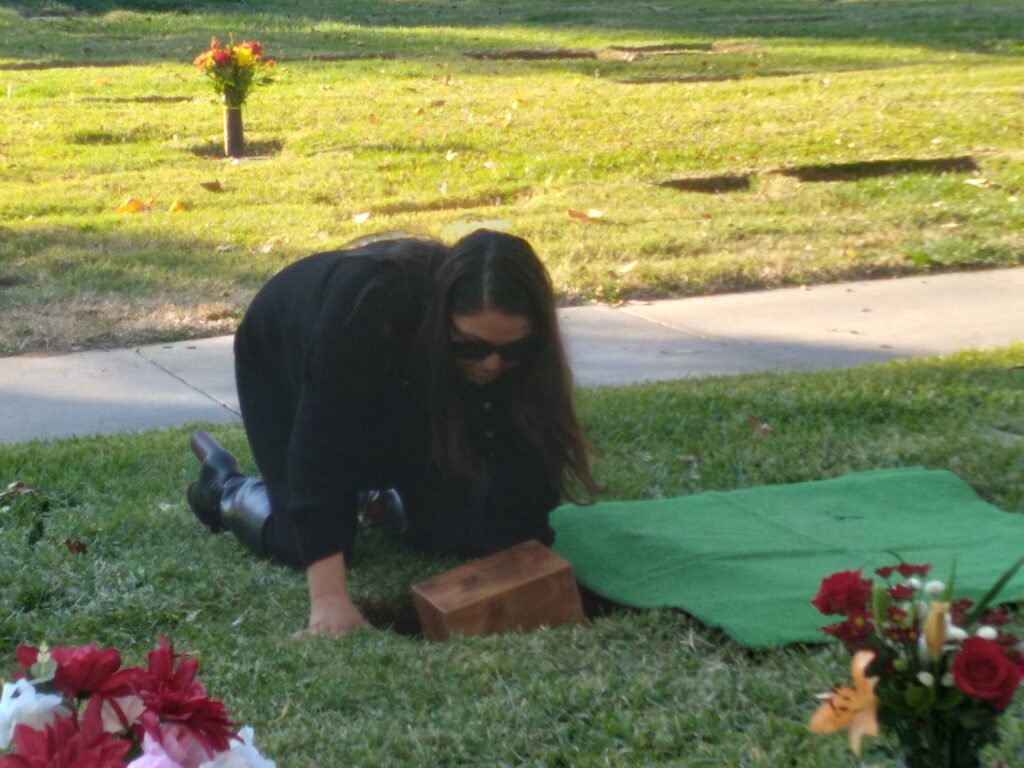 after he was cremated, in the beautiful Singing Hills Memorial Park in San Diego, with a nice reception afterwards at Casa Guadalajara with musical entertainment and buffet and Margaritas: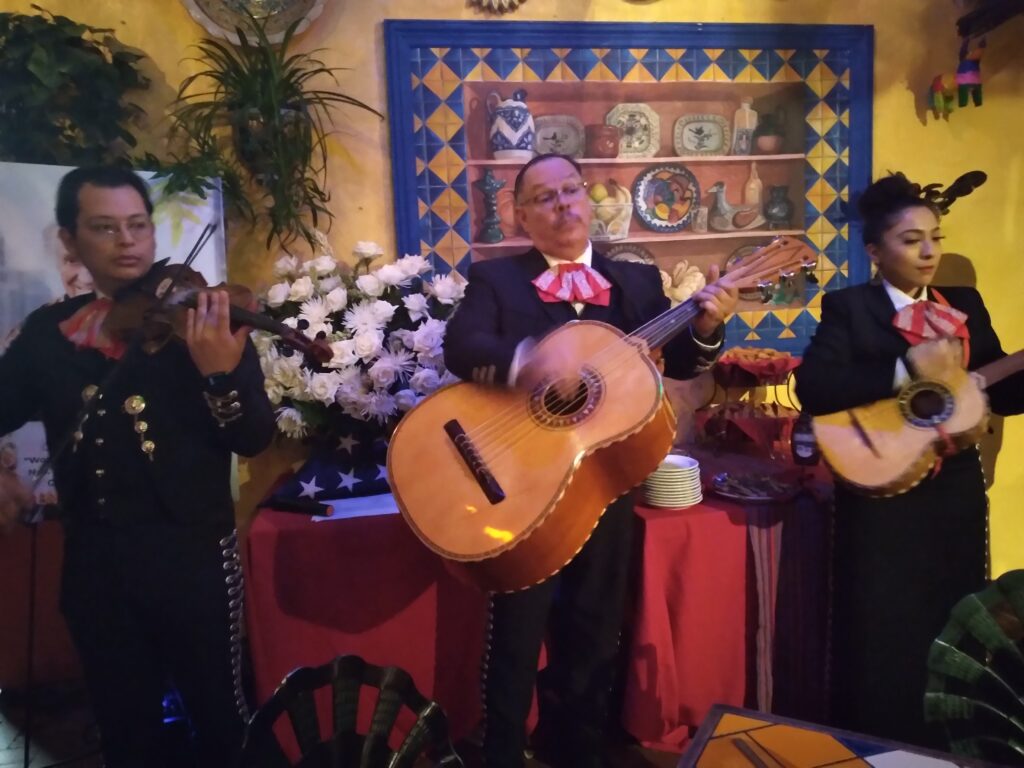 It was a very classy event, with many speeches given by his friends with great memories! Everyone had so many great stories to share about Dion, he will be missed by so many! Rest In Peace Dion!