Bob Saget, the Actor, TV Show Host, and Famous Stand-Up Comedian best known for his starring role as Danny Tanner on "Full House" has died at 65 Years Old, the Orange County Sheriff's Office in Florida confirmed. They said that deputies were called to the Ritz-Carlton Orlando, Grande Lakes about an "unresponsive man in a hotel room." The man was identified as Robert Saget and pronounced dead on the scene, the sheriff's office said, and Detectives found no signs of foul play or drug use in this case, so a cause of death was not immediately announced. Bob will be missed by his family and friends, the Comedy industry, the entire Entertainment World, and by millions of his fans throughout the world!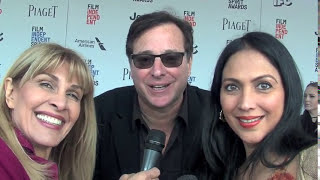 Bob Saget, (born May 17, 1956) is the very popular Star of many television shows, including his best known: "Full House" – the ABC sitcom (1987–95), where he played the starring role of Danny Tanner, and its new Netflix hit sequel "Fuller House", which you can see on TV now. Bob was also the television host of "America's Funniest Home Videos" from 1989 to 1997. Saget would end up returning to both shows decades later. He co-hosted a 20th anniversary special for "America's Funniest Home Videos" in 2009 and would occasionally appear on Netflix's "Full House" reboot, "Fuller House," for which he reprised the role of Danny Tanner. Saget also provided the narration for all nine seasons of the CBS sitcom "How I Met Your Mother." You can see Bob somewhere on TV almost every day!
The below photo is from The Star-Studded Roast for Tom Arnold at The Hard Rock Hotel & Casino in Las Vegas, that Bob Saget was the host for: (L-R) Me, Khrystyne Kamil Haje of "Head of the Class", The wild Comedian Robert Francis "Bobcat" Goldthwait, Bob Saget, and our cameraman at the time Greg Griffith. Haje was named as one of the "50 Most Beautiful People" in People magazine's first edition of that list in 1990: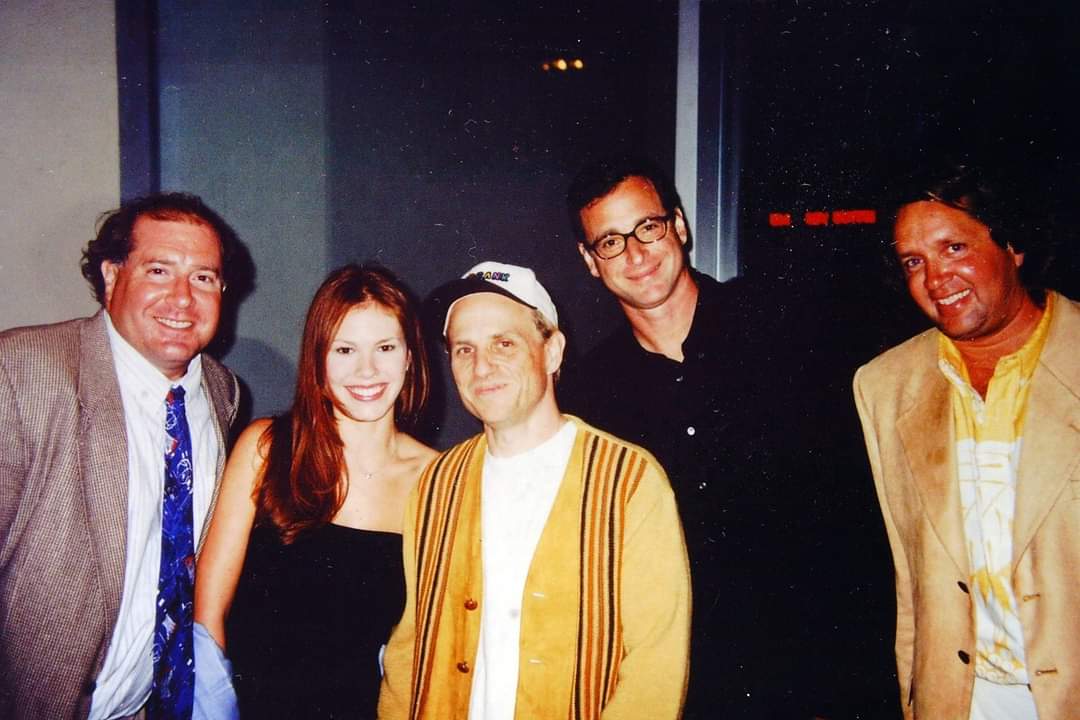 Back in 2017 at Harrah's Resort SoCal in Funner, CA – I was lucky enough to see Bob Saget give an amazing stand-up comedy concert, that made the audience laugh so hard that their mouth muscles hurt! This concert is part of his Comedy Road Show Tour, where Bob uses his adult-oriented stand-up routine, and unique humor to talk about life, and his great history in TV and Movies.  His standup act was filled with coarse language and sexual humor, creating a stark contrast with the family-friendly image he projected on the sitcom "Full House" that made him a household name. What you may not know is that Bob is also a very good singer, as he played a few songs on his guitar, and got the whole audience to sing along with him! This makes the 2nd Famous Stand-Up Comedian that has tragically died within the last 4 months, that I have saw perform at Harrah's Resort SoCal, as Norm Macdonald died at age 61! Bob had recently paid great tributes to Norm on his passing, as they were both such good friends!
Bob has been on our show many times before, and in this video news show we will look back to when Entertainment Today's TV show host Margie Rey, and Guest Reporter Kalpana Pandit interviewed Bob at a Pre-Oscar event: The Film Independent Spirit Awards, where they had a long talk with him about his Comedy Road Show Concert Tour, his show "Fuller House", and working in Showbiz. Bob even gave advice on health! 
Bob's co-star on "Full House", and "Fuller House", is Actor / Producer/ New York Times Best-selling Author and Inspirational Speaker Candace Cameron Bure, who was interviewed the very next day at The Oscars by both of our reporters -Margie and Kalpana. Candace also talked about the big success of her and Bob's hit TV sequel "Fuller House" 
For info and tickets for future shows at Harrah's Resort SoCal – The Events Center, go to www.harrahssocal.com/events and @harrahssocal, and @bobsaget, and the complete story go to: entertainmentandsportstoday.com Facebook.com/entertainmentandsportstoday and Youtube.com/entertainmenttodaytv , @bobsaget, @candacecbure, @fullerhouse, @fullhousescenes @filmindependent #funnercalifornia TwitterTwitter: @FullerHouse FB  FB: /FullerHouseNetflix  Instagram: @FullerHouse netflix.com netflix.com  netflix.com/full