What a better way to celebrate New Year's than to attempt to eat 600 items of gourmet food from the 4 corners of the earth, at The Bacchanal Buffet at Caesars Palace Las Vegas! This has been voted the best and biggest buffet in the world by USA Today, and other rating organizations!
With COVID closing down or putting out of business most of the All-You-Can-Eat – Serve Yourself Buffets in the country and the entire world, it is a real pleasure that The Bacchanal Buffet at Caesars Palace in Las Vegas, has opened up again after being closed down for a year and a half!  "Life is Beautiful!"
They have an "upgraded elevated "menu for the New Year's Holiday, that no human being could ever come close to eating even just a small portion off, but it would be fair to say that my friend Garry and I came very close to accomplishing that, as we had a gigantic feast of the most expensive food prepared, served, and made by master chefs, in 11 food stations, that is well worth the price of $100 per person, because you can eat well over $600 worth of food!
To name just a few of the dishes we had:
18-day aged Steamship Wagyu Beef imported from Kobe, Japan
, that extra special care is given to Japanese Black Cattle, to give the most discriminating food critic an amazing 5 star eating experience! This exact same beef normally sells in restaurants and online for well over $150 a pound! This steak is fragrant, tender, and will melt-in-your-mouth, and this Wagyu beef will have you coming back for more.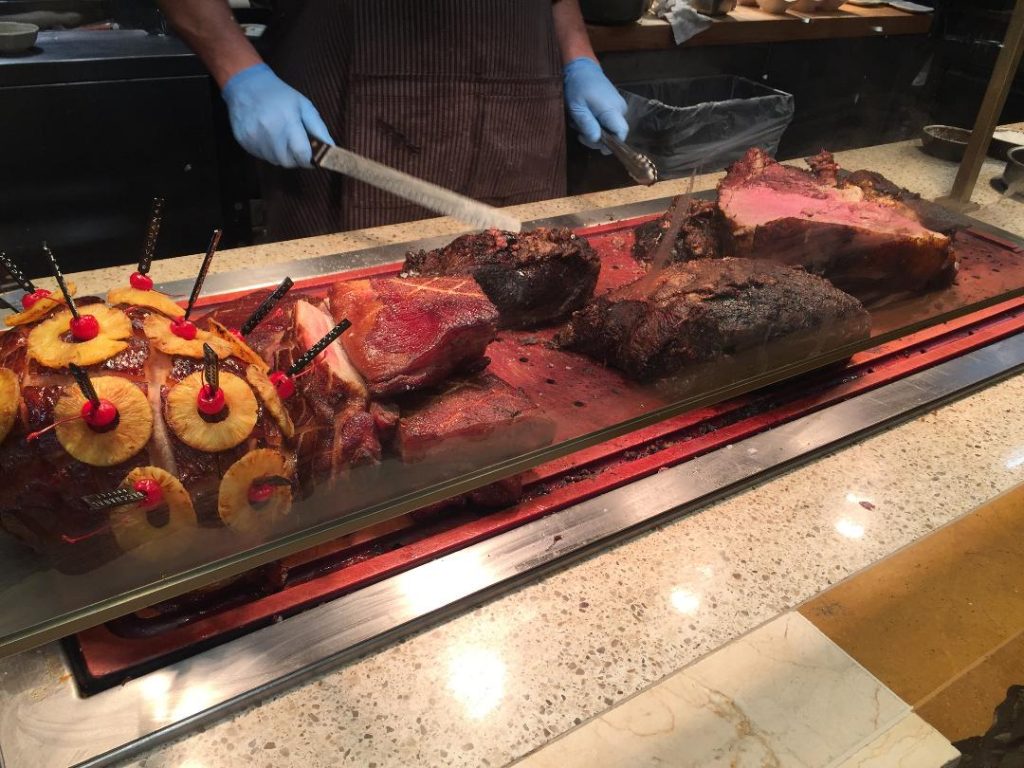 Just a few of the
Fish items
include Lobster Claws, the most gigantic Jumbo Shrimp you ever saw, Jonas Crab, Snow Crabs, Alaskan King Crab Legs, imported Caviar at $200 an ounce!  Sea Snails Escargot, Octopus, Salmon, Seabass, Cod, White Fish, Catfish, and Peking Duck. Below photo of the Fish items: Lobster, Sea Snails Escargot, and the Alaskan King Crab Legs: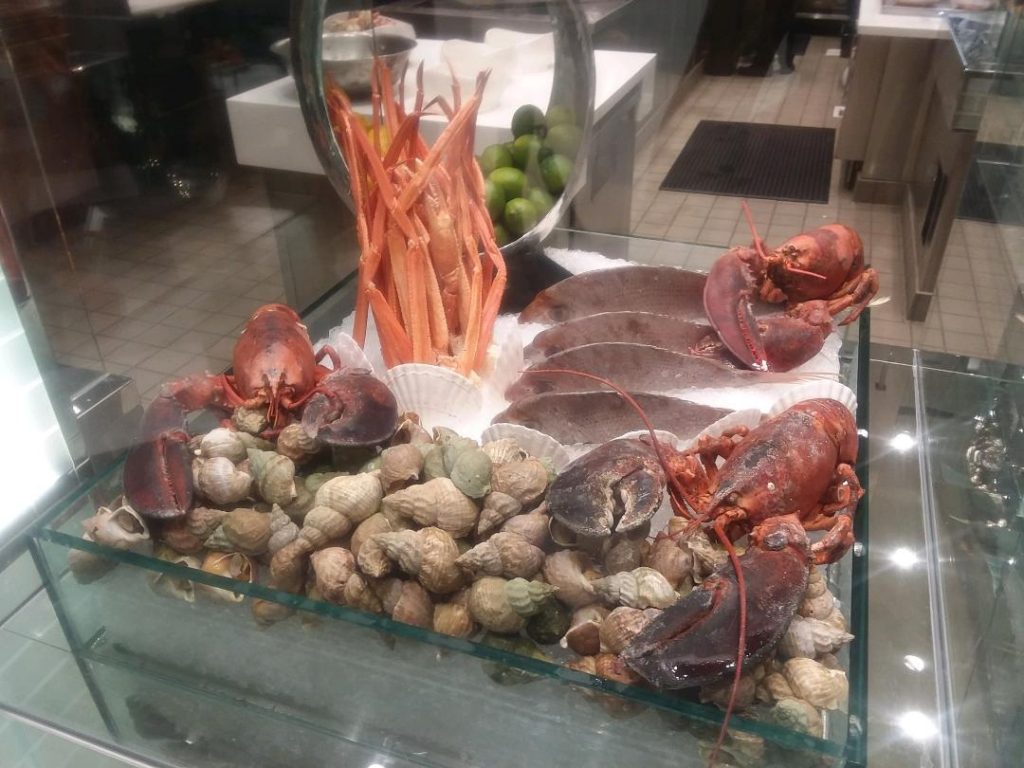 The most amazing cuts of the finest meats: chef custom ordered Beef Ribs – the biggest you ever seen, Tri-Tip Steak, Brisket of Beef, Prime Rib, Pork Chops, Pineapple Honey Glazed Ham, Whole Roasted Pig, London Broil, Ribeye Steak, Bone Narrow, Lamb Shanks, St. Louis Ribs, Rotisserie Chicken, USDA Prime Beef Tenderloin, Turkey with offerings of the drumsticks, delectable Sausages, Montana Steak, Roscoe's Chicken & Waffles, and Japanese Wagyu Beef Hotdogs! Below photo of me holding up a whole buffet serving platter of 3 full racks of Big Beef Ribs made by our favorite Chef Marvin, at our "Ocean View" Table by the pool: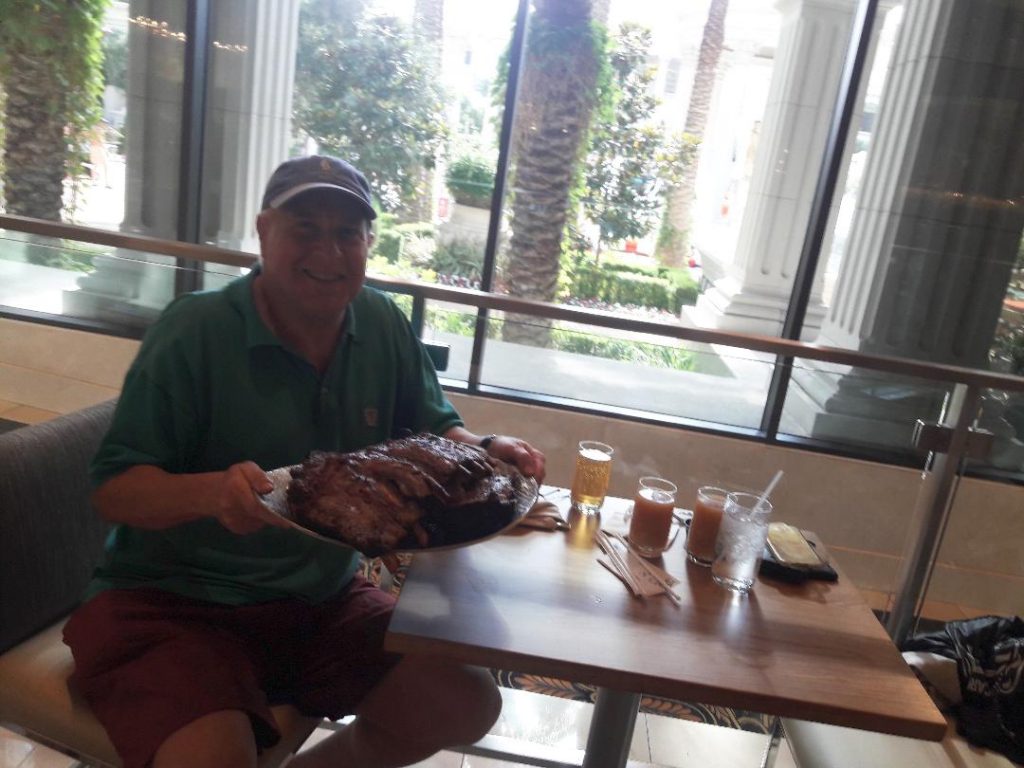 The list is too long to write out so suffice it to say they have great Italian, Asian, Greek, Mediterranean, American, French, and South of the Border food, in a newly remodeled, and expanded 25,000 square foot buffet area, next to the pool at Caesars Palace.
They have amazing tropical drinks, and the desserts are "to die for" as Barbara Streisand would say. The cakes, pies, candy, and crepes cannot be topped! Try the "Death by Chocolate" Cupcakes, and the amazing gourmet ice creams they have that are better than the most expensive ice cream you can buy anywhere- it's 10 times better than Hagen Das!
Me and Garry were joking – that if we ever were in a situation to know that we had only one "last meal" coming to us, we would ask to be flown out to Las Vegas to have The Bacchanal Buffet at Caesars Palace! Below photo of Garry and I starting out to attempt to eat 600 items of food: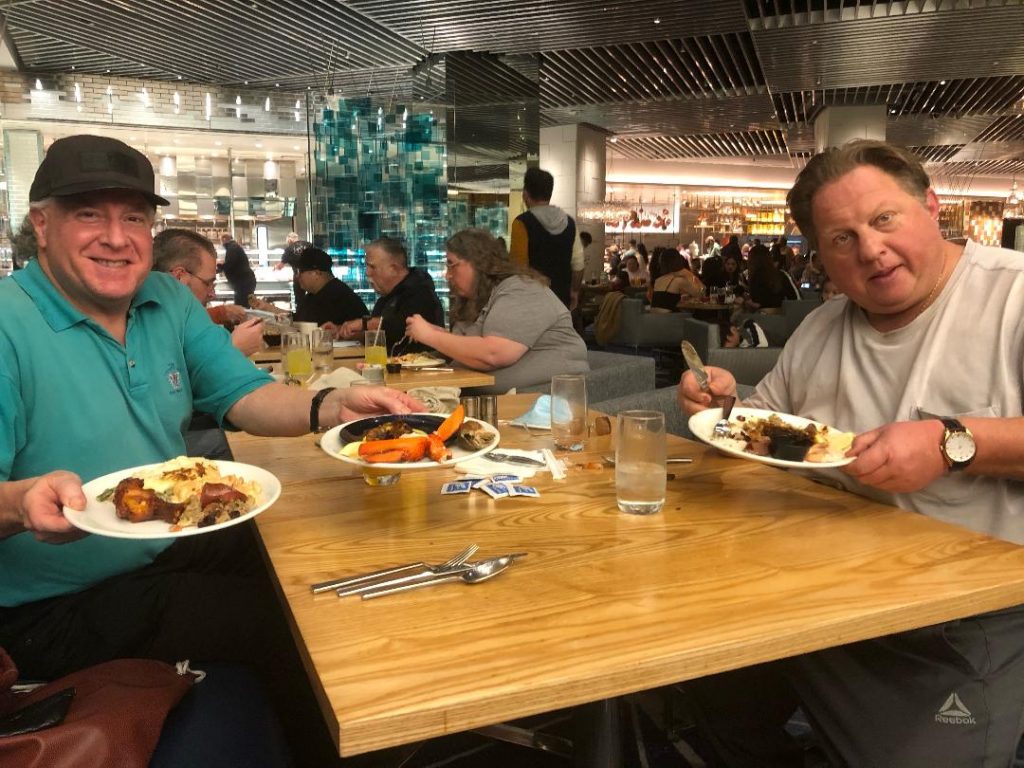 The lines are always super long, so having the VIP Diamond Card gets you right in immediately or you can try and make a reservation on opentable.com and get there very early – before 4pm- when the masses of people start to arrive.
We hope to beat the new variant of Covid, and start to go back to Normal leaving as soon as possible, and give blessings to everyone for a successful 2022!
Steve Taylor: Producer/News Director:
Entertainment & Sports Today / Time Warner