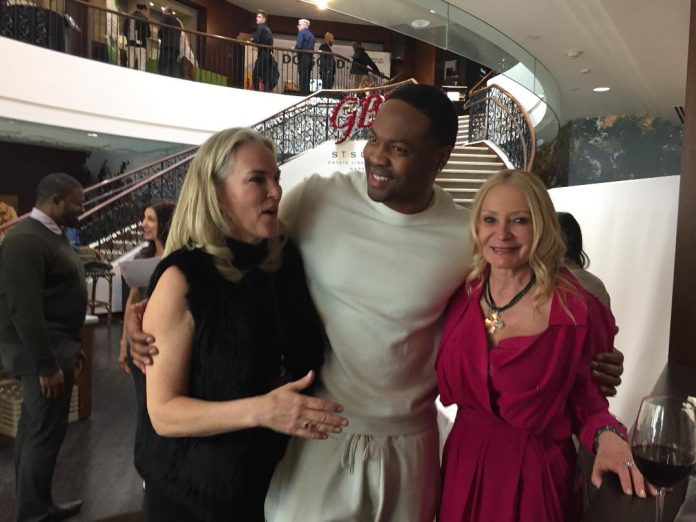 Nestled in the heart of Beverly Hills, the beautiful, elegant and spacious St. Supery Estate Tasting Salon located on Rodeo Drive, was the host for the opulent GBK's Pre-Oscar Gift Lounge event. Oscar nominee's past and present sipped on St. Supery's delicious red and white wines as they discovered the dozens of gift lounge partners waiting to greet them and gift them their fabulous new and innovative products. Bradley Cooper, Spike Lee, Viola Davis, and Mahershala Ali were just some of the celebrities in attendance who received wonderful new and innovative products from the various exhibitors.  The diversity of the exhibitors' products and their passion for them made for a fun and interesting afternoon.
I especially enjoyed meeting the girls from the company Aura Frames, who have developed an innovative new digital frame.  Their elegant frame uses an app to upload pictures in real time straight from your phone to the frame. On top of this, you can share your pictures with other people in your network, and I can't wait to gift my family in Canada this for Christmas so I can share moments of my life in LA with them, in live time.  Wendy Jordanov's company Huggaroo has developed a beautiful and soft weighted blanket to help lull you to sleep. Her invention came from her own son's inability to sleep, and as someone who struggles with this issue as well, I can't wait to try it.  Huggaroo also has a variety of neck and muscle relaxers that are not only warm when heated up in the microwave, but they smell heavenly too. James Sun, chairman of beautytap, spent 2 million dollars developing his revolutionary skin formula extracting astaxanthin from red algae, creating one of the biggest antioxidating serums there is.  I can't wait for my skin to glow from his magic elixir called Afterglow Ampoule.  Another highlight of the event for me was from a company called International Star Registry, who this year are celebrating 40 years as a family run business. This company can actually give an unnamed star in our galaxy… your name! I was thrilled to have a star named after me, and also one after my dog, who is now passed to the great beyond, a twinkling star now shines for him too. The celebrities in attendance seemed to enjoy having a star in the sky named after them just as much as having their star on the walk of fame on Hollywood Boulevard.
Deborah Keane, the CEO of California Caviar was in attendance letting the guests sample six of her different selections of caviar.  Her flavors of caviar are unique and delectable, and I enjoyed each one.  I enjoyed tasting them with actor Ser'Darius Blain (Charmed, Jumanji) we had fun comparing the tastes of the various flavors. However, I have to say, the Truffle caviar was my absolute favorite. And I was thrilled to receive a package delivered to my door today with Truffle Caviar, Crème Fraiche and Cocktail Blini all in a portable caviar container.  I also was treated to some of the most delicious cheese I have ever tasted from Point Reyes Farmstead Cheese Company. Homemade farm to table cheese, with none of the harmful additives, really make for a creamier, tastier cheese. I can't wait to have a cheese and caviar party and invite my friends over!
The GBK's Pre-Oscar gift lounge was definitely one of the best gift lounges I have ever attended. Many thanks to all the vendors for sharing their wonderful creations with the talented people in the Hollywood community.
By Janell Martin