During the pandemic, viewers stuck at home have been watching old movies and television shows that bring them comfort and laughter.  The show that I found myself binging is "Grace and Frankie," the Netflix series created by Marta Kauffman and Howard J. Morris for Netflix. It stars Jane Fonda (Grace) and Lily Tomlin (Frankie) as the aging wives of successful divorce attorneys and business partners.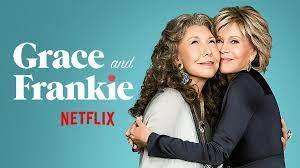 The two couples have shared a beautiful San Diego beach house over the years, and their families have spent holidays, vacations, and outings together despite the wives having little to nothing in common. The dramedy features four stellar actors who give honest and heartwarming performances. Ms. Fonda is a powerful and stylish career woman with her own cosmetics company and Ms. Tomlin is a hippie artist and painting teacher (of former convicts) with a penchant for cannabis and meditation.
The dramedy features four stellar actors who give honest and heartwarming performances. Tomlin earned Emmy and Golden Globe nominations. Ethan Embry, June Diane Raphael, Baron Vaughn, and Brooklyn Decker co-star in supporting roles as their children.
One night at dinner over a seafood tower, the men Sol (Sam Waterston) and Robert (Martin Sheen) reveal that they are in love and that they are leaving Grace and Frankie to be together. To say that the women are in shock is an understatement. The men move into Robert and Grace's home and the women, struggling to figure out their next steps, move into the beach house together and begin the scary new phase of their lives.
As Sol and Robert plan their wedding, Grace and Frankie realize the only people they can count on is each other and a friendship is fostered. Re-teaming Jane Fonda and Lily Tomlin ("9 to 5"), the leading ladies have superb chemistry. Tomlin is reunited with her "The West Wing" co-star Sheen, and Fonda and Waterston are back together re-teaming following their work together on "The Newsroom."
Each episode over the seven seasons of "Grace and Frankie" follows the lively adventures of these two women as they create a start-up business, start dating again, have hilarious moments with their kids, face health issues and ultimately become the best of friends.
For as long as they can recall, Grace and Frankie have been rivals. Their one-upmanship comes crashing to a halt, however, when they learn that their husbands have fallen in love with each other and want to get married. As everything around the ladies is coming apart, the only thing they can really rely on is each other. This Netflix original re-teams Jane Fonda and Lily Tomlin ("9 to 5") as Grace and Frankie, respectively, bringing their chemistry to the small screen. It's a casting reunion on a grand scale, as Tomlin is reunited with her co-star from "The West Wing," Martin Sheen, who plays Grace's husband, Robert. And Fonda is back with Sam Waterston, her co-star from "The Newsroom," who plays Frankie's husband, Sol.
The show is available on DVD and streams on Netflix. From Lionsgate.