The best way to spend your holidays during the summer season is in Las Vegas , at any of the special pools that the casinos have. The best and classiest pool is at The Strip's Most Iconic Hotel & Casino : Caesars Palace, and The Garden of the Gods pool at Caesars Palace.  During The Labor Day Weekend they had an amazing POOL party with DJs, Hosts, Live Music, dancing , games and contests.  There was a Caesars "Goddess" walking around giving out grapes to guests, and the Venus Pool had it's special private European style bathing.  They have beautiful girls in gold bikinis dancing on top of pedestals: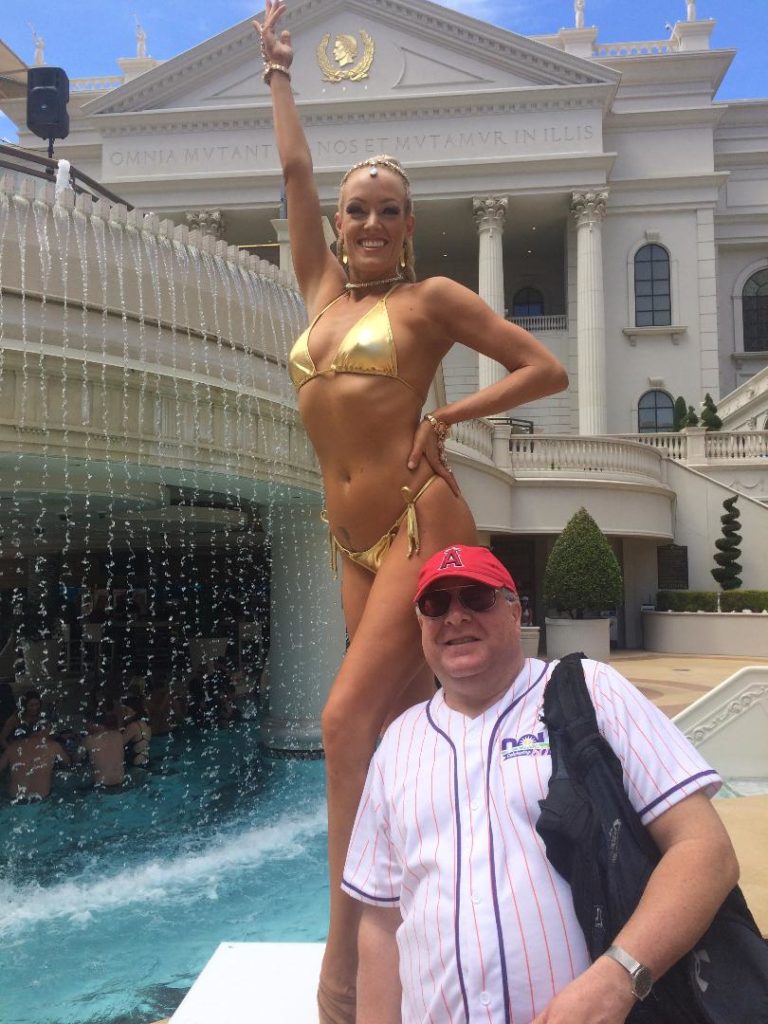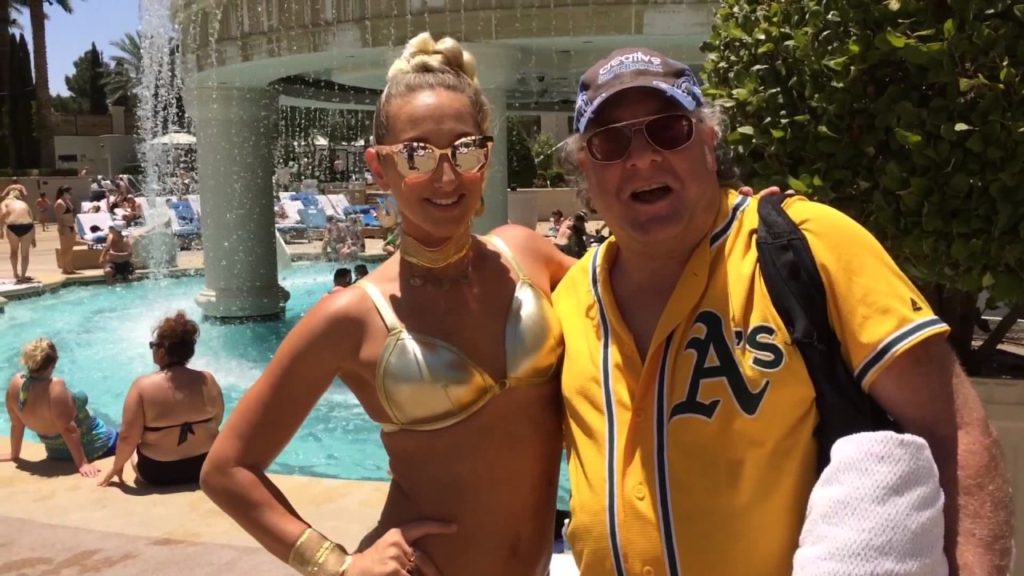 and live musical entertainment , with a beautiful hostess that goes around and gives people free shots at the pool :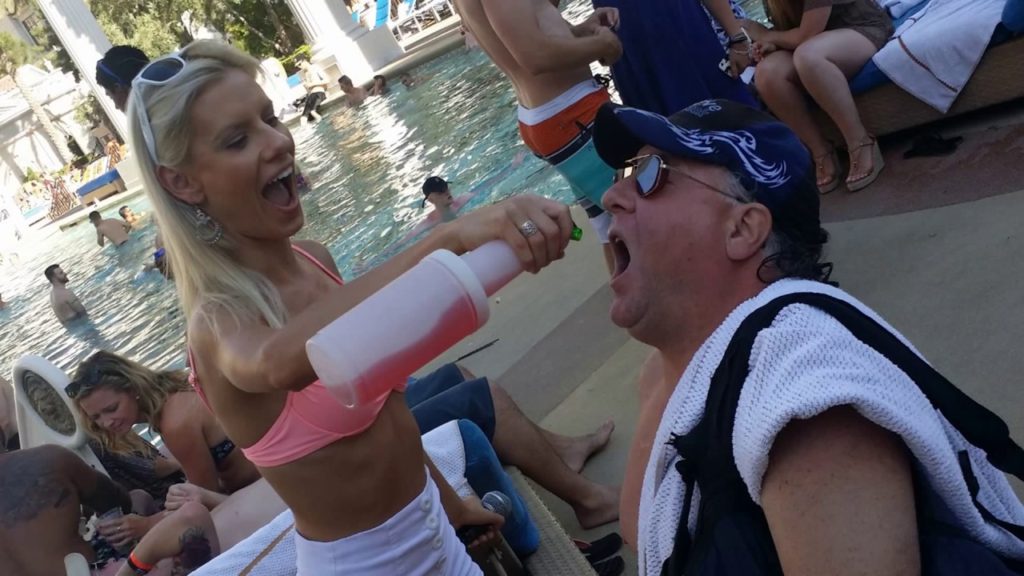 and has various types of games and contests to win prizes. With all these special events spread over 7 amazing and fabulous pools at Caesars Palace- it was a great way to spend the weekend to celebrate the holidays , or any other special event you may have !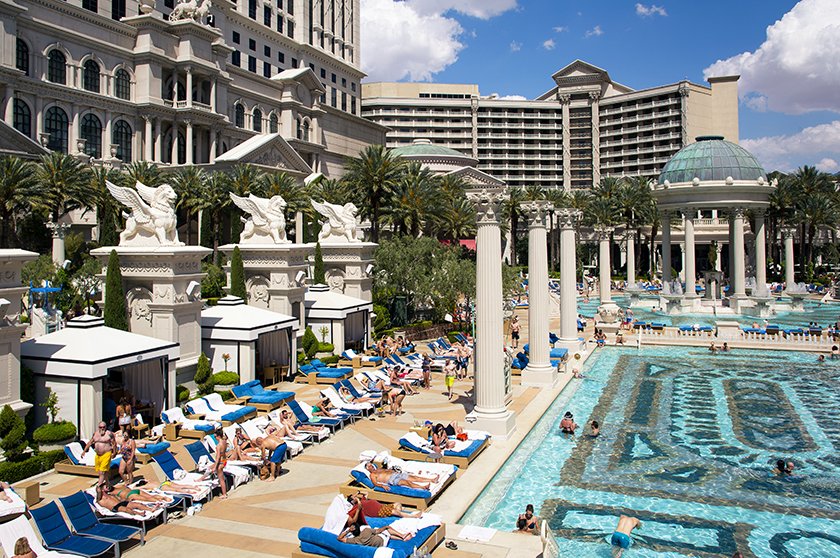 They have a swim up blackjack pool – with a roof with a waterfall – as you play cards in the water, so you can be styling as you have fun ! Check out our video shot from the angle from the blackjack pool , as you play cards and look out on this amazing view of the other pools, with dancing girls up on pedestals , Roman statues, grand Caesars Palace Roman architecture design, people dancing to the music , and Limbo and Hula Hoop contests !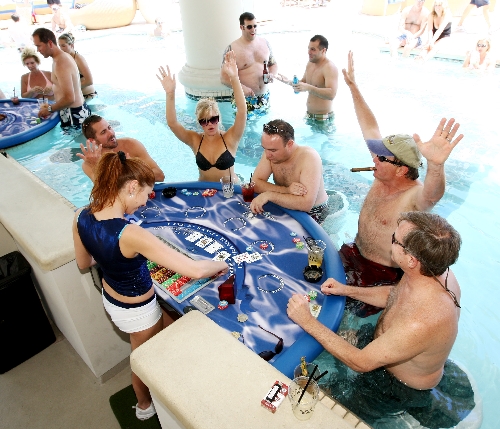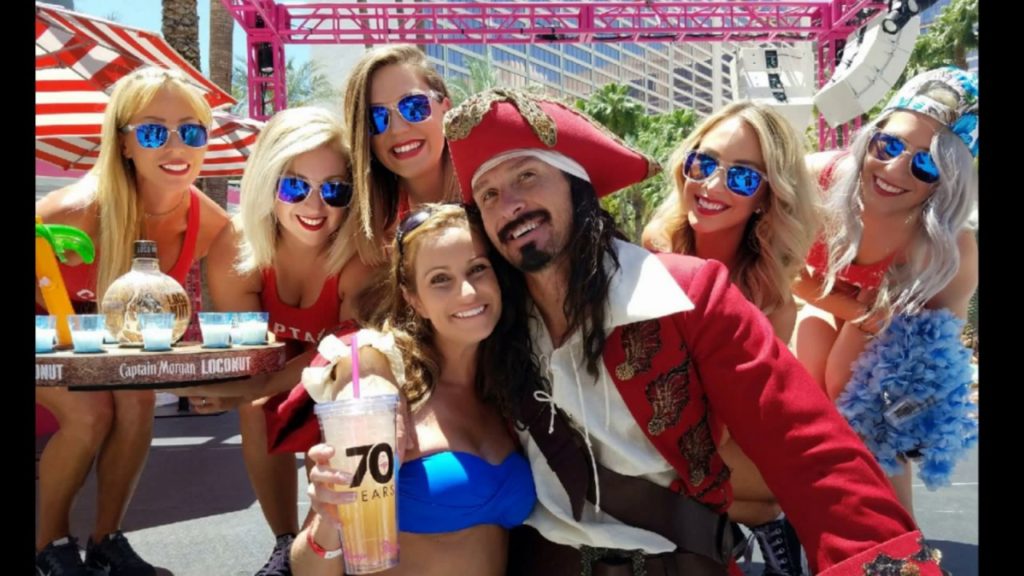 In the VIP "Meet & Greet" with Grammy & Billboard Music Award Winner: Mark McGrath of rock band Sugar Ray, and below that- in the water with Rapper Coolio at Flamingo Las Vegas Pool: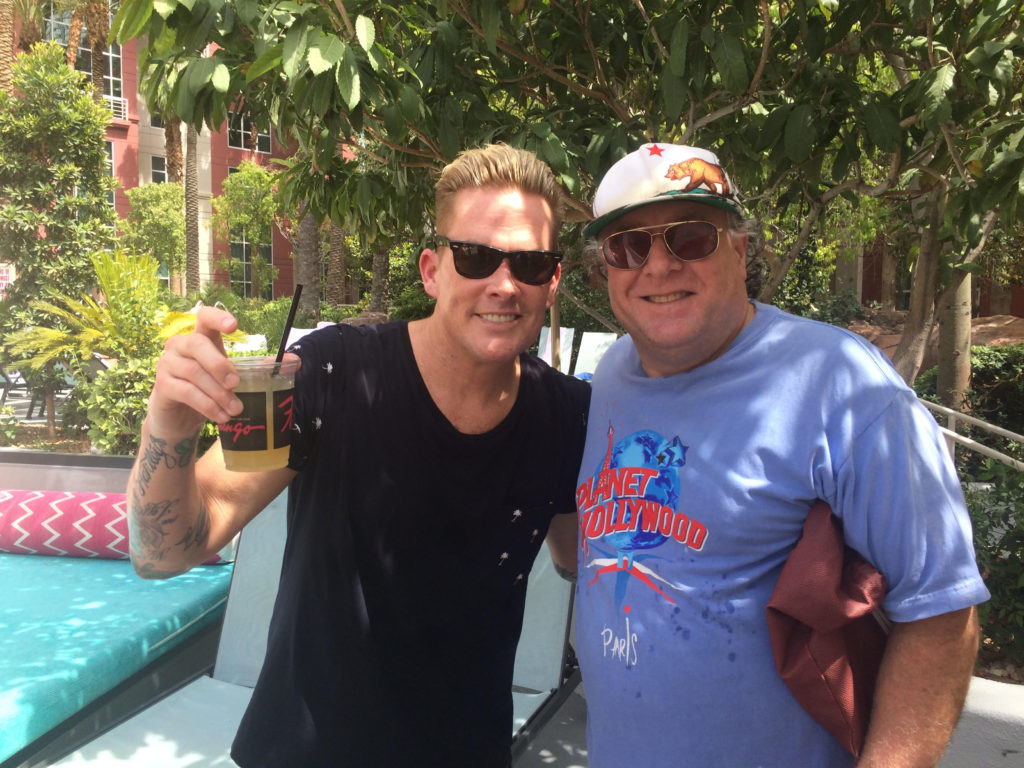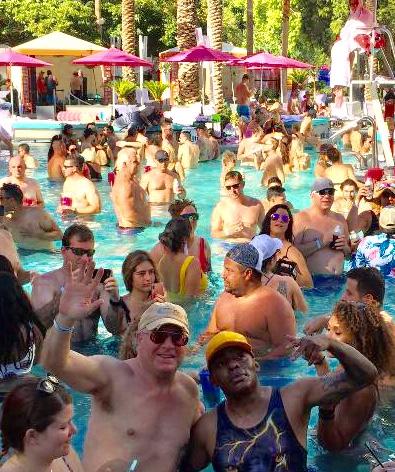 The Flamingo Las Vegas Pool , hosted a pool party along with their Hotel & Casino Pool Host Brian Thomas . As The Pool Party Host: Brian always does a great job to get the crowd motivated to party , and to enjoy his amazing "Shake your Booty" Contest with beautiful, and sexy girls that happen to be at the pool that day , and agree to sign up to show their stuff for the very large crowds who are lucky enough to be there that day!  The Flamingo Las Vegas Pool , always has the wildest and hottest pool parties in town , with live entertainment ,music, djs, food & drinks, a water slide, waterfalls, lagoon, cave, grotto, palm trees, ponds, a little river, a natural habitat with beautiful Flamingos,turtles,desert penguins, fish and birds; and a beautiful tropical paradise. There is big name entertainment and concerts on a stage built right by the edge of the pool. Enjoy the show !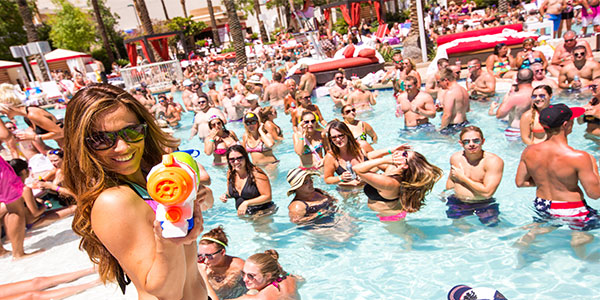 For the complete story go to: entertainmentandsportstoday.com Facebook.com/entertainmentandsportstoday and Youtube.com/entertainmenttodaytv      www.caesars.com @phvegas @ballysvegas  @caesarspalace   @caesarsentertainment @FlamingoVegas  Taboo of The Black Eyed Peas has put on 4 amazing concerts poolside at The Flamingo: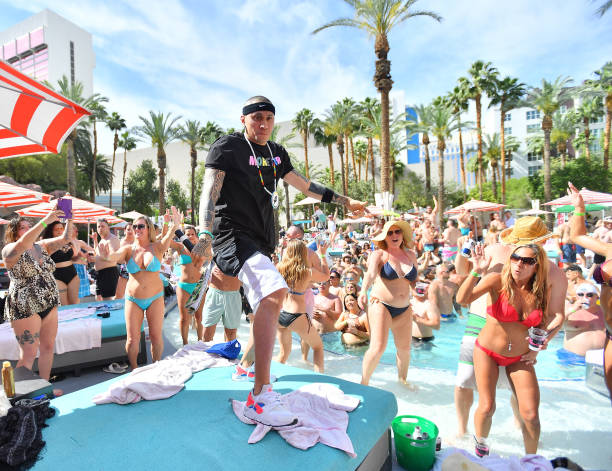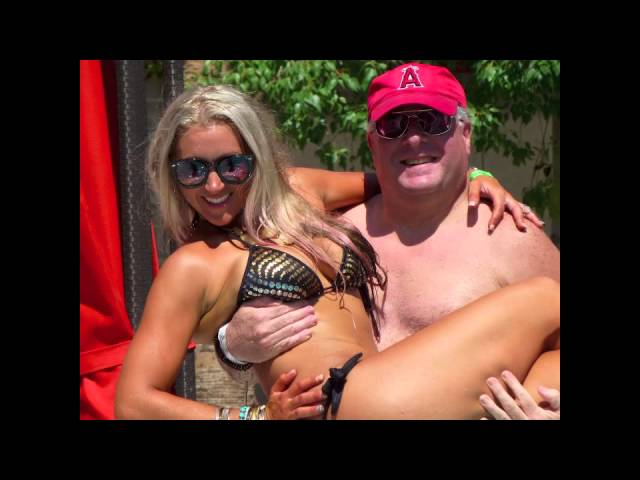 Stay tuned for live daily round-the-clock news coverage from our news team in Los Angeles, Hollywood, New York, Beverly Hills, and overseas from Entertainment & Sports Today TV, and Entertainment Today, and for the complete story go to: entertainmentandsportstoday.com, on Facebook & Instagram: @entertainmentandsportstoday, and Youtube.com/entertainmenttodaytv
For tickets to future events, and Sponsorships and get advertising rates and info, E-Mail : info@entertainmentandsportstoday.com – and for more info about us go to: www.entertainmentandsportstoday.com & thanks for watching !
For more information, and if you like to buy any of these great products that you saw on our TV show, E-Mail us direct: info@entertainmentandsportstoday.com so that one of our staff can connect you with the right people. Above is our video news story, that is part of the follow up to our daily news stories on the Coronavirus.
For more news stories and updates about the Coronavirus : go to EntertainmentandSportsToday.com  and go to the top of the home page and click on the "HEALTH & BEAUTY" section.  Additional updates can be found by clicking the "Business & Technologies" , and "Entertainment" sections, or just click "Home". For stories that may uplift your spirits during these trying times go to the "Music" section of our website.
If you may have any questions- you can email us at info@entertainmentandsportstoday.com- so we can find you the answers from the doctors and health experts, that have written stories for us, and from the health agencies that have provided information and daily updates for us. & Thanks for watching, and be healthy and safe!