Last night we saw an amazing and powerful Johnny Cash Tribute Concert Performance that was the same quality of voice as the real life Johnny Cash ! Cash'd Out, a San Diego based band that has performed all over the country to sold out audiences, put on a great show at The Pala Casino Spa & Resort.
Every Friday & Saturday Night Pala Casino has some great concerts, and coming up are many more great tribute concerts, including another great Johnny Cash Tribute:  CASH'D OUT: The Premiere Tribute To Johnny Cash on Friday, September 2, 2022 at 8:00 PM! So get your tickets now!
In this video concert are most of the iconic hits of Johnny Cash: closing with a 9 minute and 32 second clip of the show: "I Walk The Line " and some of Johnny Cash's hit songs start off the Concert, with a 55 second clip to start the show, including the classic favorite: a 4 minute and 11 second "Ring of Fire " – "Ring of Fire: The Best of Johnny Cash" is the sixteenth album by singer-songwriter Johnny Cash, released on Columbia Records in 1963. Songs in this video: I Walk The Line (Early Demo),  Cry, Cry, Cry (Early Mix, 1987), All Over Again, Ring Of Fire
Cash'd Out Johnny Cash Tribute has preserved the memorable music of the Man in Black by doing note-for-note renditions of the songs that Johnny Cash made famous. As one of the most highly regarded tribute bands on the contemporary music scene, Cash d Out has been captivating audiences across the nation for over a decade now.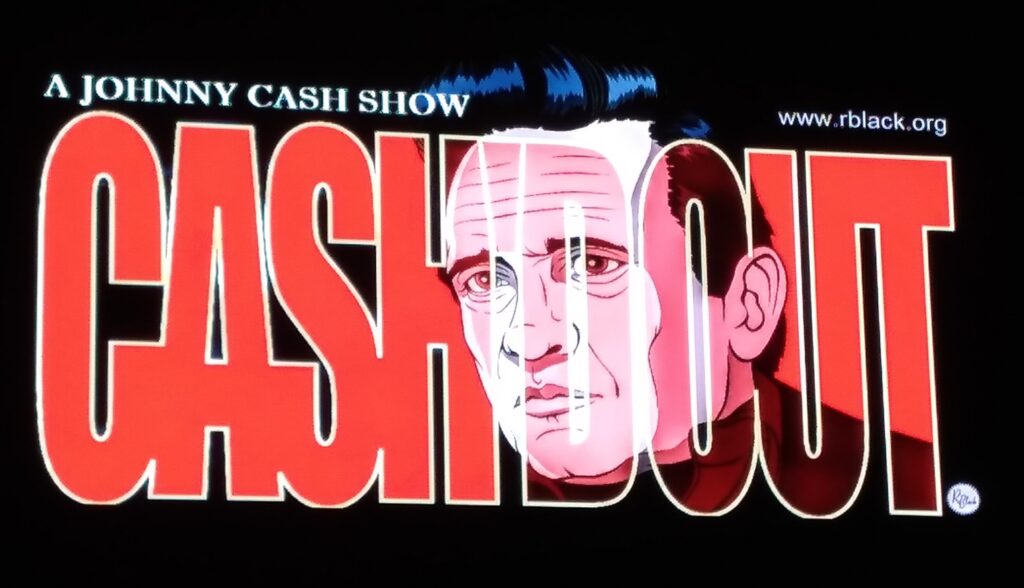 ​ "Some people are impressionists. These guys leave an impression". Says Bill Miller, owner of Johnny Cash.com about Cash'd Out, a San Diego based band that channels Johnny Cash in about as close a manner to the real thing as it gets.
After thirteen years, traveling hundreds of thousands of miles on the road and winning over as many fans, fans who still continually tell the group how grateful they are that Cash'd Out so righteously carries the torch of the Johnny Cash Show.
Besides music critics anointing Cash'd Out as "the next best thing to Johnny Cash", their highlights have been many: W.S. Holland, Johnny Cash's longtime drummer, has sat in with Cash'd Out; front man, Douglas Benson, has played Johnny's cherry sunburst Guild guitar (courtesy of Mr. Miller); "Cindy Cash came to a show and was moved to give me a glass locket that was her father's," explains Benson; Longtime Johnny Cash manager Lou Robin has also been to several Cash'd Out shows and claimed that if he closed his eyes it was as if "going back in time."; And most recently, an unforgettable evening performing the music of Johnny Cash with the San Diego Symphony as a special event for their Summer Pops Series.
The band's live shows respectfully reference the late, great Man in Black's Sun Records and early Columbia era sound, combined with the energy of the classic multi-platinum live recordings from Folsom Prison and San Quentin. The group's genuine love (and authentic recreation) of Johnny Cash's music and its universal appeal fans of all ages and of virtually all musical genres makes each Cash'd Out show a must-see event. Or as Bill Miller says, "Some people are impressionists. These guys leave an impression."
Partial Song List:  Cry, Cry, Cry (Early Mix, 1987) by: LatinAutor, BMG Rights Management (US), LLC, LatinAutorPerf, LatinAutor – Warner Chappell, UNIAO BRASILEIRA DE EDITORAS DE MUSICA – UBEM, Warner Chappell, Sony Music Publishing, Kobalt Music Publishing, and AMRA. All Over Again by: BMG Rights Management (US), LLC, Warner Chappell, Audiam Canada, LatinAutorPerf, MINT_BMG, Audiam (Publishing), Sony Music Publishing, UMPG Publishing, and PEDL. I Walk The Line (Early Demo) by: LatinAutorPerf, BMG Rights Management (US), LLC, LatinAutor – Warner Chappell, UNIAO BRASILEIRA DE EDITORAS DE MUSICA – UBEM, ARESA, and Sony Music Publishing. Ring Of Fire by: Forward Music Publishing Co., Ltd.
Stay tuned for live daily round-the-clock news coverage from our news team in Los Angeles, Hollywood, New York, Beverly Hills, and overseas from Entertainment & Sports Today TV, and Entertainment Today, and for the complete story go to: entertainmentandsportstoday.com, on Facebook & Instagram: @entertainmentandsportstoday, and Youtube.com/entertainmenttodaytv
For tickets to future events, and Sponsorships and get advertising rates and info, E-Mail : info@entertainmentandsportstoday.com – and for more info about us go to: www.entertainmentandsportstoday.com & thanks for watching !
For more information, and if you like to buy any of these great products that you saw on our TV show, E-Mail us direct: info@entertainmentandsportstoday.com so that one of our staff can connect you with the right people.
Above is our video news story, that is part of the follow up to our daily news stories on the Coronavirus. For more news stories and updates about the Coronavirus : go to EntertainmentandSportsToday.com and go to the top of the home page and click on the "HEALTH & BEAUTY" section. Additional updates can be found by clicking the "Business & Technologies" , and "Entertainment" sections, or just click "Home". For stories that may uplift your spirits during these trying times go to the "Music" section of our website.
If you may have any questions- you can email us at info@entertainmentandsportstoday.com- so we can find you the answers from the doctors and health experts, that have written stories for us, and from the health agencies that have provided information and daily updates for us. & Thanks for watching, and be healthy and safe!