The exclusive Pre-Game Player's Tailgate party earned the reputation as the best Super Bowl pre-game experience and is rated the #1 event to attend 6 years in a row on Super Bowl Sunday!  This was the best place to be, where over 50 active NFL players, celebrities and guests eat, drank and got entertained before the big game. It was a culinary experience in itself with Americas top chefs. The Players Tailgate featured a live performance by DJ Irie, open premium bars and all-you-can-eat dining with gourmet dishes prepared by 10+ Celebrity Chefs.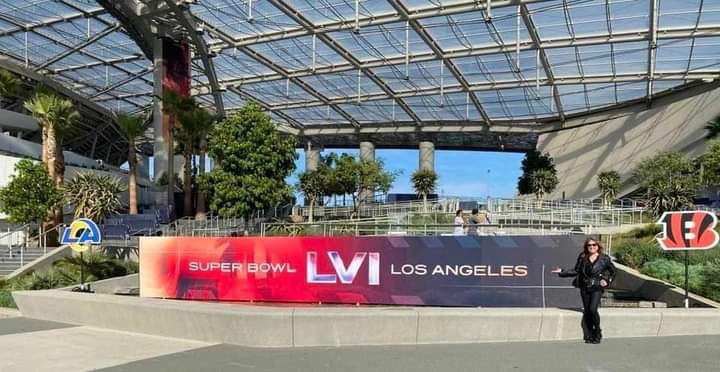 YOU COULD NOT GET ANY CLOSER TO SOFI STADIUM!  The 2022 venue for The Players Tailgate, was located on the grounds of the Hollywood Park Casino property. An open-air venue along with a red carpet to transform the space into a once-in-a-lifetime tailgating experience and SOFI Stadium as the backdrop. The Hollywood Park Casino property borders SOFI Stadium. Below & above, you can see our Game Day Reporter: Kim, posing for some photos outside Sofi Stadium: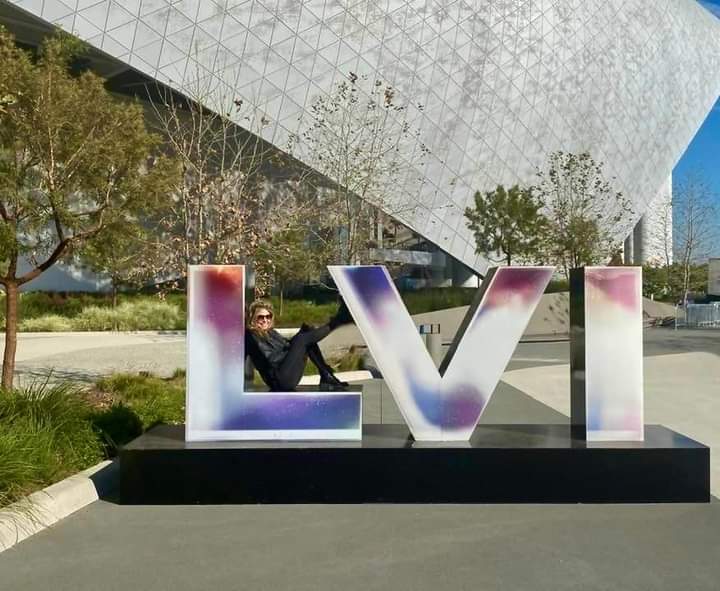 DJ Irie was the official DJ Headliner, and performed for 4 hours at the Super Bowl Players Tailgate Party by Sofi Stadium at Hollywood Park Casino, on Super Bowl Sunday, as The LA Rams beat the Cincinnati Bengals 23 to 20 in a thrilling game: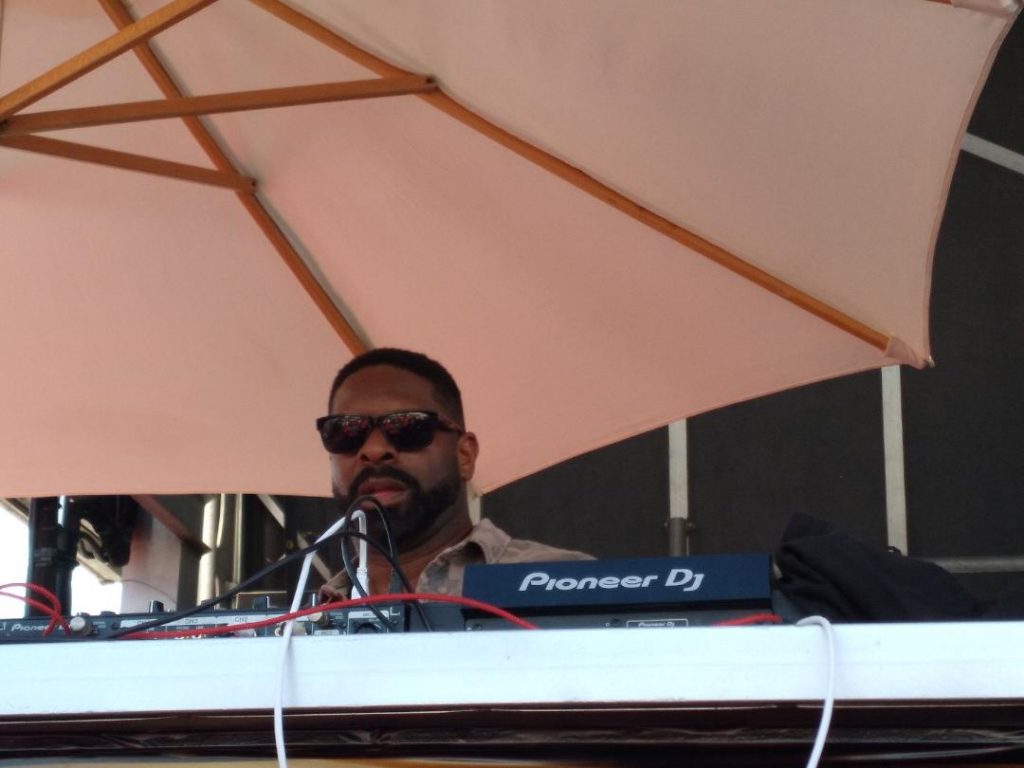 As the first professional sports franchise DJ in the United States, DJ Irie is the official DJ of some of the most iconic brands in the world, such as Carnival Cruise Lines, the Miami Heat, Target, Mountain Dew Kickstart, Evian, Jamie Foxx and more, making himself one of the most established DJs in the industry. At the 2017 Players Tailgate at Super Bowl LI, DJ Irie provided his world-class entertainment to help set the stage for the biggest and best pre-game tailgate in Houston before Super Bowl LI. In 2018 DJ Irie was donned "The Official DJ" of the Players Tailgate and holds that title each year.
Green Bay Packers running back #33 Aaron Jones, who is a Pro Bowler receiving a four-year deal worth $48 million. Here he is below with the Executive Producer of Entertainment & Sports Today and Entertainment Today: Steve Taylor, on the right of the photo, wearing his Green Bay Packer hat, on Super Bowl Sunday, at the Super Bowl Players Tailgate Party, right next to SoFi Stadium sports and entertainment complex in Inglewood, California: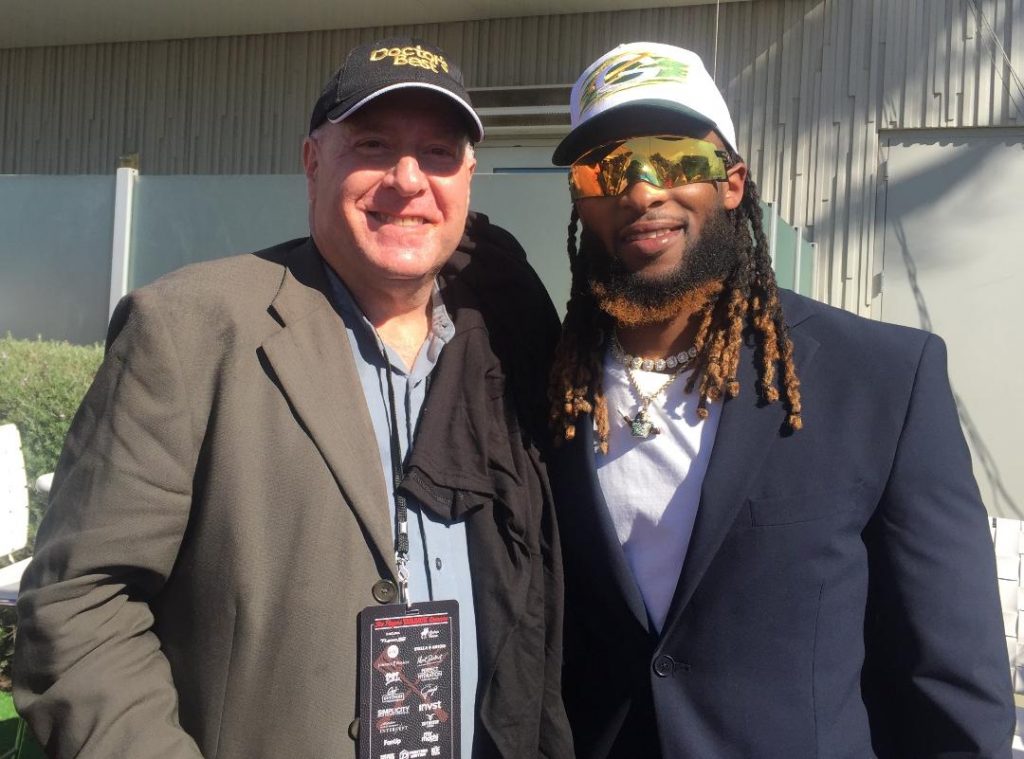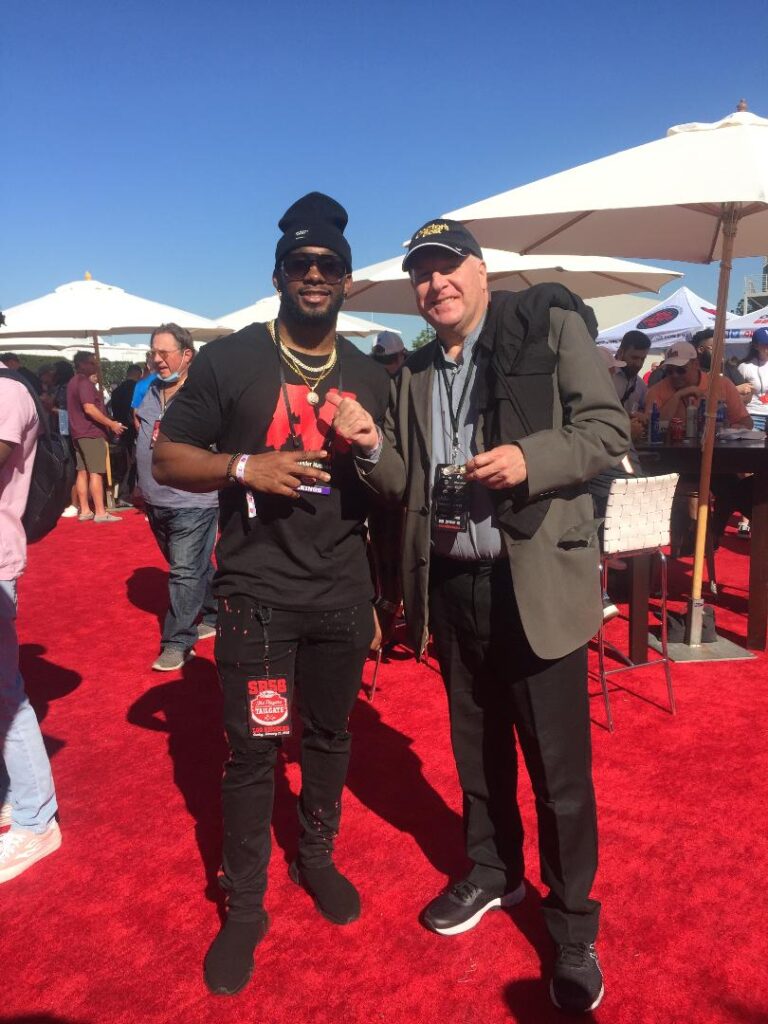 & Also, with the Green Bay Packers is the Hall of Fame, Legendary Quarterback #4 Brett Favre with our Game Day Reporter: Steve Winick, at Sofi Stadium after the Pre-Game Super Bowl Players Tailgate Party: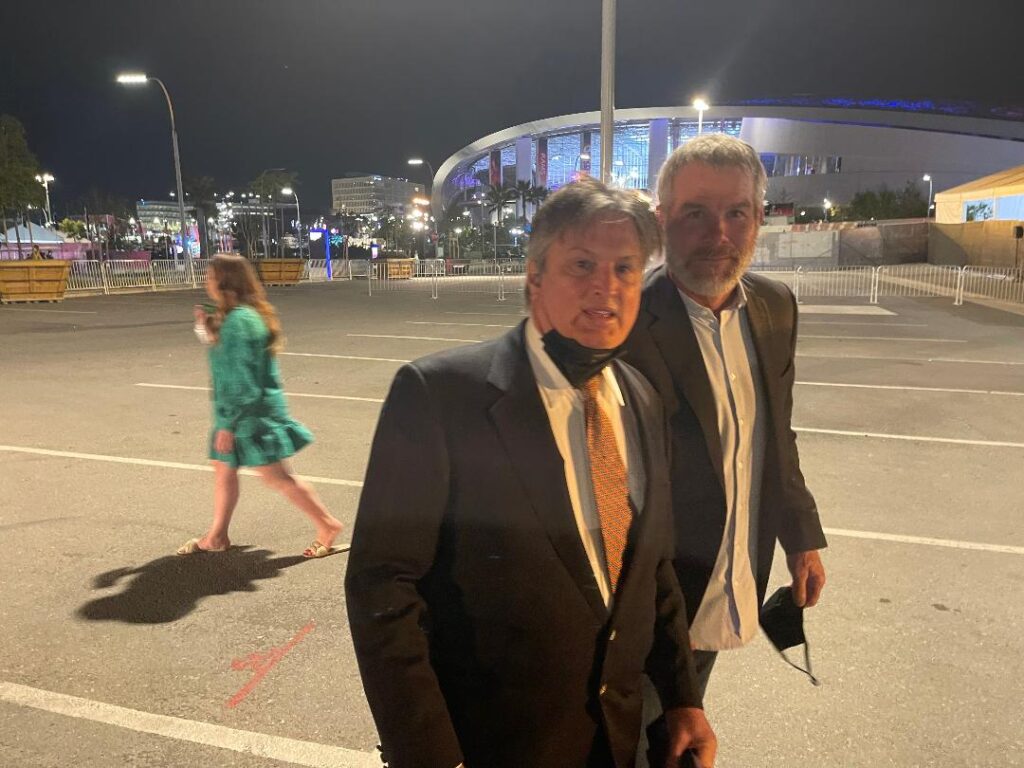 Below you can see Steve down on the field for the big game, and in the 50-yard line VIP section at Sofi Stadium: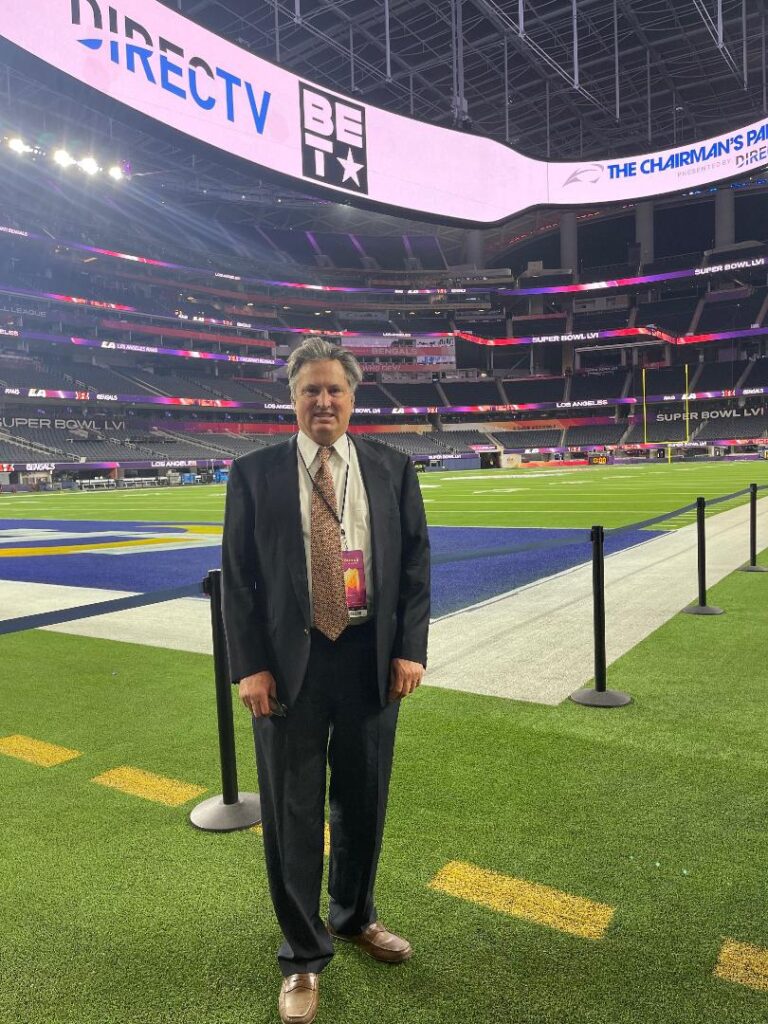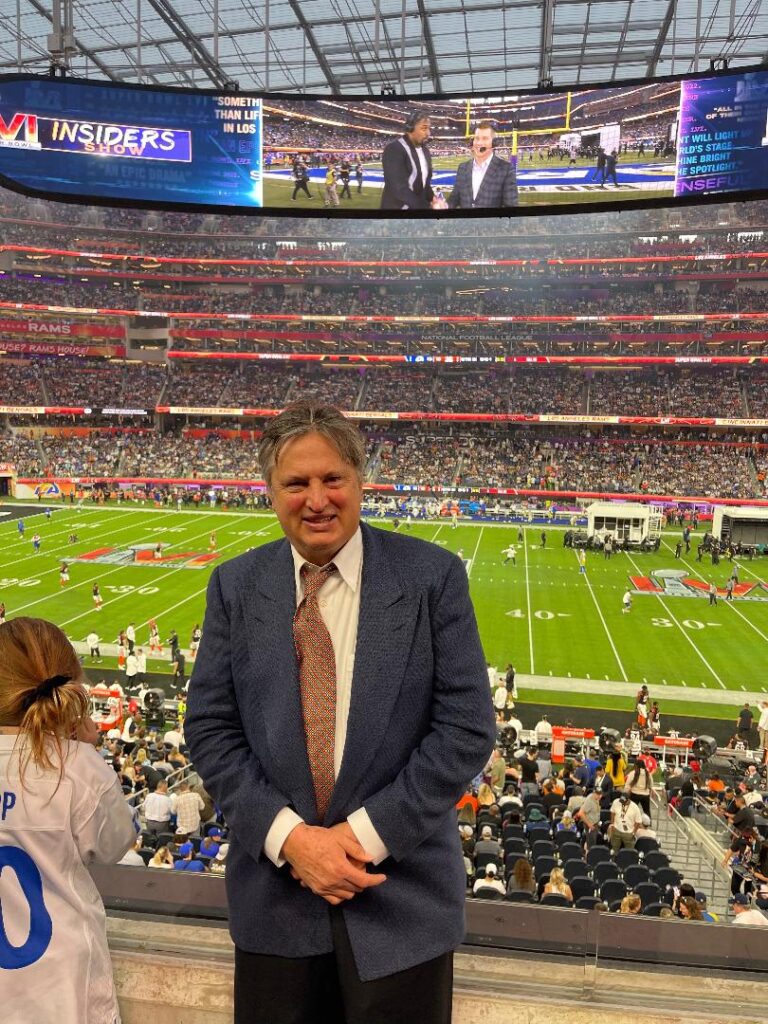 LA Rams beat the Cincinnati Bengals 23 to 20 after Super Bowl Player's Tailgate Party: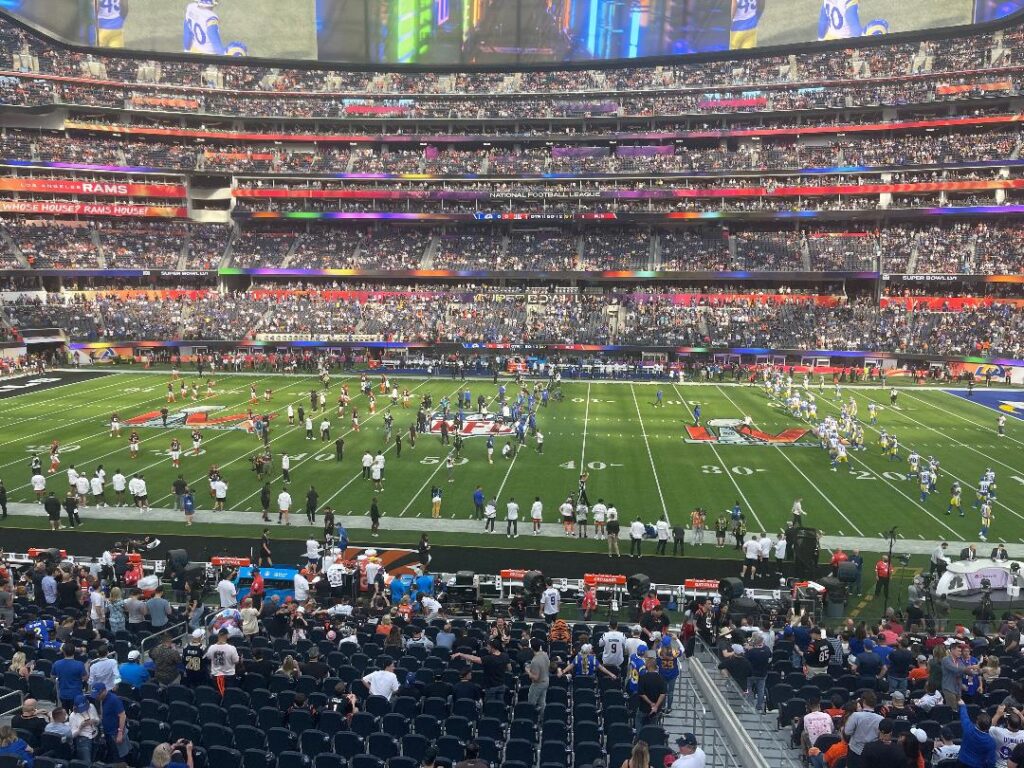 Chef Guy Fieri was the Host & Celebrity Chef for the 2016-2020 & the 2022 Players Tailgate Los Angeles, and is the most recognizable Chef in America, and he returned to bring his signature recipes and style as the headliner to an exclusive all-you-can-eat menu for The Players Tailgate attendees again in Los Angeles for the 2022 Super Bowl: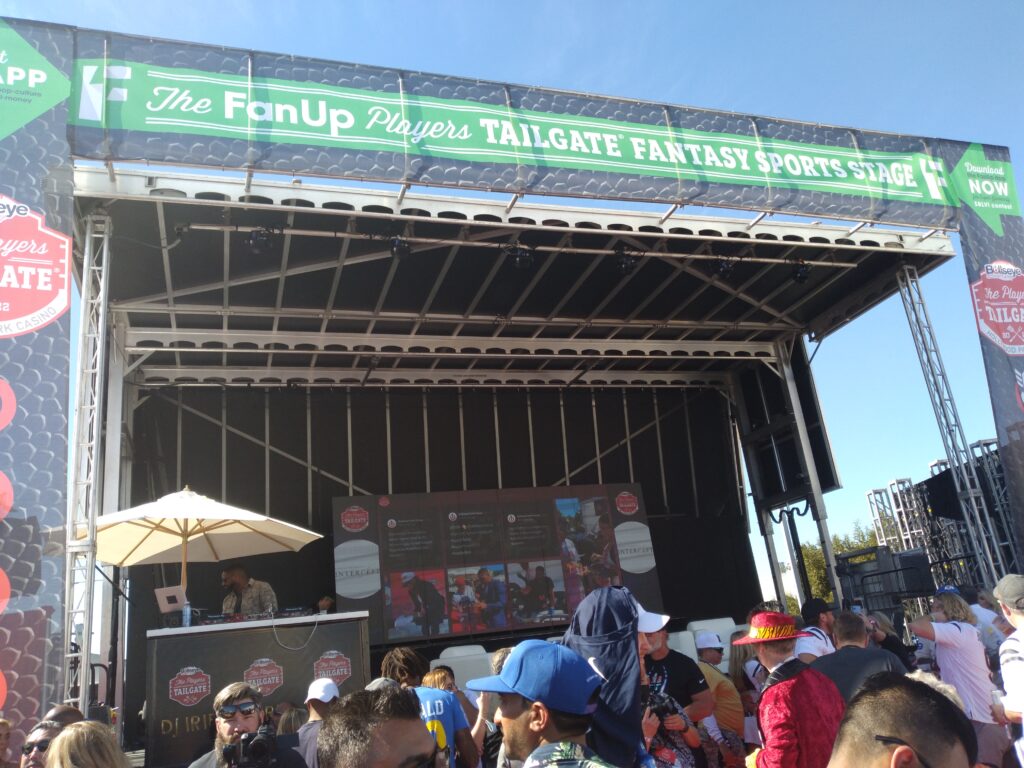 This is Guy's sixth Players Tailgate serving as our host and Chef (2016-2020 & 2022) and each time he has upped the menu! Guy Fieri can be seen on television almost every day on the Food Network. His shows include Diners, Drive-Ins and Dives, Guy's Big Bite, Guy Off the Hook, Dinner: Impossible, Guy's Grocery Games, Rachael vs. Guy: Celebrity Cook-Off, The Next Food Network Star, Ultimate Recipe Showdown, The Best Thing I Ever Ate and Minute to Win It, 2022.  Chef Guy Fieri is up on the stage, and on the right of the photo, and across from DJ Irie: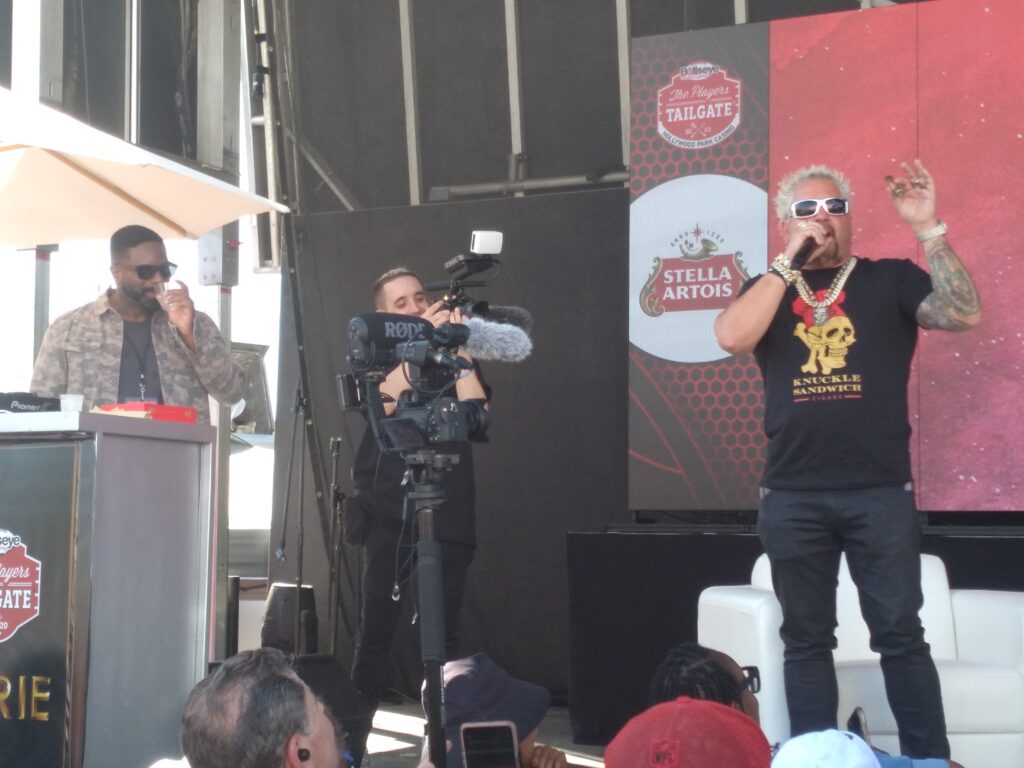 Aaron May was a Celebrity Chef for 2015-2020 & 2022. For Players Tailgate 2022: Chef Aaron May, who is a top chef in America, who can prepare an incredible meal for 2 to 200 people. In order to considered one of the best caterers in America you need to be able to create a meal for 2200 and have it as good as that meal for 2 to 200. That is why Aaron May is considered the BEST caterer in the US. Aaron has been part of The Players Tailgate for the last 5 years. Chef Aaron May has ownership in Bullseye Catering Group where he makes his awesomeness available to you. 
Leonard Botello IV is the owner and pitmaster behind critically acclaimed TRUTH BBQ. Botello opened the original TRUTH BBQ Brenham in a small shack off a rural highway that runs between Austin and Houston in the summer of 2015. Armed with a used Klose pit, and as a complete unknown in the BBQ world, Botello surprised the industry in 2017 when TRUTH BBQ landed the number ten-spot on the coveted Texas Monthly's Top 50 Texas BBQ Joints list. An expert in the art of live fire cooking, Botello is known for his authentic Central Texas-style barbeque and his relentless attention to detail. Obsessed with the perfect cook, Botello spent years sleeping next to his smokers before heading inside the restaurant to serve the line that had queued outside. Botello puts his own twist on traditional recipes, creating dishes that are seemingly simple but unexpectedly delicious to guests.
Chef Michael Voltaggio was a finalist for the James Beard "Best New Restaurant" award in 2009 and winner of Bravo's Top Chef. He has established a reputation for "serious" food that is playful, visually stunning and flawlessly executed. He recently opened his first signature restaurant in Los Angeles, called Ink. Alluding to the idea of permanence, Ink endeavors to create an indelible impression with flavor profiles that are inspired by the myriad of cultures that make up the city of Los Angeles. Thusly, he describes the food at Ink as "modern Los Angeles cuisine" and aspires to create an experience that will repurpose the term "fine dining" for Angelenos.
It begins deep in the heart of Texas, where Burt Bakman, an Israeli immigrant, found his calling to be a pitmaster. A quick business trip to the Lone Star State instead turned into a chance exploration of barbecue at its source, fostering a lifelong obsession in him to perfect the craft. Not a man to settle for second-best, Bakman determined to become one of the "greats" at smoking meat. When you sit down at SLAB and taste the marbled brisket for the first time or strike up a conversation over a shared plate of food, you'll know this experience has been worth the wait.
Todd English is a renowned chef/restaurateur. He is a four-time James Beard Award winner and inductee into the James Beard Foundation's "Who's Who in Food and Beverage in America." Todd has authored six critically acclaimed cookbooks, created the record-breaking housewares line, The Todd English Collection, and hosted the Emmy-nominated and James Beard award winning series Food Trip with Todd English. Todd English Enterprises includes over twenty innovative restaurants spanning the country and abroad, opening the first restaurant, Olives, in 1989. Other concepts include Figs, Todd English Food Hall, Tuscany, Bonfire, Todd English P.U.B, bluezoo, MXDC, and Todd's in Palm Beach.
Coming back this year for our 2022 Emcee for the Players Tailgate is none other than Sage Steele. Sage Steele is one of ESPN's most popular and respected commentators, currently serving as the anchor for the 6 p.m. ET SportsCenter with her co-anchor Kevin Negandhi. Steele also serves as the lead host for SportsCenter on the Road. Steele's lead role for SportsCenter on the Road includes on-site day-long and pre-event coverage for the biggest sports events of the year, including the NBA Finals, the Super Bowl, World Series, the Masters, the College Football National Championship and many more. Steele showed her great range in sports by formerly hosting NBA Countdown on ESPN and ABC for four seasons, and had previously contributed to ESPN First Take, Mike & Mike in the Morning, and Sports Nation. Sage is up on the stage, in the middle of the photo, and to the right of Chef Guy Fieri: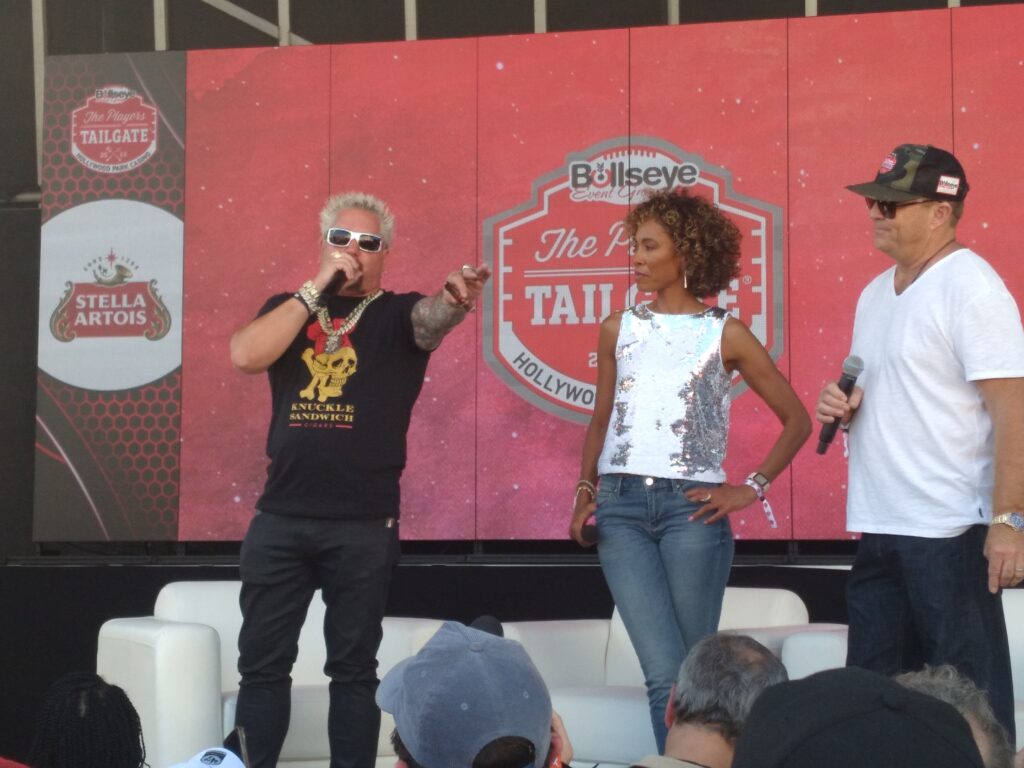 At one of the first booths, we went to: the Todd English & Chef Belle English booth, they had amazing gourmet Seafood like: Ra Ra Rocking Raw Bar featuring Fresh Oysters, Alaskan King Crab Legs, Shrimp Ceviche, Tuna Tartare, Lobster & Caviar, and Jumbo Shrimp: 
The 2022 Players Tailgate had a once-in-a-lifetime Menu:
The World-Famous Chef Guy Fieri:
Crispy Fried All Natural Tenders with Signature Sauce Bar
Chef Aaron May & Chef Danny Vargas:
Meat District OG Brisket Short Rib Double Cheeseburger
Todd English & Chef Belle English:
Ra Ra Rocking Raw Bar featuring Fresh Oysters, King Crab, Shrimp Ceviche, Tuna Tartare, Lobster and Caviar
Bullseye BBQ Midway:
Pitmasters Stan Hays, Burt Bakman, Walt Sterling & Leonard Botello IV: Brandish Brisket, Baby Back Ribs, Grilled Red Shrimp and Classic BBQ sides and Fixin's
Michael Voltaggio:
Baked Crab and Shrimp Roll with Yuzu Koshu Mayo and Shrimp Chips
Rene Andrade:
Octopus Sonoran Style with Birria
Wasabi Bros – Rocco Whalen and Dave Feimster:
Chicken Lemongrass Meatball Bahn Mi
Brian Archibald:
Ribeye Tataki
Antonia Lofaso, Brooke Williamson & Nyesha Arrington:
Boozy Sundae Bar – Featuring Fresh Soft Serve, Scratch Made Churros, Dipped Marshmallow and Toffee
Tyler Malek:
Ice Cream Tots – French Fry Ice Cream, Single Origin Chocolate, Chicharrones, Mustard Custard Dipping Sauce
Craig's Vegan Ice Cream
Premium Bar:
Players Tailgate guests will be able to choose from the premium beer, wine and spirits options.
It was an amazing experience, and a great party right next to Sofi Stadium, as we feasted on gourmet food, from some of the top celebrity Master TV Chefs in the world, served an all-you-can-eat 5-star food menu, won some T-Shirts that Chef Fieri threw into the audience from the stage: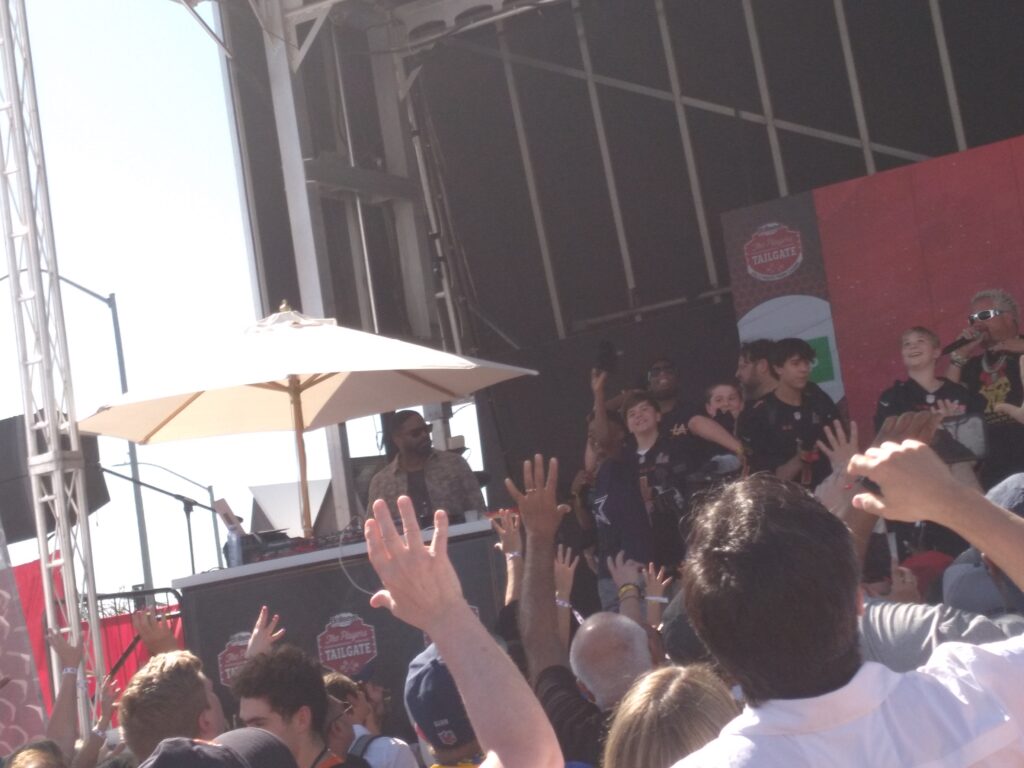 Meet many active NFL football players, and legendary players like #13 Quarterback Kurt Warner- who won the Super Bowl with the St. Louis Rams, and then we were whisked away by a private white Lexus car to view the big game at a private viewing party at nearby Cafe Solar, that served even more great food, deserts, and thick, high-quality drinks, to make it a real special day that we will always remember!
At the Super Bowl Player's Tailgate Party, Garry & I were eating so much Gourmet food that we had to take a rest in the VIP section before we went back for more food, and then somehow, we had more room for more great food, rich drinks, and deserts at the viewing party as we enjoyed the thrilling big game: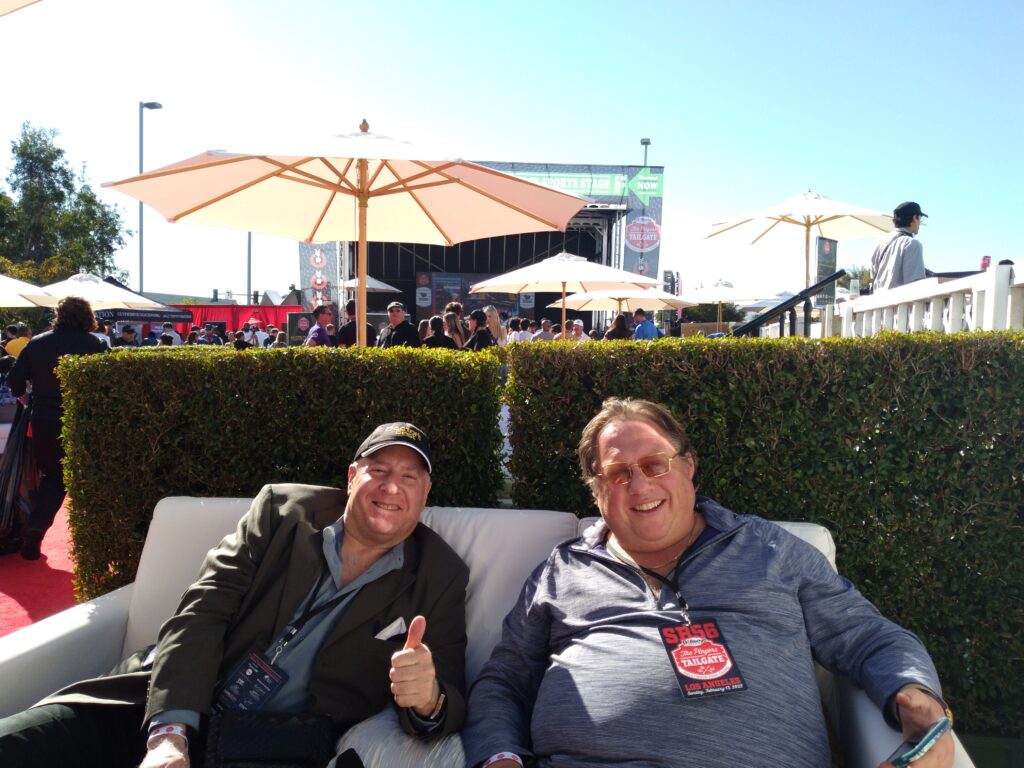 Los Angeles has not hosted a Super Bowl since 1993- that's almost 30 years since we were lucky enough to be present in Pasadena for the big game, and then celebrate in The Santa Monica Civic Auditorium with The Dallas Cowboys and their Quarterback Troy Aikman, when they won the Super Bowl by beating the Buffalo Bills.
So, Los Angeles pulled out all the stops for everyone from around our country and the world, and had some of the greatest events, parties, and concerts that we have not seen in LA for the Super Bowl in almost 3 decades!
For Super Bowl LVI, in a very thrilling game on Sunday, Feb. 13, 2022, the Los Angeles Rams won their first Super Bowl since they moved back to Los Angeles from St. Louis in 2016, beating the Cincinnati Bengals 23 – 20 on Los Angeles's own home turf at Sofi Stadium in Inglewood, California. This was only the second time in Super Bowl history that a team won the Super Bowl with a home field advantage, playing in their own stadium! Towards the end of the game, late in the 4th quarter the Bengals were only 1 yard away from going ahead to win the game, but the great defense of the Rams stopped the Bengals in their place, for the Rams to cement their victory by 3 points over the Bengals!