It was an All-Star Superstar Celebrity performance of Lady Gaga, Jennifer Lopez and Garth Brooks at the inauguration of President Biden & Vice President Kamala Harris at the US Capitol, where just a few just a few days before was the scene of a riot that almost tour down the capital!
We are happy to see this celebrity support for peace, unity, and moving forward by these icons of the entertainment world, and our news staff is proud to have interviewed these same stars and VP Harris on our TV show before!
These interviews and news stories were done by Entertainment Today TV & Entertainment & Sports Today TV show hosts and reporters: Margie Rey, Melanie Murphy, Renee Esebag, Greg Pyatt, Jacqueline Murphy, Tara Pirnia, Tressa Smiley, Page Stevens, Mierelle Billen, and Producer : Steve Taylor.  So read our story below with photos and news stories on each of them:
Lady Gaga wowed in a huge fuchsia Schiaparelli couture silk skirt and black top adorned by a large gold brooch of a dove carrying an olive branch as she sung "The Star-Spangled Banner" at Biden's swearing-in ceremony. Gaga at one point gestured to the U.S. flag flying high over the Capitol, the seat of Congress that just two weeks ago was attacked by supporters of outgoing President Donald Trump seeking to overturn Biden's election victory.  "She slayed it. I AM GAGA FOR GAGA!!!" actor Ed Helms wrote in a tweet. Ahead of her performance, Gaga said on Twitter she wanted to "acknowledge our past, be healing for our present, and be passionate for a future where we work together lovingly."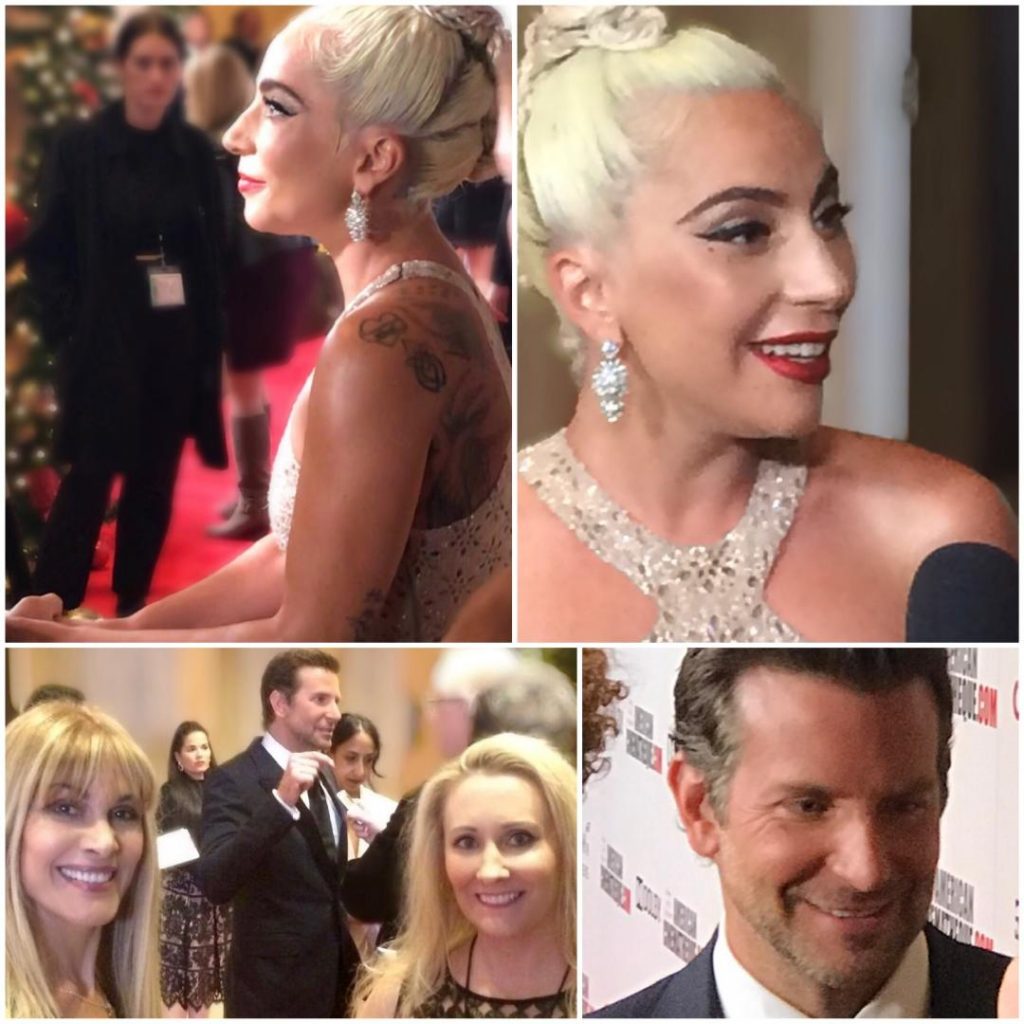 Our TV shows hosts: Margie Rey and Melanie Murphy interviewed the Fabulous Lady Gaga at the Beverly Hilton Hotel in Beverly Hills that honored Bradley Cooper at the 32nd Annual American Cinematheque Awards: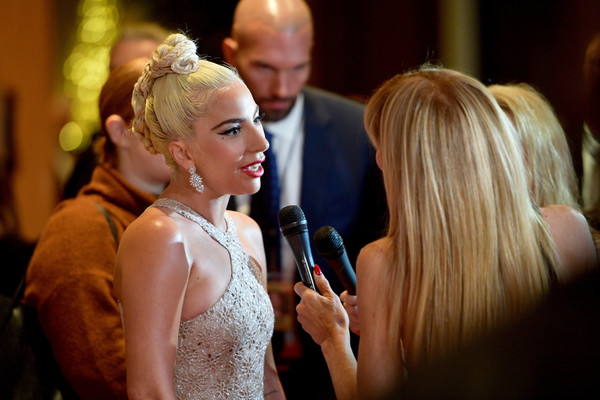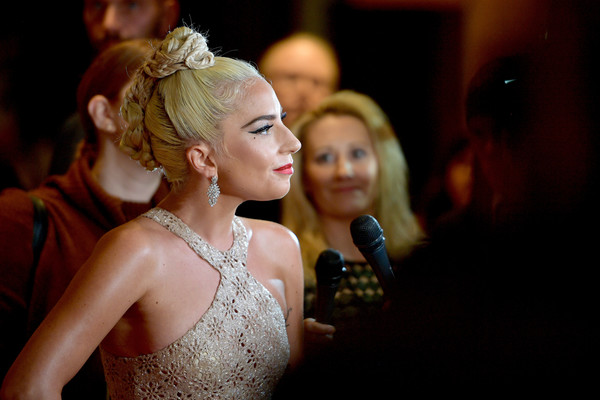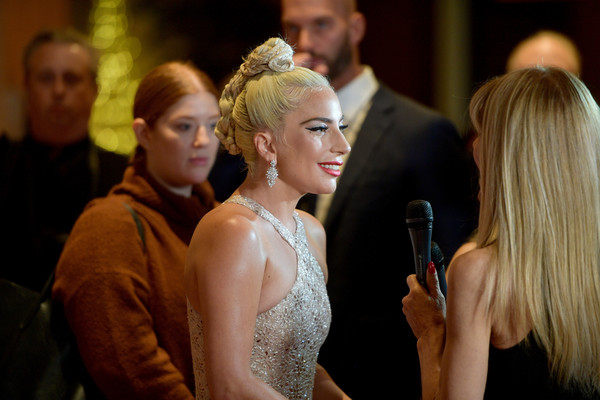 Country singer Garth Brooks, a Republican, chose jeans and a black shirt and took off his black Stetson hat to sing an unaccompanied version of "Amazing Grace", asking Americans at the ceremony and watching at home to sing the last verse along with him. Afterward, before replacing his coronavirus mask, Brooks hugged or shook hands with Biden, former presidents Barack Obama and George W. Bush, outgoing Vice President Mike Pence, and former Secretary of State Hillary Clinton.
We have interviewed singing country superstar Garth Brooks many times before on our TV show- going back to The People's Choice Awards, and we were lucky enough to see Garth Brooks perform with Trisha Yearwood in Las Vegas at an exclusive special filmed for TV Concert @ The Brand New T-Mobile Arena at New York – New York , with VIP seats that were only 10 feet from the left of the stage. You can see Garth in the black hat, in the middle of the stage, looking up, right on my Shoulder, in the left of the photo: the inauguration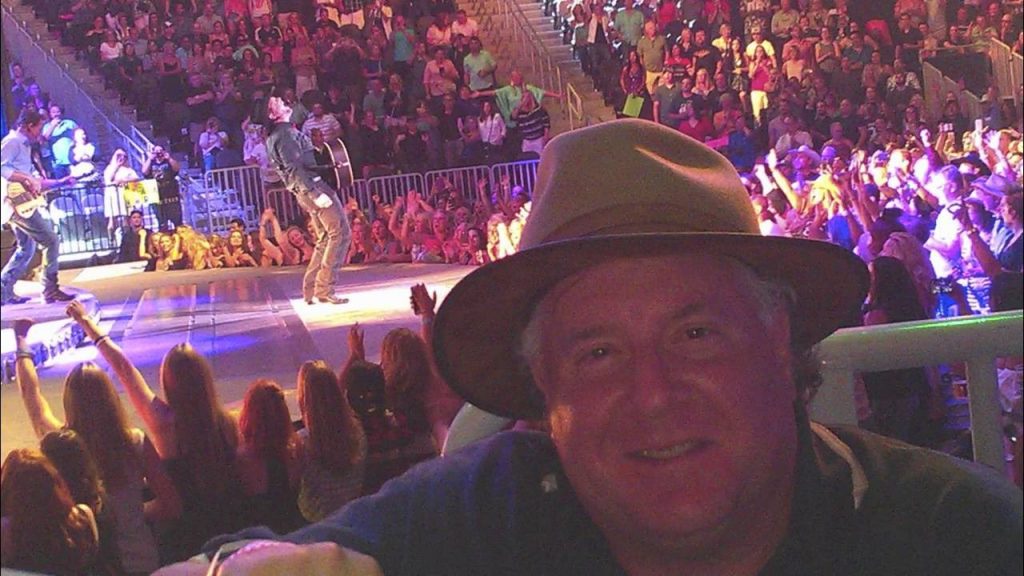 Garth performed Two Piña Coladas, which is a favorite of mine, that he also performed about 20 years ago at the Billboard Music Awards at The MGM Grand Hotel & Casino in Las Vegas. – and he is always super nice, but Garth was at his best about 20 years ago – when he performed this song suspended 50 feet up in the air with cables as he sang as he flew over the audience! Our TV reporter: Tara Pirnia interviewed Garth and all the other music stars at this Music Awards Show. Below photo is from the last live Pre-COVID Emmy Awards, our TV Show Hosts and Reporters: Belinda, Steve, The Emmy Statue, Margie, and Renee: 
Our TV reporters Renee Esebag (in above photo in the red dress) and Margie Rey interviewed Garth & Trisha at the Grammy's MusiCares 2019 Person Of The Year, at the Los Angeles Convention Center, when Dolly Parton was honored by Superstar performers and Multi-GRAMMY®-winning artists: Garth Brooks and Trisha Yearwood!
Jennifer Lopez, dressed in white pants and a long matching coat, performed a medley of "This Land is Your Land" and "America The Beautiful," interjecting in Spanish the part of the U.S. Pledge of Allegiance that says, "One nation, under God, indivisible, with liberty and justice for all."
Jennifer Lopez gave her best advice to our Entertainment Reporters: Margie Rey & Jacqueline Murphy at The 45th Annual Los Angeles Film Critics Association Awards Ceremony at The InterContinental Los Angeles Century City, as her husband NY Yankee Baseball legend: Alex Rodriguez supported her. Also the Producers and TV Show Hosts and Reporters for Extra, Entertainment Tonight , and Entertainment Today all had a great time after they interviewed J-Lo with her husband A-Rod there giving her support for her Critics Award: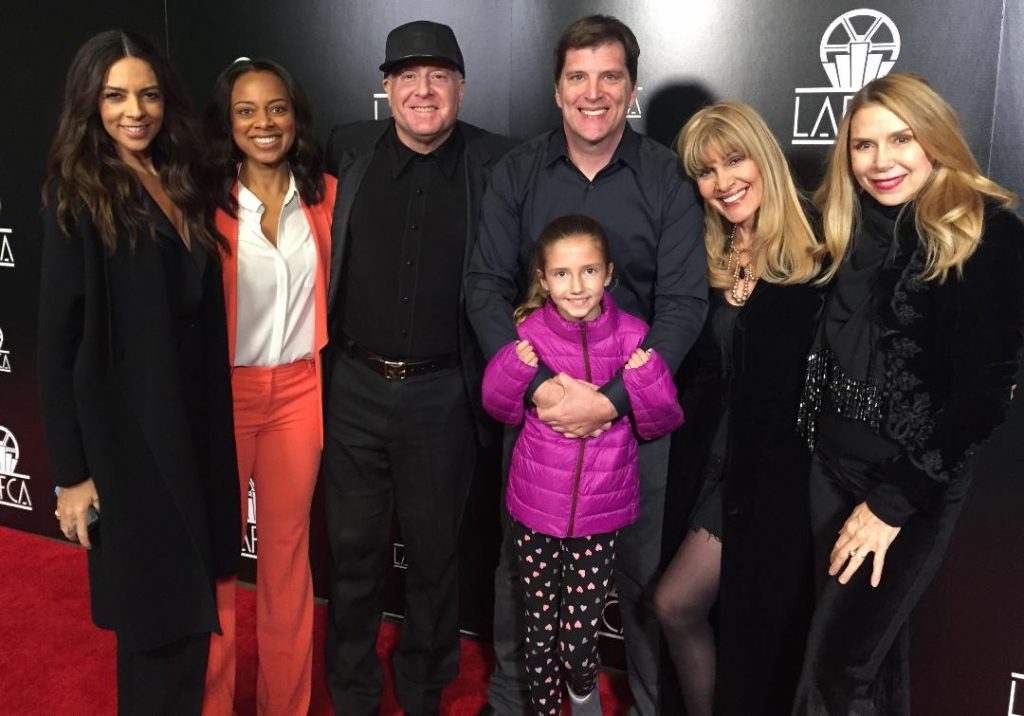 In the biggest star studded celebrity All-Star night in the history of showbiz, with the biggest A-List stars all in the same place at The 31st annual Palm Springs International Film Festival at the Palm Springs Convention Center, our Entertainment Today's TV Show hosts: Page Stevens and Margie Rey interviewed Jennifer Lopez & Alex Rodriguez on the red carpet: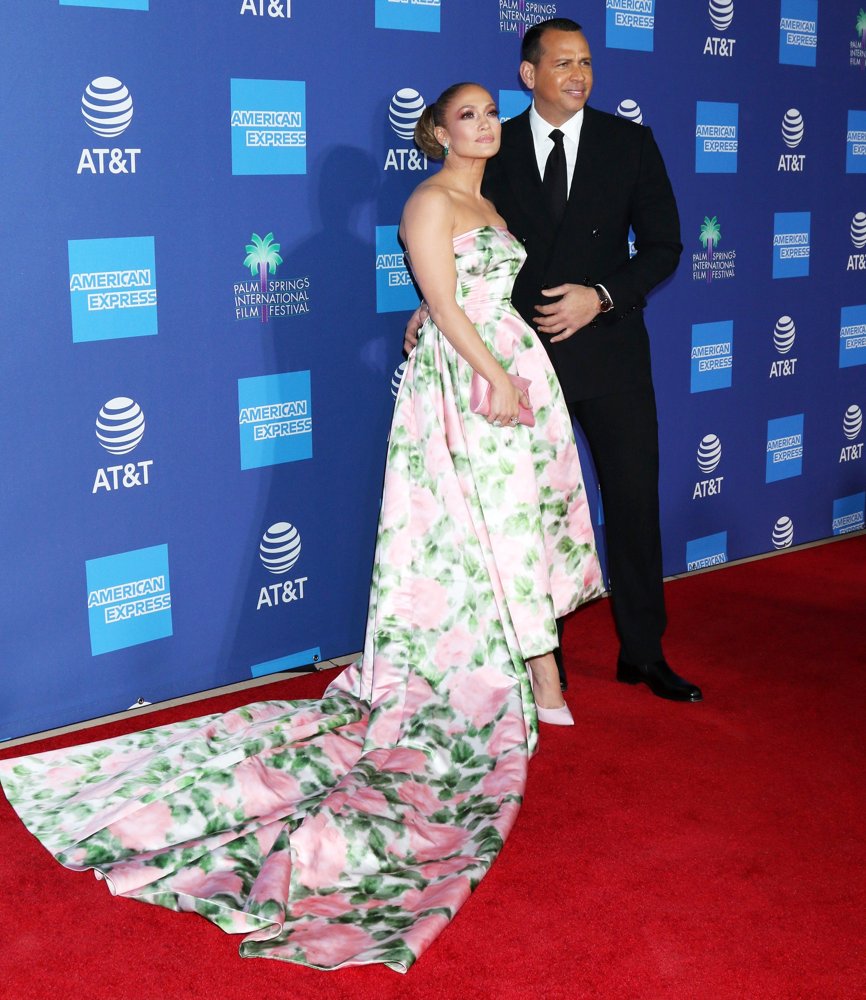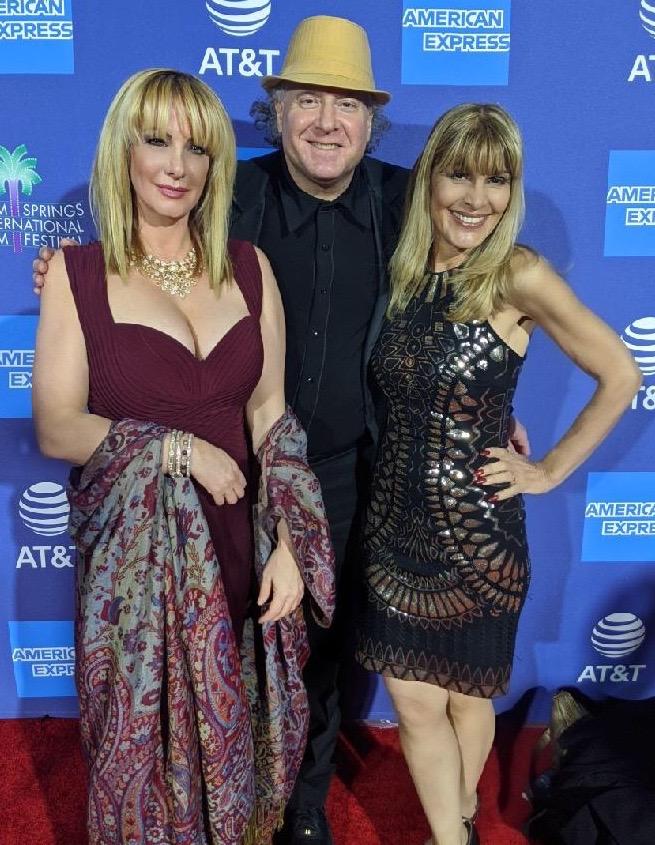 In the Above photo is our news team for this Film Festival : Page, Steve, and Margie, on the Red Carpet; and below is Page, Steve, Margie, & Bernie in the Awards show: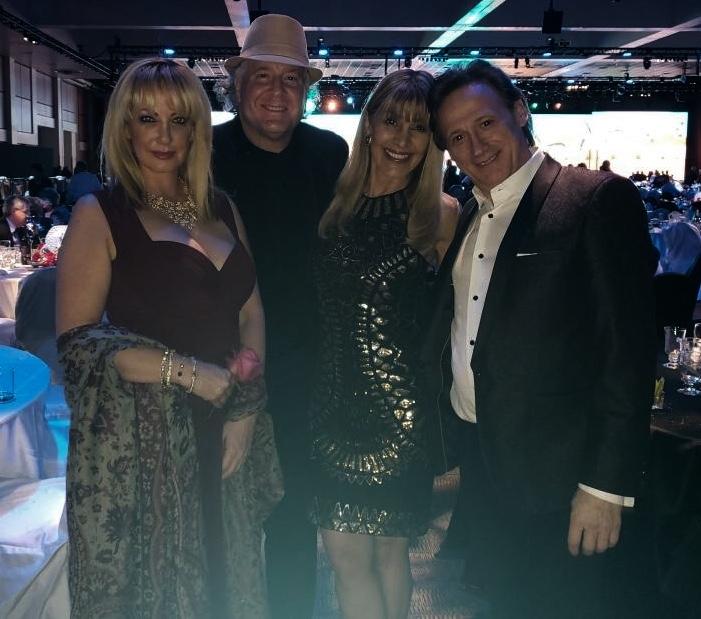 We were lucky enough to see  JLo's : "JENNIFER LOPEZ: ALL I HAVE" sold out final hit show at The Zappos Theatre in Planet Hollywood Las Vegas, where J. Lo had a swarm of support after her show from the likes of: on extreme left- award winning actress: Jessica Alba (@jessicaalba), 2nd from left- Dua Lipa (English singer, songwriter, & model – @dualipa), 2nd from right- Becky G (singer/actress – @iambeckyg), extreme right- Sofia Vergara (Star of the TV series Modern Family -@sofiavergara), superstar singer Selena Gomez, (@selenagomez not in this photo- but see full story on entertainmentandsportstoday.com), JLo @jlo-center with her boyfriend: New York Yankees' Baseball Legend: Alex "A-Rod" Rodriguez @ARod himself … all of whom went backstage to show some love and pose for a photo-op, as you can see in this "EPIC" photo below: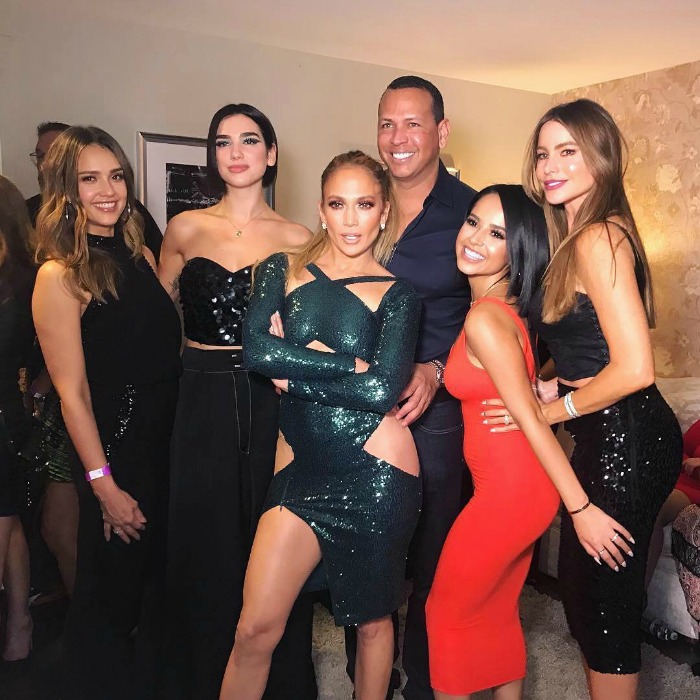 Our Entertainment Today news reporter: Tressa Smiley, was very lucky and privileged to meet with our new Vice President: Kamala Harris :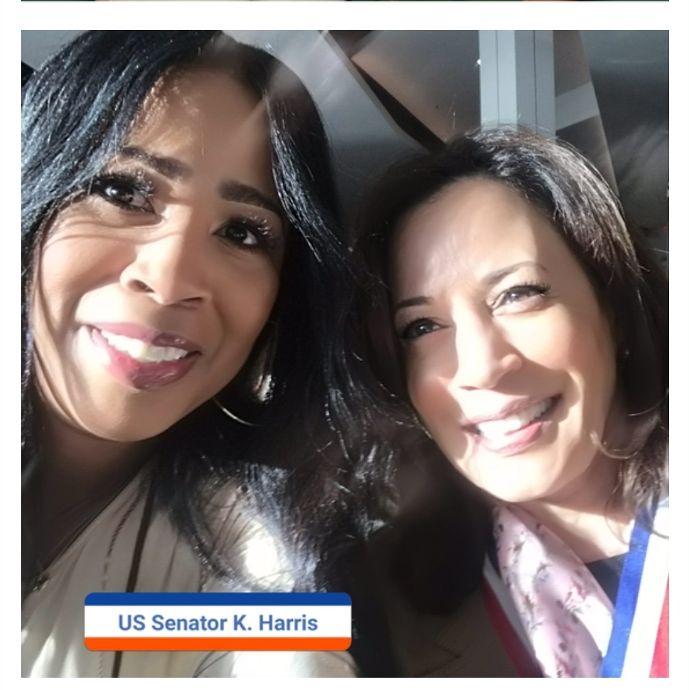 Two time Oscar winner Tom Hanks hosted "Celebrating America," a primetime special that included musical performances and guests after President Biden and Vice President Harris took the oath of office. The cultural celebrations continued Wednesday night with a broadcast across television and social media, hosted by "Forrest Gump" actor Hanks, who is known as "America's Dad."  The below photo was taken at the 1995 Oscars: The 67th Academy Awards on March 27th, 1995 at the Shrine Auditorium in Los Angeles, moments after Tom Hanks won the BEST ACTOR OSCAR for "Forrest Gump" – at The Governors Ball- the only official after-party for the Oscars that was held inside the Shrine Auditorium's Ballroom.  That year "Forrest Gump" was nominated for 13 Oscars, and won 6 Oscars ! Tom also had won the Best Actor Oscar for "Philadelphia" in 1994, a film about another type of virus- HIV, thus giving Tom "Back to Back" Oscar wins! Below photo (L – R): TV Producer Steve Taylor, Tom Hanks holding up his Oscar, Mierelle Billen of Belgium: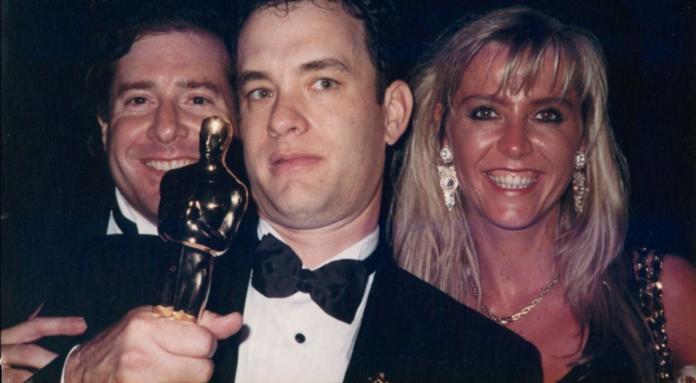 Wednesday's TV special, called "Celebrating America," opened with Bruce Springsteen, standing alone with an acoustic guitar on the steps of the Lincoln Memorial, singing "Land of Hope and Dreams."
Other performers included John Legend, Demi Lovato and country singers Tim McGraw and Tyler Hubbard, who paired for a song about unity called "Undivided."  Delivery drivers, healthcare workers and others also told stories of perseverance during the coronavirus pandemic. Foo Fighters singer Dave Grohl, the son of a public school teacher, dedicated a song to "all of our unshakeable teachers." The show concluded with Katy Perry, in a white gown with blue and red trim, singing her hit "Firework." Biden and his wife, Jill, watched from the White House as fireworks lit up the sky around the capital city's monuments.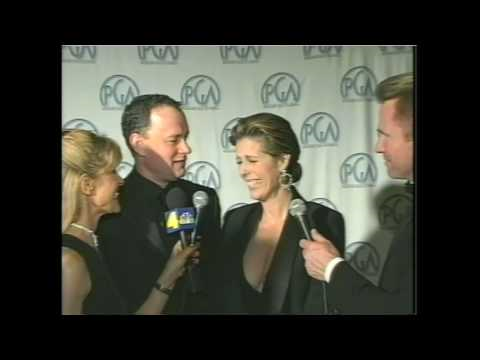 < Multi Award winner Tom Hanks has been interviewed on our TV show many times, and in the below photo our TV Show Hosts: Greg Pyatt and Margie Rey interviewed Tom during The Oscar Awards Season for our show- Entertainment Today, and for NBC TV 4 News, as you can see in the left photo <
Stay tuned for live daily round-the-clock news coverage from our news team in Los Angeles, Hollywood, New York, Beverly Hills, and overseas from Entertainment & Sports Today TV, and Entertainment Today, and for the complete story go to: entertainmentandsportstoday.com, on Facebook & Instagram: @entertainmentandsportstoday, and Youtube.com/entertainmenttodaytv
For tickets to future events, and Sponsorships and get advertising rates and info, E-Mail : info@entertainmentandsportstoday.com – and for more info about us go to: www.entertainmentandsportstoday.com & thanks for watching !
For more information, and if you like to buy any of these great products that you saw on our TV show, E-Mail us direct: info@entertainmentandsportstoday.com so that one of our staff can connect you with the right people. Above is our video news story, that is part of the follow up to our daily news stories on the Coronavirus.
For more news stories and updates about the Coronavirus : go to EntertainmentandSportsToday.com  and go to the top of the home page and click on the "HEALTH & BEAUTY" section.  Additional updates can be found by clicking the "Business & Technologies" , and "Entertainment" sections, or just click "Home". For stories that may uplift your spirits during these trying times go to the "Music" section of our website.
If you may have any questions- you can email us at info@entertainmentandsportstoday.com- so we can find you the answers from the doctors and health experts, that have written stories for us, and from the health agencies that have provided information and daily updates for us. & Thanks for watching, and be healthy and safe!