Every athlete needs willpower to get through a marathon, but surely no one has ever dug deeper than Switzerland's Gabriela Andersen-Schiess. The most unusual moments from Olympic history are investigated once again to reveal the stranger side of the five rings. Visit the Olympic Channel, where the Games never end: http://www.olympicchannel.com
Switzerland's Gabriela Andersen-Schiess finished 37th in the inaugural women's Olympic marathon at the Los Angeles 1984 Summer Games. However, her refusal to quit the race despite the exhausting conditions and suffering from dehydration led to an iconic Olympic moment as sheer determination saw her over the finish line.
The way Gabriela was walking looked like she had risen from the dead. She really left everything out there on that course. I was in the stands in the first row only a few feet from her, and when I saw this right in front of me – I literally had chills running down my spine as I watched her struggle to keep moving forward and finish this grueling 26 mile race- it was a very emotional experience for me! She finished 37th of 44 runners. She still ran a 2:48:xx (Click this blue 2:48 link for another longer video of this marathon race and interview each step of the way with Gabriela) in the heat and with (obviously) way too little water. So even after doing a zombie-Frankenstein walk around the track, she still was faster then 7 other world class runners from around the world!
Everyone in the entire LA Coliseum that morning was cheering for her like mad. This was more than finishing a race, this was about being the first ever marathon for women after so many years of men saying that women couldn't do it. No one remembers the name of the winner, but everyone remembers that one runner that finished no matter what. You find out what you're made of when you see what it takes to stop you. Whatever happens, never stop! Never, never, never, never, NEVER!!!
When she came in and everyone could see her struggling, it was unbelievable what happened next. Everyone, without speaking a word, stood up in unison and cheered this lady to inconceivably will herself all the way to the finish line. The people were urging her on, and the noise level was mind-boggling. When she finally crossed the finish line, the crowd exploded with cheers, and the noise level went noticeably louder.
She dug deeper than most people that I have ever seen. After this 1984 Olympic Games – only about 20 times in my life have I witnessed anything exactly like this in sports or other venues in life. Spectators from all over the world cheering an individual regardless of the country for whom she ran. It has impacted me to this day. It is about giving all what you can and never give up!
She is what the marathon is about! She definitely made proud the first marathon runner to whom the marathon is dedicated to. The ancient Greek who ran the marathon with his armament only to tell Athens that they won the war against the Persians, a message so crucial to deliver that he did not stop and died right after delivering it! She did not stop until the very end, to win the first female marathon of the Olympics and deliver the message that it's not about gender but strength of your will! She is the embodiment of the Olympic spirit.
1984 Olympic Games at The LA Coliseum
The finish of the Women's Marathon – on the final Lap you can see me on worldwide & national TV – I had season tickets to Track & Field (Along with many other sports and Opening & Closing ceremonies) – so I was in the first row in section 26 on the curve and backstretch of the track – I have no shirt on (It was a very hot August Day), and I am wearing yellow shorts and a white cap – and I am moving to the left to take a photo with my camera. I am to the right of the security guard (in brown uniform) in the upper right of the below still photo taken from the video! In the video of the TV broadcast I am at 1:50 to 1:54. Still photo below:                                                 *Me*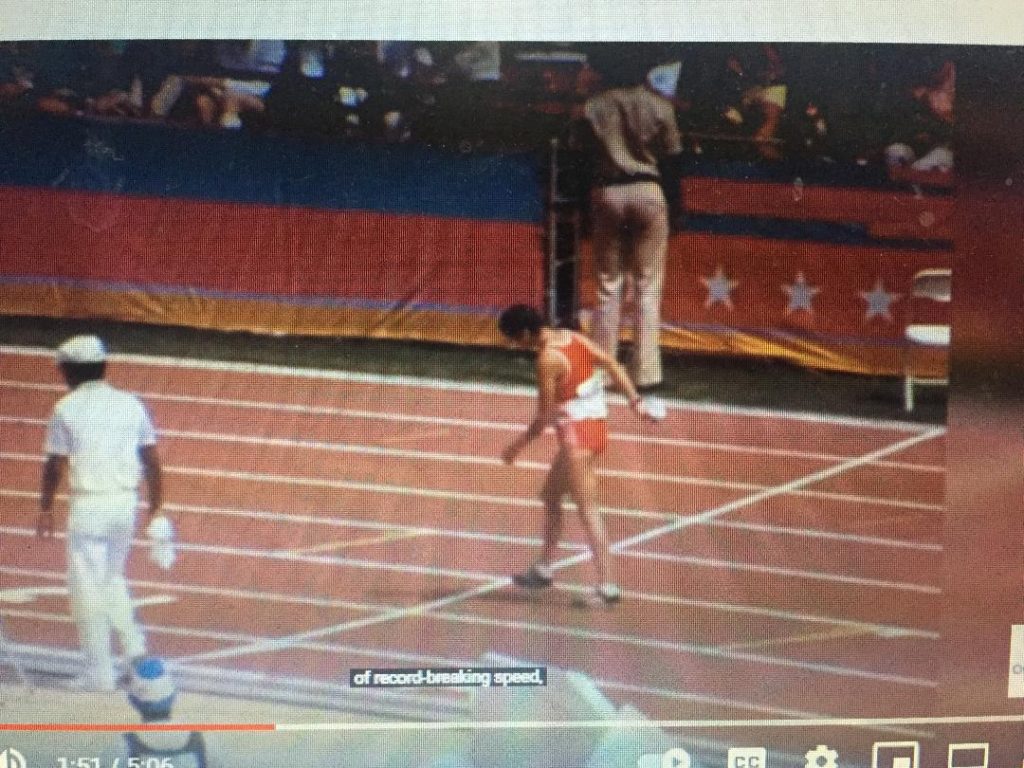 Stay tuned for live daily round-the-clock news coverage from our news team in Los Angeles, Hollywood, New York, Beverly Hills, and overseas from Entertainment & Sports Today TV, and Entertainment Today, and for the complete story go to: entertainmentandsportstoday.com, on Facebook & Instagram: @entertainmentandsportstoday, and Youtube.com/entertainmenttodaytv
For tickets to future events, and Sponsorships and get advertising rates and info, E-Mail : info@entertainmentandsportstoday.com – and for more info about us go to: www.entertainmentandsportstoday.com & thanks for watching !
For more information, and if you like to buy any of these great products that you saw on our TV show, E-Mail us direct: info@entertainmentandsportstoday.com so that one of our staff can connect you with the right people. Above is our video news story, that is part of the follow up to our daily news stories on the Coronavirus.
For more news stories and updates about the Coronavirus : go to EntertainmentandSportsToday.com  and go to the top of the home page and click on the "HEALTH & BEAUTY" section.  Additional updates can be found by clicking the "Business & Technologies" , and "Entertainment" sections, or just click "Home". For stories that may uplift your spirits during these trying times go to the "Music" section of our website.
If you may have any questions- you can email us at info@entertainmentandsportstoday.com- so we can find you the answers from the doctors and health experts, that have written stories for us, and from the health agencies that have provided information and daily updates for us. & Thanks for watching, and be healthy and safe!