EIN and the Petersen Automotive Museum to Roll Out the Carpet for Green Pre-Oscar Gala Event  Stars to Show Up for Zero Emissions Innovations and the Green Pre-Oscar Party!
A limited amount of tickets are still on sale for this gala event that raises money for a very worth cause!   On Thursday, March 9, 2023 with the Green Carpet Arrivals, Media Interviews and Photos at 6:00 PM, and the Awards, Live Auction, Performances and Celebrity DJs: 8:30 PM to 10:00 PM at the Petersen Automotive Museum, 6060 Wilshire Blvd, in Los Angeles: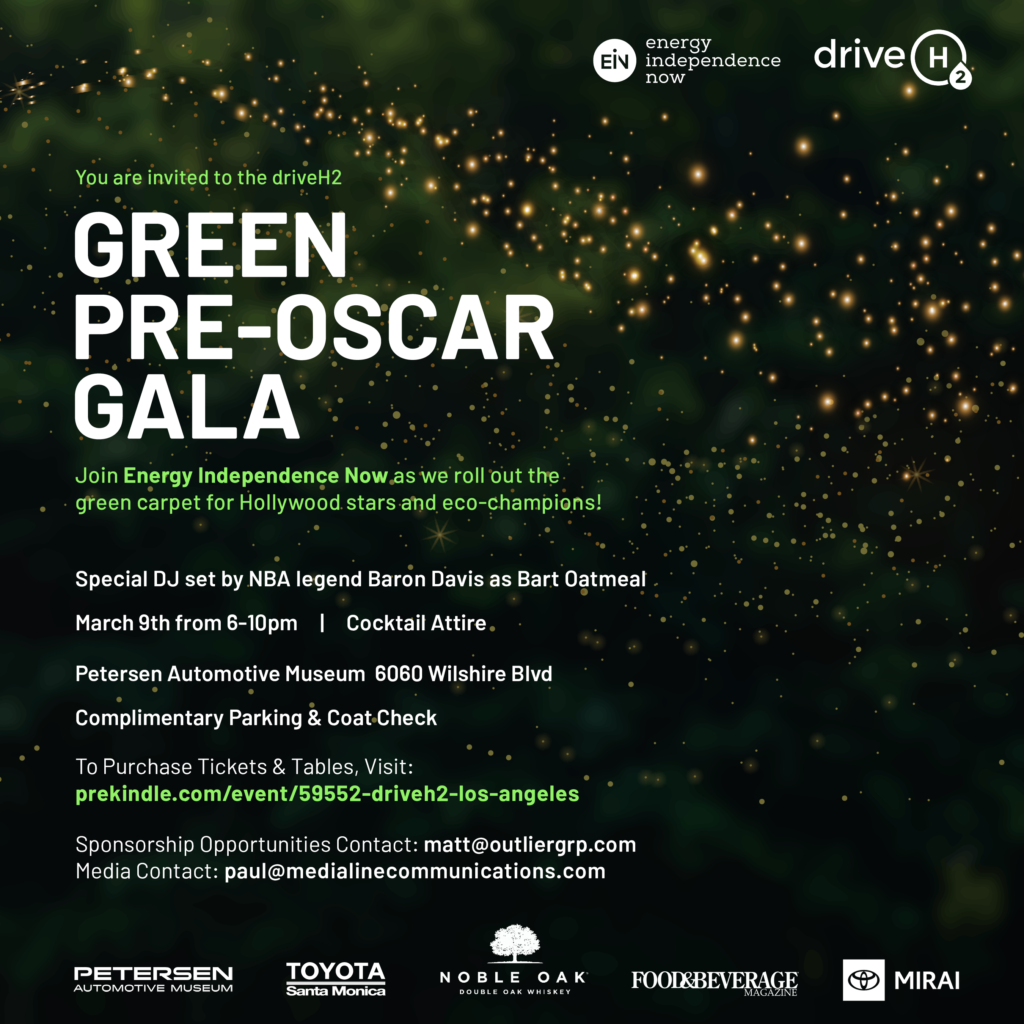 Along with EIN, celebrities, athletes and influencers will hit the green carpet for photos and interviews. Surprise musical and DJ performances to take place! 
Scheduled Green Carpet Arrivals Expected (alphabetically listed):
Susie Abromeit (Jessica Jones); Francis Amiker (E! News); Amelie Anstett (Chicken Girls); Skye Aurelia (model); Blanca Blanco (influencer); Bob the Drag Queen (RuPaul's Drag Race); Mychal-Bella Rayne Bowman (Underground Railroad); Kandi Burress (The Chi); Autumn Calabrese (celebrity trainer); Tia Carrere (True Lies); Blac Chyna (model, actress); Lindsey Coffey (model); Chris Cole (skateboarder legend); Porscha Coleman (Dad Stop Embarrassing Me); Ismael Cruz Cordova (Lord of the Rings: Rings of Power); Chiara D'Ambrosio (Fear of Rain); Baron Davis (NBA legend – also DJing the event); William Stanford Davis (Abbott Elementary); Ken Davitian (Borat); Gianni DeCenzo (Cobra Kai); Tony Denison (The Closer, Major Crimes); Vincent DePaul (The Bay); Johnny DePhillipo (Bachelor in Paradise, The Bachelor); Christina DeRosa (Secret by the Shore); Adrian Dev (Star Wars Obi Wan Kenobi); Jessica Francis Dukes (Ozark); Bourke Floyd (Dawson's Creek); Christian Garcia (X Factor Mexico); Giancarlo Giannini (Quantum Solace); Stephen Kramer Glickman (Storks, Big Time Rush); Tyler Lawrence Gray (Wolf Pack); Michelle Harris (Alive & Well); Matthew Hatchette (NFL legend); Lexi Hensler (model, influencer); Kelly Hu (Scorpion King); Paul Johansson (One Tree Hill);Christina Kartchner (Never Have I Ever); Jessica Parker Kennedy (The Flash); Jesse Kove (Cobra Kai); Dan Lauria (Wonder Years); George Lazenby (On Her Majesty's Secret Service); Anais Lee (The Sun is Also a Star); Mirabelle Lee (Slapface); Bai Ling (international actress); Luenelle (legendary comedienne); Daniel Mac (influencer); Mallory James Mahoney (Bunk'd); Eva Marcille (All the Queen's Men, Real Housewives Ultimate Girls' Trip); Christiana Means (Skateboarder); Kristina Mennisov (model); Jesse Metcalfe (Desperate Housewives); Troy Metcalfe (Babylon); Sofia Milos (Miami CSI); Cameron Monaghan (Shameless); Jason Moore (Los Angeles Chargers); Esai Morales (Mission Impossible: Dead Reckoning, Titans); Tahj Mowry (Smart Guy); Terrell Owens (NFL legend); Daniel Patrick (designer); Ronnie Radke(lead singer, Falling in Reverse); Manny Santiago (Olympic Skateboarder); Saraya (pro wrestler); John Savage (Deerhunter); Serayah (BMF); Chel Sgro (model, singer); Amanza Smith (Selling Sunset); Michelle Soel (fitness influencer); Jordin Sparks (recording artist); Alan Stokes and Alex Stokes (influencers); Sai Suman (designer); Jiaoying Summers (comedian); Mario Van Peebles (New Jack City); Danielle Vasinova (Kominsky Method); Zhaleh Vossough (Mayans MC); Patrick Warburton (Rules of Engagement); Tye White (American Auto); Ramona Young (Never Have I Ever); and many additional celebrity guests pending.
GREEN PRE-OSCAR GALA – Non-profit environmental group Energy Independence Now (EIN) and a gathering of eco-conscious celebrities, athletes and influencers will gather at the beautiful Petersen Automotive Museum as the green carpet is rolled out for the Hollywood Community and supporters committed to research, green innovation, policy advocacy and public outreach to promote diverse, equitable zero emissions solutions. The event will bring an unforgettable night of entertainment, cars, sustainable cuisine and cocktails and a glimpse into a more sustainable future.       
DriveH2 is a public service initiative by Energy Independence Now (EIN), an environmental nonprofit committed to educating the world about the benefits of hydrogen fuel cell electric vehicles. The organization engages in comprehensive research, policy advocacy and public outreach to promote the widespread adoption of a diverse zero emissions portfolio.