The summer fun has begun at Caesars Palace Blackjack Pool in Las Vegas ! Cool off in the pool, as you are in the water and play blackjack under, a roof that keeps out the sun, and a waterfall that comes down from the roof. As you can see from the photos and video: they have beautiful girls in gold bikinis dancing on top of pedestals : 
 The best and classiest pool is at The Strip's Most Iconic Hotel & Casino : Caesars Palace, and The Garden of the Gods pool at Caesars Palace.  The Venus Pool had it's special private European style bathing. Spread over 7 amazing and fabulous pools at Caesars Palace- it was a great way to spend the weekend ! 
They have a swim up blackjack pool – with a roof with a waterfall – as you play cards in the water, so you can be styling as you have fun ! Check out our video shot from the angle from the blackjack pool , as you play cards and look out on this amazing view of the other pools, with dancing girls up on pedestals , Roman statues, grand Caesars Palace Roman architecture design, people dancing to the music , and Limbo and Hula Hoop contests !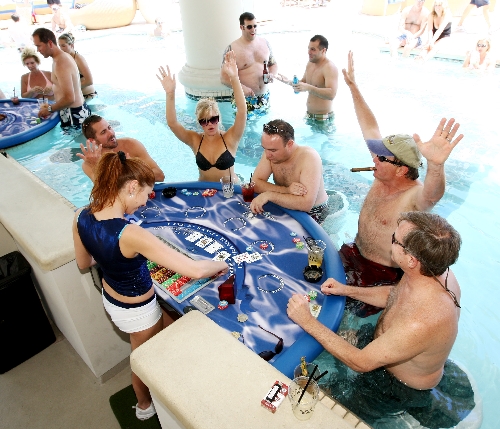 For the complete story go to: entertainmentandsportstoday.com Facebook.com/entertainmentandsportstoday and Youtube.com/entertainmenttodaytv      www.caesars.com @ballysvegas  @caesarspalace   @caesarsentertainment