With the 2022 Major League Baseball All-Star Game & ESPY Awards both in Los Angeles, there was a big draw for both Celebrities & Athletes to attend the 2022 Major League Baseball All-Star Game & ESPY Awards Exclusive & Ultimate Luxury Experience & Co Celebrity & Athlete Gifting Lounge, at The Petersen Automotive Museum, with proceeds benefiting the V Foundation for Cancer Research, and 100 Top celebrity, athlete and press did just that!
The last time that the Major League Baseball All-Star Game was in Los Angeles at Dodger Stadium was in 1980! So with the ESPYS also in town, there was a great turnout that brought together amazing brands and talent in a magical fashion to create an amazing experience, with an amazing gaming experience that was live streamed.
To mention just a few that were there were ESPYS Nominee: NBA World Champion Golden State Warriors- Klay Thompson, 
National Women's Soccer Team Star: Megan Rapinoe, Boston Red Sox Star: JD Martinez, ESPYS Nominee U.S. Paralympic Team | 17x Paralympic Medalist Oksana Masters
(on the extreme right of the below photo- the Blonde woman with Sunglasses, with our reporters: Tressa & Margie):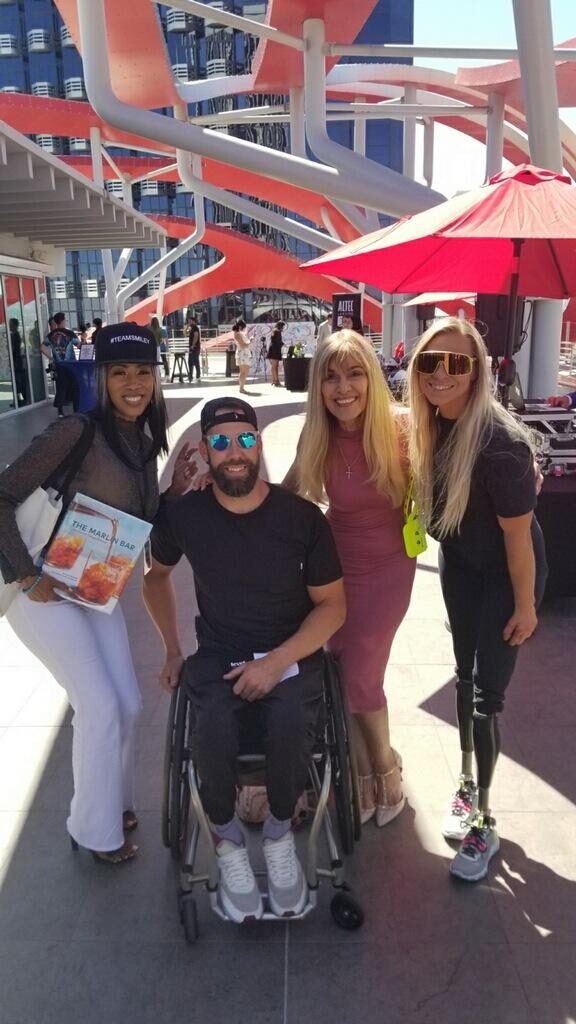 and ESPYS Nominee 3x U.S. Olympic Swimmer | 7x Gold Medalist Katie Ledecky,  NHL Houston Oilers left winger Evander Kane, 2022 Olympic ParaTrack & ParaNordic athlete Aaron Pike, as well as many more celebrities, athletes, and influencers. Below photo of Champion Boxer Victor Ortiz, who is the former WBC Welterweight Champion, and is ranked in the top 3 boxers of active welterweights, and below that Victor poses with our reporter Tressa Smiley: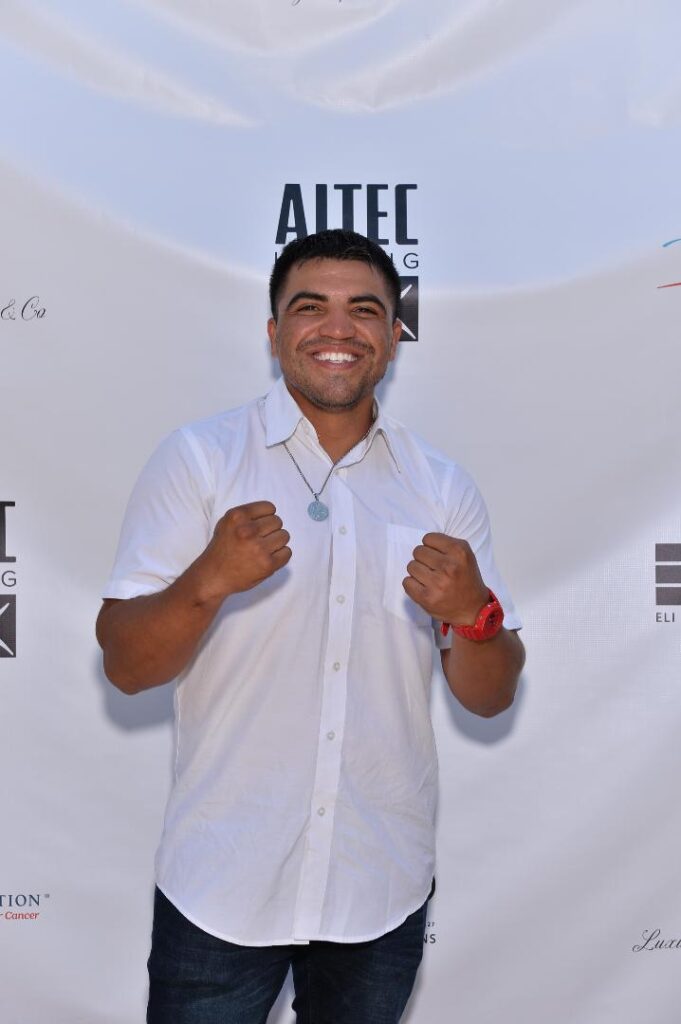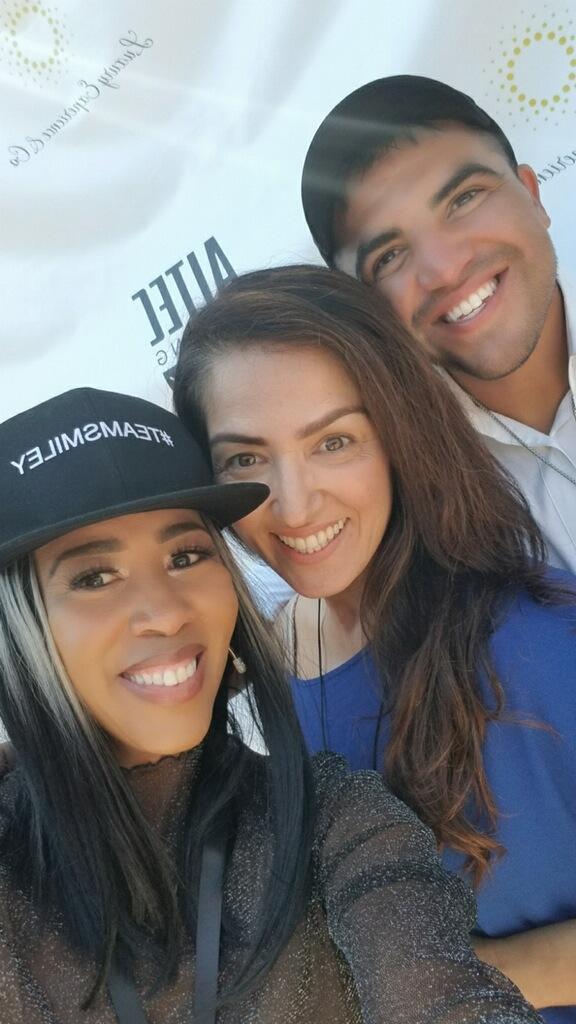 Terrell Owens, nicknamed T.O.
, is a wide receiver, who was 
inducted into the 
Pro Football Hall of Fame in 2018. Terrell enjoyed the gifts he was given at this gift lounge, and the next day attended the ESPY Awards at the Dolby Theatre in Hollywood, as you can see from this photo from the red carpet, taken by our reporter Tressa Smiley. Our TV show host & Reporter: Margie Rey had interviewed Terrell before at the Super Bowl when it was in Houston, Texas: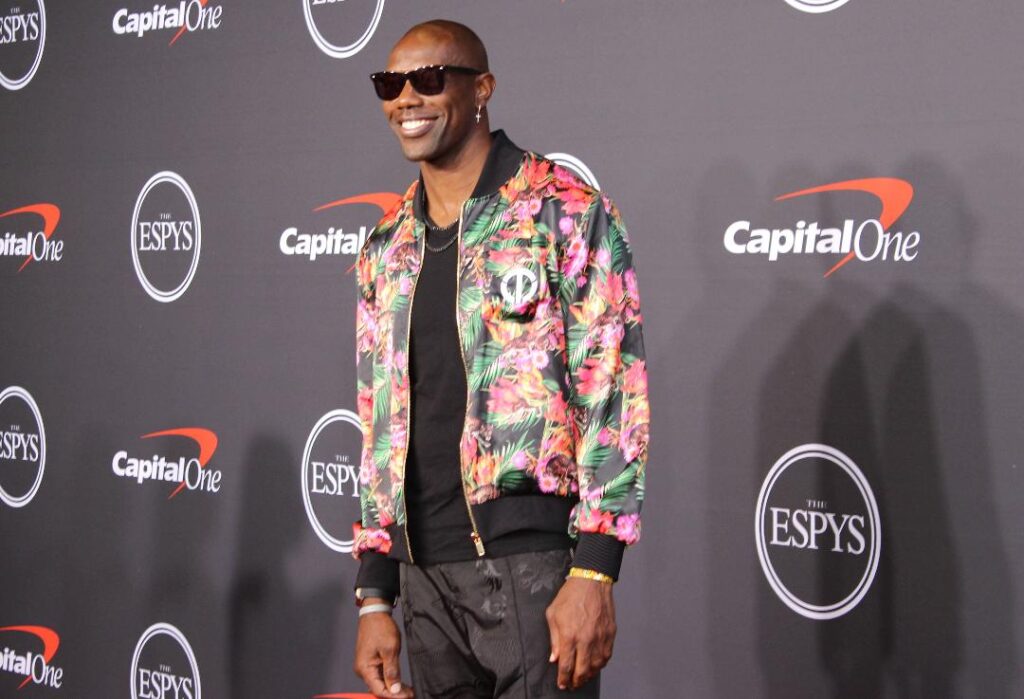 LA Charger cornerback  : Michael Davis, and
LA Charger Wide Receiver Jason Moore
(in the middle of photo with Margie & Steve):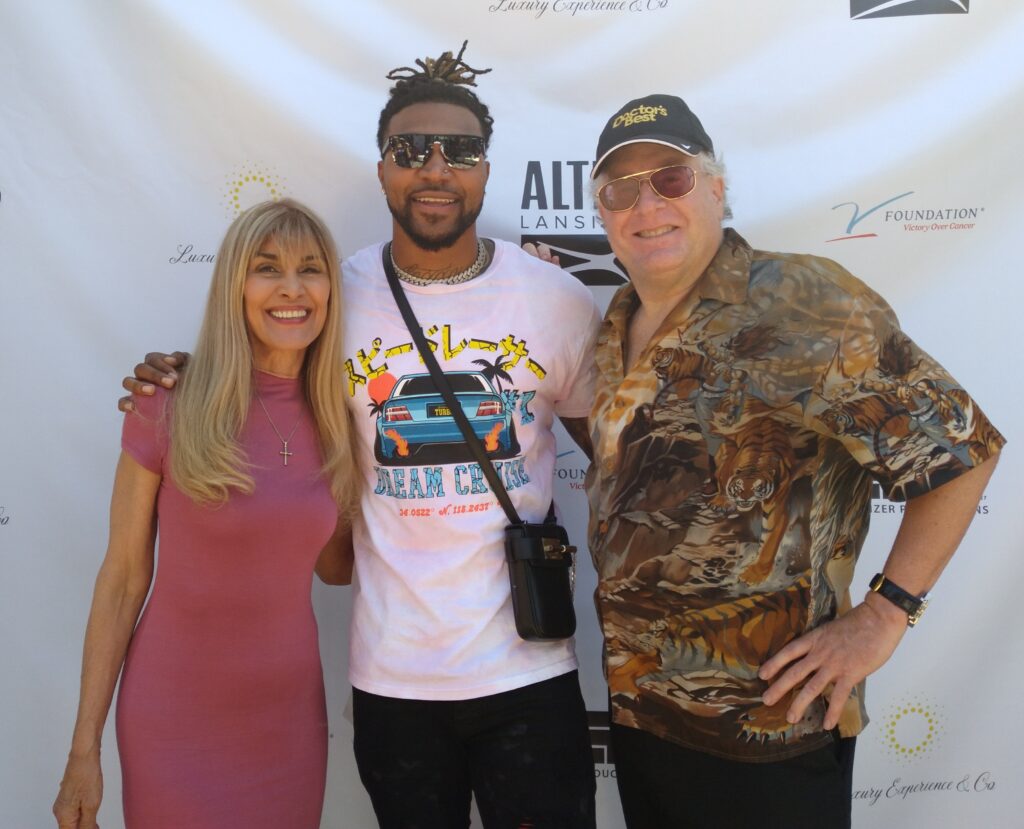 3x Olympic Gold Medal Winner (2012, 2016, 2020) for Water Polo: Maggie Steffens
(in the middle of the below photo with Margie on the left, who had just interviewed her, and Steve on the right holding up 1 of her 3 Olympic Gold Medals) :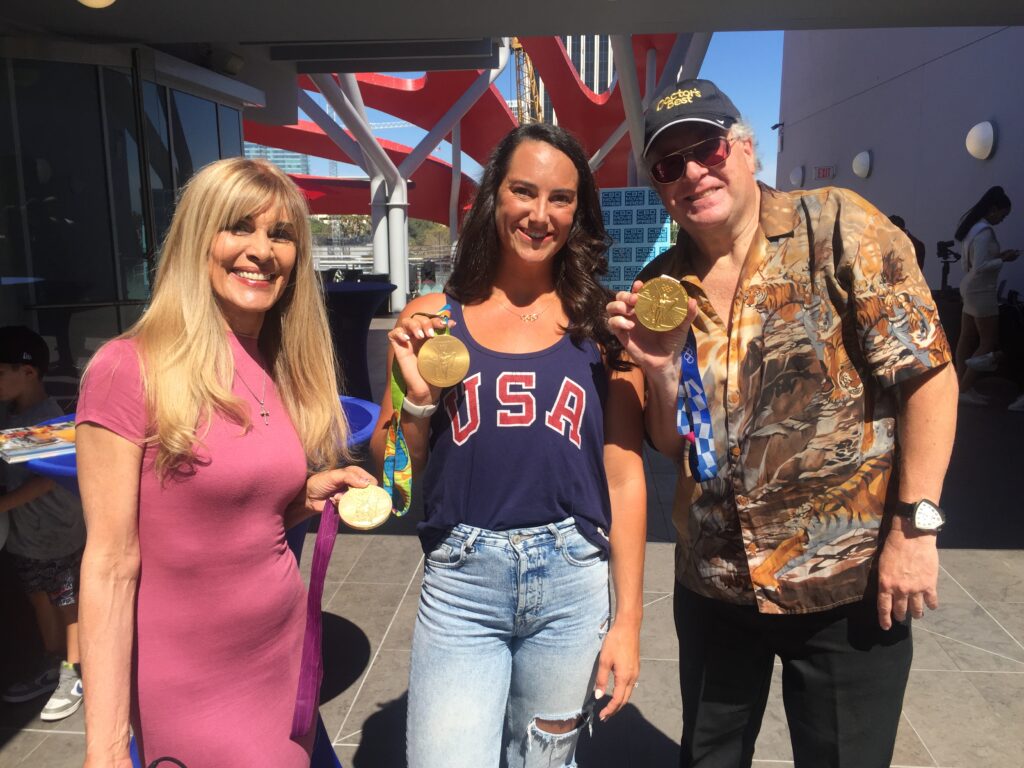 Actor Christopher McDonald
(in the middle of the below photo with Steve & Margie- who just interviewed Chris):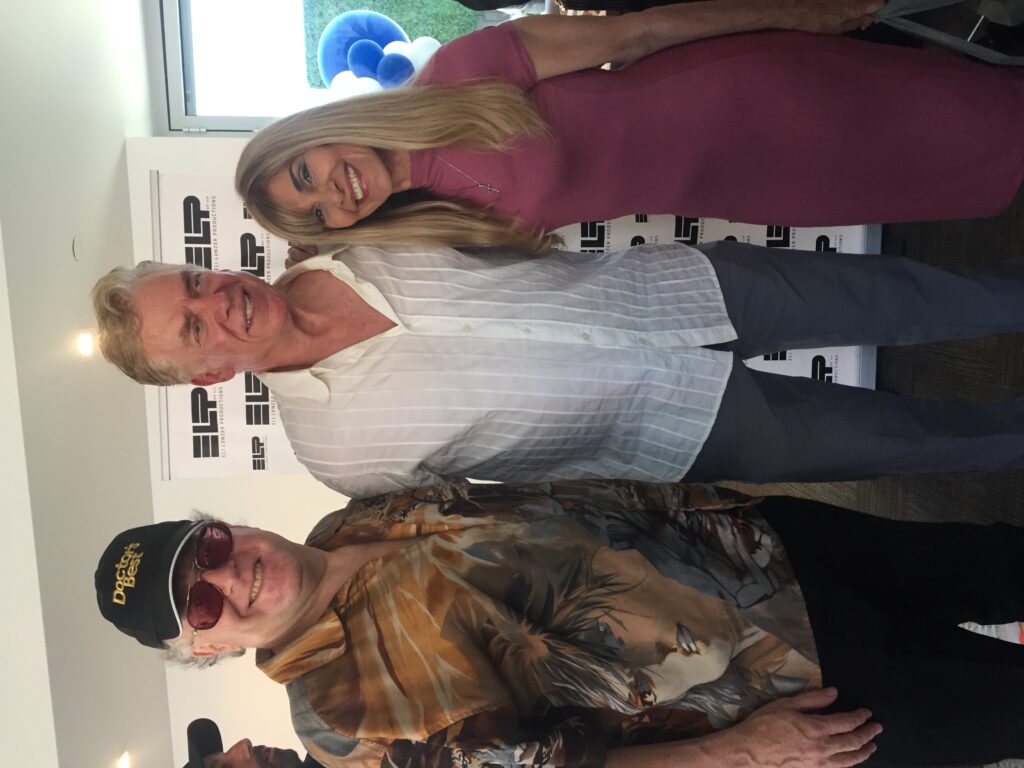 BUT
the highlight for all of us
was the
Paralympic Wrestler and Track Star, and the world record holder for running on his 2 hands at 12 miles per hour the 40 meter dash: the "World's Fastest Man on 2 Hands" – 25 year old Zion Clark!
Zion did the 40 meters at 5.1 seconds, on the way to a 100 meter dash of 12 seconds, while he reached a speed of almost 13 miles an hour, without having any legs- only using his 2 hands! A true miracle! The average person can not even run the 100 meter in 12 seconds, using their full body and both legs! The world record for 100 meters that the top elite athletes having both legs is just under 10 seconds! Gold Medal Winner: Jamaica's Usain Bolt set the current 100m world record at the 2009 IAAF World Championships, clocking an astonishing 
9.58 seconds
 for the feat. So Zion is only 2 and 1/2 seconds away from the world record! In the interview that we had with Zion, he told us that he was trained by the legendary Gold Medal Winner at 400 Meters, with the 3rd fastest time of all time at 43.29: Butch Reynolds!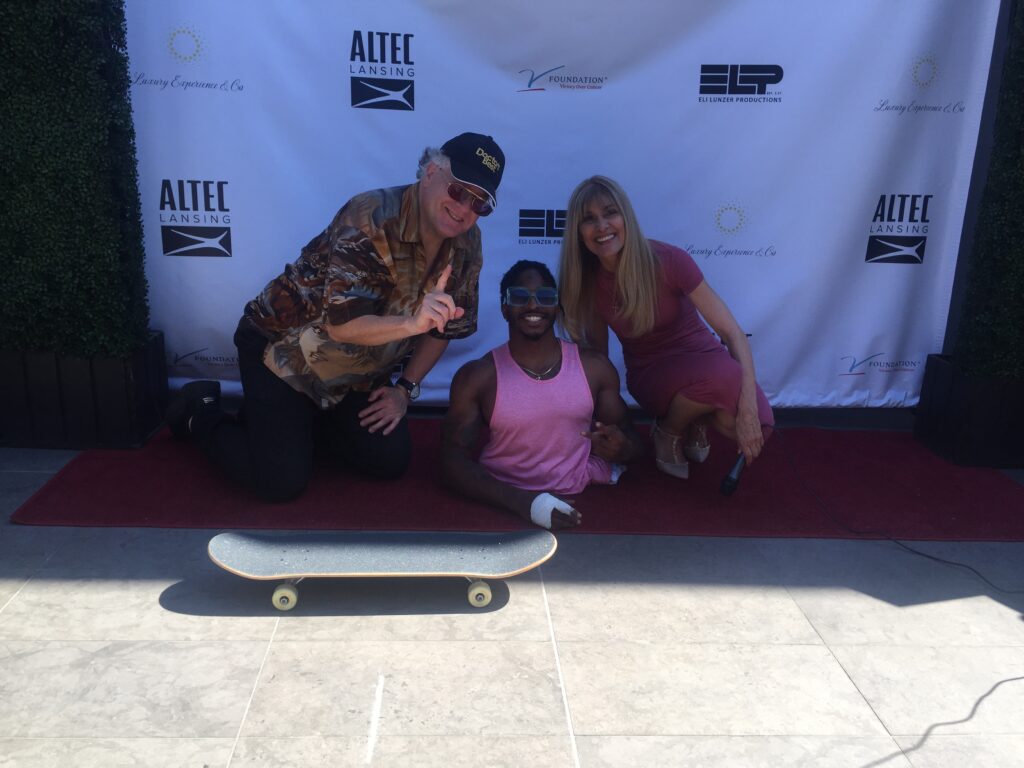 The next time you think you may have it bad, or you think you have any sort of setback, disadvantage, or handicap – just think of the very major handicap that Zion has, so you can use that for inspiration to solve all of your problems, and better your life! Zion is missing BOTH of his legs, and is only left with his upper body- he only has about 1/3 of his body left, and it's a miracle that he is even still alive-
since he was born with this very rare disease, and was brought up without any parents, and had to live in foster homes as a child. There is a Documentary out on Netflix about his life.
God Bless You Zion for inspiring others to make the best out of life for themselves, and helping so many others
personally and through your charity group to help out children living in Foster Homes!
 The above photo is of Zion being interviewed on the red carpet at the
Luxury Experience & Co Celebrity & Athlete Gifting Lounge, with Steve & Margie.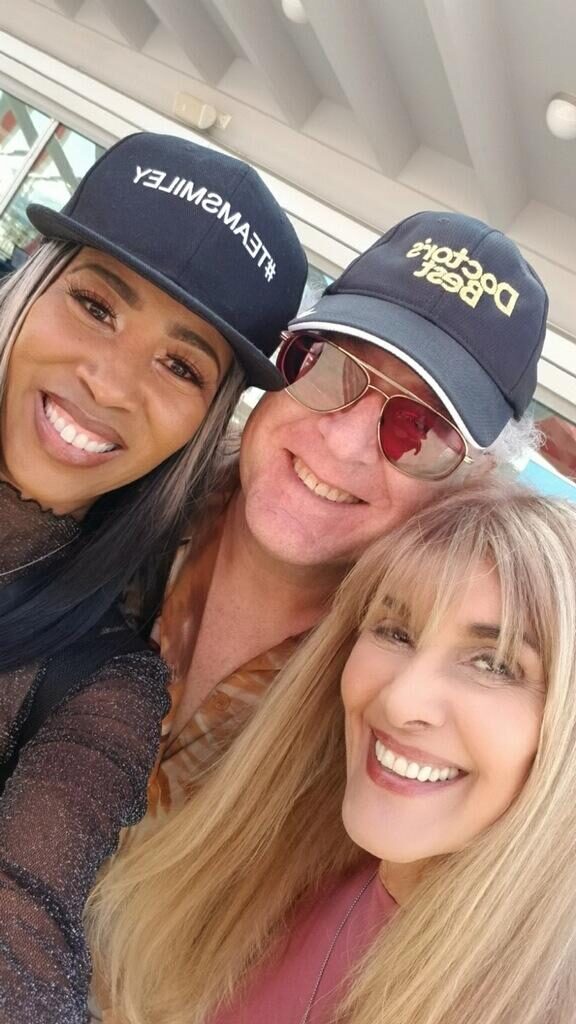 Again,
Melissa put on another amazing gift lounge
, and you can see her in the middle of the below photo with her son on the right, and in the above photo you can see our news crew of (L. – R.) –
Tressa Smiley, Steve Taylor, and Margie Rey.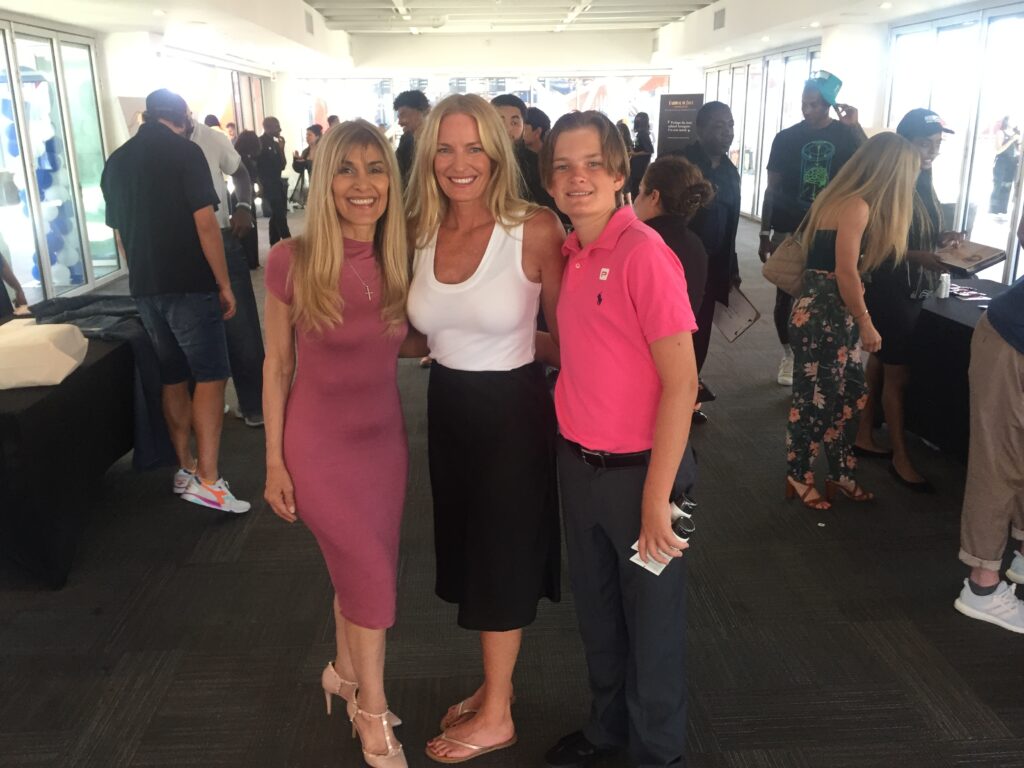 LE&Co welcomed guests with some amazing and luxurious gifts provided by Celebrating Life, G.O.A.T. Fuel, NuEstetics Spa, CBD More Free, Altec Lansing, Cardinal du Four Armagnac, SNOW TEETH Whitening, Level Hotels & Furnished Suites, The Perfect Jean, Andar Leather Goodles, Marlowe Skincare, Project 7 Security Group, Tommy Bahama, Pierre Cardin Apparel, The Art of Shaving, Ashoc Accelerator, Orleans Coffee, Artist Jazz Guetta, Hollywood PhotoBooth, Schaffer Catering, Zen Water, Eli Lunzer Productions, Bravo Sierra, Members Only Apparel, and many more. 
"LE & Co was honored to create an amazing experience to raise money for the V Foundation for Cancer Research." says LE & Co Founder Melissa McAvoy. "I love creating events to bring together top celebrities, athlete's and press. But, more importantly I thrive on creating opportunities to highlight and support amazing foundations doing amazing work." 
The V Foundation for Cancer Research was founded in 1993 by ESPN and the late Jim Valvano, legendary North Carolina State University basketball coach and ESPN commentator. The V Foundation has funded nearly $290 million in game-changing cancer research grants nationwide through a competitive process strictly supervised by a world-class Scientific Advisory Committee. Event proceeds benefit cancer research funded by the V Foundation. The V team is committed to accelerating Victory Over Cancer. To learn more, visit www.v.org. 
Today's best brands align themselves with LE & Co Luxury Gift Lounges to get their products into the hands of the hottest names in film, television and sports. With years of experience in Public Relations, Events & Business Development they lead and develop effective key brand relationships. Recognizing the importance of brand awareness to their clients, they have now created a complete package of services to maximize their clients return on investment. Beyond working with brands, LE & Co works with top foundations and charities to bring awareness and support to help others.