The Thrill Capital of the World: Six Flags Magic Mountain made history through her story with the debut of the park's record 20th coaster – WONDER WOMAN™ Flight of Courage, with the official opening and first launch of the tallest and longest single-rail coaster in the world!
In this video news entertainment TV show our reporters and TV Show Co-Hosts: Jaden Benenfeld & Trinity McCourt will take you on this amazing, thrilling, and magical Roller coaster ride, and give you a thrilling experience that will make you feel like you are there with them on this thrill ride- BUT of course it's better to experience this Roller coaster ride live and in person, so as soon as you can visit Six Flags Magic Mountain at 26101 Magic Mountain Pkwy. in Valencia, CA 91355
Some of our fans of our TV show may remember Jaden when he was only about 7 years old- when he did some big events with us, and now is a full grown adult- and does an amazing job as a segment producer, on-air reporter, writer, cameraman, and video/audio and internet editor for our 2 TV shows: Entertainment Today, and Entertainment & Sports Today. & Trinity does a great job as an on-air Reporter and Co-Host to Jaden. There will be a lot more shows from Jaden and Trinity very soon!
The Press office, PR staff, and Execs at Six Flags Magic Mountain provided us with a multi-camera switched live feed, including live-on-the-ride shots, with POV (Placed on Vehicle) videos and drone shots, that were available to our editing and production staff via satellite truck, that we were able to use in our live television news broadcast! There was even music added to the video to make a dramatic movie quality effect, while still keeping in the audio of our reporters and live roller coaster sounds!
Cameras were mounted on the ride to take advantage of this rare, unique and amazing one-time opportunity to broadcast live, tape the ride, and using USB flash drives, with our reporters own reactions to the ride, and with their own point-of-view, sitting in the first 2 seats on the Roller coaster, with fantastic shots of the ride, that is exactly what you would see when you are sitting on this Roller coaster, that make you feel that you are actually on this ride, and be part of history!
Trinity & Jaden on Wonder Woman Roller Coaster: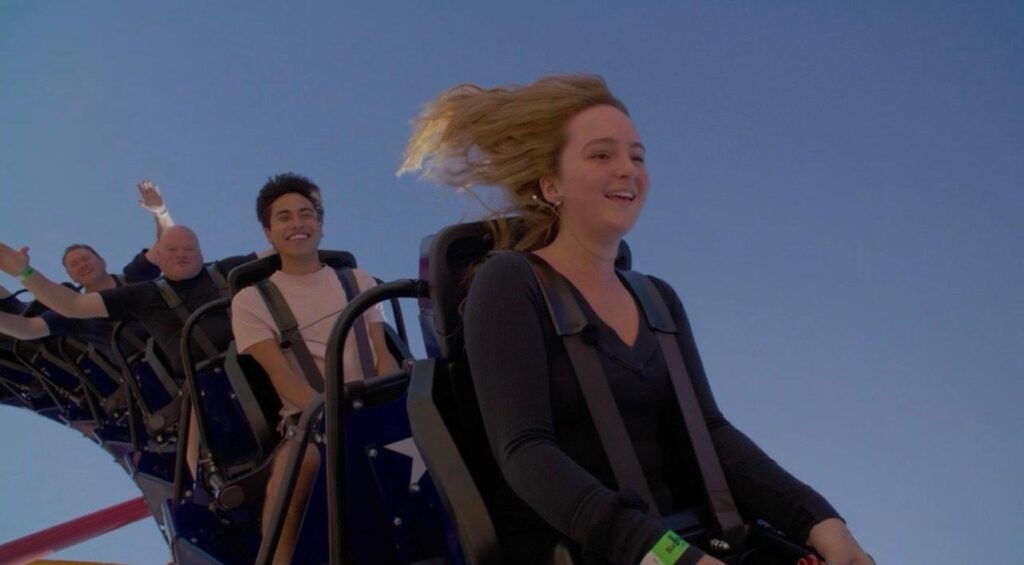 Join us while we experience the ground breaking coaster Wonder Woman The Flight of Courage! This ride is Six Flags Magic Mountains 20th roller coaster which makes it a world record for most coasters in a theme park. Wonder Woman Flight of Courage is the longest and tallest single-rail coaster on the planet. You get to fly through 3,300 feet of track, climb 13 stories high, and reach up to speeds up to 58 miles-per-hour.
Six Flags Magic Mountain was kind enough to invite us out to ride the ride for ourselves and we can report back that it was breathtaking. This single-railed coaster is like nothing you have ever been on. The coaster takes you flying and surprises you at every corner. Wonder Woman also is so smooth it feels like you are actually soaring through the park.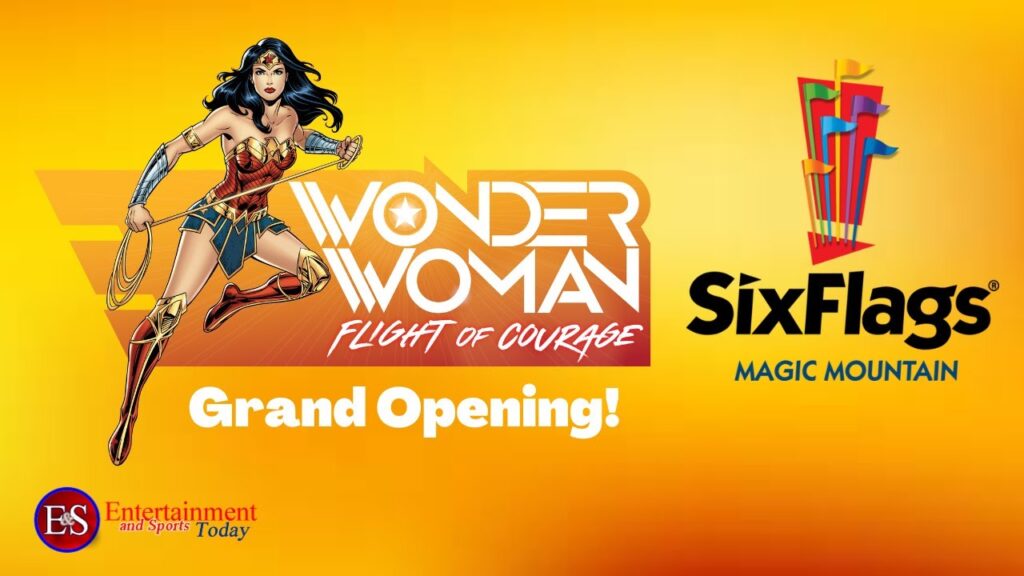 Six Flags Magic Mountain really went above and beyond with their opening day. First, we were able to be one of the first people to ride the ride. We also got filmed on the ride with POV videos and drone shots. Our team also got to interview Alex French: Magic Mountain's Publicist! After exploring the new DC Universe Land and the new re-themed rides, we were served lunch. Then after the delicious nachos and churros, we got to celebrate the opening ceremony with the creators of Wonder Woman The Flight of Courage!
The world's tallest, and longest single-rail Roller coaster: WONDER WOMAN Flight of Courage at Six Flags Magic Mountain is a record-breaking coaster that offers a unique experience, unlike any other at Six Flags Magic Mountain: having flying riders on a nearly two-minute journey single file while towering 13 stories, soaring at speeds up to 58 miles-per-hour, and flying over 3,300 feet of track through a series of dives, banks, rolls, and turns!