Miley Cyrus & Liam Hemsworth join Elton John for his final show of his epic 14 year Residency of his Las Vegas show: "The Million Dollar Piano", that was playing exclusively at The Colosseum inside Caesars Palace. It was a very emotional show for everyone as they said goodbye to a music legend at his last amazing show in Las Vegas .
The famous couple got to say hello to Elton backstge (see photo below), and they had both partied with Elton a few months ago at his Oscar Party. "One of the great things I'll miss about staying in Vegas – you never know who's going to pop by," the 71-year-old legend wrote on Instagram. "Love you @mileycyrus @liamhemsworth." In another post, John celebrated his 14-year-long run in Vegas. "THANK YOU!! My love to @caesarspalace for being a home away from home and the 1.8 million people who made those 450 shows so fun each and every night," John wrote. "I'll see you all in September for the #EltonFarewellTour! #lasvegas #goodbye #caesarspalace #farewellyellowbrickroad." In our featured video from Elton's show are music segments from 2 of Elton's Mega Hits: The Bitch Is Back & Bennie And The Jets: 
Everyone loves to party with Elton John, and a few were lucky enough to see his epic show in Las Vegas, as in the below photo on top: Lionel Richie (who also has a Residency with Caesars Entertainment in Vegas), and (L-R) Sir Elton John, Miley Cyrus, and Ricky Martin; and in the below middle photo (L-R) : Liam Hemsworth, Elton John, and Miley Cyrus, and in the below 2nd from the bottom photo- from Elton's  Star Studded VIP Oscar Party: Jacqueline, Renee, Steve , and Margie – having the times of their lives !  In the below very bottom photo: (L-R) : Sassoon, Steve, Lisa, and Ray – 4 of the few who were lucky enough to see his epic show: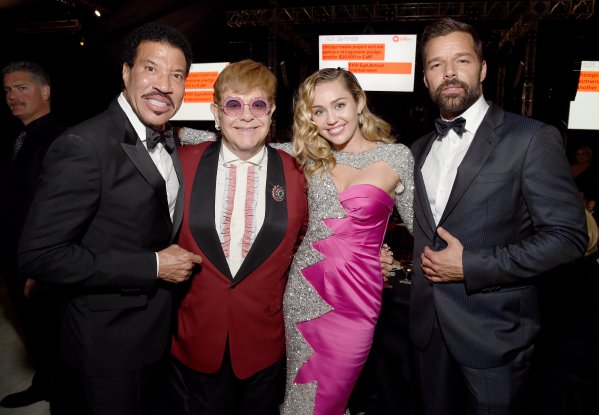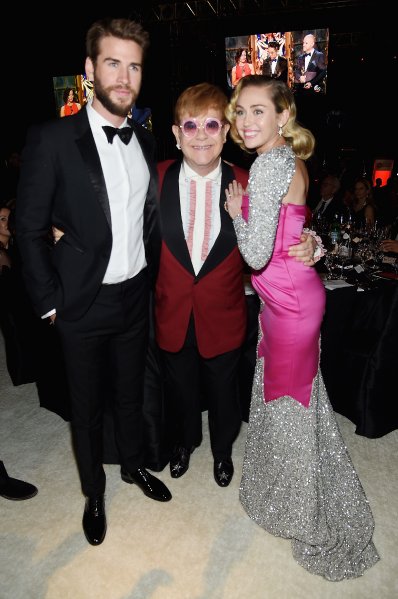 For the complete story, and ticket info go to: entertainmentandsportstoday.com, on Facebook & Instagram: @entertainmentandsportstoday , and Youtube.com/entertainmenttodaytv  #EJAF @ejaforg  #EltonJohn http://apps.facebook.com/causes/5321 www.ejaf.org @MileyCyrus @LiamHemsworth @Ricky_Martin  @LionelRichie  @EltonJohn @caesarspalace @caesarsentertainment #LasVegas @lasvegas_lv @lasvegas @vegas www.caesars.com or call (866) 574-3851 or 1-888-929-7849 #EltonJohn live from #LasVegas at #CaesarsPalace #Colosseum #MileyCyrus #LiamHemsworth See @eltonjohn @CaesarsPalace in @vegas final show.