I had the time of my life And I've never felt this way before And I swear this is true And I owe it all to you. . . Live from the Flamingo pool in Las Vegas for the live performance of Taboo from The Black Eyed Peas in an amazing show, on a brand new stage built right by the edge of the pool, only a few feet from the water! On Cinco de Mayo- Taboo uplifted the crowd and interacted with everyone, and jumped off of the stage and ran all around the pool, to get the beautiful girls in Bikinis to sing along with him, and dance, for an amazing and wild pool party ! It would be fair to say that this was the ultimate pool party! So check out our video news coverage . There will be many more to come !  
In this featured music video news segment: Taboo and everyone in the pool were singing "Time of My Life!" : In 2009, the group became one of only 11 artists to have simultaneously held the No. 1 and No. 2 spots on the Billboard Hot 100, with their singles "Boom Boom Pow" and "I Gotta Feeling", which topped the chart for an unprecedented 26 consecutive weeks. The Black Eyed Peas (originally simply Black Eyed Peas) is an American group, consisting of rappers will.i.am, apl.de.ap, Taboo, and singer Fergie. Originally an alternative hip hop group, they subsequently changed their musical sound to pop and dance-pop music. @BEP =Fergie, Taboo, will.i.am, andapl.de.ap  Below photo from The Grammy Awards- Taboo is 2nd from left.       L -R:  Fergie, Taboo, will.i.am, and apl.de.ap : 
There will be many more live concerts from big name performers this summer, making The Flamingo Las Vegas Go Pool, with the wildest and hottest pool parties in town, with live entertainment, music, DJs, food and drinks, water slide, and a beautiful tropical paradise, the place to be !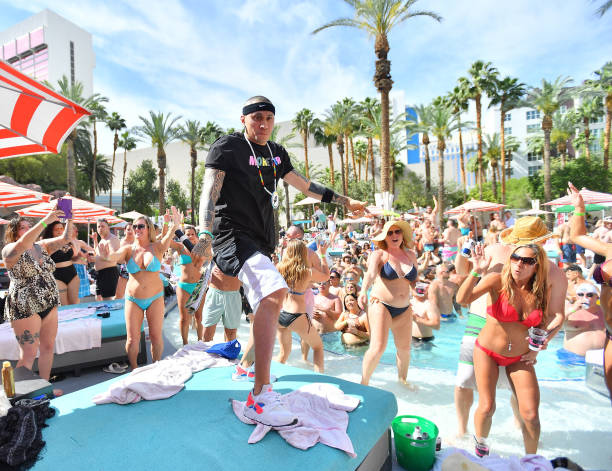 For the complete story, and ticket info go to: entertainmentandsportstoday.com, on Facebook & Instagram: @entertainmentandsportstoday , and Youtube.com/entertainmenttodaytv @caesarsentertainment #LasVegas @lasvegas_lv @lasvegas @Vegas @flamingovegas @bep @taboo #Taboo of #BlackEyedPeas performs at The #Flamingo pool in #LasVegas on #CincoDeMayo