On this show we will take you to Warner Brothers Studios for an Invite Only screening of the award winning movie musical biopic "Elvis" that starred the 6′ 0″ –  31 year old Austin Robert Butler, who gave both an amazing acting and singing performance as Elvis Presley, using his real voice; for which he won a Golden Globe Award and a BAFTA, in addition to a nomination for the Academy Award for Best Actor. Time magazine named him one of the 100 most influential people in the world in 2023.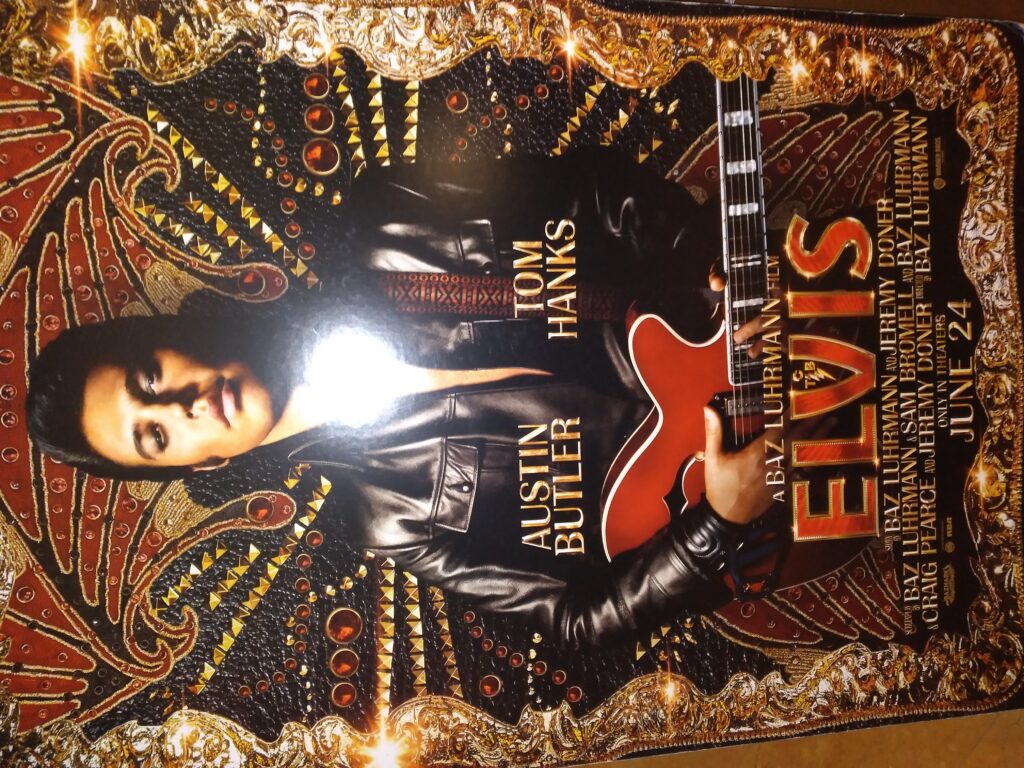 After watching this epic movie there was a Q & A with Austin, where he told us about making the movie, and he recalls visiting Elvis' bedroom with Lisa Marie Presley, 'I'll Treasure That Forever'. Austin Butler went through a dramatic preparation to play Elvis Presley: 
After the Q & A he was so kind to pose for photos with everyone that was lucky enough to be there in the Warner Brother's theatre to watch this movie: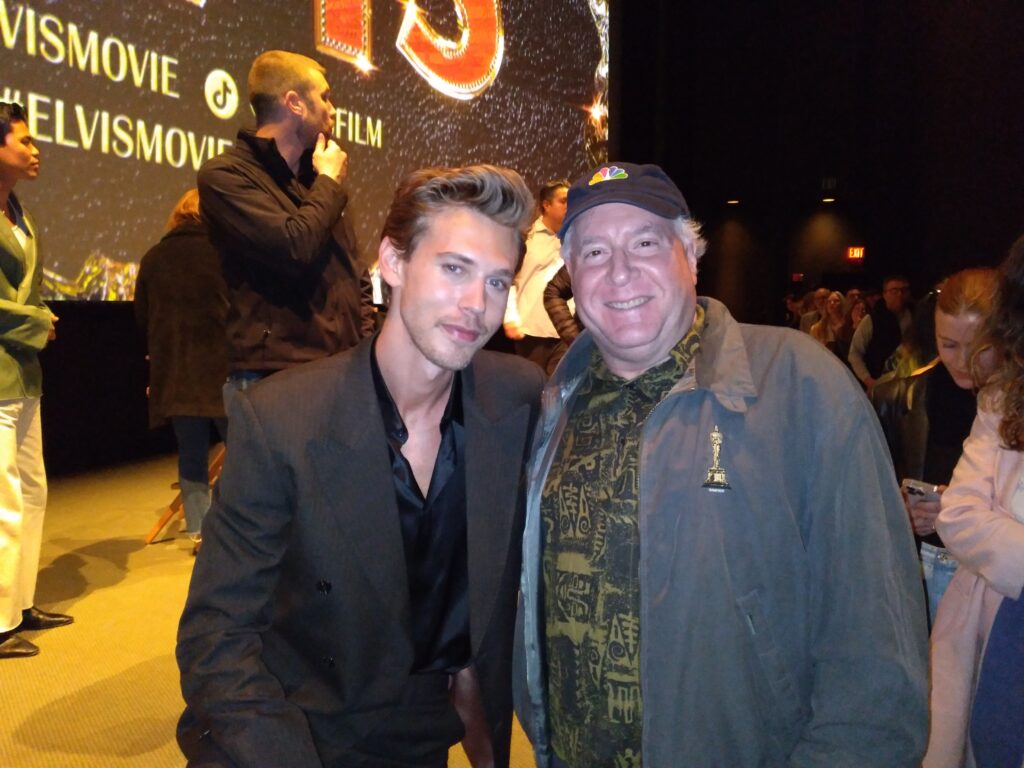 Following the completion of their Broadway run, Academy Award Winning Actor: Denzel Washington privately called Director Baz Luhrmann to advocate that Butler be cast as Elvis Presley in Luhrmann's biopic, which went on to become the highest grossing non franchise film of 2022!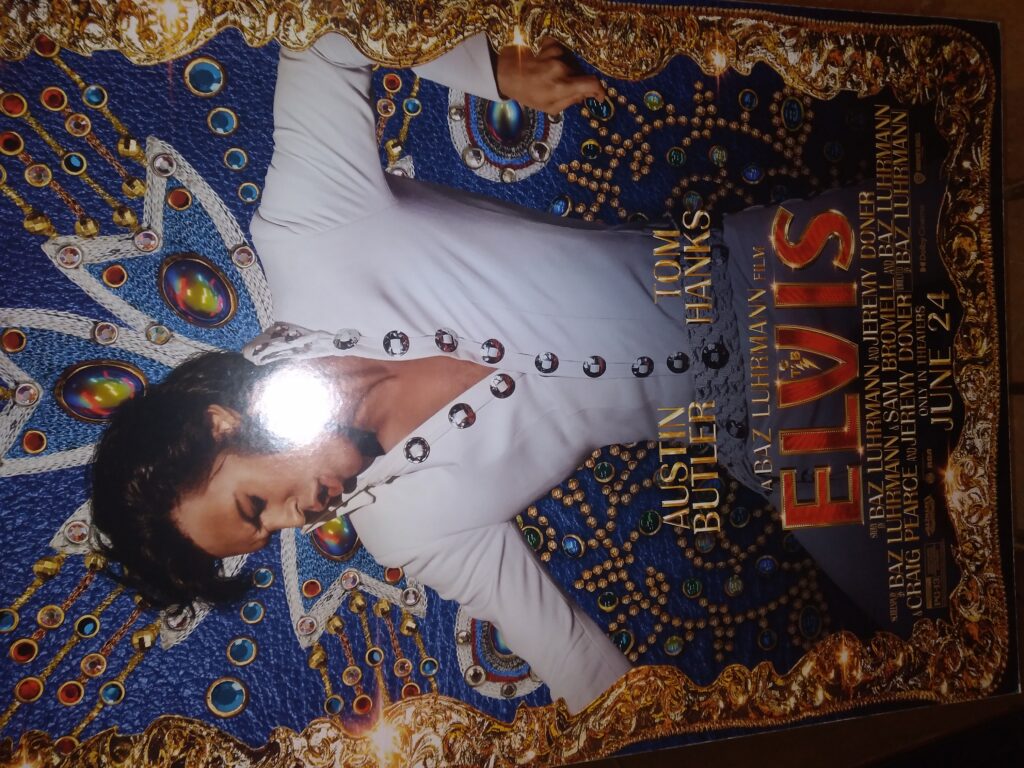 Besides the great acting job that Austin gave to portray the life of Elvis, he gave an amazing and emotional performance of the singing of the real Elvis, using his own voice!  If you watch Elvis, that is Austin's real singing voice. Director Baz Luhrmann confirmed this details in June, when he posted a video from the actor's 2019 screen test just a few days after his version of "Trouble" premiered online. Butler's voice is behind every song you hear from Elvis's early life. When Elvis moves to the later periods of the artist's career, Luhrmann opted to blend Butler and Elvis's voices together. Makeup helps sell the illusion, but so does Butler's voice. "There was a change in vocal energy as the character aged," – "That has to do a little bit with the pitch that he's speaking at, which got lower and gruffer as it went on, which is probably pretty true to what Elvis experienced in real life." Butler's voice, though undeniably… different, is authentic. "What you saw in that Golden Globes speech, that's him," . . . "It's genuine, it's not put on.  The Oscar-nominated Elvis star is *still* talking in his Elvis accent. Austin Butler, born and raised in Anaheim, California, still talks like Elvis Presley, who was raised in Mississippi with a distinctly southern drawl. Exposure to a new accent helps, but it typically takes lots of deliberate practice." That seems to be the case for Butler. The actor has said in interviews that to prepare for his portrayal of Elvis Presley, the singer was his only focus for three years.  Austin has a lot in common with the real Elvis. They are both 6 foot tall and both taught themselves how to play guitar.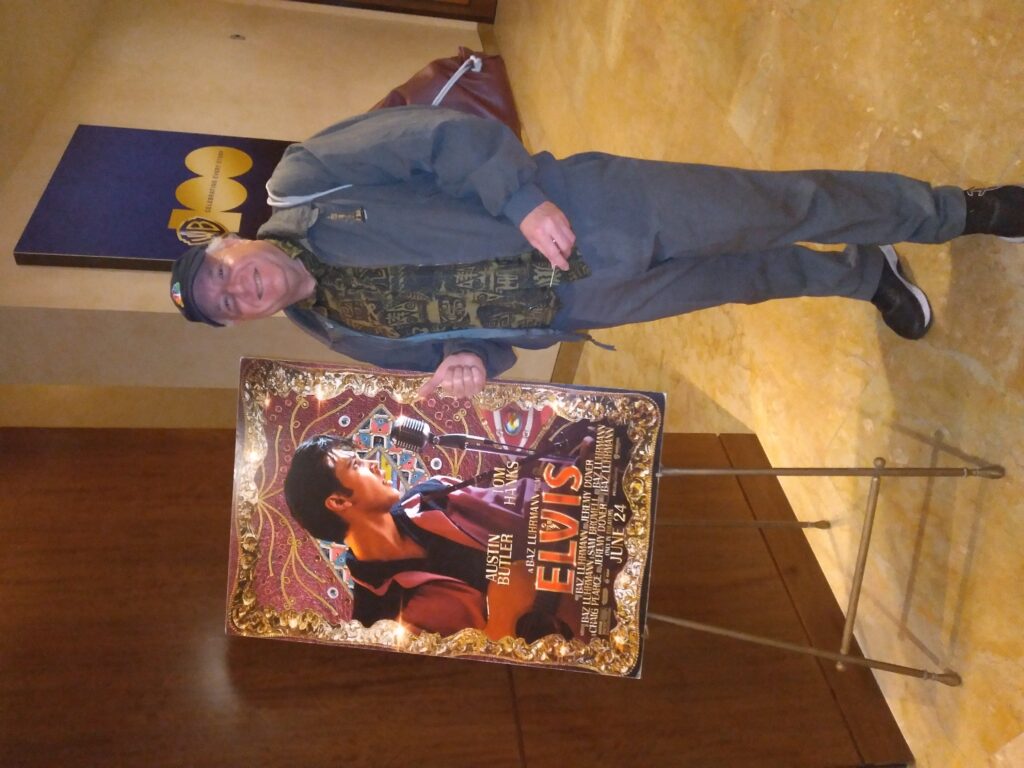 During "Burning Love," there are a few shots of the real Elvis in there. It was all sublime. They didn't want to distract audiences too much, but there are quite a few shots of him in the movie. The climactic performance of "Unchained Melody" in the film had Austin Butler as Elvis leading into the real man's performance.
Ashley Tisdale can't help but show off her love for BFF Austin Butler. In August 2021, when celebrating the Once Upon a Time … in Hollywood star's 30th birthday, the High School Musical alum reflected on their 15-year-long friendship.
Academy Award Winning Actor: Tom Hanks has reportedly earned a whopping $8 million for playing Elvis' manager, Colonel Tom Parker, for which Tom gave a great portrayal, and a great acting job that you will learn a lot more about the Colonel that you probably never knew before. While Austin "only" got paid $700,000 for his most famous role—but this could have something to do with the fact that he's starring in the upcoming Dune 2 and presumably commanded a pretty high post-Elvis paycheck. Either way, expect Austin to stay humble. Butler had more celebrities to thank during his speech. While on stage, he had gratitude for his "dance partner," Tom Hanks, who played Elvis' manager, Colonel Tom Parker. Butler also thanked Luhrmann for "believing in me in those moments when I didn't even believe in myself." Despite taking 50 per cent of all the profits from Elvis' career, Tom Parker was no less gullible than the 'rubes' whom he delighted in exploiting in his carnival days. The Colonel himself ended up being the greatest sucker of them all, giving back almost his entire fortune to the Hilton croupiers. After a lifetime that saw him earn in excess of $100 million, Parker's estate was worth barely $1 million when he died. He attended Elvis funeral dressed in a Hawaiian shirt and baseball cap, avoiding any display of emotion. He then did the unthinkable, convincing Elvis' father, Vernon, to sign over control of Elvis' movie and singing "career" to him.