Our Entertainment Today news reporter: Tressa Smiley, was very lucky and privileged to meet with The Democratic ticket's Vice Presidential Nominee: California US Senator Kamala Harris ! & Here is her story:
Truly, the BEST view comes after the hardest climb. This is a moment of historic significance for many, especially those who have come before us. It is a blessing to connect with history makers of this generation- living with purpose for the good of humanity. Now Kamala Harris, Vice President running mate with Joe Bidden, for this year's 2020 election. We need to make sure we pause and recognize this major milestone for women of color as we celebrate diversity & inclusion for 
Black American Culture.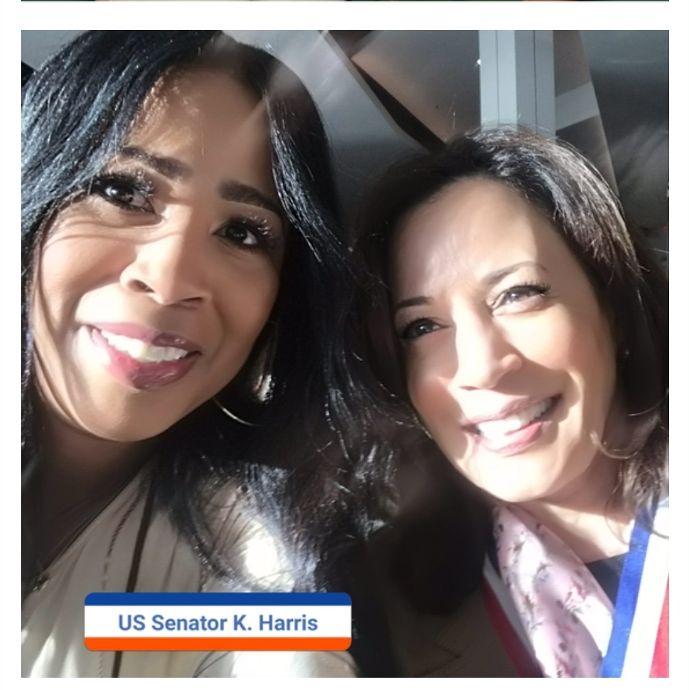 Were here because we are standing on the shoulders of many that have come before us, now we get to help clear the path for many to come. We truly are ALL in this together. Each one reach one, each one teaches one.
Congratulation to California US Senator, Kamala Harris for VP as running mate with Joe Biden.
Below are quotes Kamala Harris shares to motivate and inspire us all for 2020
1."You have to see and smell and feel the circumstances of people to really understand them."
2."Surround yourself with really good friends. Have people around you who cheer you on, and applaud you, and support you, and are honest with you, and tell you, you know, when your breath stinks."
3."I was raised in a way that one does not talk about themselves or their feelings. One is expected to do good work, but it's not about you, it's not about your feelings. It's about the thing that needs to get done."
Kamala Harris–
Congratulation to @KamalaHarris, who will make history as our next Vice President- running mate with @JoeBiden #strengthofawoman #vote2020
7 QUARANTINE TIPS TO CONSIDER WHILE WE LIMIT SOCIAL INTERACTIONS:
SOCIAL ISOLATION IS NOT IDEAL FOR OUR OVERALL WELLNESS. MOST HUMANS ARE USED TO SOME SORT OF SOCIAL INTERACTION EVERY DAY, NO MATTER HOW SMALL IT MAY BE. HOWEVER, SOCIAL DISTANCING AMID THE COVID-19 PANDEMIC MEANS WE HAVE TO LIMIT THOSE SOCIAL INTERACTIONS, AND THAT CAN BE HARD ON BOTH OUR BODIES AND OUR MINDS.
WHETHER YOU'RE QUARANTINED ALONE OR WITH FRIENDS AND FAMILY, THESE MENTAL HEALTH QUARANTINE TIPS FROM THERAPISTS WILL HELP YOU REMAIN HEALTHY AND SANE DURING THESE HARD TIMES. AND FOR MORE WAYS TO MAKE IT THROUGH SOCIAL DISTANCING, CHECK OUT THESE 7 TIPS ON HOW TO STAY CALM DURING THE QUARANTINE.
1.LIMIT HOW MUCH YOU COMPLAIN TO THE PEOPLE YOU'RE QUARANTINED WITH. 
2.MAKE TIME FOR LOVE. BUT ALSO SET ASIDE ALONE TIME. (SELFCARE) PRIVATE (ME) TIME.
3.STAY CONNECTED VIRTUALLY/ZOOM/SKYPE-SOCIAL MEDIA AND SHARE AND CHECK ON FRIENDS AND FAMILY.
4.FIND WAYS TO SAFELY KEEP PLANS YOU ALREADY MADE. 
5.SET SMALL GOALS FOR YOURSELF.
6.LIMIT YOUR ACCESS TO THE NEWS.
7.TRY TO GO OUTSIDE EVERY DAY.
PLEASE STAY HEALTHY AND SAFE DURING THESE CHALLENGING TIMES. FEEL FREE TO SHARE YOUR QUARANTINE TIPS WITH US.
Stay tuned for live daily round-the-clock news coverage from our news team in Los Angeles, Hollywood, New York, Beverly Hills, and overseas from Entertainment & Sports Today TV, and Entertainment Today, and for the complete story go to: entertainmentandsportstoday.com, on Facebook & Instagram: @entertainmentandsportstoday, and Youtube.com/entertainmenttodaytv
For tickets to future events, and Sponsorships and get advertising rates and info, E-Mail : info@entertainmentandsportstoday.com – and for more info about us go to: www.entertainmentandsportstoday.com & thanks for watching !
For more information, and if you like to buy any of these great products that you saw on our TV show, E-Mail us direct: info@entertainmentandsportstoday.com so that one of our staff can connect you with the right people. Above is our video news story, that is part of the follow up to our daily news stories on the Coronavirus.
For more news stories and updates about the Coronavirus : go to EntertainmentandSportsToday.com  and go to the top of the home page and click on the "HEALTH & BEAUTY" section.  Additional updates can be found by clicking the "Business & Technologies" , and "Entertainment" sections, or just click "Home". For stories that may uplift your spirits during these trying times go to the "Music" section of our website.
If you may have any questions- you can email us at info@entertainmentandsportstoday.com- so we can find you the answers from the doctors and health experts, that have written stories for us, and from the health agencies that have provided information and daily updates for us. & Thanks for watching, and be healthy and safe! 
We welcome the opportunity to share smiles on this positive platform. Please visit 
https://www.tressasmiley.com
 for more details on how you can save a SMILE today. #yoursmilematters   
Instagram@tsmiley2014
Tags:
Strengthofawoman, womensupportwomen, teamsmiley, talkshow, vote2020,
godsplan, kamalaharris2020, smile2020 #faith #blessed #empowerment #diversity