A look back to a better time before this terrible COVID Pandemic hit the world! When Las Vegas was wide open, and you can always look forward to the time of your life! At Harrah's Casino Hotel for 4 successful years – The "Million Dollar Quartet" stage musical brought joy to so many people that got to see this great show. It told the true story of a special historic occurrence on December 4, 1956, and the show ended it's run on December 4, 2016 – 60 years to the day after that famous event! Thus celebrating the 60th Anniversary of this amazing event in musical history!
As a gambler at Caesar's Entertainment Casinos I was very fortunate to see this show many times whenever I wanted to, on my many trips to Las Vegas, and it was one of my favorite shows, and I always had a great time. My news staff and I were also lucky enough to see the Premiere at The Pantages Theatre in Hollywood in June of 2012. I really miss that show and so many other shows that have been closed down during the Coronavirus Pandemic, and I really hope that all the great shows and concerts can reopen very soon!
Elvis, Jerry Lee, Perkins, Cash – They came together to make music. Their story made history. Million Dollar Quartet is the Tony Award-winning Broadway musical inspired by the electrifying true story of the famed recording session that brought together rock 'n' roll icons Elvis Presley, Johnny Cash, Jerry Lee Lewis and Carl Perkins for the first and only time.
Below is that famous iconic photo taken on that historic day on December 4, 1956 when these 4 legends got together for a Jam Session at Sun Record Studios at 706 Union Ave., in Memphis, Tennessee. (L-R) Jerry Lee Lewis, Carl Perkins, Elvis Presley, and Johnny Cash: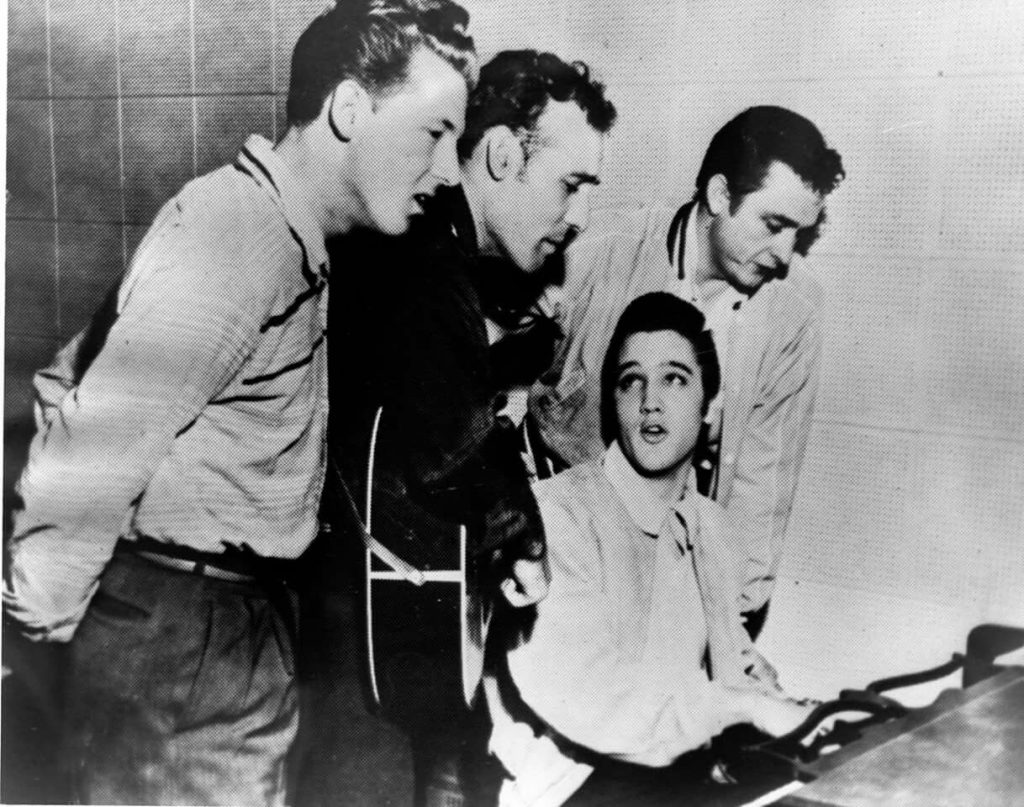 On December 4, 1956, these four young musicians were gathered together by Sam Phillips, the "Father of Rock 'n' Roll," at Sun Records in Memphis for what would be one of the greatest jam sessions of all time.
Million Dollar Quartet brings that legendary night to life with an irresistible tale of broken promises, secrets, friendships and celebrations, featuring timeless hits such as "Blue Suede Shoes," "Great Balls of Fire," "I Walk the Line," "Whole Lotta Shakin' Goin' On," "Fever," "Folsom Prison Blues," "Hound Dog" and more. This thrilling musical brings you inside the recording studio with four major talents who came together as a red-hot rock 'n' roll band for one unforgettable night. It was Rock and Roll's best kept secret…until now!
"Million Dollar Quartet" is a recording of an impromptu jam session involving Elvis Presley, Jerry Lee Lewis, Carl Perkins, and Johnny Cash made on December 4, 1956, at the Sun Record Studios in Memphis, Tennessee. An article about the session was published in the Memphis Press-Scimitar under the title "Million Dollar Quartet". The recording was first released in Europe in 1981 as The Million Dollar Quartet with 17 tracks. A few years later more tracks were discovered and released as The Complete Million Dollar Session. In 1990, the recordings were released in the United States as Elvis Presley – The Million Dollar Quartet. This session is considered a seminal moment in rock and roll.
Stay tuned for live daily round-the-clock news coverage from our news team in Los Angeles, Hollywood, New York, Beverly Hills, and overseas from Entertainment & Sports Today TV, and Entertainment Today, and for the complete story go to: entertainmentandsportstoday.com, on Facebook & Instagram: @entertainmentandsportstoday, and Youtube.com/entertainmenttodaytv
For tickets to future events, and Sponsorships and get advertising rates and info, E-Mail : info@entertainmentandsportstoday.com – and for more info about us go to: www.entertainmentandsportstoday.com & thanks for watching !
For more information, and if you like to buy any of these great products that you saw on our TV show, E-Mail us direct: info@entertainmentandsportstoday.com so that one of our staff can connect you with the right people. Above is our video news story, that is part of the follow up to our daily news stories on the Coronavirus.
For more news stories and updates about the Coronavirus : go to EntertainmentandSportsToday.com  and go to the top of the home page and click on the "HEALTH & BEAUTY" section.  Additional updates can be found by clicking the "Business & Technologies" , and "Entertainment" sections, or just click "Home". For stories that may uplift your spirits during these trying times go to the "Music" section of our website.
If you may have any questions- you can email us at info@entertainmentandsportstoday.com- so we can find you the answers from the doctors and health experts, that have written stories for us, and from the health agencies that have provided information and daily updates for us. & Thanks for watching, and be healthy and safe!