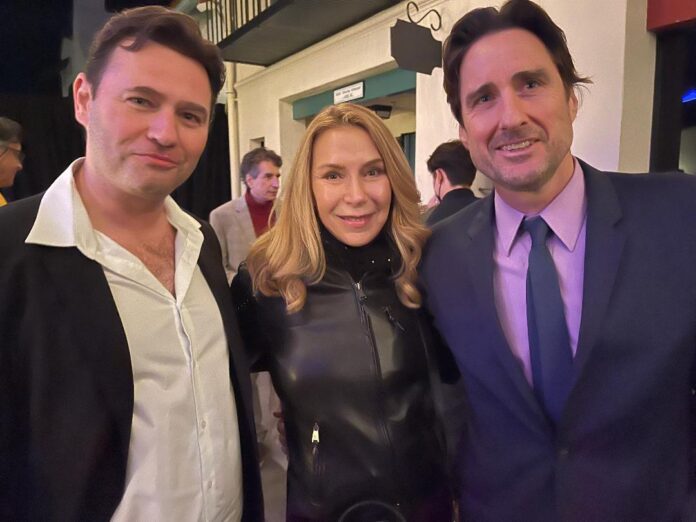 The Santa Barbara International Film festival celebrated its 38th year with the opening film directed and produced by Michelle Danner "Miranda's Victim"- the crime that changed America and caused the Miranda law to come into effect. Excitement was in the air as the director, writer, producing team & cast walked down the red carpet. 
George Kolber spoke about his screenplay being based on transcripts that he found, and mentioned he actually had a chance to speak with Patricia Weir who was "Miranda's Victim".  When Mr. Kolber asked Patricia : "What were you thinking when you were kidnapped by a stranger and put in the backseat of car barreling out to the desert". George recalled that Patricia stood up from her kitchen table during the interview and said, "I thought I was going to die."  This film is a tribute to the fortitude and strength of one woman who wanted to fight the system.
Michelle Danner's directing is artistry in motion as she orchestrates all the filmmaking elements and gets fine performances out of all of her cast. This film is a tribute to the fortitude and strength of one woman who wanted to fight the system and this director and writer who tell the story so powerfully. Michelle's attention to detail from the way she set up the shots, tone and directed her ensemble cast sends the story into motion creating a powerful and palpable emotional experience.
Abigail Breslin plays this brave young woman and gives an amazingly heart wrenching performance as Patricia Weir, the victim of Ernesto Miranda's rape when she was only 18 years old.  Her mother played by Mireille Enos gave an emotionally complex performance that rang true as to how women thought and were expected to behave in the 50s and 60s: To be a good wife, make like you're a virgin and stay quiet.
Patricia chooses the hard choice, confronting her abuser-
"Ernesto Miranda" played by Sebastian Quinn whose duplicitous performance gives you the shivers.
Patricia's sister played by Emily VanCamp supports her whole heartedly,
which causes clashes between sisters, and the mom who wants Patricia to remain quiet.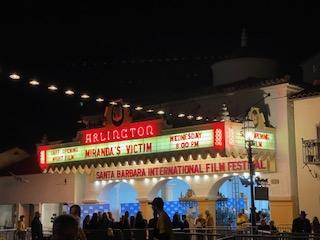 Luke Wilson as Patricia's lawyer, "Lawrence Turoff" helps give dignity to Patricia's journey and stands by her side, even intervening and talking with her husband played by Josh Bowman  "Charles" who she never told what happened to her. The relationship between Luke Wilson and John Buffalo Mailer complement each other in their acting styles & the performances, jumped off the screen.
 Andy Garcia plays "Alvin Moore" the lawyer who the ACLU hires to represent "Ernesto Miranda" and gives a moving and powerful performance as he stands up for Ernesto's "rights" and clashes with "Carol Colley" (Enrique Murciano), the detective who pressured Ernesto to sign a form saying he committed the crime of rape and abduction without reading him "his rights".
Dan Lauria as "Dr Crawford" portrays an indifference and coldness towards what Patricia went through as a "rape" victim. This pushed the needle for me-because when a woman is raped, there are so many questions and tests she goes through that cause her to feel further violated. I am grateful that Michelle Danner so skillfully painted this picture and exposed this side of it to help increase awareness and  sensitivity towards rape victims.
When Garcia retires, Ryan Phillippe as lawyer John Flynn" known as: "hire Flynn to win" was chosen by the ACLU as a lawyer trying to vindicate Miranda. Kyle MacLachan's guest performance as a Supreme Court judge Warren had wonderfully written & dramatically directed scenes as did veteran actor, Donald Sutherland, who played Judge Wren who made the final determination on the case.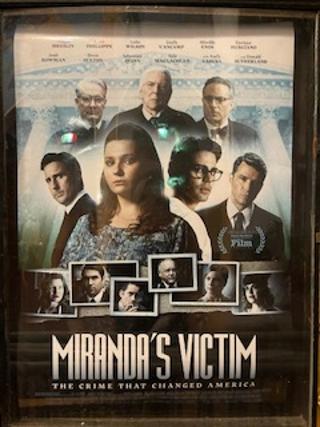 The cinematography, directing, ensemble cast, writing team and the music by composer Holly Amber Church all came together to form a brilliant gem of a film-one that I hope will be a tentpole, and a real Oscar contender in the race to come. The emotional ride and the dramatic tension of this film will move you leaving you with an imprint of this memorable and important story.   The film delivers on its title: "Miranda's Victim" -the crime that changed America". I feel this is a film that will change an audience's perception and is so important to see and make a difference in years to come! Bravo to all involved! 
 By Entertainment News Reporter:  Jacqueline Murphy