The 2 days before the GRAMMY Awards always has had a tradition of having Gift Lounges, where they have luxury products that they give to the nominees, celebrities, press, and invited VIPs. They always have the latest in fashion, skin care, perfumes, makeup, electronics, foods, organics, drinks, wines, gifts, all kinds of new products, Health & Beauty. 
So yesterday for the first time Nathalie Dubois and DPA  produced THE 2023 DPA PRE–GRAMMYS MUSIC LOUNGE AT THE LUXE SUNSET BOULEVARD HOTEL, which is one of the best Gift Lounges for the 
2023 Grammy Awards!  A few years ago, Nathalie Dubois and DPA produced the official Billboard Music awards DPA gift suite, backstage at the Billboard Music awards the UPS AMAS gift suite as well, backstage at the American Music Awards for Dick Clark Productions. Last year, DPA teamed up with Circa Resort and Casino and Barry's Downtown Prime and hosted The DPA pre-Grammys drive up in Las Vegas, and 90 % of the event's attendees were Grammys 'nominees and the event was also well covered by the medias.  This was a huge success for DPA! The firm (owner of giftingsuite.com) decided to host its first pre-Grammys gift suite in Los Angeles, so hence "The DPA pre-Grammys music lounge" for 2023. This is in addition to so many other gift lounges that DPA puts on throughout the year for most of the major award shows- for so many years now!
Entertainment Today's news team was able to film a tour in this 2023 DPA PRE–GRAMMYS MUSIC LOUNGE, that gave gifts to the Grammy Nominees and Celebrities.  We interviewed the owners and representatives at all the company booths, on this show. 
Entendre cosmetics have amazing, yummy products good for your skin and soul. They are the "coups de Coeur "of DPA, as is the below story segment, and with our reporters in the below photo: Santa Barbara Sage Organic Beauty:  Melissa from Northern California said of Santa Barbara Sage Organic beauty: "We love this company. Excellent products, excellent customer service. Everything we order smells amazing and makes our skin glow. We have been using their products for years and will continue to do so. As a bonus, we are supporting a small local business. We couldn't be happier."  If YOU want to check out their amazing beauty products go to: sbsage.com.  A special thanks goes out to our below reporters Margie (on the Left of the photo) & Bernie(on the Right) for going to every booth in this gift lounge, to learn about all these great new products and services, and share that with you, through some great interviews: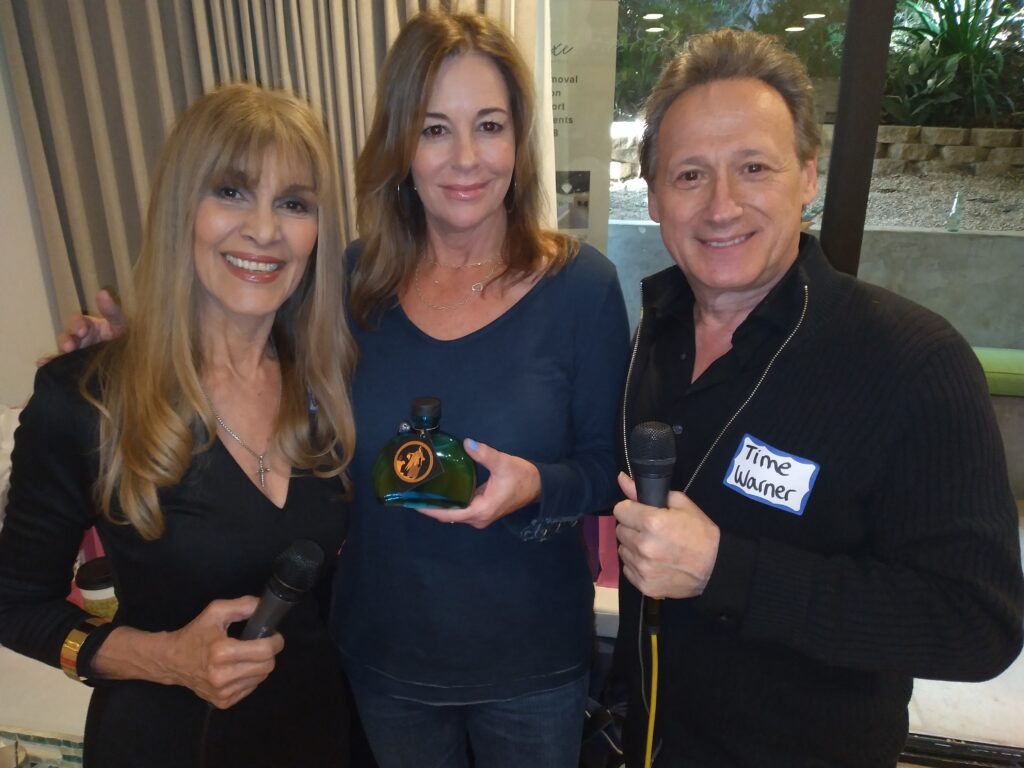 All the brands were carefully sourced by Dubois herself, and the suite as always had very international and upscale flair: Selected nominees could leave with a stay in Thailand at Pimalai Resort and Spa, a stay at The Greenhouse in Iceland, or finally a stay at le Taha'a by Pearl Resorts in French Polynesia, just five minutes from Bora Bora.
This gift suite featured numerous brands "good for the planet" but also very good for our body, using no chemicals: Ere Perez Natural Cosmetics: Their skincare and makeup have powerful botanicals and superfoods, and they have fuss-free sustainable options for luminous skin and a healthy planet, and they are beauty with a heart and a conscience!  Their collection is infused with creativity, inspiration and love from nature to transform your beauty routine into daily rituals you'll adore. To order their products go to ereperez.com.
This company is so good that we interviewed the owners twice: last year and again this year: We all need to make an impact on our planet and Scent Si Bon, already favorite of some stars, is back with its laundry and dryer sheets (inspired by famous perfumes) and will launch its luxury scented foaming hand soap tablets as well as well as its multipurpose cleaning tablets! Scent Si Bon is the "coup de Coeur "of DPA: Such a unique new concept to do your laundry, a "luxury laundry revolution", with luxury detergent and dryer sheets, individually infused with luxurious scents. This is without saying that these sheets are biodegradable, so good for our planet! For more info and to order these great products go to: https://scentsiboninc.com/  Below are our reporters with the owner of this wonderful company: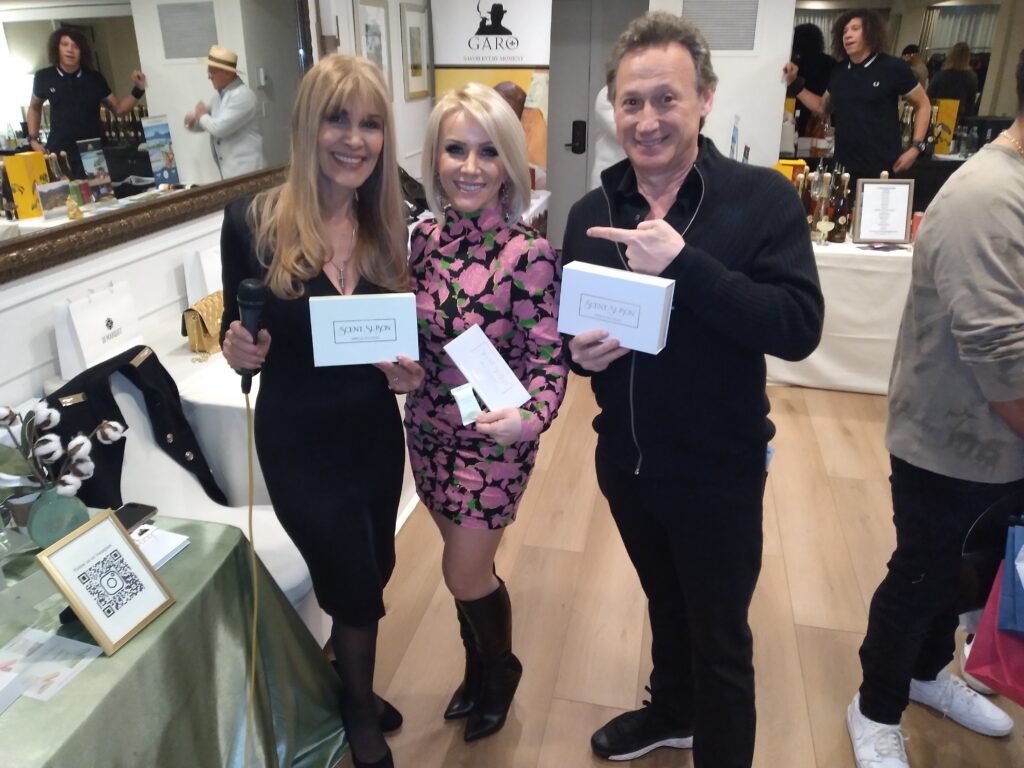 The Stacker Shop has quality products that are manufactured sustainably and ethically. All of their pieces are traceable throughout the supply chain, so they feel confident sharing their collection with the world, knowing that it supports their mission. Sustainability is so deeply rooted in their ideology that each piece comes with a reusable jewelry pouch versus extra plastic and corrugate. They offer pieces at an affordable cost while working closely with their own talented designers to ensure that each item is hand-crafted in an ethical environment. Plus, a portion of all sales goes towards a non-profit that helps support neglected horses. Their products contribute towards the well being of people, animals, and the planet. Go to thestackershop.com for more details.
The owner (Eva Varro) of the LA Fashion Designer Eva Varro, didn't want to talk on camera, but we can tell you that she has some beautiful cloths, and exquisite and unique wearable products. From bags to Jewelry to outfits, many of the guests found a unique item to wear on the red carpet! Eva Varro graduated from the Fashion Institute of Budapest, Hungary and honed her talent working for several leading fashion design companies in Hungary and Italy.  She relocated to the United States and settled in Los Angeles, California in 2002; after a very successful relationship with a Los Angeles based company, she launched her own line that became an instant success. Currently Eva's line is sold all across the United States, Canada, Europe and Central America.  Many celebrities wear Eva's designs, as seen in print and television. Eva has developed a unique construction technique that sets her product apart from others.  The construction and components make the garments fit perfectly. The garments are washable and wrinkle free because they are made of high quality fabrics super ceding other less expensive lines. Eva's exclusive signature placement prints and designs are another characteristic that sets the collection apart from others. She is known for her artfully handcrafted garments that enhance a woman's figure and are designed to fit every woman's shape, from the perfect to the not so perfect body types. Eva Varro International is a designer look at non-designer price and above all it is Made with Love and Passion in the USA. To learn more about this great designer go to https://evavarro.com/ so you can order her products today!
As usual, the DPA bar had some amazing exclusive premium brands, all teaming up together to create very unique theme cocktails: SelvaRey Rum (from owner Bruno Mars), KHEE Soju owned by Eva Chow (yes from iconic restaurant Mr Chow), Rumor Rosé, and Calm Moment the first CBD drinks!   See below photo: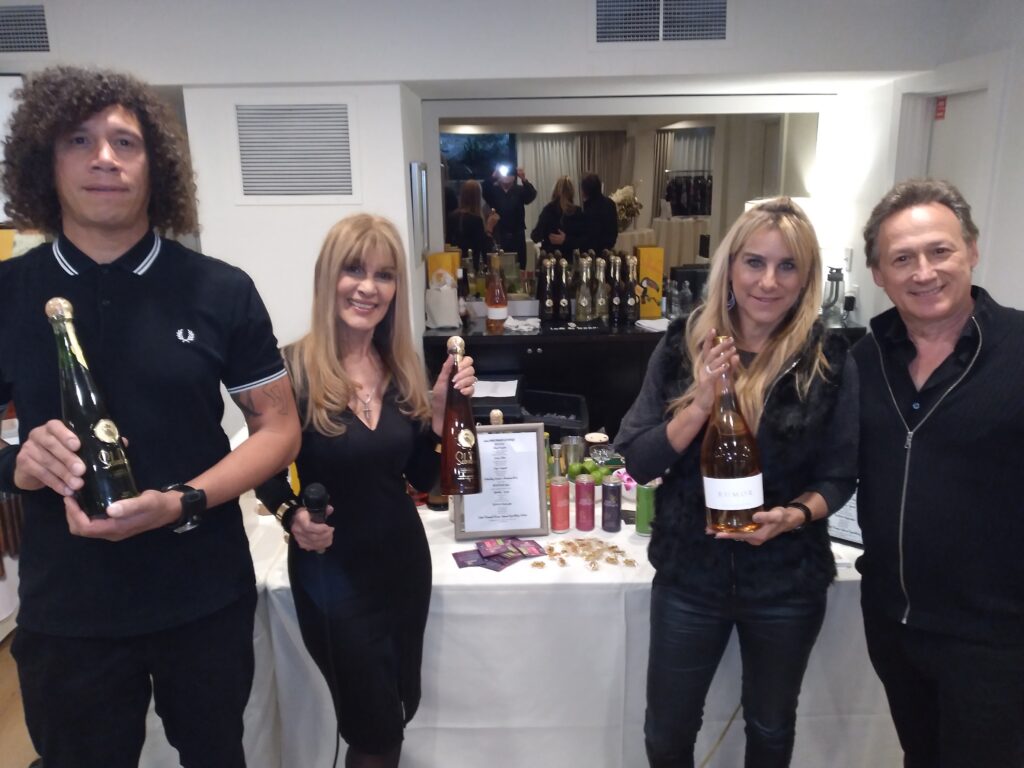 To go well with the drinks, and for the first time Garo Cigars will educate people on cigars. After successful operating a Chiropractic clinic in Glendale, CA. Dr Garo Bouldoukian decided to go back to school to earn his medical degree. The medical school he attended was in the Dominican Republic. Dr. Garo was an avid cigar smoker, and it did not take much time for him to find his way into a factory. The same passion Dr. Garo had for his practice went into the manufacturing of cigars. In 1996, Dr. Garo debuted Garo Habano Fine Cigars and released the first of many cigar blends into the cigar industry. The cigar boom of the 1990s brought a lot of new cigars brands into the marketplace. Dr. Garo's blends found their place in within the industry and have had a consistent following ever since. The Garo Blue was the first blend introduced into the market and remains the company's top selling blend. Dr. Garo Bouldoukian founded the company through his passion and commitment to creating one-of-a-kind, consistent blends. Through the tobaccos of the Dominican Republic, Dr. Garo has created unique blends that play homage to the classic Cuban tobacconists. No gimmicks, no shortcuts. In 2013 Garo Habano Fine Cigars brand evolved to become Garo Cigars. Under the new trademarked logo, Garo Cigars began to produce cigar blends in their factory in Tamboril, DR. Through the partnership with the Dominican factory, the company was able to have more direct control over sourcing tobacco and manufacturing their blends. The iconic Garo silhouette is present on every band and label.
Garo Cigars, through Dr. Garo Bouldoukian, import the manufactured cigars to their headquarters in Glendale, CA and handle U.S. distribution from there. The company currently have 35 retail partners throughout the United States. These retail partners are cigar lounges, as opposed to a standard smoke shop. International distribution is handled directly from the factory in Tamboril. International distribution includes Vietnam, Europe and the Middle East. Although the company supports brick and mortar stores, Garo Cigars does have an online store. The online store provides consumers with the ability to purchase boxes of Garo Cigars. The shop's primary purpose is to make Garo Cigar blends available to consumer who do not have a Garo Cigars retail partner in their area. After 25 years in the industry, Dr. Garo has the experience to curate and produce different blends and tobacco products. Garo Cigars has found its way into the cigar lounges that are looking for more unique blends that are timeless. Dr. Garo's cigar blending is well respected and sought after. Through is contacts and experience, Dr. Garo has managed and overseen the productions of a various blends for several brands and private labels. To order your Cigars now go to: https://www.garocigars.com/ :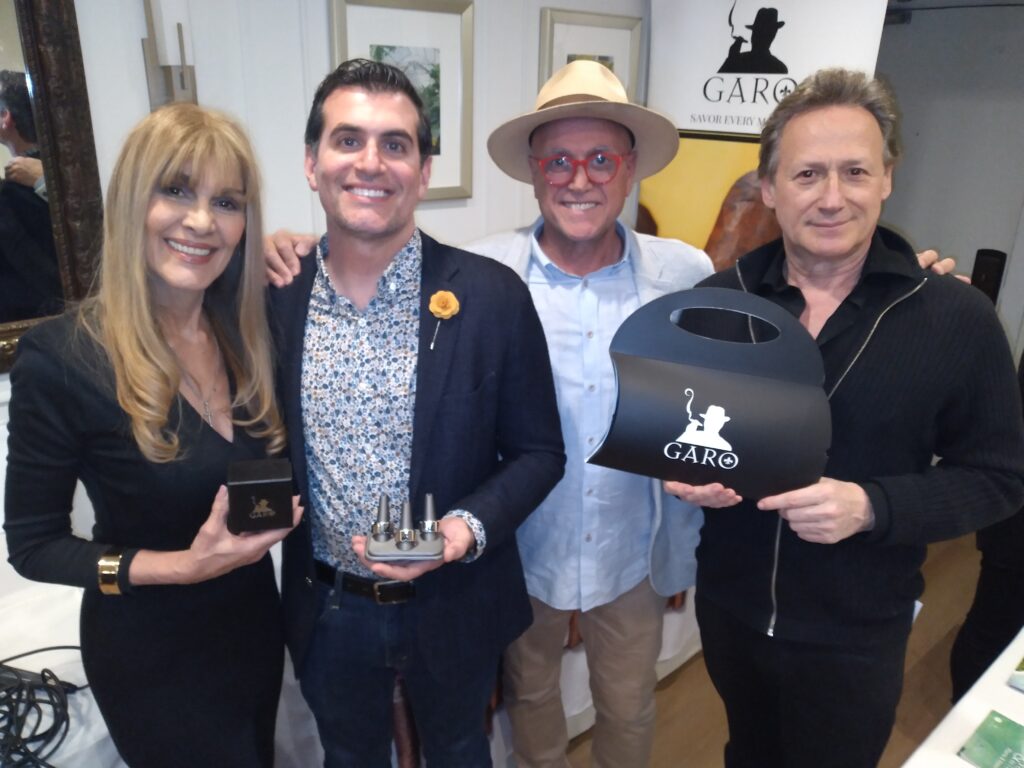 Also, in this beautiful DPA gift lounge were: Swiss DeMarquet, Kenyan the Label Saba,  Helen Ficalora, SkinMedica, Breadblok, Monika Carless, Social, Truth in hand, LA Gardeenia, Topochico, KittyNTug, and the amazing Dr Richard Garnier with Hypnomagnetism.
Box On The Rocks have retro-inspired Cocktail Kits that include recipes made by experienced Mixologists, all the needed ingredients and a new bar tool every month. Their Kits are designed to make home bartending fun and easy. (Just add your own booze!) So go to boxonthe.rocks for yours!
Carvery Kitchen is the ultimate deli restaurant in Los Angeles. They offer great foods from scratch every day, and all of their food is prepared (cooked & baked) right at their location at 8832 West Pico Blvd. in Los Angeles. You'll find Carvery Kitchen's Prime Dippers, Between The Bread, New Twist on Wraps, Open Face Crips, and so many more amazing foods – that you can experience by dining in, pick up, delivery, or by their catering service, and you can do this by going to https://www.carverykitchen.com/ or by calling 310-450-0880
Deluxe Laser and Aesthetics Spa: Deluxe Laser / Aesthetics Go to DeluxeLaserAesthetics.com or call 818-330-9149 to book an appointment for many of their great services, that are located in Montrose, California: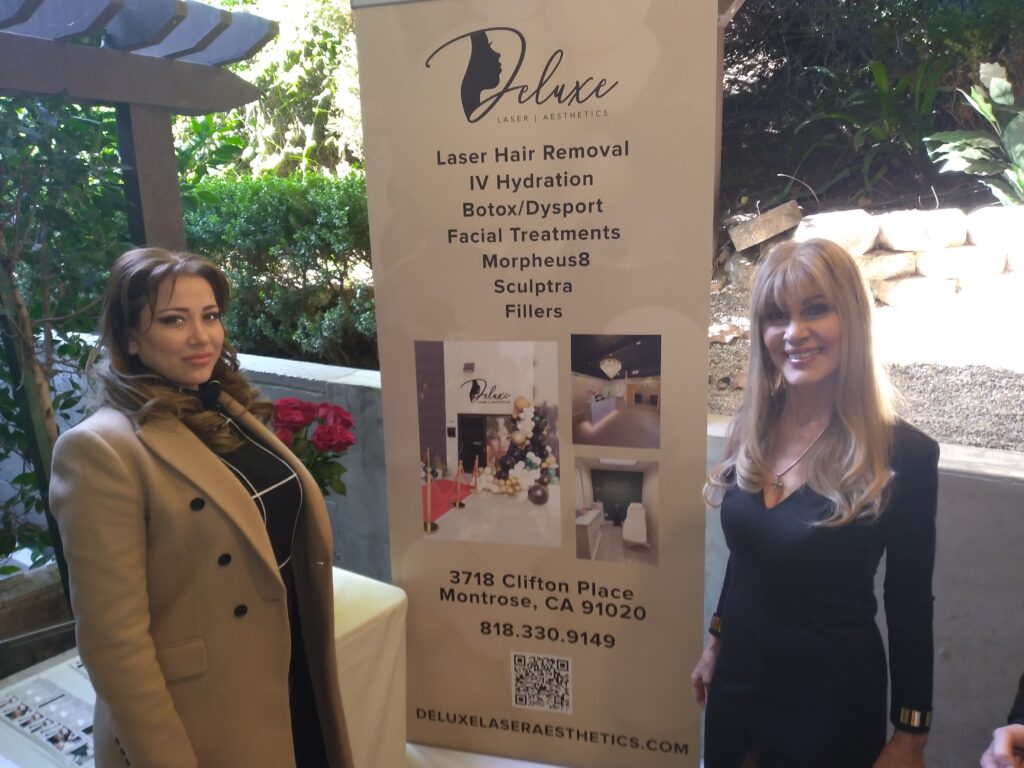 The Chic Beverly Hills children boutique Rock'N'Kids  is a posh portal to a rock 'n' roll fantasy! The interior of Rockstar Kids is sleek glamorous and kid- friendly, replete with crystal chandeliers, a catwalk and a photo booth with a flower wall. The stunning selection of designer brands and with everything from vintage rock band tees, edgy denim jackets, sequined dresses, edgy backpacks, and their well known Swarovski Converse and so much more! So visit their store in Beverly Hills for a vibe enhancing experience by calling (310) 734-7731 : 
Casa by Armaana is passionate about quality craftsmanship and creating artisan textiles meant to be passed on to future generations. CASA by Armaana's pieces are made using the ancient technique of hand-pressed woodblock printing. For more info go to: https://casabyarmaana.com/  The below photo is of our Reporter Margie learning about these amazing products: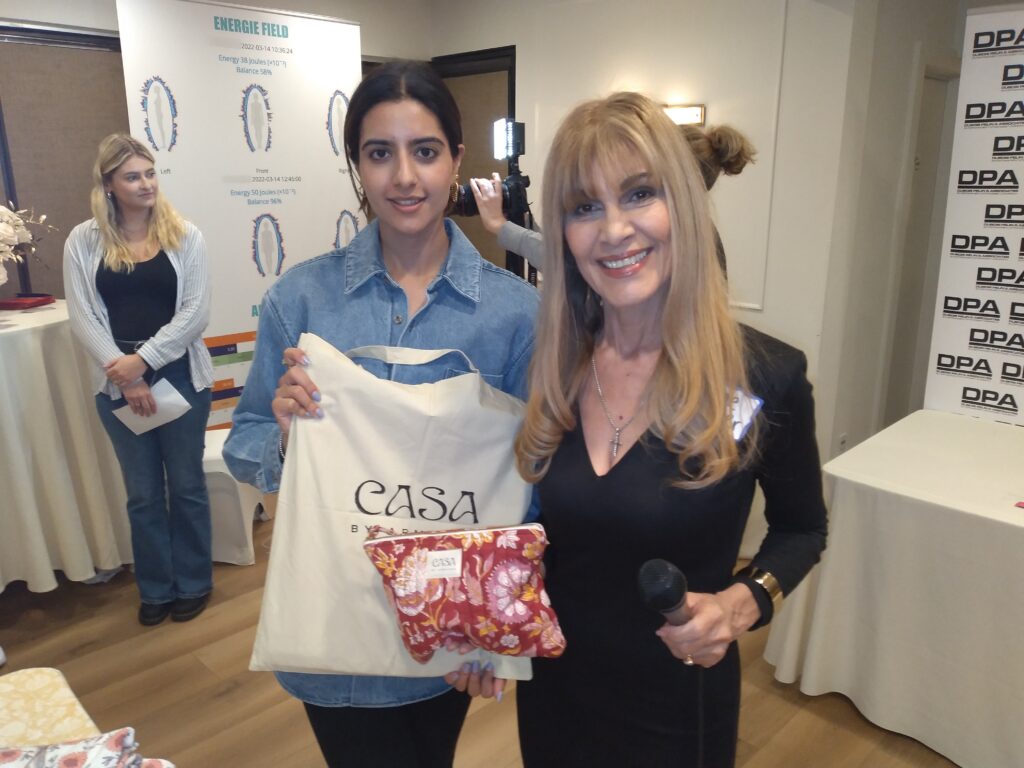 A veteran in the production of star-studded events, Nathalie Dubois, CEO of DPA, has proven herself to be exceptionally innovative and successful in the realm of celebrity gift suites. Originally from France, Nathalie Dubois attributes her success in part to her world travels and the exotic cultural influences of the products she picks for her unique gift suites. DPA run normally luxurious and spectacular gifting suites in LA, the weeks of various award shows, but also can be seen in the biggest film festivals such as Cannes, Venice or Toronto. DPA also opened its first Asian office in Tokyo, Japan in 2017, facilitating her work with the Asian market, and started working with Kenya in 2022 and DPA was also the cause of the creation of the "African Gift lounge" in Africa.
PAST ATTENDEES OF DPA GIFTING LOUNGES: Queen Latifah, Susan Sarandon, Charlize Theron, Richard Gere, Sharon Stone, Fifty Cents, Mary J Blige, Angela Basset, Rachel Bilson, Eva Longoria Parker, Morgan Freeman, Terrance Howard, Catherine Deneuve, Spike Lee, Vanessa Williams, Kate Walsh, Paula Abdul, Eric Roberts, Jennifer Love Hewitt, Jennifer Hudson, Scarlet Johansson, Edie Falco, Vanessa Williams, Terry O'Quinn, Simon Baker, Jane Lynch, Wyclef Jean, Felicity Huffman, Adrien Brody, Colin Firth, Carey Mulligan, and Viola Davis . . .