The 25th annual Milken Institute Global Conference was held at the iconic Beverly Hilton Hotel, in Beverly Hills, over a 4-day period, both in person and virtually, with over 800 speakers, government officials, Global leaders (a few years ago they had former US VP: Al Gore) 3,500 attendees, C-suite executives from Fortune 500 companies, investors, Philanthropists, The Entertainment World, Celebrities, Actors, Musicians, Oscar Winners, Grammy Winners, and innovators with the capital and influence to change the world, along with those whose expertise and creativity are rethinking health, finance, technology, philanthropy, industry, and media.
One of the best reasons to attend the 2022 Milken Institute Global Conference, is that it is a great place to "Network," make new connections, realign with old connections, and have in person meetings with people from all fields, after attendee members matched themselves up online during their advance conference registration. People met each other in The Hilton Hotel Lobby, the wellness garden, and during the many sessions. Attendees collaborated and connected during sessions that covered 13 core content tracks, including Capital Access and Economic Opportunity; Financial Markets; Regions and Developing Markets; Diversity, Equity, and Inclusion; Health and Medical Research; Sustainability and Environment; Society and Culture; and a new Security and Risk track.
The Conference panels had some interesting conversations around domestic and global hot-button topics, such as post-pandemic health priorities, mental health, disruptive technology, inclusive capitalism, sustainability, the future of work, the business and social impact of sports and entertainment, and what's next for Russia and Ukraine.
Eric Adams, Mayor, New York City, Maryland Governor: Larry Hogan, Mary Barra, Chair and CEO, General Motors Company; Sylvie Briand, Director, Epidemic and Pandemic Preparedness and Prevention, World Health Organization; Gary Cohn, vice chair of IBM, a big name in the financial world: Mark Carney, who is the Vice Chair and Head of Transition Investing, for Brookfield; Deepak Chopra, Founder, the Chopra Foundation; Tiffany Haddish, Actress, Comedian, Producer, Author and Founder, She Ready Foundation; Larry Hogan, Governor, State of Maryland; Gwyneth Paltrow, Founder and CEO, Goop, and Oscar winning Actress; Eric Schmidt, Chairman, Steel Perlot; and Rochelle Walensky, Director, Centers for Disease Control and Prevention, were just some of the speakers that gave their expertise and insights in their fields.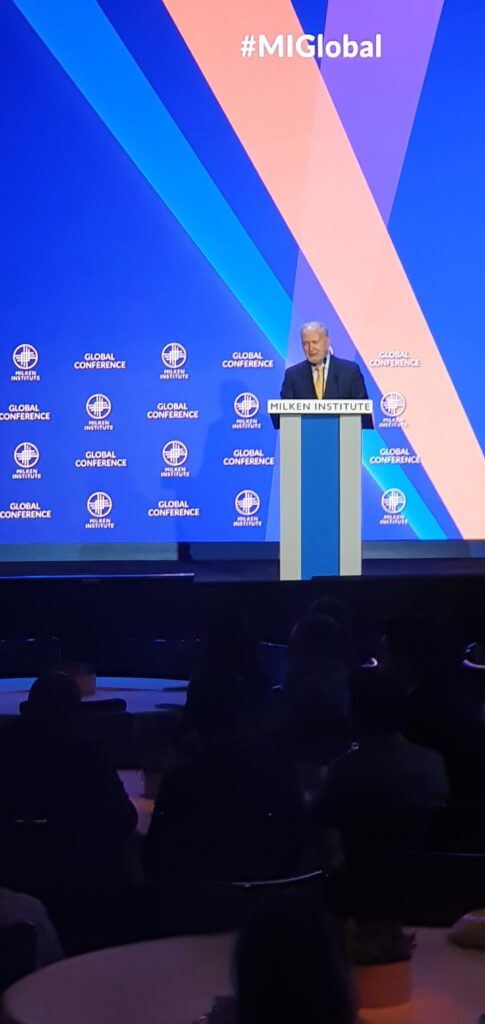 <  <  < Michael Klowden, CEO of the Milken Institute gave the closing day speech, that was both motivating and visionary for the 25th Global Milken Conference. Mr. Klowden said: "As the last few years have proven, engaging with our community to collectively imagine a better future for all people is more important than ever, and demand for an in-person event of this caliber has never been greater," . . .  "The diverse group of leaders joining us for the 25th Global Conference truly have the ability to affect global change, and we are thrilled for the opportunity to convene these minds to engage with those looking to direct capital strategically to solve problems impacting personal, financial, mental, and environmental health." Photo on left of Michael Klowden, CEO of the Milken Institute on stage during his speech.
There was a presentation by Harris Poll CEO John Gerzema on The Listening Project's peer-to-peer survey of Milken Institute Global Conference participants, comprised of Fortune 500 executives, founders, investors, innovators, and other experts, reveals nearly two-thirds (63%) are optimistic about their company's future financial performance. And 68% describe the U.S. economy as 'strong,' even as two-thirds (67%) feel the global economy is 'weak.' The president of the Milken Institute: Richard Ditizio said: "The one trait which the best leaders demonstrated most through the pandemic was resiliency, that ability to bounce back up and lead through uncertainty. The optimism evidenced by the global business community charts a refreshing new chapter as we climb out of the pandemic, having learned much about our workplaces, our stakeholders and ourselves. Despite navigating the current headwinds of inflation, supply chain issues, and rising interest rates, leaders are still focused on progress in their businesses and society overall." During the breaks between the sessions interesting poll questions appeared on screens, where participants provided their answers using a QR code.
The Milken Institute Global Conference celebrated their 25th anniversary with live music during the opening night with a great performance from David Foster and Katharine McPhee, and on closing night an iconic Concert with The Beach Boys with Special Guest John Stamos, in the Oasis Pavilion of the Beverly Hilton Hotel: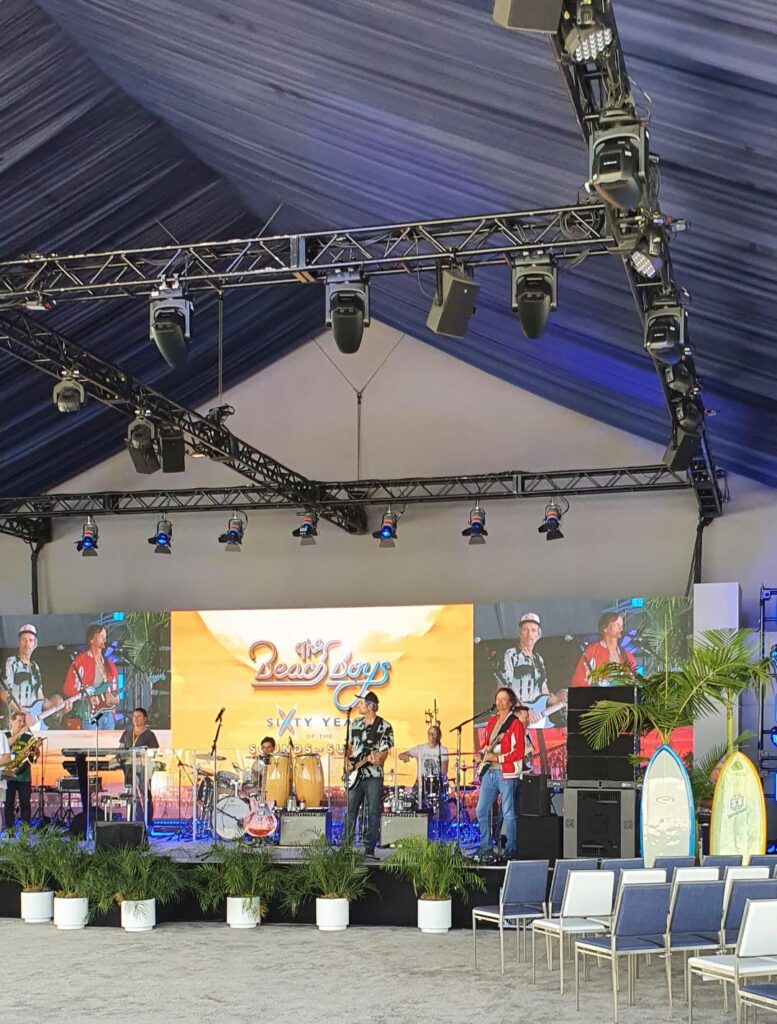 The Beach Boys were refreshing and energetic as ever, ant they provided a perfect closing with the fun program and more great food, drinks & entertainment. The Audience loved the music and spirit of this BEACH BOYS Concert and were mesmerized by this amazing group and their classic BEACH BOYS classic hits like: California Girls, Surfin' USA, I Get Around, Help Me Rhonda, Fun, Fun, Fun and the group's namesake hit, Good Vibrations. This exciting show took all of us on a musical journey of sun, surf, cars and girls as these incredible musicians captured their incomparable harmonies that made THE BEACH BOYS "America's Band!" What a great way to end this great Global Conference!
The Milken Institute is a nonprofit, nonpartisan think tank focused on accelerating measurable progress on the path to a meaningful life. With a focus on financial, physical, mental, and environmental health, they bring together the best ideas and innovative resourcing to develop blueprints for tackling some of our most critical global issues through the lens of what's pressing now and what's coming next.
They had so many fascinating Sessions and interesting speakers that it was so hard for me to choose what to attend, bur here are a few from each day:
Disruptive Technologies – Catching the Next Hype: James Mongomery led an interesting and somewhat provocative debate about the potential up-coming hype in tech & Innovation sectors. He talked about living in a time of immense technological progress and promise, with major advancements in AI, clean energy, cures to deadly diseases, and what is the next "Big Thing" for investors: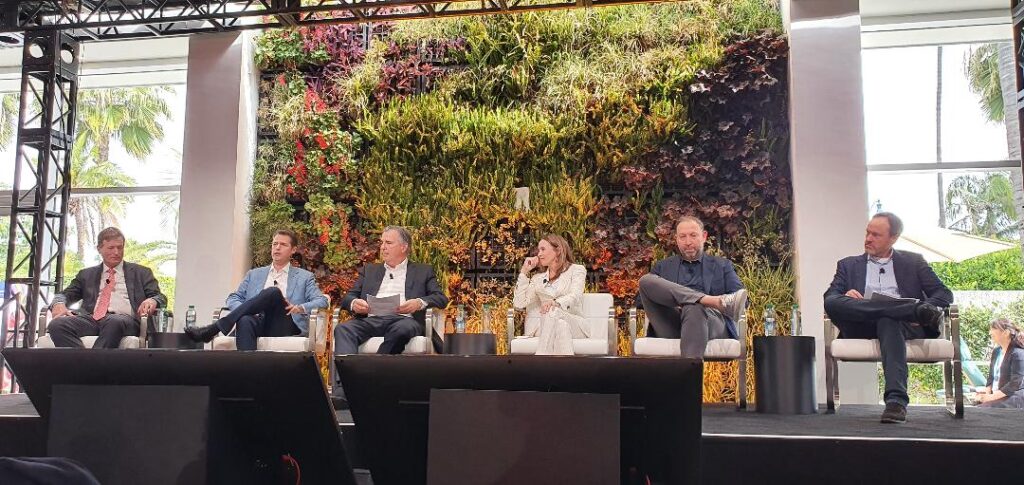 During Common Sense from Uncommon Investors:  Chairman Michael Milken dynamically led the thought-provoking session of alternative investors, including Cathie Wood, discussing how to make sense of the current unusual state of the market(s). Milken joined on stage with some of the leaders who have shaped financial markets for decades. As global markets yet again face volatility and uncertainty, I learned from the panelists about guidance and insight into how they are leading our world: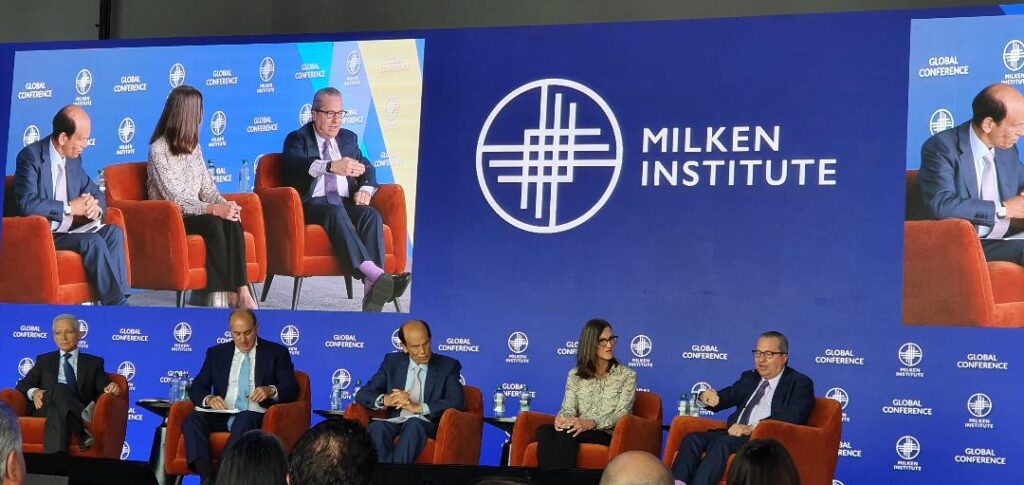 Time to Shine? Private Markets in Periods of Uncertainty: Cate Ambrose, CEO and Board Member of Global Private Capital Association led a session discussing if this is the right time for the private markets to outshine all other markets and asset classes. Renee Noto of Brightstar Capital Partners has shared their views on current challenges and opportunities on the horizon, such as the current period of high volatility and uncertainty, which have historically favored private markets over their public equivalents. However, with record amounts of capital waiting to be put to work in private equity and debt, how can investors adjust in the future: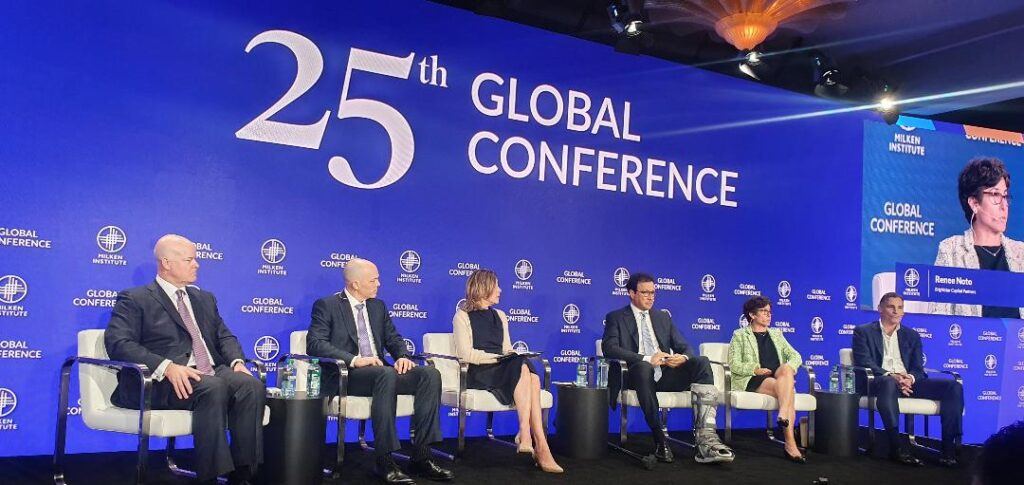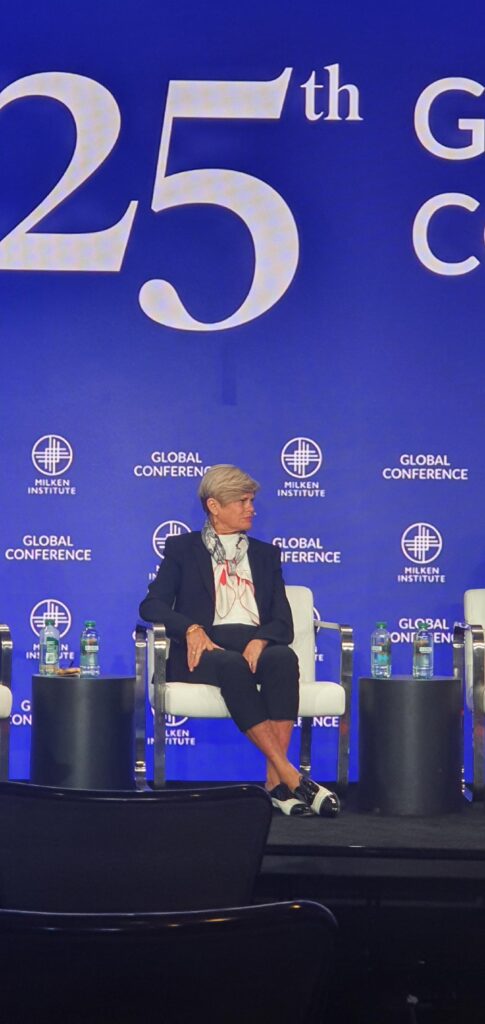 ESG for the Public Finance Sector: From Theory to Practice:  Laura Brunner, President and CEO of Port of Cincinnati shared her positive case study of implementing ESG principles into the Private-public partnerships. Like corporate and institutional investors, the $4 trillion-dollar municipal bond market is increasingly grappling with how to account more accurately for ESG goals. This panel unpacked the key issues surrounding "ESG for Munis" by highlighting practical solutions.
Building a Meaningful Life: A Conversation with Arthur Brooks and Don Cheadle: In part one was a conversation with social scientist, academic, musician, and writer: Arthur Brooks, that was an interesting story behind the book which can serve as a roadmap for building a meaningful life. For generations, peoples across time, space, and geographies have sought to answer the age-old question of how to build a meaningful life. In the second part the topic was Cultivating Creative Partnerships in Hollywood with a Conversation with Don Cheadle and Jeremy Barber: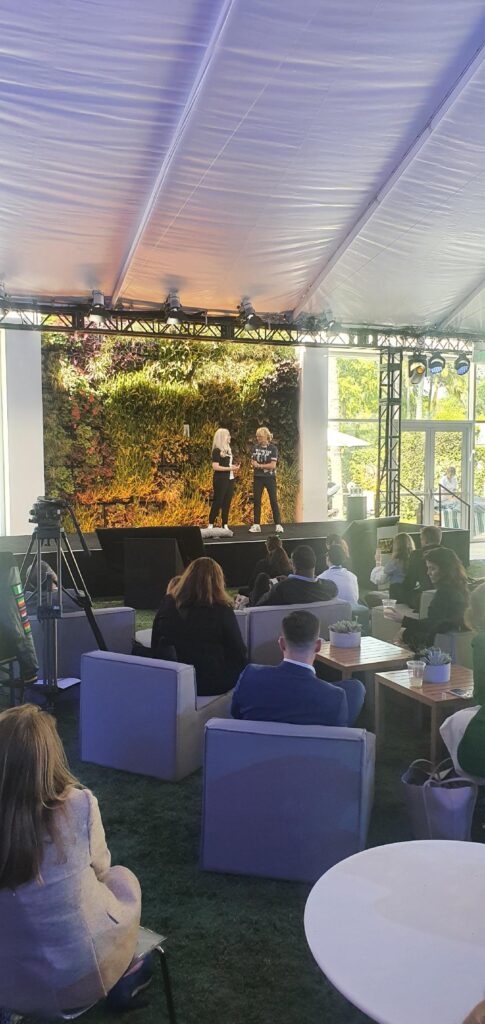 May the 4th Be with You: Jedi Mindfulness Training: This was an entertaining and educative experience led by Ashley Eckstein, voice of Ahoska Tano, Star Wars; Founder of Her Universe. All participants got engaged in the session and got direct benefits from participating. Jedi Master Yoda once said, "A Jedi must have the deepest commitment, the most serious mind." Yoda teaches us that training our mind is just as important as physically training our body.
The (R)evolution of Entertainment, Media, and Technology:  Mike Milken and his guests – legends of the US entertainment industry, took us through the modern history and (R)evolution of the American Entertainment Industry, and provided their vision of the near and further future. The entertainment and media industries as they existed at the turn of the 21st century are utterly unrecognizable just 20 years later. What was once a more-traditional business landscape dominated by three TV networks and six main creators of content is now filled with 100s if not 1000s of networks, shows, series, producers, and content creators: