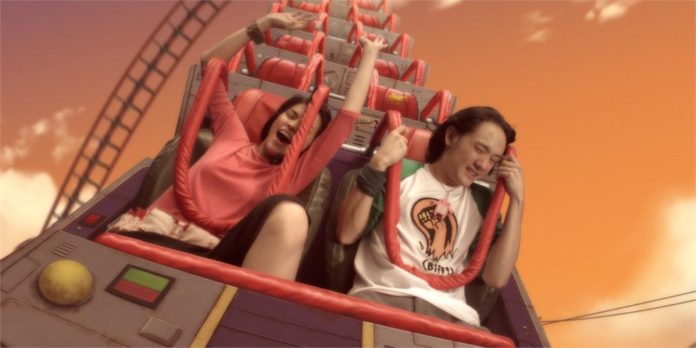 "GOOK", "COLUMBUS," "THE SOWER," "SAVE MY SEOUL" AND "PLASTIC CHINA"                                                      TAKE TOP HONORS.
On the closing day of the 33rd Los Angeles Asian Pacific Film Festival(LAAPFF) produced by Visual Communications announced their filmmaker awards for this year's edition which began on April 27 and concluded on May 11, 2017.
"GOOK," a film by Los Angeles based director/writer/actor Justin Chon, led the pack with four awards including the Audience Award, Best Director Award and Grand Jury Prize for Outstanding North American Film.  The film's breakout star – 11 year-old Simone Baker – took home the Best Actress prize.  "GOOK" has been picked up by Samuel Goldwyn Films and will be released in theaters in August. See below:
The LAAPFF closing night film "COLUMBUS" from first time feature filmmaker Kogonada and starring John Cho took home three awards including Best Screenplay, Best Cinematography and Best Ensemble Cast.
Best Actress Dimen Zandi (center) in a scene from the film RESEBA – THE DARK WIND, directed by Hussein Hassan , below:  
International films were a huge hit this year, with "THE SOWER" (Japan) directed, produced and written by Yosuke Takeuchi being awarded four awards including Grand Jury Prize, Best Actor, Best Young Talent and Best Screenplay, while the documentary PLASTIC CHINA (China) – a film by Jiu-Liang Wang – won the Grand Jury Prize and Best Cinematography Jury Award. See Below:  
The North American documentary films brought out the audiences with SAVE MY SEOUL from Los Angeles filmmaker Jason Y. Lee winning the Grand Jury Prize and two non-fiction films sharing the Audience Award – MIXED MATCH by Jeff Chiba Stearns and FINDING KUKAN by Robin Lung.
This year also marked the first time that the LAAPFF would be an Academy Award qualifying festival for the Short Film (Live Action or Animated) Oscar®, and the film that won this year's Golden Reel Award and is now eligible to qualify is "PRIA" (Indonesia) from director Yudho Aditya. Below :  
The annual Linda Mabalot New Directors/New Visions Award went to director Makoto Nagahisa for the entertaining  "AND SO WE PUT GOLDFISH IN THE POOL" (Japan).  Also for the first time, the festival established jury awards for the short documentary category with "PLEASE COME AGAIN" directed by Alisa Yang given the Grand Jury Prize.
The LAAPFF also presented the Visual Communications Trailblazer Award to actor John Cho at the LA closing night screening of "COLUMBUS" at the Directors Guild of America.  The film, a hit at the 2017 Sundance Film Festival, also starred Cho in the lead role.  He was honored for his career of over 20 years in film, stage and television and for being a leader and supporter of Asian American films and filmmakers, the organization and the festival for over two decades. Below: JOHN CHO and PARKER POSEY in a scene from the award winning film COLUMBUS directed by Kogonada :
"This year was one of the best festivals to date," said Francis Cullado, Executive Director of Visual Communications. "With 184 films from 31 countries and audiences from all over Southern California, the United States and the world, we were able to showcase our extraordinary talent in front of and behind the camera.  Our festival, our artists and our films are proof that there 'ain't no whitewashing here' nor does there need to be."
Young girl lives in the plastic recycling area of China in a scene from the Grand Jury Prize Award winning PLASTIC CHINA – a film by Jiu-Liang Wang (China) , See below:  
The 2017 LAAPFF jury members included:  Andrew Ahn; Lena Khan; Tilane Jones; Amy J. Jelenko; Charmaine Parcero; Charlize Toratani; Daryn Okada; Vera DeVera; Lily Mariye; Chris Tashima; Giselle Tongi-Walters; Parvesh Cheena; Lily Niu; Kat Iniba; Ringo Le; Senain Keshagi; Bong Monsanto; and Janice Tanaka.
JOSHUA in a scene from the Audience Award winning film JOSHUA: TEENAGER VS. SUPERPOWER –  a film by Joe Piscatella , below:  
The LAAPFF is the largest festival of its kind and this year, extended their reach from greater Los Angeles to Orange County with extended programming and encore films from May 5 – May 11 in Buena Park at the brand new CGV Cinemas – bringing these films and  stories to new audiences.
Live action intertwines with animation in the Audience Award winning SAVING SALLY – A FILM BY AVID LEONGREN (Philippines) , below: