Here is a great live on location Holiday Event for kids of all ages that is open now through January 3, 2021: The Elf ‍on the shelf magical holiday journey Drive-Thru at the Fairplex in Pomona.
In this video news segment our reporters and TV Show Co-Hosts: Jaden Benenfeld & Trinity McCourt take you on this magical journey, and give you a VIP tour that will make you feel like you are there – BUT of course it's better to experience this live and in person with your own VIP ticket!
Our 17 year old reporter Jaden produced a great report, and did the filming and editing of this event, and our 9 year old Reporter: Sarah Winick interviewed Santa in the VIP tent. Below is the photo taken in the VIP tent of Trinity (L) and Jaden (R) with Santa in the center: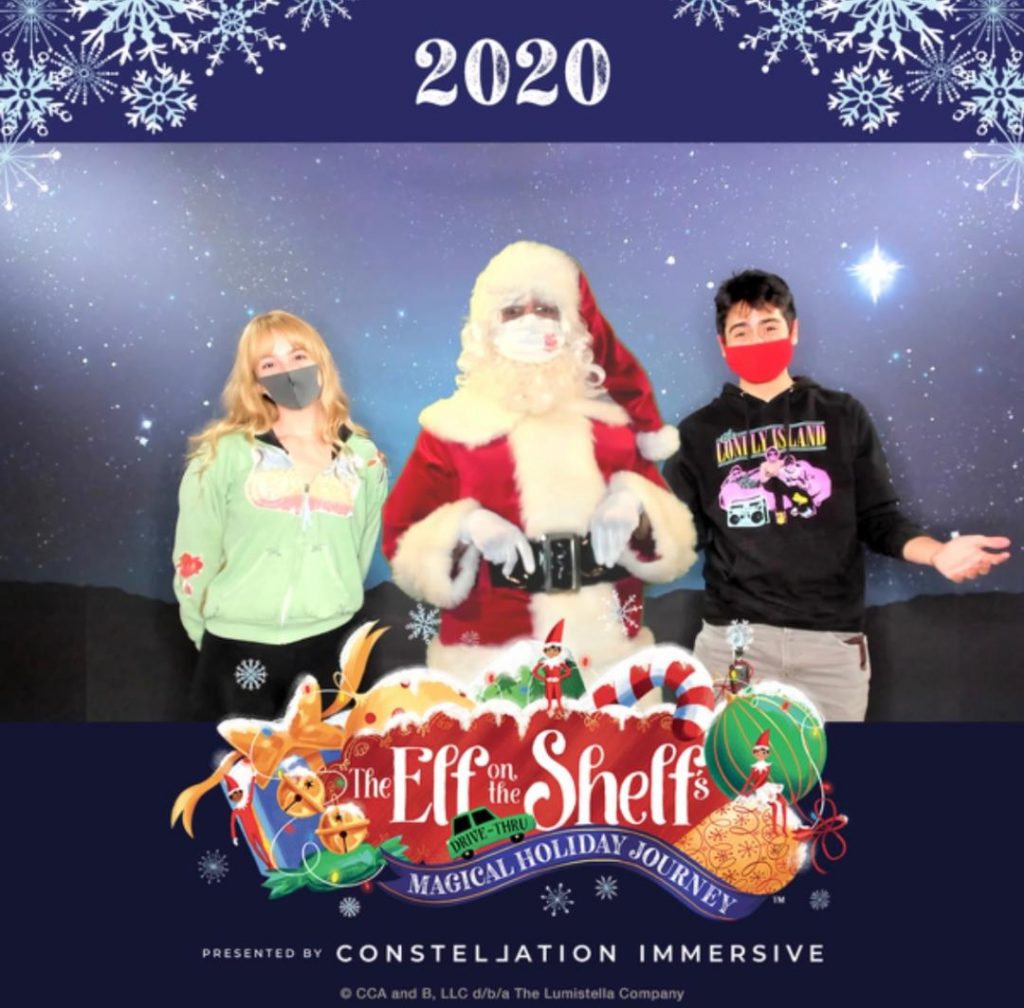 Our 9 year old Reporter: Sarah- tells us how much she enjoyed this fun event and her amazing journey through 16 amazing chapters throughout Santa's Village on the North Pool, and said how super friendly all the Elves were and how this magical holiday journey made her so very happy; and then her favorite part is when as a little VIP she went into one of 3 VIP tents and got the opportunity to meet Santa and get a beautiful souvenir photo! Sarah is second from the left – in front in the below photo: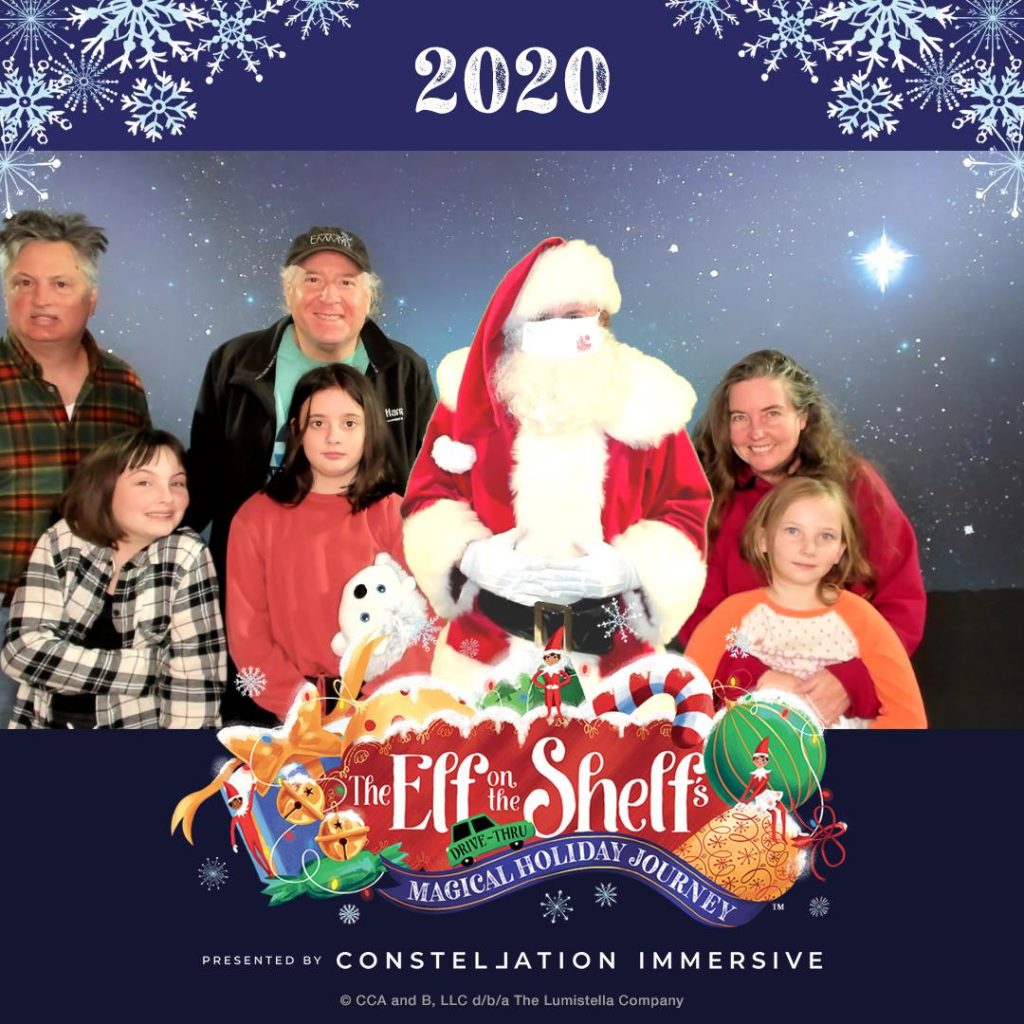 In our group photo above: Steve W, 9 year old Sarah, Steve T, 10 year old Gracie, Santa, Karen, and 8 year old "Sweet Caroline" . In the below photo is Wayne, Santa and Steve T: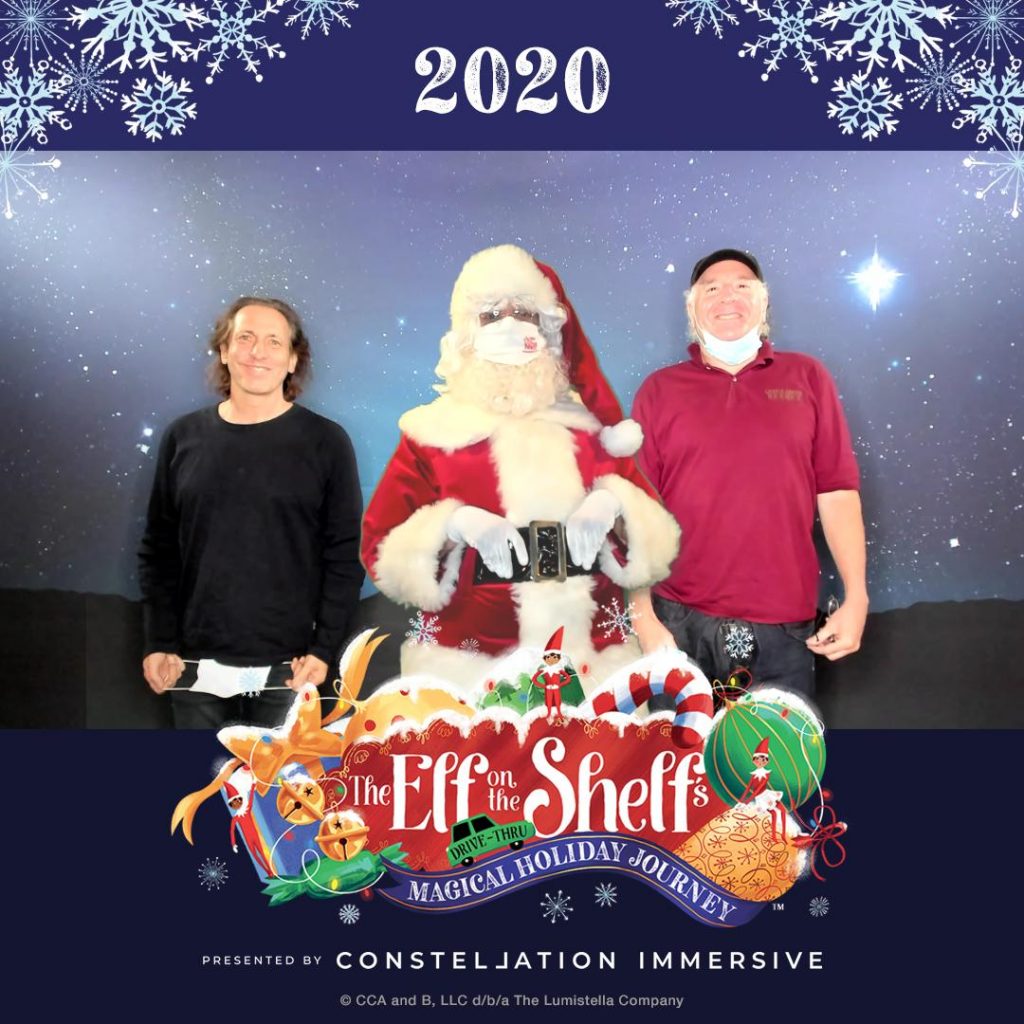 The whole show is an hour long- and you only have to get out if your car if you want to take photos with Santa in a Covid safe VIP tent.
To be Covid Safe you stay in your car and drive through a long road going 1 mile an hour at the fairgrounds, as you watch a series of shows and setups- where you are given a live narration guided tour through 16 chapters of holiday entertainment and music with singers, performers, dancers, athletic stunts, magicians, and actors – at Santa's Village in The North Pole , with elves and Santa-who you get to get a photo taken with at the end of your journey.
With the VIP ticket you get a very big red gift bag, photos with Santa, a video of your car going through the event,  and a letter to Santa souvenir
We want to give a special thanks to our reporters: Jaden Benenfeld & Trinity McCourt, Sarah Winick, and Steve Taylor, for doing a great job to show you all the attractions, entertainment stages, all the elves, and of course Santa at this amazing magical journey.
Some of our fans of our TV show may remember Jaden when he was only about 7 years old- when he did some big events with us, and now is a full grown adult- and does an amazing job as a segment producer, on-air reporter, and editor for our 2 shows. There will be a lot more shows from Jaden and Trinity very soon!
This Drive-Thru experience is a COVID safe immersive public experience that is fun for the whole family!
Stay tuned for live daily round-the-clock news coverage from our news team in Los Angeles, Hollywood, New York, Beverly Hills, and overseas from Entertainment & Sports Today TV, and Entertainment Today, and for the complete story go to: entertainmentandsportstoday.com, on Facebook & Instagram: @entertainmentandsportstoday, and Youtube.com/entertainmenttodaytv
For tickets to future events, and Sponsorships and get advertising rates and info, E-Mail : info@entertainmentandsportstoday.com – and for more info about us go to: www.entertainmentandsportstoday.com & thanks for watching !
For more information, and if you like to buy any of these great products that you saw on our TV show, E-Mail us direct: info@entertainmentandsportstoday.com so that one of our staff can connect you with the right people. Above is our video news story, that is part of the follow up to our daily news stories on the Coronavirus.
For more news stories and updates about the Coronavirus : go to EntertainmentandSportsToday.com  and go to the top of the home page and click on the "HEALTH & BEAUTY" section.  Additional updates can be found by clicking the "Business & Technologies" , and "Entertainment" sections, or just click "Home". For stories that may uplift your spirits during these trying times go to the "Music" section of our website.
If you may have any questions- you can email us at info@entertainmentandsportstoday.com- so we can find you the answers from the doctors and health experts, that have written stories for us, and from the health agencies that have provided information and daily updates for us. & Thanks for watching, and be healthy and safe!