The Flamingo Las Vegas GO POOL always has the best wild pool parties in Vegas, and everyone has a the time of their lives! During the summer season, which is about April through early October: almost every SATURDAY, and sometimes Friday and Sunday there are LIVE PERFORMANCES BY big name Grammy Winning performers, with a real wild "Shake Your Bootey" contest about 1 hour before the concert on Saturdays, that is hosted by Brian Thomas, who really gets all the sexy ladies from the pool- all revved up and excited to show off their "stuff" and shake their buts !
So stayed tuned with VIP Diamond access shows from the Flamingo Pool this summer!! The Flamingo Hotel & Casino has built a stage right by the pool- so that you can stay wet and cool, and watch a great concert! Below photo from an amazing pool party and concert by Mark McGrath of rock band Sugar Ray, and me at Flamingo Las Vegas Go Pool: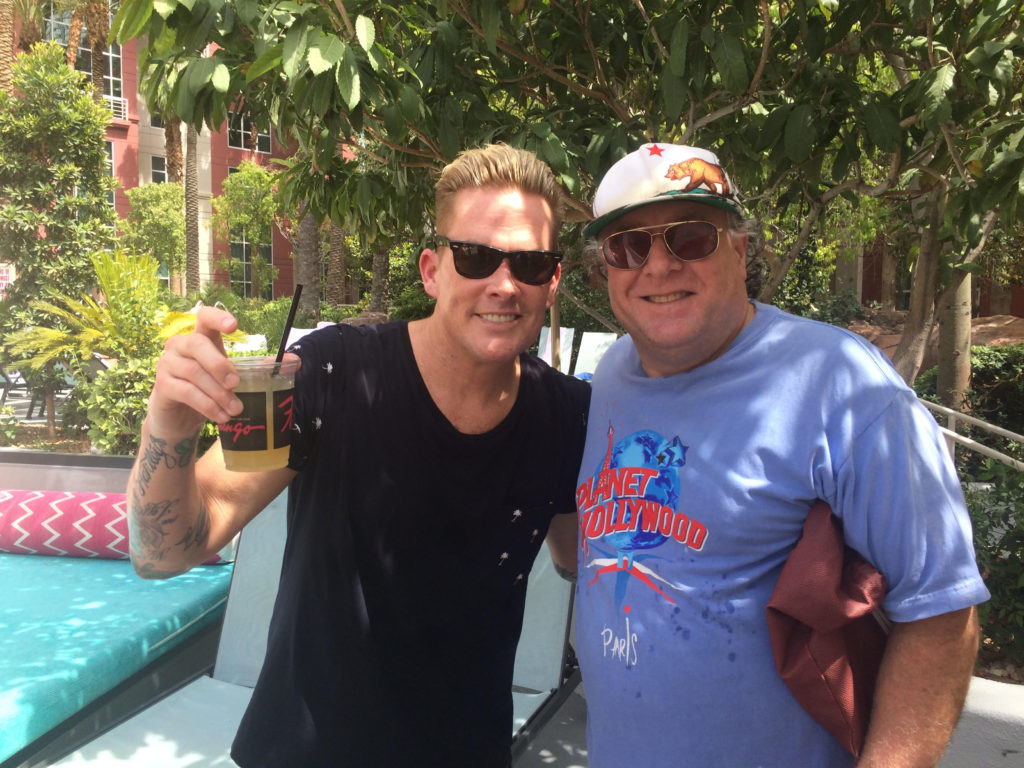 There will be many more live concerts from big name performers this summer, making The Flamingo Las Vegas Go Pool, with the wildest and hottest pool parties in town, with live entertainment, music, DJs, food and drinks, water slide, and a beautiful tropical paradise, the place to be !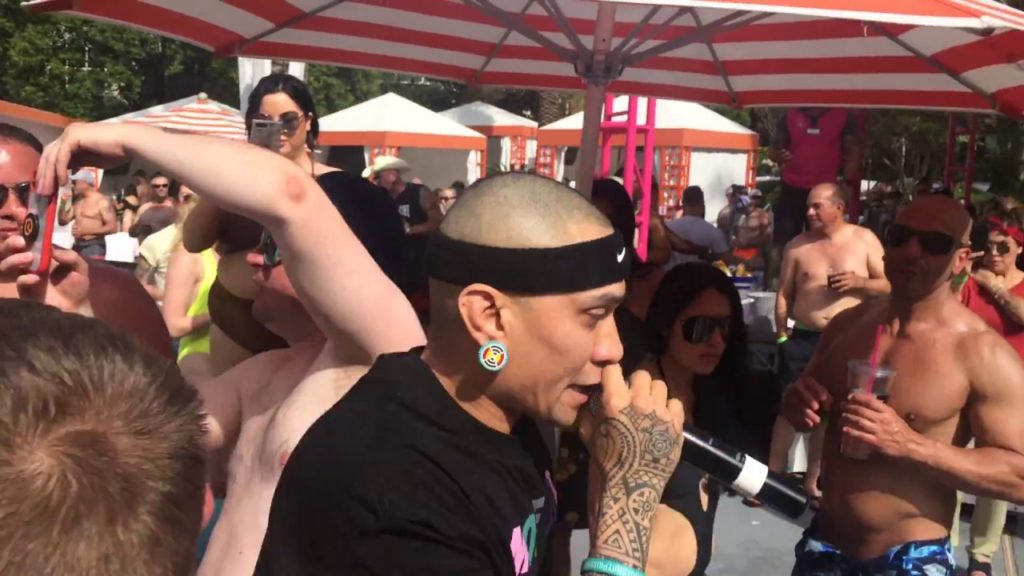 In this featured music video news segment: Taboo and everyone in the pool were singing "It's gonna be a good good night !" – from the song: "I Gotta Feeling" – the second single from The Black Eyed Peas, which won the Grammy for Best Pop Performance by a Duo or Group with Vocals, and is the first song in digital history to sell over 7 million digital copies in the United States, and holds the record as the most downloaded song on iTunes of all time! This also makes it the highest selling digitalas well as non-charity single in the US ever, making them one of the world's best-selling groups of all time!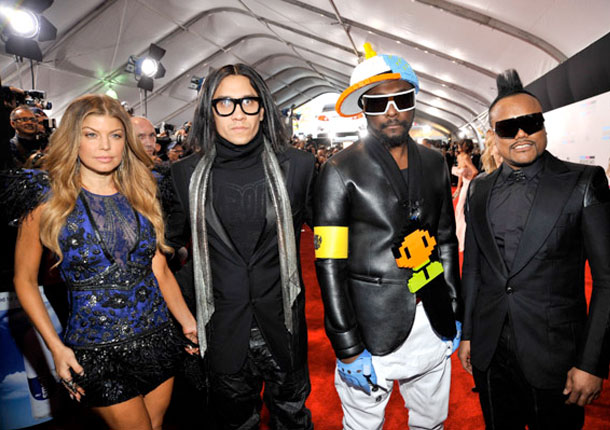 "It's gonna be a good good night !"  . .  Live from the Flamingo pool in Las Vegas for the live performance of Taboo from The Black Eyed Peas in an amazing show, on a brand new stage built right by the edge of the pool, only a few feet from the water! On Cinco de Mayo- Taboo uplifted the crowd and interacted with everyone, and jumped off of the stage and ran all around the pool, to get the beautiful girls in Bikinis to sing along with him, and dance, for an amazing and wild pool party !    It would be fair to say that this was the ultimate pool party! So check out our video news coverage . There will be many more to come !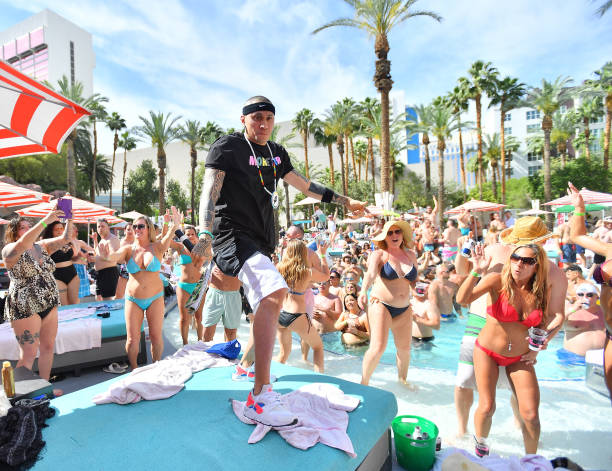 Here are just a few of the performers that will have concerts this 2019 summer:
Saturday May 4th: FLO RIDA!
Saturday May 11th: DJ SET BY NINA SKY!
Friday May 17: 12 NOON UNTIL 5PM: EDC WEEKEND FEATURING PROJECT X
Saturday, May 18: FEATURING DJ'S VAVO
Saturday, May 25: FEATURING JA RULE PERFORMING LIVE!
Sunday, May 26: SPLASH SUNDAY – CELEBRATE MEMORIAL DAY WEEKEND WITH CELEBRITY GUEST DJ TABOO OF THE BLACK EYE PEAS. You can check out Taboo in our featured video.
Friday, May 31 at 8PM: COUNTRY CONCERT SERIES FEATURING DYLAN SCOTT
Saturday, June 8: #DAYBEATS FEATURING GRAMMY AWARD WINNER ASHANTI
Sunday, June 9: #SPLASHSUNDAY FEATURING GINUWINE
Saturday, June 15: #DAYBEATS FEATURING ALIVE PERFORMANCE BY BOW WOW
Saturday, June 22: #DAYBEATS FEATURING A LIVE PERFORMANCE BY VANILLA ICE
Friday, July 12: COUNTRY CONCERT SERIES FEATURING RANDY HOUSER
Saturday, July 13: #DAYBEATS FEATURING MA$E
Friday, July 19: GO FRIDAYS FEATURING BRYCE VINE LIVE! HOSTED BY 104.3 NOW FM
Friday, July 26: COUNTRY CONCERT SERIES FEATURING MIDLAND -DOORS OPEN AT 6:30PM AND SHOW STARTS AT 8PM
Saturday, August 17: #DAYBEATS FEATURING A LIVE PERFORMANCE BY JESSE MCCARTNEY
Saturday, August 24: #DAYBEATS FEATURING FLO RIDA
Tuesday, August 27: COUNTRY CONCERT SERIES FEATURING RUSSELL DICKERSON
Tuesday, September 17: COUNTRY CONCERT SERIES FEATURING MITCHELL TENPENNY
Most days above unless noted: DOORS OPEN AT 9AM WITH GREAT SPECIALTY COCKTAIL PITCHER AND BOTTLE FEATURES UNTIL 12 NOON. DJ ERIC FORBES AND HOST BRIAN THOMAS WILL BE IN THE MIX FROM 12 NOON UNTIL 6PM on most Saturdays. @Flamingo #Flamingo #GoPool @FlamingoGoPool
For the complete story, and ticket info go to: entertainmentandsportstoday.com, on Facebook & Instagram: @entertainmentandsportstoday , and Youtube.com/entertainmenttodaytv @caesarsentertainment #LasVegas @lasvegas_lv @lasvegas @Vegas @flamingovegas @bep @taboo #Taboo of #BlackEyedPeas performs at The #Flamingo pool in #LasVegas on #CincoDeMayo