If you want the most amazing gourmet eating experience – go to the Black & Blue Restaurant at Valley View Casino- in Escondido, California, which is only about 2 hours from Downtown Los Angeles, where you will find the biggest Tomahawk steak available at any restaurant in the USA- it's 50 ounces– more than 3 pounds of delicious gourmet meat!
I have been to the top restaurants in Los Angeles, Beverly Hills, San Francisco, New Orleans, New York, Dallas, Houston, San Diego, Laughlin, Reno, Lake Tahoe, and Las Vegas, and I can confirm it's the absolute biggest!
Las Vegas has some amazing restaurants, like the Legendary New York Restaurant: Old Homestead Steakhouse at Caesars Palace, that has a 38 ounce Tomahawk Ribeye for 2 people; and at Bugsy & Meyer's Steakhouse Restaurant at the historic Flamingo, that has a Prime Dry 60 Day Aged Tomahawk Ribeye 32 ounce for 2 people- but the Black & Blue Restaurant in Valley View Casino Hotel in Escondido – tops them all at a whopping 50 ounce- at a much lower price with way more meat- that is an experience that you will never forget!
Even their
starters
like the
Steak Wraps with Filet Mignon
, is bigger than most Restaurant's main courses! See photo below: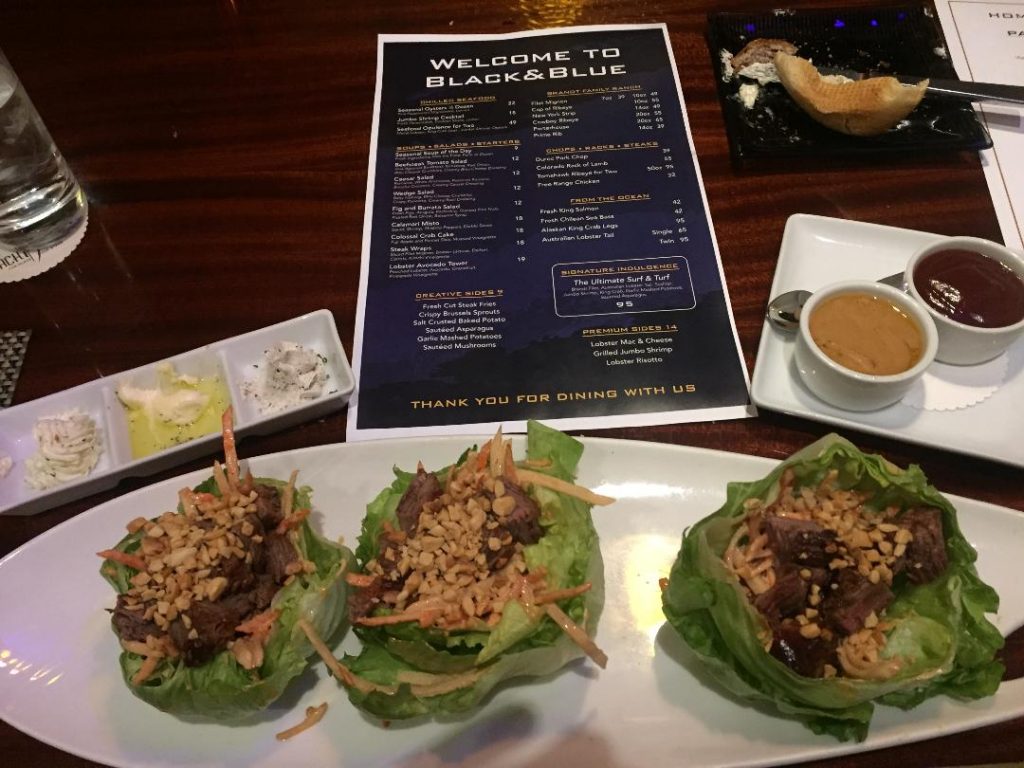 As with all Casino restaurants on Indian land, Valley View has their own farms and fields with cattle, chickens, pigs, cows, buffalo, vegetables, fruits, dairy, juices, coffee, and fish from the ocean, to give you the finest, and freshest ingredients direct from the farm to your plate!
Check out their great
menu
below that has all the great classic foods: Oysters, Maine Lobster, Australian Lobster Tails, Alaskan King Crab Legs, Lobster Mac & Cheese, Lobster Risotto, Fresh King Salmon, Lobster Avocado, Cowboy Ribeye, New York Strip, Porterhouse, Duroc Pork Chop, and Colorado Rack of Lamb: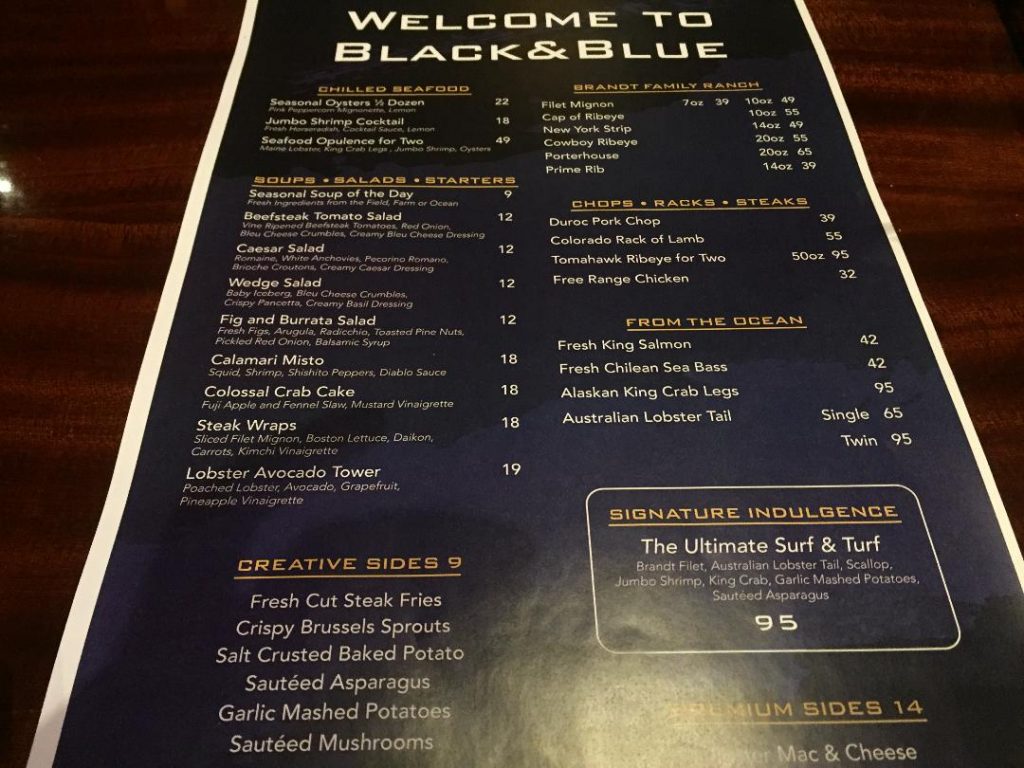 I indulged myself into their mushroom soup, and 4 varieties of their own special bread they make fresh, and bring right to your table, along with 3 different kinds of specialty butters.
The Tomahawk is the best centerpiece of any gourmet meal that you can find anywhere in the world!
For dessert I would recommend the classic Baked Alaska made with Vanilla Cake, Raspberry Sorbet, Vanilla Gelato, Torched Italian Meringue, and Fresh Berries. Barbara "Barbra" Streisand would say: "It's to die for!"
They have some amazing
Organic Hot Teas
– like the Cranberry Rooibos, where the waiter brings to your table an
old-fashioned sand glass timer, to time how long you want your tea to heat up to give you light, medium, or strong tea, using the French Pressed device
that they give you. What a unique way to serve the tea! You can see both of these items, and the Baked Alaska in the below photo: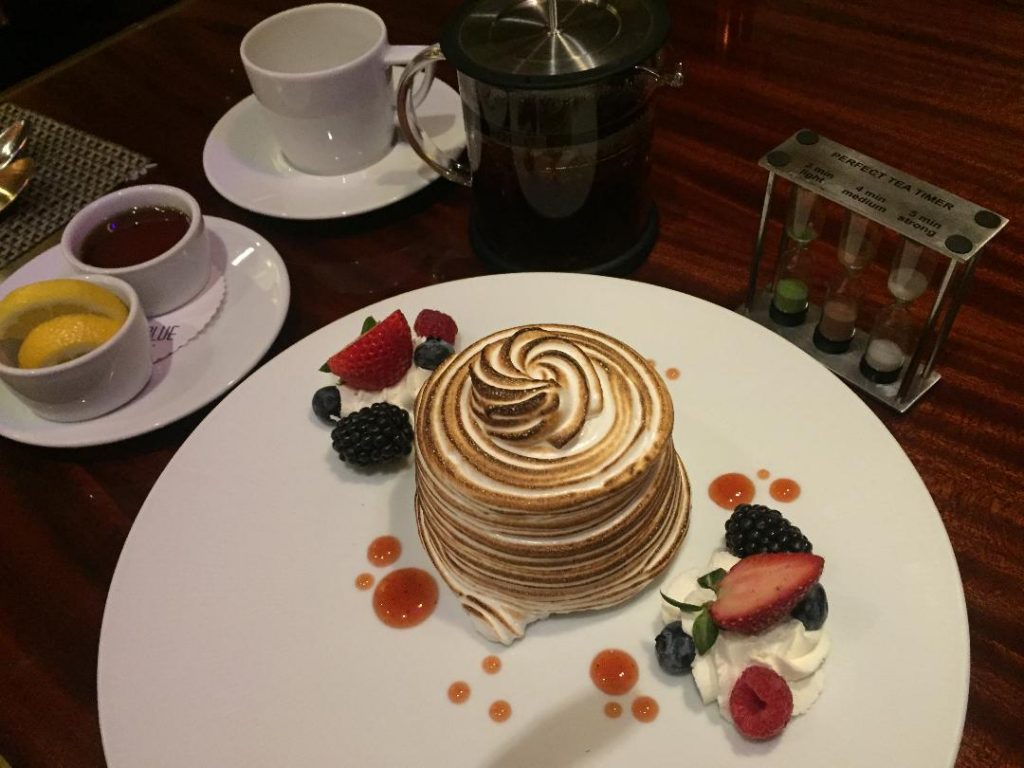 I wanted to give a special thanks to my good friend: Kevin – who is one of the top executive casino hosts at Valley View Casino and made all the arrangements for this amazing dinner. I would highly recommend this restaurant for any special occasion that you have, and you too will be given the VIP treatment! In the photo I am holding up the Black Card which brings you many VIP perks, like great dinners at all their
award-winning restaurants!