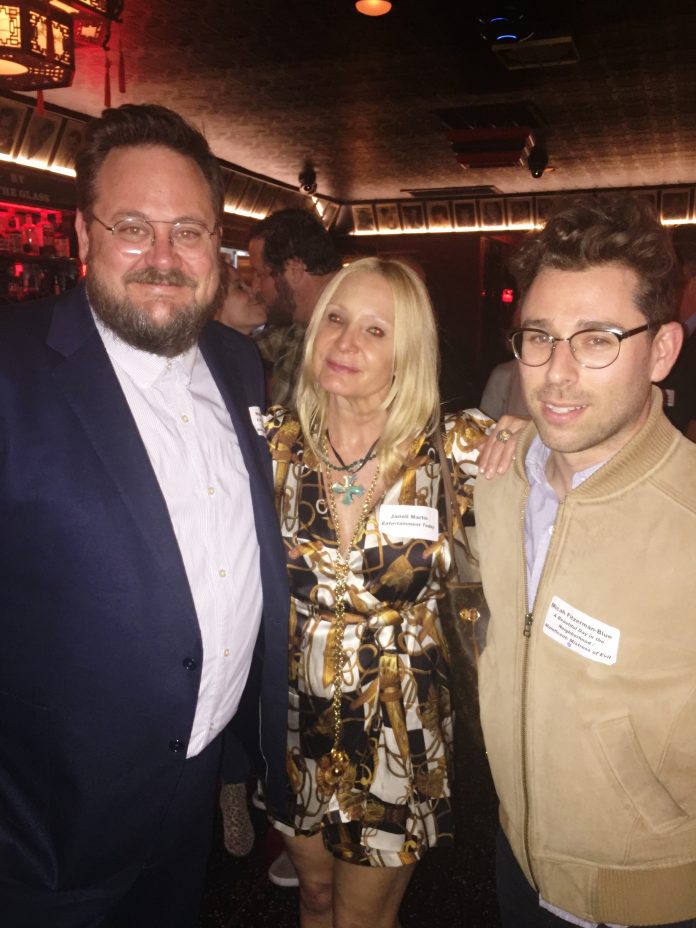 The Formosa Café was the sexy backdrop for a fun evening of mingling with some of the entertainment industry's top screenwriters. The 'Behind the Screen' event organized by the Writers Guild of America West is their fall event that celebrates screenwriters who have movies currently in the theatres or are due to be released.
As the attendees enjoyed cocktails and while waiters passed by with trays of yummy Asian inspired appetizers, the atmosphere was light and friendly.  I was very fortunate to be able to speak and meet many of the writers in attendance. I enjoyed speaking with Dan Ewen, the writer of 'Playing with Fire' who was excited as this is his first project to open in theaters.  He said he felt somewhat in awe at his own Premier still a bit overwhelmed by the fact that he actually had a movie that was in theaters.  I found him to be a humble nice man.
I also really enjoyed speaking to Micah Fitzerman-Blue whose movie 'A Beautiful Day' based on the life of Mr. Rodgers, has been a project of love ten years in the making.  He said that his writing partner, Noah Harpster's, 2-year-old daughter was transfixed watching the show on YouTube and it gave him the impetus to create a movie about Mr. Rodgers.  It wasn't until Tom Hanks became attached to the project two years ago that the project finally started to move forward.  He said they had created a movie about kindness and empathy, and they hoped that their film inspires people to be better human beings.  I asked him if he thought the film would be nominated for an award and Micah told me that he had met with success on other projects he had done, as he was a writer on Transparent. But what was more important to him than winning an award was that he finally was able to see the movie that he is so proud of becoming a reality, and he hopes that it touches people's hearts. In our featured photo: (L-R) Noah Harpster, our reporter Janell Martin and Micah Fitzerman-Blue at The WGA Behind The Screen Reception at The Formosa Café in West Hollywood.
The Golden Globe-winning Scott Alexander whose movie 'Dolemite Is My Name' was engaging and fun to speak with. He has a distinguished pedigree of projects but was a funny, down to earth nice man. Ironically, we spent a lot of time talking about his family and his kids, and I can't wait to stream his movie on Netflix. It looks hysterical. The handsome Adam Mervis, an actor and a writer who both starred-in and wrote Broadway plays before coming to LA, really enjoyed the experience of writing his action-adventure feature called '21 Bridges'. It is an intense thrill ride and is soon to be released.
There were many more screenwriters in attendance, as the place was packed. As a writer myself, I truly enjoy covering this kind of event as it's inspirational to meet other creatives that are actually making money with their craft. God, are you listening? LOL! Thank WGA for allowing me to cover this fun and informative event!
BY Janell Martin