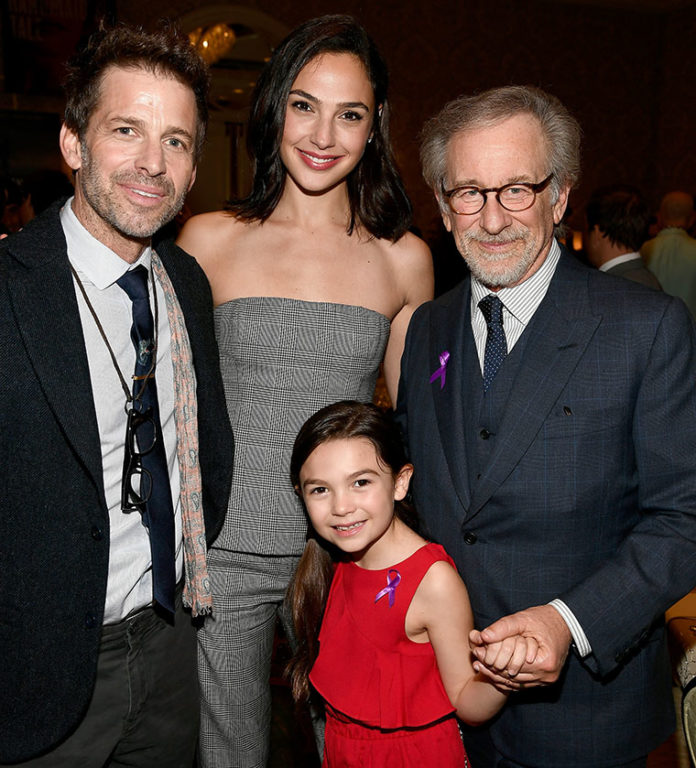 TOM HANKS, REESE WITHERSPOON, STEVEN SPIELBERG, 
GUILLERMO DEL TORO, PATTY JENKINS 
AMONG ARTISTS AT AFI AWARDS 2017 LUNCHEON
There are no winners or losers at AFI AWARDS. Instead, AFI recognizes all of the creative ensembles behind the year's most outstanding storytelling in film and television. The talented members of these teams gathered in Beverly Hills today at the AFI AWARDS 2017 luncheon. Guests included the best of the best in the entertainment community, such as Gal Gadot, Greta Gerwig, Kumail Nanjiani, Jordan Peele, Saoirse Ronan, Octavia Spencer and Steven Spielberg.
In our featured photo from today: Zack Snyder and Gal Gadot (WONDER WOMAN) with Brooklynn Prince (THE FLORIDA PROJECT) and Steven Spielberg (THE POST) at the AFI AWARDS luncheon, at The Four Seasons Hotel in Beverly Hills . & In the below photo:  Timothée Chalamet and Armie Hammer (CALL ME BY YOUR NAME) at the AFI AWARDS 2017 luncheon red carpet :
Emily V. Gordon and Kumail Nanjiani (THE BIG SICK) on the red carpet : 
Above: Greta Gerwig (LADY BIRD) with PATTY JENKINS (WONDER WOMAN) and Reese Witherspoon (BIG LITTLE LIES) at the AFI AWARDS 2017 luncheon.
Above : Jordan Peele (GET OUT) and Lena Waithe (MASTER OF NONE).
Above : Saoirse Ronan (LADY BIRD)
Above : Liz Hannah (THE POST, AFI Class of 2009) on the red carpet at the AFI AWARDS 2017 luncheon. 
Above : Christopher Nolan (DUNKIRK) 
Above : Richard Jenkins, Guillermo del Toro and Octavia Spencer (THE SHAPE OF WATER) in the ballroom. 
Above : Greta Gerwig and Laurie Metcalf (LADY BIRD) 
Above : Allison Williams (GET OUT) and Tom Hanks (THE POST) 
For the complete story, and tickets to the show go to: entertainmentandsportstoday.com Facebook.com/entertainmentandsportstoday and Youtube.com/entertainmenttodaytv  @AmericanFilmInstitute @tomhanks @StevenSpielberg  @reesewitherspoon @wonderwomanfilm @ladybirdmovie @getoutmovie @thepostmovie @gal_gadot  @dunkirkmovie @ChristopherNolanofficial For more information about AFI, visit AFI.com or connect with AFI at twitter.com/AmericanFilm,  facebook.com/AmericanFilmInstitute, instagram.com/AmericanFilmInstitute and youtube.com/AFI.