For over 20 years I have been personal friends with the owners of the Santa Monica Homeopathic Pharmacy – Santa Monica's first Homeopathic Pharmacy, now a staple in Downtown Santa Monica. The pharmacy recently celebrated 75 years in business.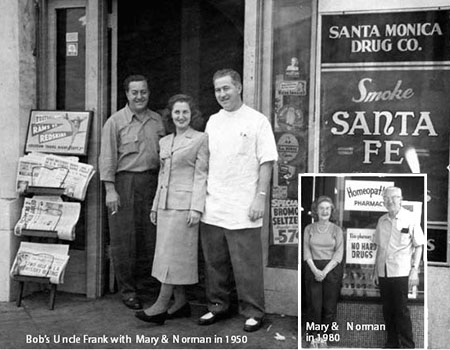 I can highly recommend Santa Monica Homeopathic Pharmacy for the best service, best products, and for the best health advice, that was given to me personally, and to so many other friends and loyal customers. This store has improved the health of so many people over the years, and now has some great products that can be a big help to beat the Coronavirus! Below is a letter sent to me from my friend that runs this amazing health store:
Santa Monica Homeopathic Pharmacy will continue for now staying open to help its customers during the Covid-19 pandemic. We have taken extra precautions by blocking the entry to the store as we continue to handle our customers at the front door. We have many customers taking immune products for prevention, but we have also had many customers diagnosed with Covid-19 contact us requesting help with their Covid-19 symptoms, anxiety, insomnia and other issues. Our customers with Covid-19 are all at home treating their symptoms and getting well. Most of them have already cleared their symptoms and have returned to normal.
Many of our customers are using the following products that many of our local practitioners are recommending. ImmunoGQur, ImmunoMVQur, Immunitone, Thymus Complex, Andrographis Complex, Viranon, ImmunotiX, Immune Essential, Epimune, Echinacea Premium, Immuplex, Congaplex, C-3000 Complex, Chezyn, Zinc Liver Chelate. This partial list of health products can support immunity or reduce the symptoms, with other products available according to your symptoms.
Getting the right supplement can vary from person to person depending on age and preexisting health conditions. Age matters, since we lose absorption as we age, which is one of many reason supplements can fail. Preexisting health conditions can indicate personal weakness in the body. It is best that people email us at connections@smhomeopathic.com for suggestions. They should include their age and preexisting health conditions and any symptoms they might have.
Diet is more critical then you might think. We do know that simple carbohydrates should be taken out of the diet, including sugar and sweets. Our immune system and overall health follows in line with a clean healthy diet.
Covid-19 pharmacy hours are Monday – Saturday from 9:30am to 5:00pm with updates on our Facebook page. We also ship products out every day so customers do not have to leave home. Phone 310-395-1131, Fax 310-395-7861
Be considerate of others by wearing a mask; take no chances, and stay safe. Steve
Stay tuned for live daily round-the-clock news coverage from our news team in Los Angeles, Hollywood, New York, Beverly Hills, and overseas from Entertainment & Sports Today TV, and Entertainment Today, and for the complete story go to: entertainmentandsportstoday.com, on Facebook & Instagram: @entertainmentandsportstoday, and Youtube.com/entertainmenttodaytv
For tickets to future events, and Sponsorships and get advertising rates and info, E-Mail : info@entertainmentandsportstoday.com – and for more info about us go to: www.entertainmentandsportstoday.com & thanks for watching !
For more information, and if you like to buy any of these great products that you saw on our TV show, E-Mail us direct: info@entertainmentandsportstoday.com so that one of our staff can connect you with the right people. Above is our video news story, that is part of the follow up to our daily news stories on the Coronavirus.
For more news stories and updates about the Coronavirus : go to EntertainmentandSportsToday.com  and go to the top of the home page and click on the "HEALTH & BEAUTY" section.  Additional updates can be found by clicking the "Business & Technologies" , and "Entertainment" sections, or just click "Home". For stories that may uplift your spirits during these trying times go to the "Music" section of our website.
If you may have any questions- you can email us at info@entertainmentandsportstoday.com- so we can find you the answers from the doctors and health experts, that have written stories for us, and from the health agencies that have provided information and daily updates for us. & Thanks for watching, and be healthy and safe!