There was over 200 stars from more than 100 world premieres movies, shorts and documentaries, at the 26th annual Dances With Films Festival (DWF), that included the Opening Night World Movie Premiere of Good Side of Bad, and a great interview with Wendie Malick, with both the Pre & After-Party at the historic Hollywood landmark: The Roosevelt Hotel, with the movies showing at the world famous TCL Chinese Theater on Hollywood Blvd. that is right across the street from the Roosevelt Hotel.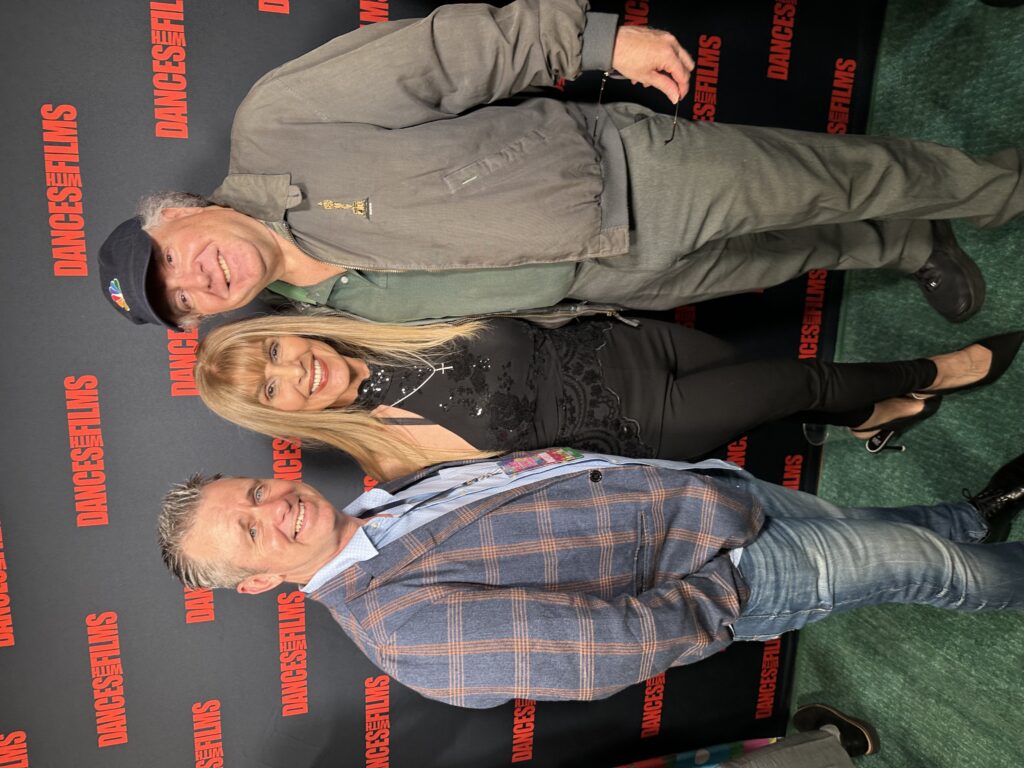 See above photo for our Entertainment Today TV News Crew of L – R: Producer, Reporter, and Eye-in-the-Sky Filmmaker: Doug Nolan, our TV Show Host: Margie Rey, and TV Producer: Steve Taylor. Doug Nolan & Margie Rey did interesting and in-depth interviews with over 200 Actors, Producers, Directors, Staff and Crew from movies, shorts and documentaries! You will be able to see that on this show and upcoming shows on DWF.  Below Entertainment Today's Producer/News Reporter: Doug Nolan doing interviews on the red carpet for Opening Night at the Historic Roosevelt Hotel in Hollywood: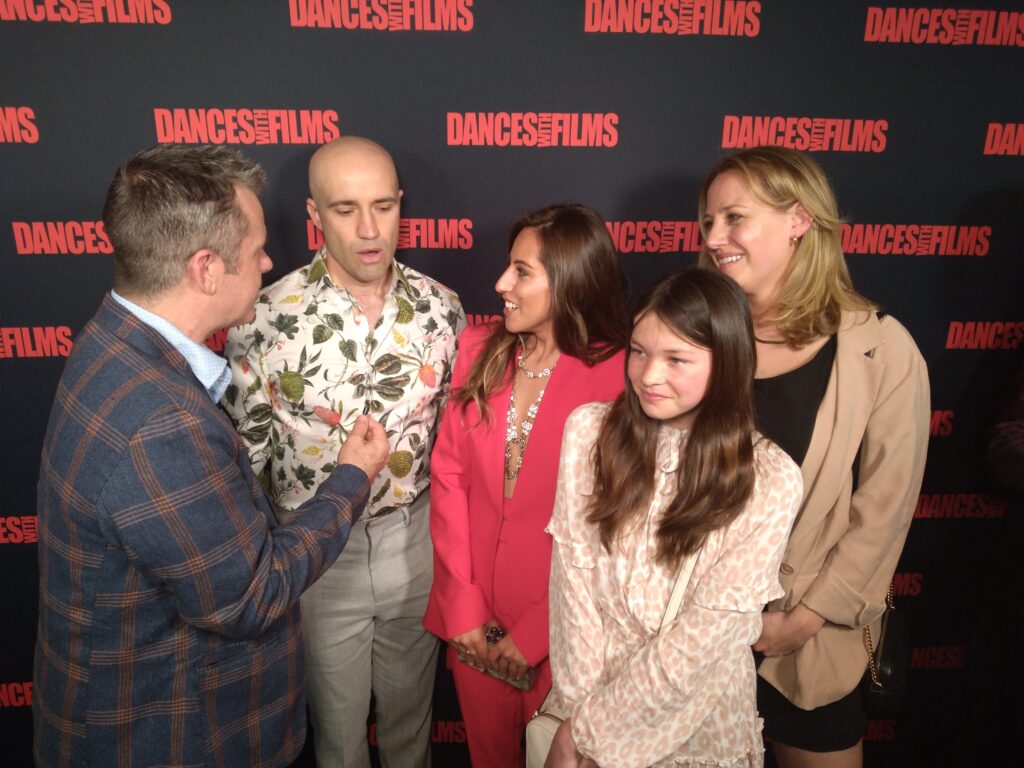 GOOD SIDE OF BAD, is a powerful drama based on the award-winning novel of the same name by Beverly Olevin. Our Reporter: Doug Nolan did great in-depth interviews with the Director: Alethea Root and the star of the movie: Jules Bruff (Zodiac), and Myles Grier together with the Co-Star of this movie: Lexi Simonsen (S.W.A.T.)- on the right of the below photo: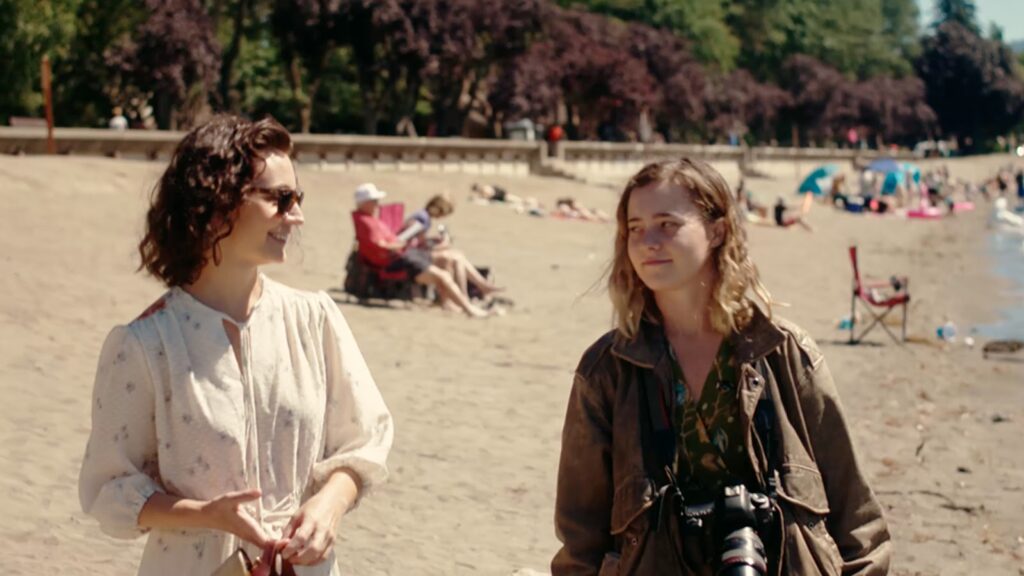 Also starring: Alex Quijano (High School Musical: The Series) and Academy Award Nominee Tess Harper (Crimes of the Heart, No Country For Old Men). This film depicts a raw and intimate look into what it means to be a family navigating the waters of mental illness.
Below you can see Entertainment Today and Entertainment & Sports Today TV show Producer: Steve Taylor with the star of GOOD SIDE OF BAD: Lexi Simonsen (S.W.A.T.) – and below that is The Q & A – right after the movie- inside the movie theatre: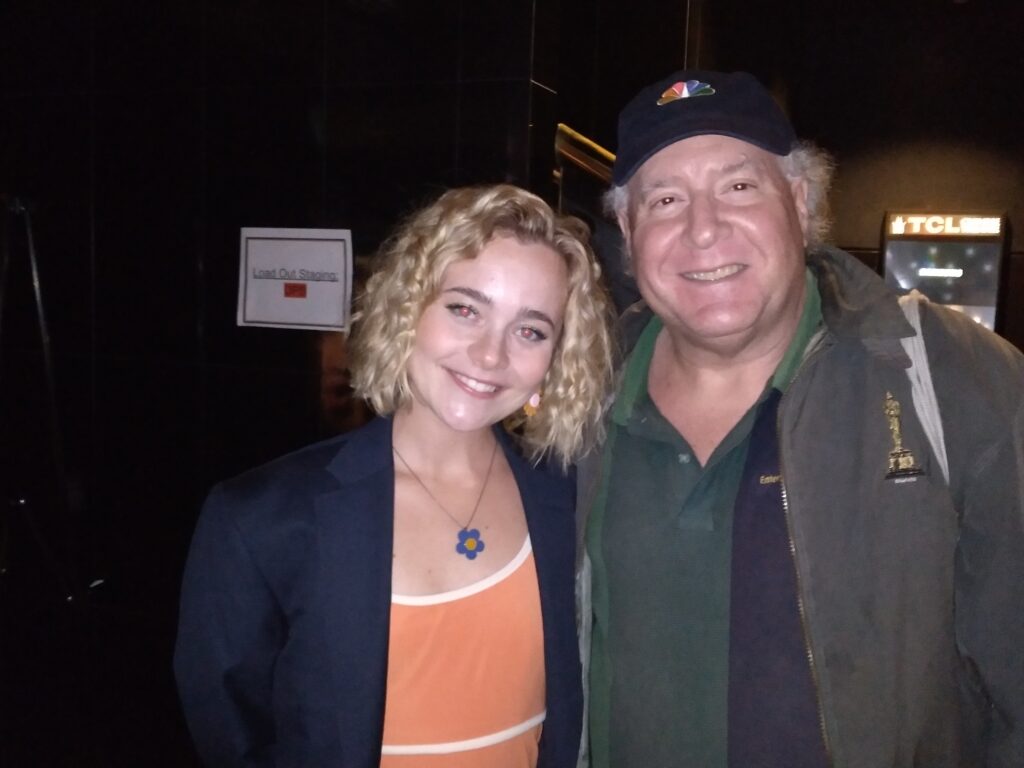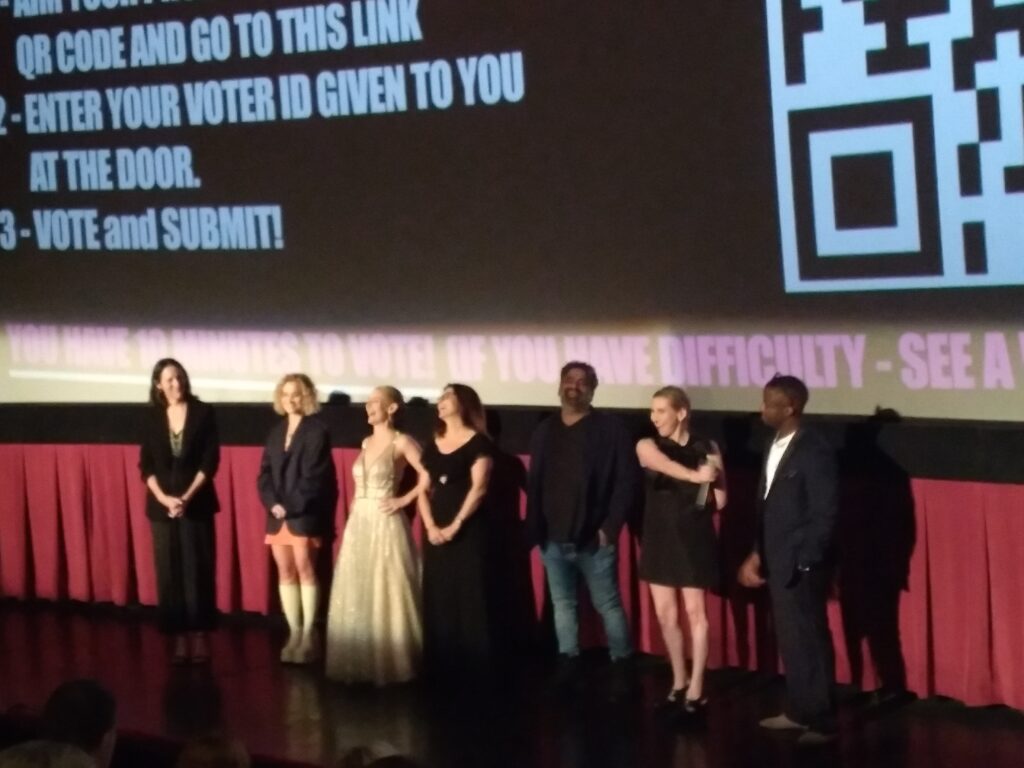 To celebrate strong female voices in film, Dances With Films has curated a slate of features written, directed by and starring females. The world premiere of 7000 Miles, directed by Amy Glazer stars Wendie Malick (Hot In Cleveland), Emmy Award Winner Juliet Mills (The Rare Breed, Passions), Maxwell Caulfield (Grease 2, Empire Records) and Ray Abruzzo (The Sopranos). Set in 1977, 7000 Miles chronicles the life of pilot Jo Standish (Alixzandra Dove) and her fiance Richard (David Sheftell) as they try to create opportunities for their small private airline. When Richard's father, Edward (Sam McMurray), threatens to pull their financing, Jo discovers that her grandfather Bert (Maxwell Caulfield) has passed away. She rushes home to Hawaii to be with her grandmother Meli (Wendie Malick). After Jo discovers that her grandma has dementia, Meli suffers from sporadic personality shifts, and a mind-melting secret is eventually revealed. Meli's island community is presented as a genuine group of loveable eccentrics. There's a message in this movie about supporting your neighbors, caring for the community, and loving each other.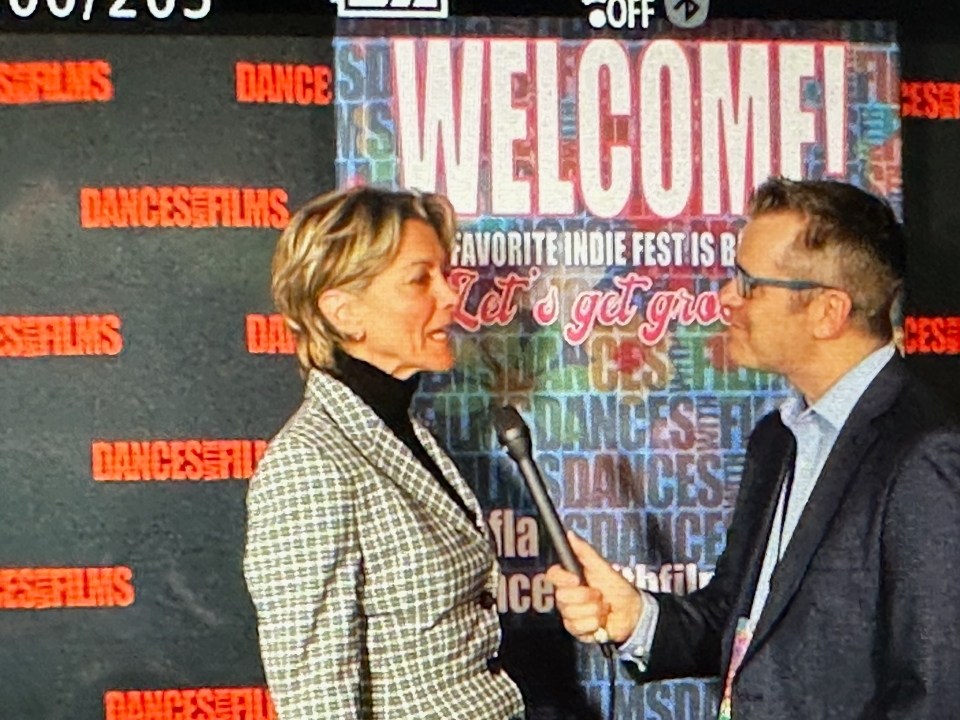 On this show you can see this great interview with Wendie Malick by our Entertainment Today news Reporter: Doug Nolan- as in our above feature photo.
Doug also did an interesting and fun interview with a big-time actress that he knew from editing her movies: Natasha Blasick – The Keyword Movie Quote is: "This is Not a Vacation!"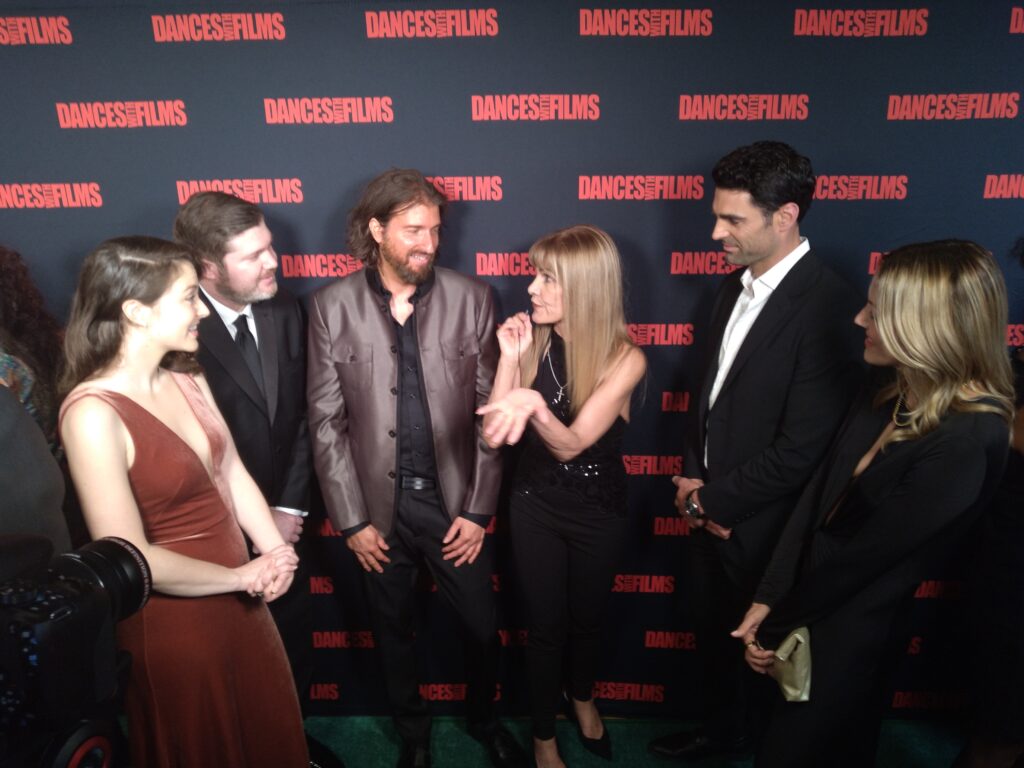 Entertainment Today's TV Show Host/News Reporter: Margie Rey doing interviews on the red carpet for Opening Night at the Historic Roosevelt Hotel in Hollywood: 
TV Producer: Steve Taylor really enjoyed: Immediate Family (2022), a fascinating Documentary that follows the work and lives of legendary 1970s session musicians who were featured on some of the most iconic recordings of the era. The Director: Denny Tedesco said:  "I had been hesitant to make a follow up to "The Wrecking Crew". But when I was approached with the idea of "The Immediate Family", I didn't think twice." The Immediate Family consists of Danny 'Kootch' Kortchmar Guitar/Vocal, Leland Sklar Bass, Russ Kunkel on Drums, Waddy Wachtel Guitar/Vocal and Steve Postell Guitar/Vocal.They were at the genesis of the Singer Songwriter Era in the 1970s! Below photo is from their Q & A after their movie, in the theater: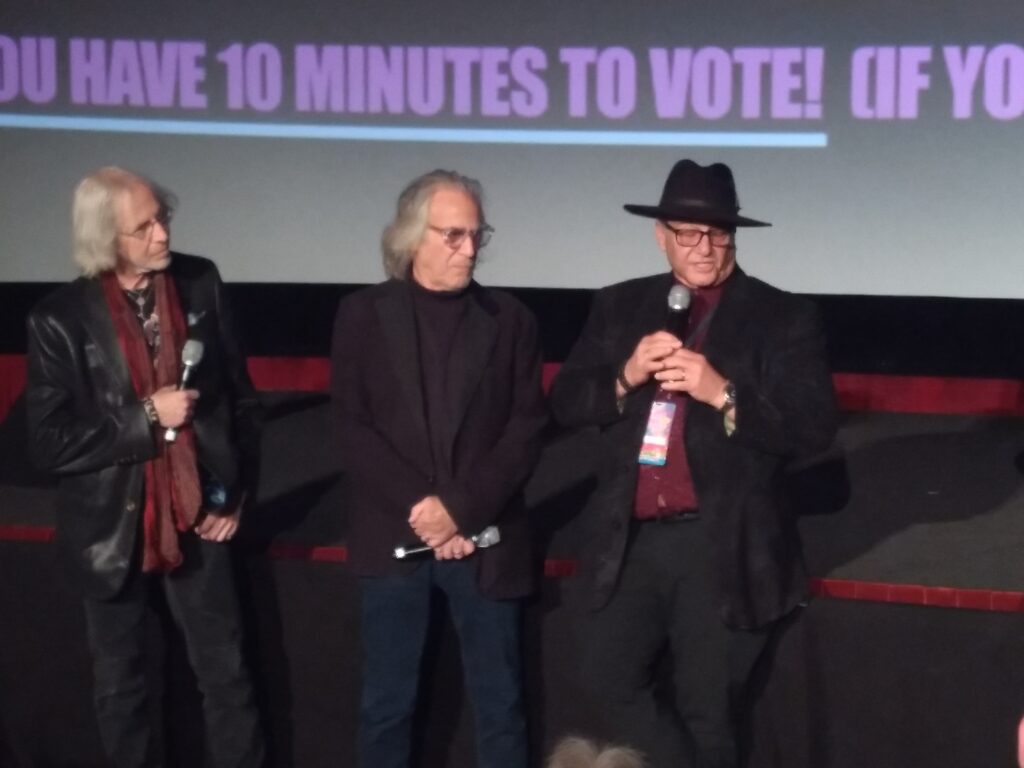 Glue Trap made its world premiere Thursday, June 29.
A couple a few years into a strained relationship take a weekend trip to a friend's cabin to recapture their romance. While finding themselves in awkward situation after situation, hurting each other's feelings and not feeling understood or heard, it seems as though it's all going to head toward an inevitable breakup. Then an eccentric young woman appears who had no idea anyone was staying at her family's cabin. No problem if she crashes, right? As the couple struggles to juggle this interloper on top of their already tense dynamic, they begin to worry this obnoxious third wheel may threaten more than their relationship.    The cast who were there in person:
Justin Geldzahler (DIR/SCR/PROD)
Isaac W. Jay (CAST)
Alex Warheit (CAST)
Norris Guncheon (PROD/ED)
The below photo is of the cast holding up their movie poster on the red carpet, and below that is of Margie & Doug interviewing: Isaac W. Jay and Norris Guncheon: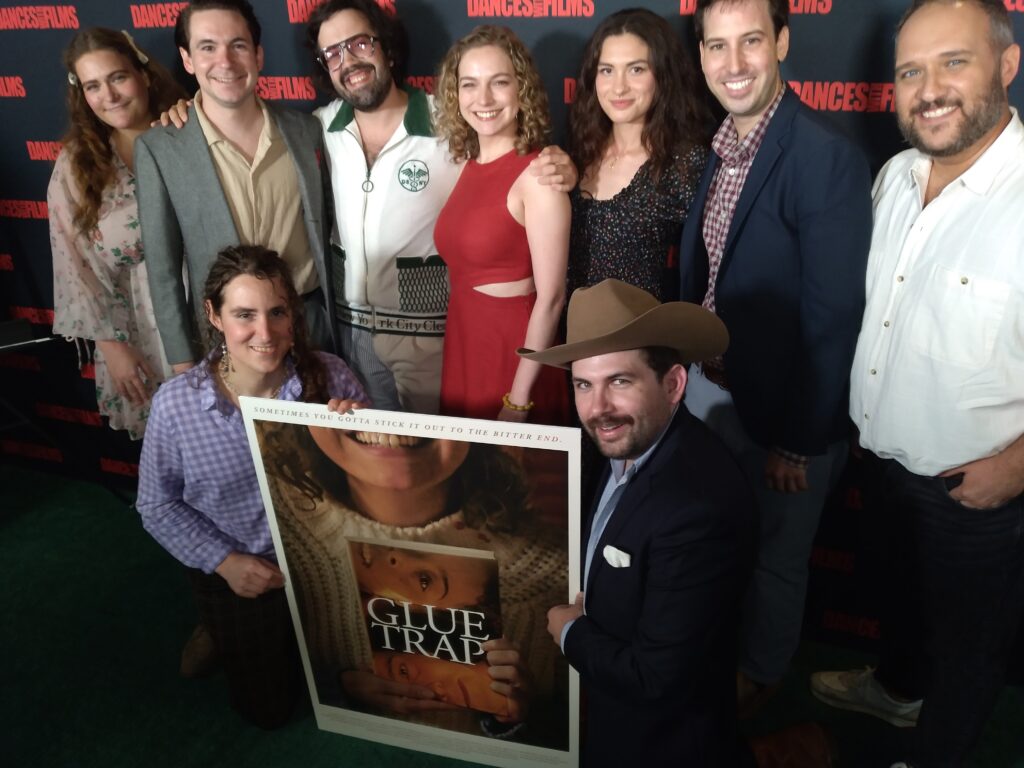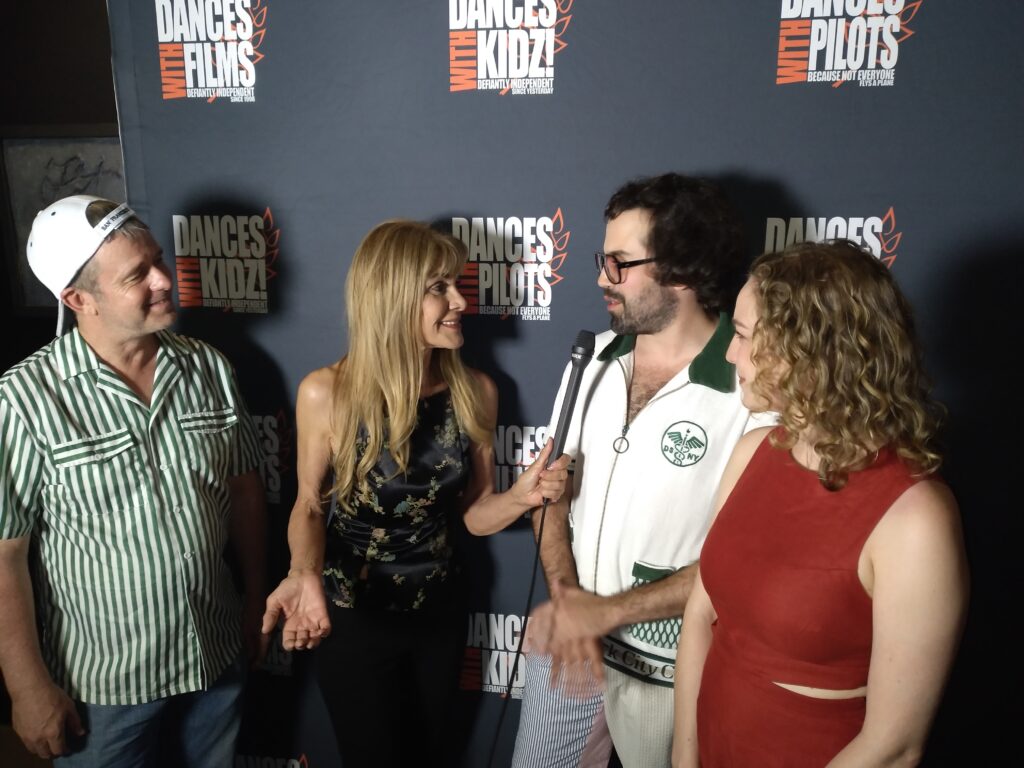 On this show our TV SHOW HOST: Margie Rey also did great interviews with Producers, Directors, and Actors from many other major movies: 
Broadway's iconic show Rent, documentary Meet Me Where I Am directed by Grant Garry, explores the topic of grief through individual stories of loss, love and hope and features Anthony Rapp (Rent) and John Farley, brother of late comedian Chris Farley.
Baldy For The Blind, is an inspiring story of a group of blind hikers as they attempt to summit Mount Baldy, the most dangerous mountain in LA County towering at over 10,000 feet. 
The Dances With Films: DOWNBEAT AUDIENCE AWARD: 
INTERRACIAL COUPLE IN A CHEERIOS AD                                                            Which is a 4 minute short about an advertising agency that brainstorms a way to make the world's most inclusive commercial.  W
ritten by Yuriy Mikhalevskiy & David Roth  D
irected by Christine Lakin  P
roduced by Brian Etting, David Roth & Yuriy Mikhalevskiy. Photo below from the film: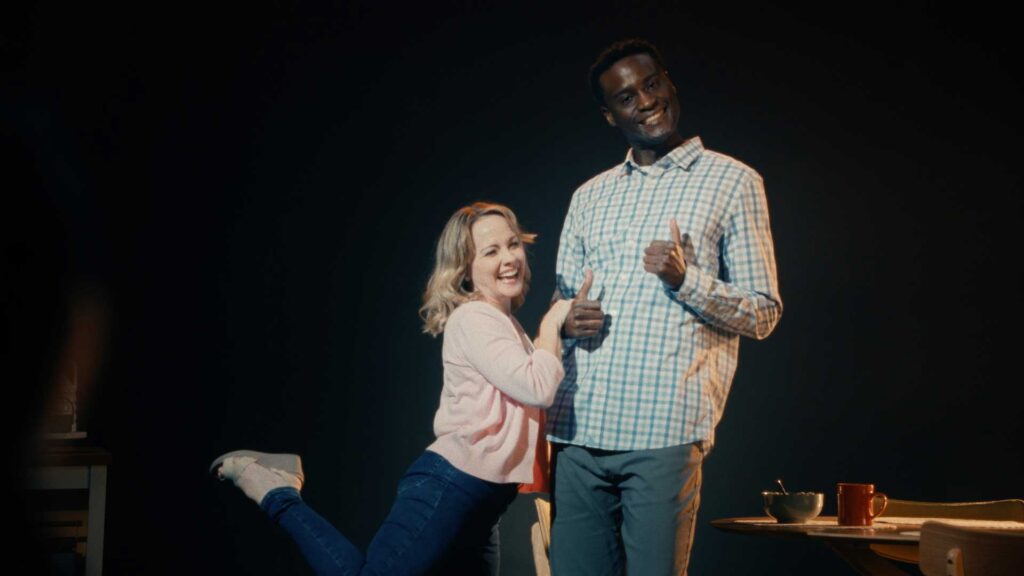 The Monks, a heartbreaking documentary detailing Russian attacks on killings on peaceful religious individuals in Ukraine, was shot on location at a Ukrainian Orthodox Monastery.
The World Premiere of:  In Through the Out Door : After selling his genealogical tech start-up, Eric Chapman impulsively buys a decrepit Chicago hotel set for demolition, which was once owned by America's first serial killer, H.H. Holmes. When Eric and his actress fiancée Kate discover a hidden room in the hotel's basement containing Holmes' time machine, they inadvertently get thrown back in time to 1893. Trapped in the midst of Holmes' murder spree, they must find a way to survive and escape his clutches. A thrilling journey unfolds as they navigate the horrors of the past and fight to return to their own time.  WRITER/DIR: Dale Peterson PRODS: Kirk Roos, Brad Brizendine, Wendy Peterson  CAST: Martin Copping, Christine Kilmer, Jesse Boyd, Garrett M. Brown, Tony Robinette, Vic Stagliano. Margie interviewed actress: Kristina Hughes, who was here to support this movie, and has a part in the Epic movie: Oppenheimer, that is in theatres right now.
Margie also did an great interview with Echo Bodell, and some of the cast from the movie short: Lux Freer. Lux Freer, a non-binary teen, has recently moved to ritzy Westport, where they have the humiliating job of delivering pizzas. Nothing could be worse than arriving at aspiring prom queen Arabella Astor's mansion wearing a cap emblazoned with pepperonis. Lux's encounter with the bully Arabella and her beau Drew sets in motion a plot to upend the social stratosphere at Westport Academy. A mysterious wishing well adds to Lux's world morphing into a place of possibility rather than rejection. At the school talent show, Lux is emboldened as their fantasy comes true, and even the most macho jock in town learns something about tolerance. WRITER: Jill Johnson Mann. DIR: Cynthia Gibb
PRODS: Jill Johnson Mann and Cynthia Gibb. CAST: Echo Bodell, Cameron Mann, Josy Pitaro, Jamie Martin Mann, Jean Louisa Kelly, Momo Burns-Min, Fin Maddaloni, Natalia Mann, Ariana Brodows, Sophie Jasmin Walther, Claire Butler, Blake Raho, Samantha Edwards, Leanna Mitev, Jasmita Mani Lorenzato, Rosie Kauppinen, Linde Gibb, Jennifer Malaquias Ryan, Deb Katz, Markley Rizzi, Mario Manna, Ken Barile, Barbara McKechnie, Jane Fiffer.
So make sure you stay tuned for more from the 26th Dances With Film Festival (DWF:LA) in Hollywood, from Entertainment Today!